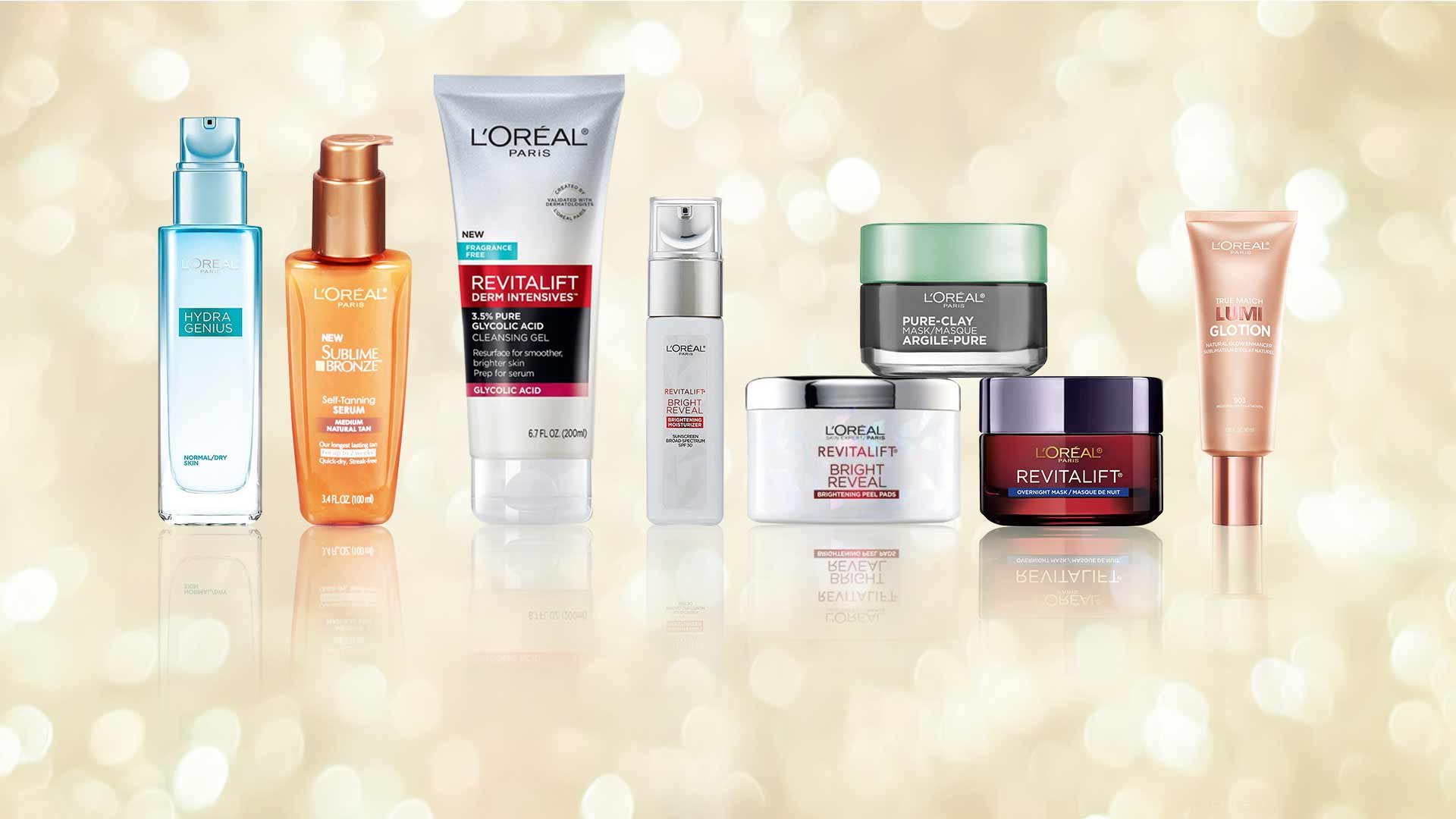 We can all agree that the look of naturally glowing skin is one of the most sought-after beauty traits. However, it's super common to think that a radiant visage is out of reach if a dry, dull-looking face is your new normal. Well, we're here to tell you that there are steps you can take in your skin care routine to turn things around. And one of the easiest ways to do so is to enlist the help of glowing skin products.
While there are plenty of skin care products that can provide TLC, it's essential to use the right offerings to score a luminous complexion. If you're not too sure where to start, we're here to provide some clarity. Keep reading to get the 4-1-1 on the best glowing skin products to take your beauty game up a few notches.
#1: Wear SPF daily
The best way to preserve the integrity of your skin is to apply SPF every day. Spending prolonged periods of time in the sun sans proper protection that can damage your skin. In turn, this can lead to visible signs of aging down the road. That's why we love the L'Oréal Paris Revitalift Bright Reveal Brightening Day Moisturizer SPF 30. This pick combines the benefits of a moisturizer and SPF into one to keep your face in tip-top shape. Plus, it helps to pare down your routine without missing a beat.
Be sure to take additional sun protection measures as well. Limit your time in the sun (especially between 10 a.m. and 2 p.m., which are the sun's peak hours), seek shade when you're outside, and cover up exposed areas in long sleeves, pants, a broad-brimmed hat, and UV-blocking sunglasses.
#2: Cleanse and exfoliate with glycolic acid
Glycolic acid is one of the most popular alpha hydroxy acids (AHA) for a good reason. It works to exfoliate dead skin cells and minimize the appearance of wrinkles. Not to mention, this beauty staple improves the look of tone and texture for a younger-looking complexion. See what all the hype is about with the L'Oréal Paris Revitalift Derm Intensives 3.5% Glycolic Acid Cleanser. This offering helps to purify the skin of dirt, oil, and debris to reveal a smoother, brighter face. Lather a small amount into wet hands and apply it in circular motions. Rinse thoroughly with warm water and pat dry.
Once your cleansing session is out of the way, it's time to welcome exfoliation into the mix. Follow up with the L'Oréal Paris Revitalift Bright Reveal Brightening Daily Peel Pads. These multi-ply pads physically resurface dead skin cells from the surface of the face. Immediately, your visage looks brighter and feels softer. You can also look forward to a more even skin tone and texture with continued use over time.
#3: Apply a face mask
Another fabulous way to bring glowing skin to life is to add some pampering to your regimen. A face mask comes in handy to address various concerns, including a glowing complexion. Set the stage with the L'Oréal Paris Pure-Clay Detox & Brighten Face Mask in your regimen. This detox number is formulated with three pure clays and charcoal to draw out impurities and illuminate your visage. Apply an even layer to clean, dry skin and leave it on for 10 to 15 minutes. Rinse it off with lukewarm water.
#4: Look for a moisturizer with hyaluronic acid
Now that your pores are clear and the surface of your skin is clean, you're ready to step it up with moisture. Hydration can give off a glowing effect compared to a dry visage that just looks dull. Try the L'Oréal Paris Hydra Genius Daily Liquid Care - Normal/Oily Skin, L'Oréal Paris Hydra Genius Daily Liquid Care - Normal/Dry Skin, or L'Oréal Paris Hydra Genius Daily Liquid Care - Extra Dry Skin. Each offering is formulated with aloe vera water and hyaluronic acid that provides long-lasting hydration. So, it's no surprise that these moisturizers are some of our favorite glowing skin products.
#5: Seal in moisture with facial oil
A foolproof way to encourage glowing skin is to add a facial oil to your roster. This essential offers various benefits ranging from locking in moisture to softening and balancing your face. You can also find formulas that can reduce hyperpigmentation and the appearance of scars.
#6: Highlight with moisturizer
You can also work your way to a radiant complexion with a hydrating illuminator. The L'Oréal Paris True Match™ Lumi Glotion Natural Glow Enhancer is a skincare-makeup hybrid that instantly hydrates and illuminates for a fresh and healthy-looking glow. You can wear this product solo or under foundation. You can also accentuate your features by highlighting your cupid's bow, cheekbones, and forehead.
#7: Remember to fit in exercise
Encourage the look of naturally glowing skin by working out for at least thirty minutes a day. According to the American Academy of Dermatology (AAD), moderate exercise can improve circulation and boost the immune system. In turn, this may give the skin a youthful-looking appearance.
#8: Try to get enough rest
Just like your mind and body, your skin needs to recharge and recover from the day. This is where beauty sleep can come to the rescue. The AAD shares that sleep gives your body time to refresh and renew itself. You can also add an extra glowing skin boost to your beauty sleep with the L'Oréal Paris Revitalift Triple Power Anti-Aging Overnight Mask. This nighttime essential leaves skin with a hydrated, radiant look and feel with just one use. It also works to improve firmness, and visibly reduces wrinkles over time.
#9: Highlight with self-tanner
Encourage glowing, radiant skin by stepping into the world of self-tanner. Try the L'Oréal Paris Sublime Bronze Self-Tanning Serum, which is a quick-dry offering that can be used on your entire body. Pump the serum directly into the palms of your hands and spread evenly over your skin. Once you've finished, wash your hands thoroughly and be sure to allow the skin to dry completely before putting on makeup or clothes. After all, you don't want the self-tanner to transfer to your clothes. Use consistently for three consecutive days to achieve a lasting fake tan.
{ "@context": "https://schema.org/", "@type": "WebPage", "speakable": { "@type": "SpeakableSpecification", "cssSelector": ["speakable-content"] }, "url": "https://es.lorealparisusa.com/revista-de-belleza/cuidado-piel/fundamentos-del-cuidado-de-la-piel/your-ultimate-guide-to-glowing-skin" }
Descubrir más trucos y consejos
Ver todos los artículos
Shop Featured Skin Care products
Discover More
{ "@context": "http://schema.org", "@type": "BreadcrumbList", "itemListElement": [ { "@type":"ListItem", "position": 1, "item": { "@id": "/", "name": "Home" } } , { "@type":"ListItem", "position": 2, "item": { "@id": "https://es.lorealparisusa.com/revista-de-belleza", "name": "Revista de belleza" } } , { "@type":"ListItem", "position": 3, "item": { "@id": "https://es.lorealparisusa.com/revista-de-belleza/cuidado-piel", "name": "Tratamiento de la piel para todas las edades" } } , { "@type":"ListItem", "position": 4, "item": { "@id": "https://es.lorealparisusa.com/revista-de-belleza/cuidado-piel/fundamentos-del-cuidado-de-la-piel", "name": "Esenciales del cuidado de la piel" } } , { "@type":"ListItem", "position": 5, "item": { "@id": "https://es.lorealparisusa.com/revista-de-belleza/cuidado-piel/fundamentos-del-cuidado-de-la-piel/your-ultimate-guide-to-glowing-skin", "name": "your-ultimate-guide-to-glowing-skin" } } ] }