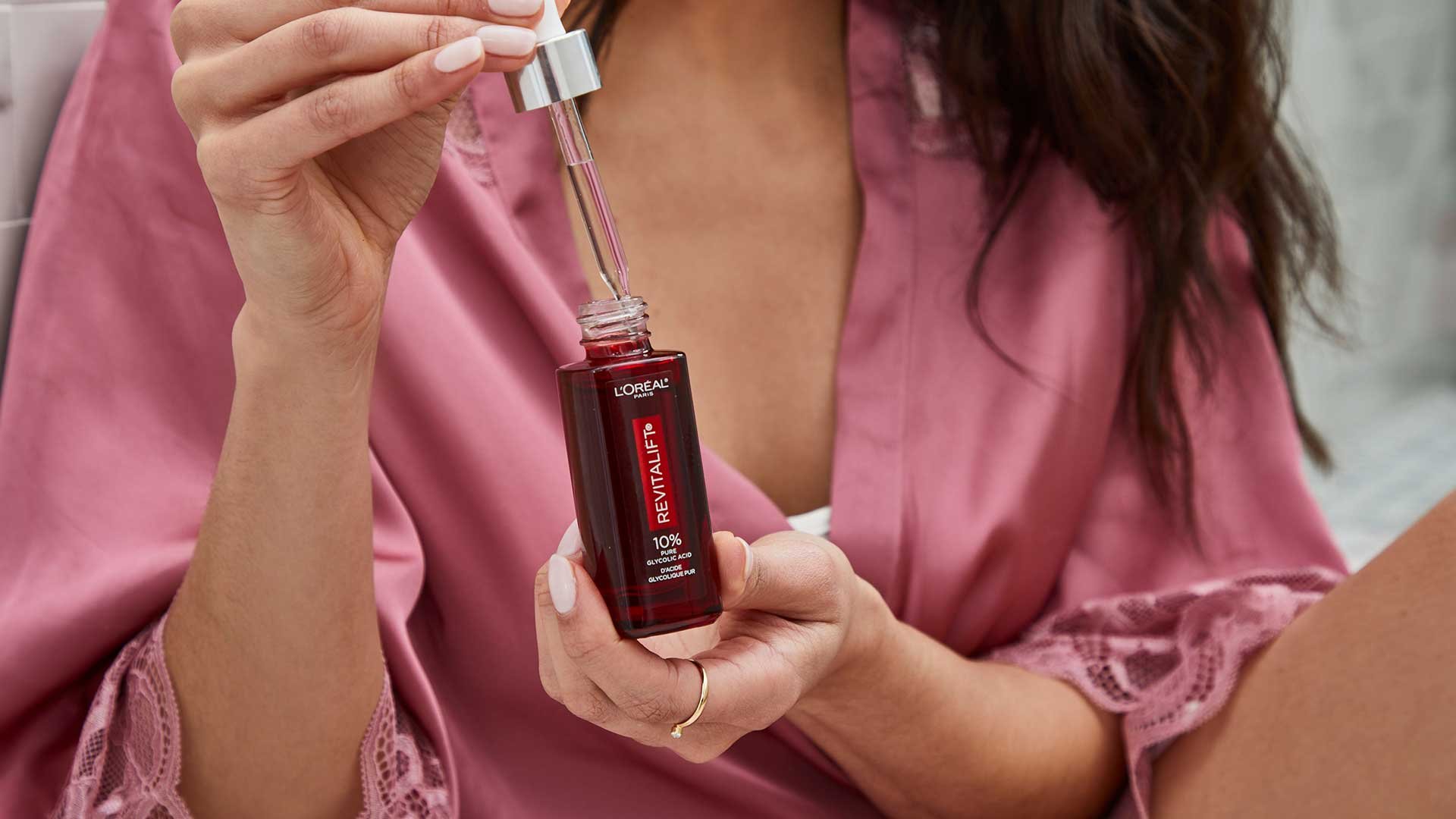 Unless you've been on a social media diet, you've likely come across glycolic acid in your newsfeeds quite often. It's long been a mainstay in dermatologist offices, recognized as an effective anti-aging resurfacing ingredient for evening skin tone and reducing the appearance of wrinkles and dark spots. But the interest in glycolic acid for everyday use has spiked in recent years. As such, if you're on the hunt for a new skin care product to add to your daily regimen, you have plenty of options formulated with this popular ingredient that you can choose from, ranging from facial cleansers to moisturizers to serums. But what if there are glycolic acid benefits you're missing out on? Keep reading to get the rundown on the beauty benefits of glycolic acid and some amazing products to help you reap them.
WHAT IS GLYCOLIC ACID?
First things first, if you're new to this ingredient, let's define. According to the U.S. Food & Drug Administration, glycolic acid is one of the most common alpha hydroxy acids (AHA) used in cosmetics. And in case you need a refresher, according to the Mayo Clinic, AHAs are a substance that can help exfoliate dead skin cells from the surface of your skin. Per the American Academy of Dermatology, AHAs can even contribute to the appearance of younger-looking skin. It's why this powerhouse exfoliator consistently makes the list of best anti-aging ingredients to add to your skin care routine. The U.S. National Library of Medicine states that in addition to resurfacing the skin and evening skin tone, glycolic acid can also minimize the appearance of wrinkles.
HOW TO ADD GLYCOLIC ACID TO YOUR SKIN CARE ROUTINE
Before you start using a whole bunch of skin care products formulated with glycolic acid, listen up. Alpha hydroxy acids like glycolic acid can increase your skin's sun sensitivity, so you'll need to take sun safety and protection seriously. The FDA recommends using sunscreen, wearing protective clothing, and limiting sun exposure, which means seeking out shade and avoiding the sun during its peak hours.
Using a glycolic acid serum is one of the best ways to experience the benefits of this popular ingredient, as face serums tend to have high concentration levels. Try the L'Oréal Paris Revitalift Derm Intensives 10% Pure Glycolic Acid Serum, formulated with 10 percent pure glycolic acid and aloe (to help soothe the skin and make it suitable for daily use). To use it, apply four to five drops to clean, dry skin every evening before moisturizing—don't forget to use SPF in the morning! For sensitive skin, start by using two to three times per week and build up to nightly use. In just one week, your skin will be resurfaced and younger-looking. Over time, your skin tone will be more visibly even, and dark spots and wrinkles will be visibly reduced.
OUR BEST PRODUCTS FORMULATED WITH GLYCOLIC ACID
Beyond adding a serum to your routine, if done correctly, you can create a whole routine of skin care products formulated with glycolic acid to help you get your most beautiful complexion.
This cleansing gel removes makeup, excess oil, dirt and impurities from the skin's surface while revealing smoother, brighter skin. It's the perfect way to cleanse your face at night before applying the L'Oréal Paris Revitalift Derm Intensives 10% Pure Glycolic Acid Serum.
This daily facial cleanser is formulated with gentle micro-pearls to exfoliate dullness and impurities from the surface of skin. Immediately, skin looks brighter, while skin tone appears more even with continued use over time.
If you've never considered using a peel pad before, be prepared to have your mind blown! These multi-ply textured pads physically remove dead skin cells from the surface of the skin. Immediately, skin looks brighter and feels softer, while skin tone is more even and texture more refined with continued use over time. Use nightly on clean skin.
Formulated with Pro-Retinol and vitamin C (along with glycolic acid, of course) this daytime moisturizer immediately makes skin appear brighter, while dull, uneven skin tone is renewed with continued use over time. This moisturizer is also formulated with SPF 30, so apply as directed, and don't forget about the other sun protection measures you should be taking daily.
Photo Credit: Matthew Zach
{ "@context": "https://schema.org/", "@type": "WebPage", "speakable": { "@type": "SpeakableSpecification", "cssSelector": ["speakable-content"] }, "url": "https://es.lorealparisusa.com/revista-de-belleza/cuidado-piel/preocupaciones-de-cuidado-de-la-piel/glycolic-acid-benefits" }
Descubrir más trucos y consejos
Ver todos los artículos
Shop Featured Skin Care products
Discover More
{ "@context": "http://schema.org", "@type": "BreadcrumbList", "itemListElement": [ { "@type":"ListItem", "position": 1, "item": { "@id": "/", "name": "Home" } } , { "@type":"ListItem", "position": 2, "item": { "@id": "https://es.lorealparisusa.com/revista-de-belleza", "name": "Revista de belleza" } } , { "@type":"ListItem", "position": 3, "item": { "@id": "https://es.lorealparisusa.com/revista-de-belleza/cuidado-piel", "name": "Tratamiento de la piel para todas las edades" } } , { "@type":"ListItem", "position": 4, "item": { "@id": "https://es.lorealparisusa.com/revista-de-belleza/cuidado-piel/preocupaciones-de-cuidado-de-la-piel", "name": "Preocupaciones de cuidado de la piel" } } , { "@type":"ListItem", "position": 5, "item": { "@id": "https://es.lorealparisusa.com/revista-de-belleza/cuidado-piel/preocupaciones-de-cuidado-de-la-piel/glycolic-acid-benefits", "name": "glycolic-acid-benefits" } } ] }