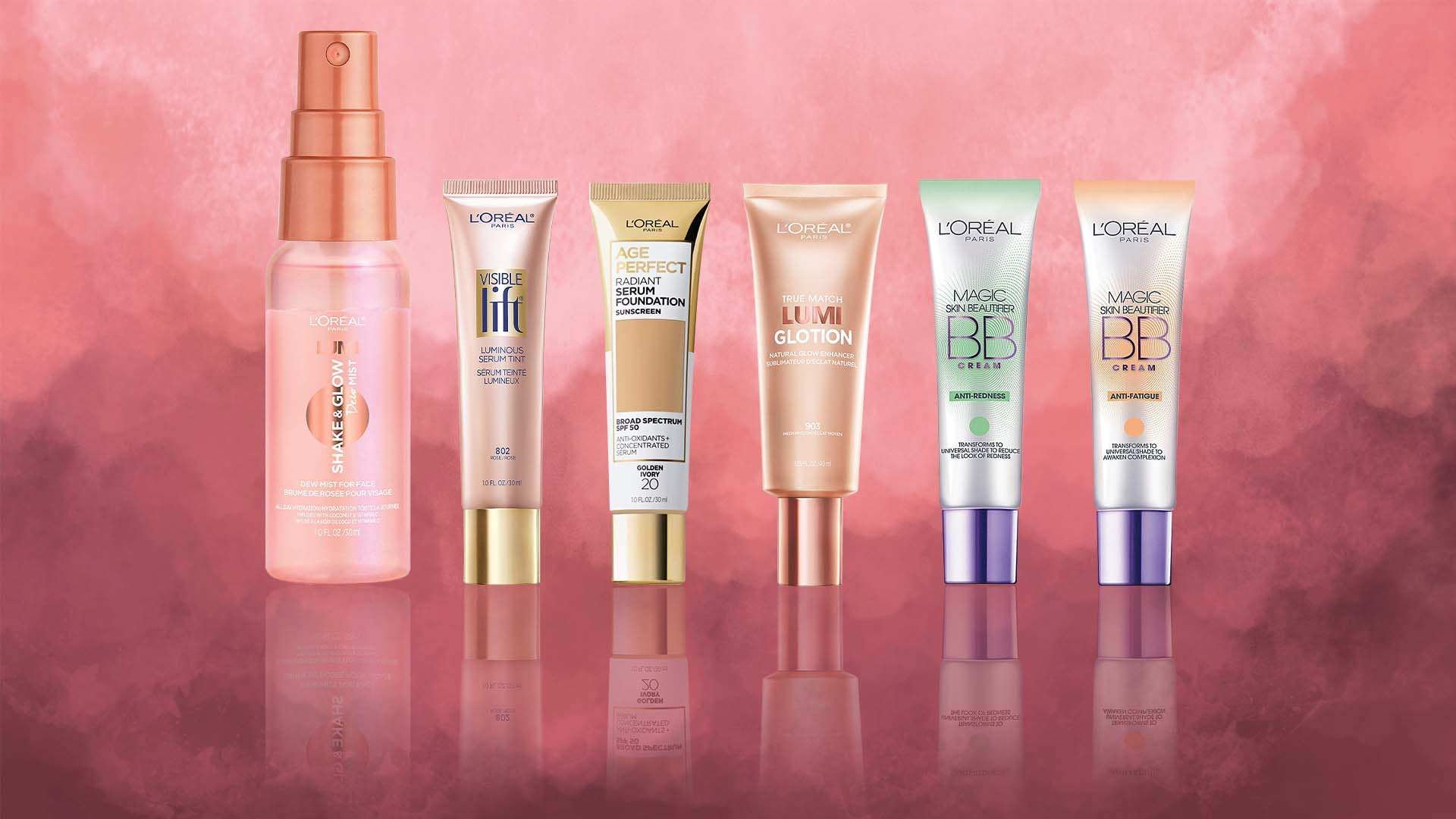 Let's talk skincare-makeup hybrid products. Their rise in popularity is only natural, seeing as if you love both skin care products and makeup, the only thing that could be better is combining the two. Instead of taking the time to go through an entire skin care routine, followed by a multitude of makeup application rituals, you can use products that serve double-duty—addressing your complexion concerns while covering up imperfections and playing up your best features. What's not to love? That's what's driven us to round up our 11 best skin care-meets-makeup products—from moisturizers that also double as highlighters to makeup primers that can mattify—and why we're sharing them with you now. Shall we?
#1. TINTED MOISTURIZER
When you find the right skin care-makeup hybrid, your skin will look so good you won't even need to wear any other makeup. That's why you need the L'Oréal Paris Visible Lift Luminous Serum Tint Tinted Moisturizer. Designed with mature skin in mind, this lightweight tinted moisturizer provides nourishing moisture to your mature skin with a touch of illuminating color. Not to mention, this serum tint can be worn alone or under makeup—it's all up to you! Once you're done smoothing it on, your complexion will be enhanced with a lustrous look.
#2. SERUM FOUNDATION
There's a reason why beauty gurus and A-listers alike can't get enough of serum foundation. Not only can this offering provide your skin with long-lasting hydration, but it also helps you create a flawless base. The L'Oréal Paris Age Perfect Makeup Radiant Serum Foundation with SPF 50 is our favorite. Specially designed for mature skin, this pick is carefully formulated with vitamin B3, broad-spectrum sunscreen, and a hydrating serum, plus it works for sensitive skin types. Break out your makeup sponge and bounce it onto your skin to see how it evens tone with natural, radiant coverage without settling into lines.
#3. SERUM CONCEALER
There is no better way to complement your serum foundation than with a serum concealer. Stock your makeup bag with the L'Oréal Paris Age Perfect Makeup Radiant Concealer with Hydrating Serum to cover up imperfections while caring for them. This hybrid product combines the benefits of a face serum and concealer into one to give skin hydrating coverage with a gorgeous glow to match. Perfect for individuals with mature skin, there's no need to worry about this concealer drawing attention to fine lines.
#4. HYDRATING ILLUMINATOR
Want to achieve a head-turning glow while giving your skin the TLC that it needs? The L'Oréal Paris True Match™ Lumi Glotion Natural Glow Enhancer will make it happen! A true skincare-makeup hybrid, this multitasking product allows you to take your beauty game to the next level while paring down your routine. Depending on the shade you choose—there are four—you can use the glow enhancer to illuminate all over, highlight specific areas, bronze all over, or contour certain features. No matter what option you choose, it instantly hydrates and illuminates for a fresh, naked skin glow.
#5. BB CREAM
As much as you love flaunting a flawless face, sometimes you'd rather skip out on wearing heavy makeup. While the idea may seem a bit far-fetched, there is one skincare-makeup hybrid that can give you the lightweight coverage of your dreams: BB creams. Known as one of the first makeup-skin care hybrids to make a splash, their popularity is well-deserved. Depending on the formula you choose, you can hydrate, even tone, and even disguise redness and imperfections. Basically, it's a beauty must-have! Pick your potion below.
L'Oréal Paris Magic Skin Beautifier BB Cream: This classic BB cream is an ultra-light lotion formulated with encapsulated pigments and antioxidant vitamin E. The 4-in-1 BB cream primes to smooth the skin's texture, corrects skin for an even-looking complexion, hydrates for all-day moisture, and perfects to hide imperfections.
L'Oréal Paris Magic BB Anti-Redness (For All Skin Tones): Color-correcting concealers aren't your only option for (temporarily) minimizing the appearance of redness. You can also hop on the color-correcting bandwagon with a green-tinted BB cream. This BB cream transforms from a green hue to a universal shade that helps reduce the look of redness. This BB cream has four beautifying actions: It helps neutralize the look of redness, corrects skin color for an even-looking complexion, hydrates for long-lasting moisture, and perfects the appearance of your complexion.
L'Oréal Paris Magic BB Anti-Fatigue: Ready to revive tired-looking skin? Consider this BB cream your saving grace. It's formulated with color-transforming pigments infused in an ultra-light lotion to help counteract signs of fatigue, correct the look of your skin, hydrate, and perfect.
Editor's note: Learn more about BB cream and another hybrid product—CC cream—in our article, What's the Difference Between BB and CC Cream?
#6. GLOW-BOOSTING PRIMER
By now, you likely know the importance of layering your face with makeup primer. While it may seem that this essential only gets praise for one purpose, the right formula can easily take your skincare-makeup hybrid game to the next level. The L'Oréal Paris Infallible Pro Glow Lock Makeup Primer is the perfect example. Not only does it prep skin for makeup, but it also smooths and blurs imperfections, and illuminates and hydrates skin for a glowing finish.
#7. MATTIFYING PRIMER
If you have oily skin achieving dewy-looking skin is probably the last thing on your mind, but that doesn't mean you can't experience the joy of skincare-makeup hybrids. Consider giving the L'Oréal Paris Infallible Pro Matte Lock Makeup Primer a try. This primer still preps skin for makeup by smoothing and blurring your "canvas," but it leaves skin with a long-lasting matte finish. You can even choose to target just your oil-prone areas to deflect shine, making it the perfect product for combination skin types, too.
#8. GLOW-BOOSTING FACE MIST
We understand that refreshed, glowing skin is the ultimate goal, but how about keeping your makeup in tip-top shape at the same time? That's right, with the right setting spray, you can preserve your makeup slay and refresh your skin without the fuss. The L'Oréal Paris True Match Lumi Shake & Glow Dew Mist is an excellent option. Formulated with coconut water and vitamin C, this dew mist boosts skin with hydration while also adding an instant dewy glow and preserving the life of your makeup look.
Not to mention, you can totally use this face mist as an alternative to your go-to primer. All you have to do is spritz an even layer of product over your complexion, let it dry, then apply your makeup. Now that's what we call a multi-use product!
#9. COLOR-CORRECTING EYE CREAM
Dark circles are a nuisance that any of us who has struggled to fall asleep or been kept up all night before has surely dealt with. You likely know how to cover up dark under-eye circles with concealer, but we love an approach that blends skin care and makeup. Not only can the right eye cream help reduce the appearance of dark circles over time, but a color-correcting eye treatment can help hide them in the moment, too. That's exactly why we love the L'Oréal Paris Age Perfect Rosy Tone Anti-Aging Eye Brightener Paraben Free. Featuring a unique whipped texture, this anti-aging eye cream instantly blurs to help visibly correct dark circles.
#10. ROSY TONE MOISTURIZER
As you get older, it's a fact of life that your skin gets duller. It loses that natural rosy tone that is a classic sign of youth. So, what if you want it back? Use a moisturizer that can revive skin's rosy look. The L'Oréal Paris Age Perfect Rosy Tone Fragrance Free Face Moisturizer does just that. Formulated with imperial peony and LHA, this face moisturizer gently exfoliates dull skin and stimulates surface cell renewal every day, while rosy pigments help bring back skin's natural pink tone for a healthy look.
#11. HYDRATING BRONZER
If you're obsessed with makeup like us, then you know that nothing beats a sun-kissed makeup look! And while you may rely on powder highlighters and bronzers to get the job done, there's another option that allows you to boost hydration at the same time. The L'Oréal Paris Summer Belle Makeup Beach Bae Face & Body Liquid Luminizer is just what you need. Boasting a lightweight formula, this liquid bronzer goes the extra mile to hydrate skin while leaving your skin with a dewy, sheer bronze color. Best of all, you can use this offering on your face and body for all-over sun-lit skin.
{ "@context": "https://schema.org/", "@type": "WebPage", "speakable": { "@type": "SpeakableSpecification", "cssSelector": ["speakable-content"] }, "url": "https://es.lorealparisusa.com/revista-de-belleza/consejos-de-belleza/tendencias-belleza/makeup-with-skin-care-benefits" }
Descubrir más trucos y consejos
Ver todos los artículos
Shop Featured Makeup products
Discover More
{ "@context": "http://schema.org", "@type": "BreadcrumbList", "itemListElement": [ { "@type":"ListItem", "position": 1, "item": { "@id": "/", "name": "Home" } } , { "@type":"ListItem", "position": 2, "item": { "@id": "https://es.lorealparisusa.com/revista-de-belleza", "name": "Revista de belleza" } } , { "@type":"ListItem", "position": 3, "item": { "@id": "https://es.lorealparisusa.com/revista-de-belleza/consejos-de-belleza", "name": "Ideas profesionales para tu look único" } } , { "@type":"ListItem", "position": 4, "item": { "@id": "https://es.lorealparisusa.com/revista-de-belleza/consejos-de-belleza/tendencias-belleza", "name": "Tendencias de belleza" } } , { "@type":"ListItem", "position": 5, "item": { "@id": "https://es.lorealparisusa.com/revista-de-belleza/consejos-de-belleza/tendencias-belleza/makeup-with-skin-care-benefits", "name": "makeup-with-skin-care-benefits" } } ] }