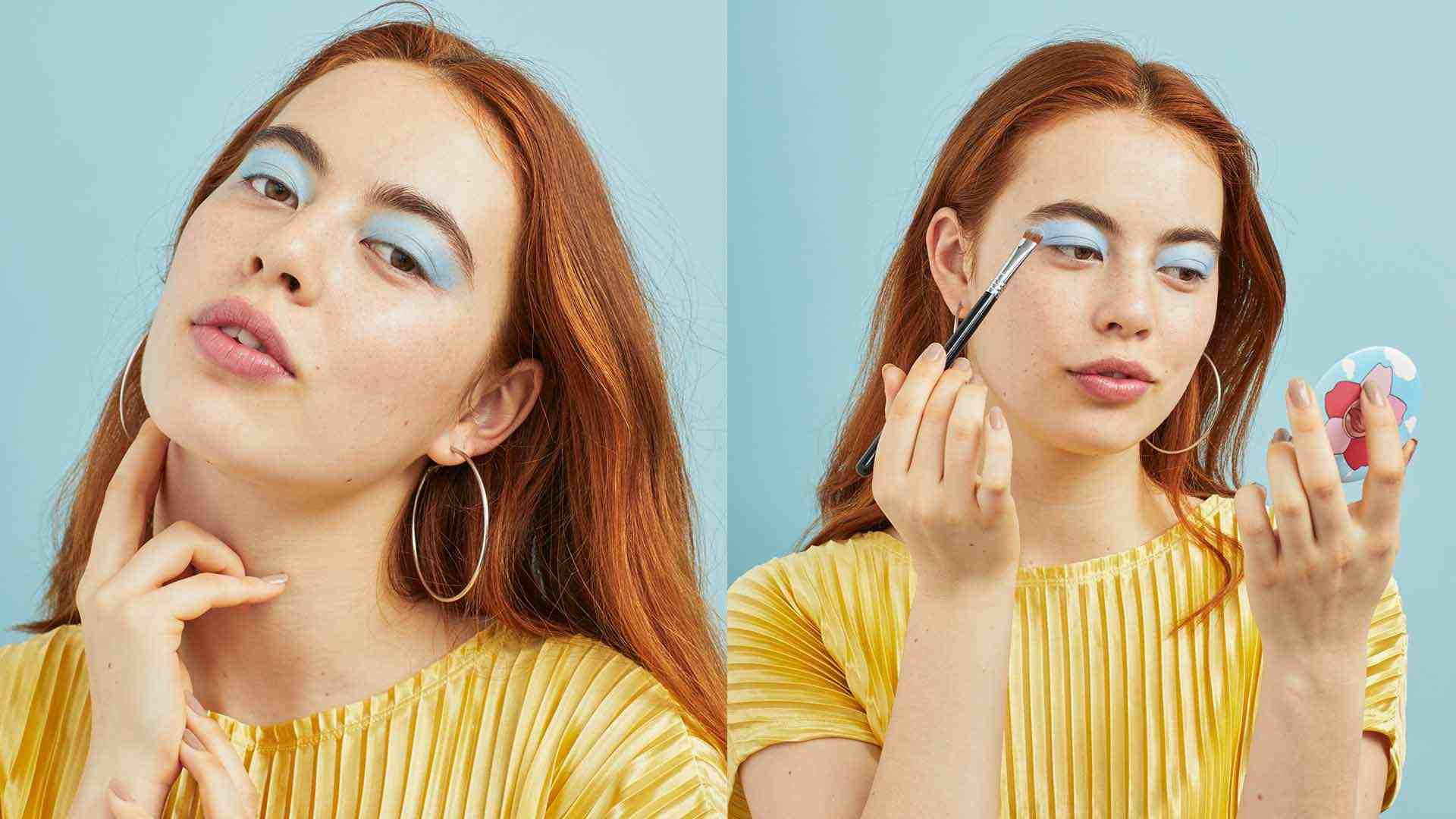 The recent warm temperatures and official start of spring have reminded us that summer is right around the corner. We can almost taste it and we can certainly feel it. And while we love most things about summer, the ultra-high temps that lead to makeup sweating off is definitely one piece that we could live without. So, why not skip the face makeup altogether? With the skinimalism beauty trend challenging us to strip away some of those layers of makeup, you can do just that. Plus, protective face masks are a part of our outdoor wardrobes for the foreseeable future, making it easier to want to focus more on the eyes, and less on base products. Ready to rock an equally bare, equally bold beauty look? Here, we're offering tips on how to perfect your complexion with your skin care routine and how to get one of the most minimalist makeup routines ever: bare skin with a statement eye.
HOW TO PREP FOR YOUR BARE SKIN AND BOLD EYE LOOK
This makeup idea is all about showcasing a clear, fresh complexion paired with a seriously glam eye makeup look. The key to really making it pop is to start with your skin care routine. First, cleanse your skin—we recommend using the L'Oréal Paris Revitalift Bright Reveal Brightening Daily Scrub Cleanser, or L'Oréal Paris Revitalift Derm Intensives 3.5% Glycolic Acid Cleanser based on your complexion concerns—they both gently exfoliate to improve skin tone and texture.
After cleansing, moisturize while your face is still damp. Instead of reaching for a heavy facial moisturizer, be sure to keep it ultra-light to help perfect your dewy bare skin look. We love the L'Oréal Paris Hydra Genius Daily Liquid Care – Normal/Dry Skin, L'Oréal Paris Hydra Genius Daily Liquid Care – Normal/Oily Skin, or L'Oréal Paris Hydra Genius Daily Liquid Care – Extra Dry Skin. These water-based formulas quench parched skin and contain aloe water and hyaluronic acid for intense, long-lasting hydration. Once your bare skin routine is complete, you're ready to create your minimal makeup look and bold statement eyes.
HOW TO CREATE A BARE SKIN AND BOLD EYE LOOK
Follow this simple step-by-step makeup tutorial to rock bare skin and bold, bright eye makeup.
STEP 1: PRIME YOUR COMPLEXION
One of the best ways to create a long-lasting beauty look is to start with face makeup primer. Since this bare skin makeup look is especially pretty when featuring a dewy glow, try using the L'Oréal Paris Infallible Pro-Glow Lock Makeup Primer. This primer can help even the appearance of your skin tone and reduce the appearance of your pores for a more flawless-looking complexion. Simply blend a dime-sized amount onto skin and move on to the next step.
Editor's Tip: If you really want to embrace the skinimalism trend, opt for a tinted moisturizer as your base product instead. The L'Oréal Paris Skin Paradise Water Infused Tinted Moisturizer offers natural coverage plus hydration for a glowing complexion. It's a great way to combine steps in the process for a quick get-ready routine.
STEP 2: CONCEAL DARK CIRCLES
Since the agenda is a bare skin appearance, you won't be using any full face makeup products apart from primer. That doesn't mean you have to put up with pesky dark circles. The L'Oréal Paris True Match Eye Cream in a Concealer, 0.5% hyaluronic acid will do the trick. Simply dab it under eyes and use a blender to lightly tap it all in so that it doesn't look like you have random spots of makeup on your otherwise bare face.
STEP 3: SUBTLY HIGHLIGHT
If you take a look at some of social media's top makeup artists you'll see that even their most bare beauty looks incorporate a sheer glow. To get the look, use a blender to dab some of the L'Oréal Paris True Match Lumi Glotion Natural Glow Enhancer onto your cheekbones. Extend the glow from just above the apple of your cheeks up towards your temples for natural-looking radiance.
STEP 4: APPLY EYESHADOW
Depending on which type of eyeshadow look you're aiming to achieve, use a palette or single shadow pot. We love the L'Oréal Paris Infallible 24HR Waterproof Eyeshadow for its variety of highly pigmented, shimmery shades. Use a fluffy eyeshadow brush to blend it from your lash line up just past your crease. Be sure to start with a medium color if you plan on using three colors, that way the lighter and darker colors will have something to blend into which reduces the chance of any muddiness.
STEP 5: ACCENTUATE YOUR LASHES AND LASH LINES
To complete your bare skin, bright eye makeup look, consider how you want your lashes and lash lines to look. Add a bright pop of color with the L'Oréal Paris Infallible Pro-Last Waterproof, Up to 24HR Pencil Eyeliner in a shade like cobalt blue. After applying your eyeliner, prime your lashes with a swipe of the L'Oréal Paris Voluminous Lash Paradise Mascara Primer/Base, then add a coat of the L'Oréal Paris Voluminous Original Washable Bold Eye Mascara. You can pair the bright shades (yup, it also comes in cobalt blue) or opt for the blackest black to create a dramatic contrast. Voila!
Photo Credit: Chaunte Vaughn
Next: 7 Easy Wedding Makeup Ideas For Guests
{ "@context": "https://schema.org/", "@type": "WebPage", "speakable": { "@type": "SpeakableSpecification", "cssSelector": ["speakable-content"] }, "url": "https://es.lorealparisusa.com/revista-de-belleza/maquillaje/looks-maquillaje/bare-skin-bright-eye-makeup" }
Descubrir más trucos y consejos
Ver todos los artículos
Shop Featured Skin Care products
Discover More
{ "@context": "http://schema.org", "@type": "BreadcrumbList", "itemListElement": [ { "@type":"ListItem", "position": 1, "item": { "@id": "/", "name": "Home" } } , { "@type":"ListItem", "position": 2, "item": { "@id": "https://es.lorealparisusa.com/revista-de-belleza", "name": "Revista de belleza" } } , { "@type":"ListItem", "position": 3, "item": { "@id": "https://es.lorealparisusa.com/revista-de-belleza/maquillaje", "name": "Consejos de maquillaje para cada look" } } , { "@type":"ListItem", "position": 4, "item": { "@id": "https://es.lorealparisusa.com/revista-de-belleza/maquillaje/looks-maquillaje", "name": "Looks de maquillaje" } } , { "@type":"ListItem", "position": 5, "item": { "@id": "https://es.lorealparisusa.com/revista-de-belleza/maquillaje/looks-maquillaje/bare-skin-bright-eye-makeup", "name": "bare-skin-bright-eye-makeup" } } ] }