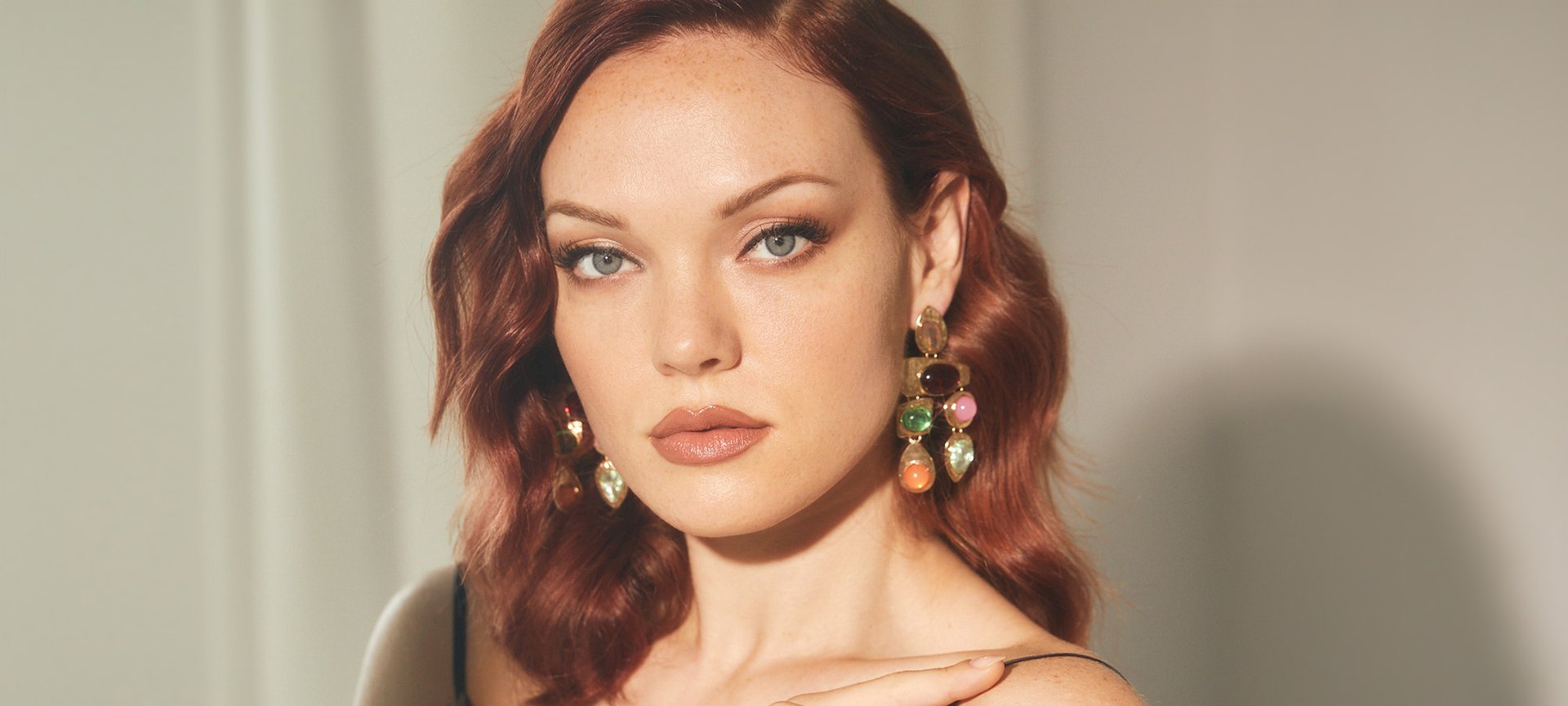 If you're planning a winter wedding, congratulations! While we certainly can't control what the weather has in store (read: snow and freezing winds), we can give you the tools you need to keep your wedding makeup secure. We're sharing the products you'll need to both master a whimsical bridal makeup look and ensure it stays picture-perfect when switching between indoor and outdoor temperatures, snowy photo ops and tons of dancing, ahead.

The Prep
Solidify Your Skin Care Routine
Flawless makeup application starts with skin care. In the months leading up to the big day, you'll want to enlist the help of a solid skin care routine that works for you. If you have oily skin, check out this skin care routine for oily skin. For those with dry skin, you might want to give this skin care routine a glance. We highly recommend, however, avoiding trying out new beauty treatments or drastically altering your skincare routine to avoid adverse reactions.

Add Moisture
Winter weather can wreak havoc on your skin, so in order to ensure your skin is a smooth canvas for wedding day makeup, place an emphasis on hydration. If they're not already a part of your routine, we recommend using a hyaluronic acid serum and a moisturizing cream to quench dry, thirsty skin. These two products work together to hydrate the skin and lock in moisture, which is essential for keeping the skin looking fresh and flake-free on your wedding day. The L'Oréal Paris Revitalift Derm Intensives 1.5% Pure Hyaluronic Acid Serum is a serum that leaves skin hydrated and plump when paired with a moisturizer, like the L'Oréal Paris Age Perfect Collagen Expert With SPF 30. Simply apply the hyaluronic acid first and then pat in the moisturizer, giving the serum moisture to hold onto, rather than pulling moisture out of dry skin. To learn more about hyaluronic acid, check out our article about the Skin Care Benefits of Hyaluronic Acid.

Don't Forget The Lips
The last thing you want is dry, cracked lips on your wedding day. Whether you're going for a matte lip look or want all the lipgloss, no product will stand a chance when your lips are in need of some major TLC. For plump-looking lips, try out a sugar scrub, like the L'Oréal Paris Pure Sugar Resurface & Energize Kona Coffee Scrub, to exfoliate any dead skin cells. The result? Soft, smooth lips that hold lipstick through hours of kissing and smiling.

Wedding Day Makeup
Trial Run
It goes without saying that you should definitely do a few test runs if you're planning on doing your own makeup for your wedding. Not only will you want to get the technique down pat, but you'll want to make sure that you put the products through a wear test to see how they last throughout the day. We recommend wearing your makeup look both inside and outside to see how it stacks up against the artificial heat indoors and wintery weather outdoors.

Opt for Cream Formulas
Perhaps the most important decision you'll make for your bridal makeup look is which foundation to wear. While powder formulas can be great to touch up oilier areas like the T-zone, it's best to avoid applying them all over your face as they can grip to dry patches and look cakey. Instead, pick a liquid or cream foundation formula that plays well with your skin type.
If you have dry skin, you should look for something that's hydrating on the skin and offers a luminous finish. Allow us to introduce you to the L'Oréal Paris True Match Hyaluronic Tinted Serum. This fan-favorite product is a lightweight skin tint that offers a light to medium veil of coverage. The best part? It leaves behind a dewy, healthy-looking finish that doesn't look cakey or dull.
If you have oily skin and are worried about looking greasy, we recommend layering the L'Oréal Paris Infallible Fresh Wear Foundation, Lightweight, a long-wearing, full-coverage foundation, on top of the shine-controlling L'Oréal Paris Infallible Pro-Matte Lock Makeup Primer. This primer keeps foundation from slipping and sliding off of your face, even when you break a sweat on the dance floor.
Along the same vein, opt for creamy blushes, bronzers and highlighters in lieu of their powdery counterparts. Not only do these formulas look really natural, but they're easier to reapply and touch up after shedding happy tears or breaking a sweat on the dance floor.

Consider a Pop of Color
Consider adding a colorful punch to your wedding makeup with a bright lipstick. The contrast between a classic red lip and a snowy setting is both timeless and gorgeous. Plus, bolder colors tend to have stronger, longer lasting pigments that won't wear off like lighter neutrals. Need help finding your perfect red? Check out our guide of the most universally flattering red lipsticks, featuring the highly-pigmented L'Oréal Paris Color Riche Reds of Worth Lipsticks.

Use Waterproof Mascara
Whether it's the emotional vows, heartfelt reception speeches or harsh winter winds, tears are practically guaranteed during the wedding celebration. To keep your mascara from rolling down your cheeks, make sure you use a waterproof mascara that won't budge, like the L'Oréal Paris Voluminous Lash Paradise Waterproof Mascara.
When taking it off, we suggest using a micellar water (the L'Oréal Paris Micellar Cleansing Water Complete Cleanser Waterproof - All Skin Types) to gently remove even the most stubborn waterproof makeup from your lashes.
Next: How to Do Skinimalism-Inspired Bridal Makeup

Written by: Caitlyn Martyn, Photography: Chaunte Vaughn, Associate Creative Director: Melissa San Vicente-Landestoy, Art Director: Hannah Packer, Associate Creative Producer: Becca Solovay, Associate Content Director: Shalwah Evans, Makeup Artist: Jonet Williamson, Hair Stylist: Akihisa Yamaguchi, Wardrobe Stylist: Alexis Badiyi, Digital Tech: Erik Dalzen, Photo Assistant: Sam Kang, Model: Alexandra Van Zant
{ "@context": "https://schema.org/", "@type": "WebPage", "speakable": { "@type": "SpeakableSpecification", "cssSelector": ["speakable-content"] }, "url": "https://es.lorealparisusa.com/revista-de-belleza/maquillaje/looks-maquillaje/makeup-products-for-winter-brides" }
Descubrir más trucos y consejos
Ver todos los artículos
Mejora tu rutina
Muestra más amor a tu nuevo look:
makeup
{ "@context": "http://schema.org", "@type": "BreadcrumbList", "itemListElement": [ { "@type":"ListItem", "position": 1, "item": { "@id": "/", "name": "Home" } } , { "@type":"ListItem", "position": 2, "item": { "@id": "https://es.lorealparisusa.com/revista-de-belleza", "name": "Revista de belleza" } } , { "@type":"ListItem", "position": 3, "item": { "@id": "https://es.lorealparisusa.com/revista-de-belleza/maquillaje", "name": "Consejos de maquillaje para cada look" } } , { "@type":"ListItem", "position": 4, "item": { "@id": "https://es.lorealparisusa.com/revista-de-belleza/maquillaje/looks-maquillaje", "name": "Looks de maquillaje" } } , { "@type":"ListItem", "position": 5, "item": { "@id": "https://es.lorealparisusa.com/revista-de-belleza/maquillaje/looks-maquillaje/makeup-products-for-winter-brides", "name": "makeup-products-for-winter-brides" } } ] }