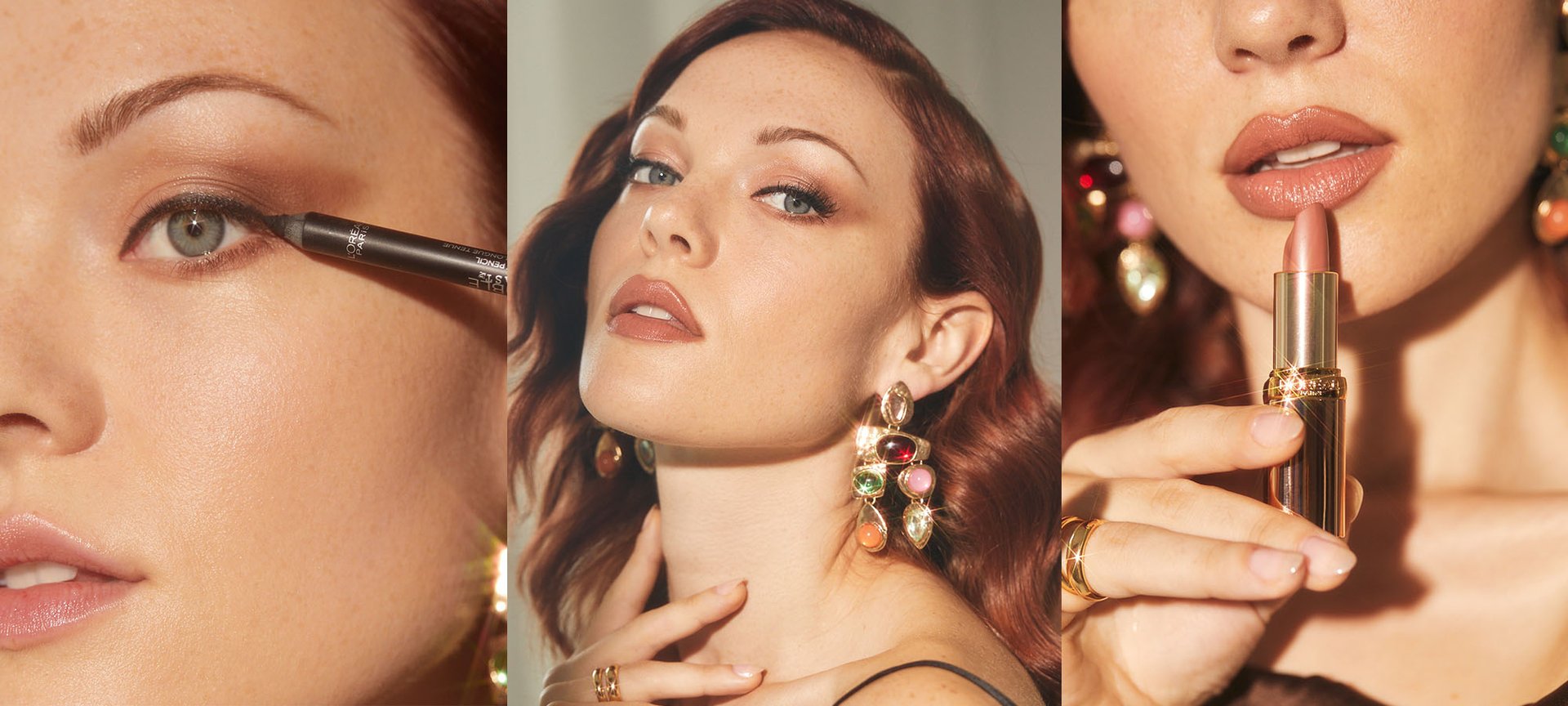 looks de maquillaje
How To Get A Nude Soft Glam Winter Look, According to A Celebrity Makeup Artist
The hottest look for winter.
With the coming of winter, it's time to embrace the colder temperatures and break out our warmer clothing and festive makeup looks. But the cooler weather is also a great time to play with more subtle and muted tones, like a soft glam nude makeup look. Whether you're getting ready for a chilly day in the office or a hot holiday party, a soft nude makeup look can be worn anywhere. We spoke with L'Oréal Paris expert and celebrity makeup artist Sir John for a step-by-step tutorial to help you achieve the best soft nude winter look, including how to get the softest winter skin to the perfect nudes for your pout.


Step 1: Prep Your Face
Before we get down to business, you'll want to prep your face for your makeup look.
As Sir John, explains the first step to a soft winter look is good skin care. "We are transitioning our normal skin care from fall to winter," he says. "This is a time to slough off the summer dead cells so your skin is going to have a natural radiance."


This means reaching for an exfoliating cleanser like the L'Oréal Paris Revitalift Derm Intensives 3.5% Glycolic Acid Cleanser. This daily face wash contains pure glycolic acid, salicylic acid, and aloe extract. It works to resurface your skin by gently dissolving the protein that holds dead skin cells together while removing excess oils and makeup.

After cleansing, be sure to apply a moisturizer with SPF since glycolic acid can make your skin more sensitive to the sun. We recommend using the L'Oréal Paris Revitalift Triple Power Day Lotion SPF 30.
Step 2: Perfect Your Complexion
Once you've prepped your skin, it's time to reach for foundation and concealer to start creating a flawless complexion.


"Winter is a good time to go for a foundation with a fuller, possibly a bit more finished coverage since during the holidays we're going out more and seeing more people," Sir John explains. "Also, our wardrobe is more on that heavier [side] as well. So there's no need for the super sheer minimal, barely-there tint that we love in the summer."
Start with a makeup primer like the L'Oréal Paris Infallible Pro-Glow Makeup Lock Primer to smooth out and blur any imperfections, as well as increase the lifespan of your makeup. Then reach for the L'Oréal Paris Infallible Up to 24HR Fresh Wear Foundation, Lightweight which makes the perfect base thanks to its lightweight formula, buildable coverage, and natural finish. Buff it on using the L'Oréal Paris Infallible Blend Artist Foundation Blender for a seamless look.

Step 3: Add Some Glow
To bring some glamour to your winter look, you'll want to add some radiance to your skin.

"You can really play with textures in the wintertime, be strategic with how much you highlight or where you're magnified in the winter, and not have to worry about the heat taking it all away like in the summer."


Apply the L'Oréal Paris True Match Lumi Bronze It Bronzer to the hollows of your cheeks, sides of your nose, jawline, and temples, being sure to blend out any harsh lines. Then add some of the L'Oréal Paris True Match Lumi Shimmerista Highlighting Powder onto your cheekbones and your cupid's bow for a glowing visage.
Step 4: Sculpt Your Brows
No matter the season, every stunning makeup requires bold, defined eyebrows. Reach for an eyebrow gel, like the L'Oréal Paris Unbelievarow Longwear Waterproof Brow Gel, to perfect your brow shape.

Step 5: Grab Your Eyeshadow
Nude eyeshadow is a classic option for any season but for a soft glam winter look think earthy shades of brown or rosy pink tones with a hint of shimmer. To find the right nude shade that perfectly complements your look, reach for the L'Oréal Paris Colour Riche La Palette Nude.


This eyeshadow palette includes a range of ten highly pigmented nude shades from tan, chocolate, and beige in an option of finishes like shimmery satin, buttery matte, and lustrous sheen.

For a simple eye look, apply a shimmery nude shade to your lid. Then, give your crease some subtle definition with a second matte nude shade. If you want more nude eye makeup inspiration, check out our article How to Use Nude Eye Shadow For An Anything-But-Boring Look.

Step 6: Define Your Eyes
Grab a liquid eyeliner, like the L'Oréal Paris Infallible The Super Slim Liquid Eyeliner, and create a super sharp wing. Brighten your eyes even more by applying the L'Oréal Paris Infallible Pro-Last Waterproof, Up to 24HR Pencil Eyeliner in Nude on your waterline. This eyeliner hack will also make your eyes appear bigger.

Step 7: Turn Up The Volume
Amp up the drama and give your lashes some volume with the L'Oréal Paris Voluminous Original Washable Bold Eye Mascara in Blackest Black. This bold, volume building mascara is uniquely formulated to resist clumping, keep lashes soft, and build lashes up to five times their natural thickness.

Step 8: Finish With A Nude Lip
Paint your pout in a statement nude hue that will make your soft winter look stand out.

"Give yourself a serious lip like a nude brown or use lip liner all over and then apply a stain that's going to last you all day," says Sir John.

Choose a deep nude like the L'Oréal Paris Les Nus By Colour Riche Intense Nude Lipstick In Nu Extreme. Or for an extra glamorous touch, try the L'Oréal Paris Brilliant Signature Shiny Lip Stain Lipstick in Be Determined, a lightweight, high-shine lip stain with a gloss-like feel and the color impact of a liquid lipstick.
Step 9: Seal The Deal
To ensure your nude soft glam winter makeup look won't fade throughout the day or night. Set your look and add a boost of radiance with a few spritzes of the L'Oréal Paris True Match Lumi Shake & Glow Dew Mist.

Next: How To Match Makeup To Your Skin Tone As The Seasons Change
Written by: Lauren Paige Richeson, Photo Credit: Chaunte Vaughn, Associate Creative Director: Melissa San Vicente-Landestoy, Art Director: Hannah Packer, Associate Creative Producer: Becca Solovay, Associate Content Director: Shalwah Evans, Makeup Artist: Jonet Williamson, Hair Stylist: Akihisa Yamaguchi, Wardrobe Stylist: Alexis Badiyi, Digital Tech: Erik Dalzen, Photo Assistant: Sam Kang, Model: Alexandra Van Zant
{ "@context": "https://schema.org/", "@type": "WebPage", "speakable": { "@type": "SpeakableSpecification", "cssSelector": ["speakable-content"] }, "url": "https://es.lorealparisusa.com/revista-de-belleza/maquillaje/looks-maquillaje/soft-winter-nude-look" }
Descubrir más trucos y consejos
Ver todos los artículos
Mejora tu rutina
Muestra más amor a tu nuevo look:
makeup
{ "@context": "http://schema.org", "@type": "BreadcrumbList", "itemListElement": [ { "@type":"ListItem", "position": 1, "item": { "@id": "/", "name": "Home" } } , { "@type":"ListItem", "position": 2, "item": { "@id": "https://es.lorealparisusa.com/revista-de-belleza", "name": "Revista de belleza" } } , { "@type":"ListItem", "position": 3, "item": { "@id": "https://es.lorealparisusa.com/revista-de-belleza/maquillaje", "name": "Consejos de maquillaje para cada look" } } , { "@type":"ListItem", "position": 4, "item": { "@id": "https://es.lorealparisusa.com/revista-de-belleza/maquillaje/looks-maquillaje", "name": "Looks de maquillaje" } } , { "@type":"ListItem", "position": 5, "item": { "@id": "https://es.lorealparisusa.com/revista-de-belleza/maquillaje/looks-maquillaje/soft-winter-nude-look", "name": "soft-winter-nude-look" } } ] }