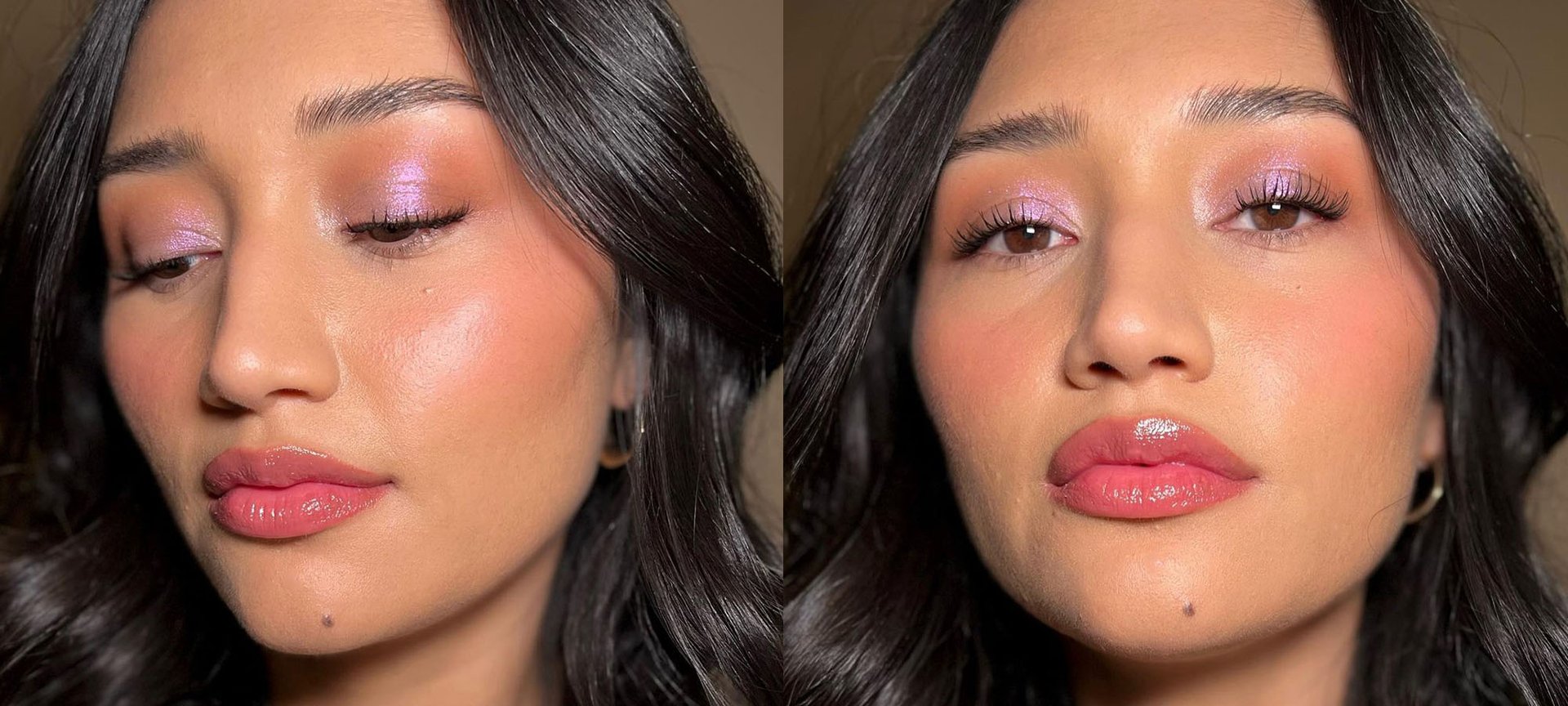 looks de maquillaje
This Soft Glam Valentine's Day Makeup Tutorial Is Almost Too Easy
A special makeup look doesn't need to be difficult.
Regardless of your Valentine's Day plans, playing up your makeup and experimenting with a romantic makeup look is a great way to get creative and boost your self confidence. And if you're game to get glam, don't feel like you're obligated to master an intricate, over the top look. Sometimes the best makeup looks are the simple ones that enhance your features in a naturally elevated way.
Below, we're sharing how to create a soft glam makeup look that's fitting for Valentine's Day and totally wearable for any other occasion. It's simple, sophisticated and easy to recreate.

Step 1. Apply a Glistening Eyeshadow to Your Eyelids
Perhaps you typically apply your complexion products before eyeshadow, but when working with shimmery or glittery shades, it's best to do your eyes first in case you get fallout from the eyeshadow. After priming your eyes, blend a matte neutral shade that's two shades darker than your skin tone into the crease of your eyes to create natural definition.
Taking a shimmery or slightly glittery eyeshadow in a cool pink hue, like the L'Oréal Paris Infallible 24H Eyeshadow in Always Pearly Pink, apply it to the center of your eyelids using your fingers for maximum color impact and shine. Then, use a fluffy eyeshadow brush to lightly blend the edges of the twinkling shade to make it appear more natural and diffused.

Step 2. Coat Your Lashes In Voluminous Mascara
To keep the look soft and understated, skip eyeliner and instead simply add definition to your eyes by layering on a volumizing mascara. The L'Oréal Paris Voluminous Lash Paradise Washable Mascara can be built up to thicken the lashes without looking clumpy or weighing them down.

Step 3. Define Your Brows
Defined eyebrows can make all the difference in a makeup look. If you have sparse brows or you like to alter their shape a bit, fill them in with a long lasting eyebrow pencil, like the L'Oréal Paris Brow Stylist Definer Waterproof Eyebrow Mechanical Pencil. Then, comb the brow hairs and set them in place with the L'Oréal Paris Unbelieva-Brow Longwear Brow Topcoat, Waterproof Universal Transparent. It's a clear gel that locks in the brows without making them feel crunchy or stiff.
Editor's tip: If you like bold brows and want to add some volume and color, apply the L'Oréal Paris Unbelieva-Brow Longwear Waterproof Brow Gel to your brows and comb it through the hairs for added thickness and pigmentation.

Step 4. Even Out Your Complexion With Tinted Serum
A key to ensuring that your soft glam look does in fact remain soft and natural-looking is to apply a lightweight complexion product like tinted serum. The L'Oréal Paris True Match Hyaluronic Tinted Serum is perfect for this because it evens out your skin tone and provides a naturally luminous finish that doesn't look or feel heavy or overdone.
If you typically use more full-coverage products or you have spots that you're looking to cover, spot conceal with a full-coverage concealer, like the L'Oréal Paris Infallible Full Wear Concealer Waterproof, Full Coverage. Applying a sheer base product and spot concealing with a more heavy duty concealer is a great way to get the coverage you need while still maintaining a natural look.
If you want additional coverage or like to set your base products, apply a light layer of the L'Oréal Paris Infallible Up to 24H Fresh Wear in a Powder where needed. It's incredibly lightweight on the skin and incredibly long-wearing.

Step 5. Add a Pop of Color to Your Cheeks
Bold blush is on trend, and it's a perfect complement to a soft, Valentine's Day look. Apply a neutral pink shade, like the L'Oréal Paris Age Perfect Radiant Satin Blush with Camellia Oil, to the apples of your cheeks and blend up towards your temples to define your cheekbones.
Editor's tip: Purple blush is trending on TikTok, and it's incredibly flattering on a wide variety of skin tones. If you don't have a purple shade, pat a bit of purple lipstick onto your cheeks and blend it out with your fingers.

Step 6. Apply a Shiny Lip Color
Finish off your makeup look with romantic, soft-looking lips. Applying a mid-tone pink lip color in a hydrating, glowy formula. We love the L'Oréal Paris Glow Paradise Balm-in-Lipstick with Pomegranate Extract in Rose Mirage 一 it's comfortable to wear, adds shine to the lips and is formulated with nourishing ingredients, including pomegranate extract. If you prefer lip gloss, reach for the L'Oréal Paris Glow Paradise Lip Balm-in-Gloss Pomegranate Extract, which has a smooth and creamy texture that doesn't feel sticky on the lips or get stuck to your hair when you toss it.
Next: How To Drape Your Blush For A Gorgeous, Flushed Look

Written by: Alyssa Kaplan, Photo Credit: IG/@camiladerizans
{ "@context": "https://schema.org/", "@type": "WebPage", "speakable": { "@type": "SpeakableSpecification", "cssSelector": ["speakable-content"] }, "url": "https://es.lorealparisusa.com/revista-de-belleza/maquillaje/looks-maquillaje/valentines-day-makeup-tutorial" }
Descubrir más trucos y consejos
Ver todos los artículos
Mejora tu rutina
Muestra más amor a tu nuevo look:
makeup
{ "@context": "http://schema.org", "@type": "BreadcrumbList", "itemListElement": [ { "@type":"ListItem", "position": 1, "item": { "@id": "/", "name": "Home" } } , { "@type":"ListItem", "position": 2, "item": { "@id": "https://es.lorealparisusa.com/revista-de-belleza", "name": "Revista de belleza" } } , { "@type":"ListItem", "position": 3, "item": { "@id": "https://es.lorealparisusa.com/revista-de-belleza/maquillaje", "name": "Consejos de maquillaje para cada look" } } , { "@type":"ListItem", "position": 4, "item": { "@id": "https://es.lorealparisusa.com/revista-de-belleza/maquillaje/looks-maquillaje", "name": "Looks de maquillaje" } } , { "@type":"ListItem", "position": 5, "item": { "@id": "https://es.lorealparisusa.com/revista-de-belleza/maquillaje/looks-maquillaje/valentines-day-makeup-tutorial", "name": "valentines-day-makeup-tutorial" } } ] }