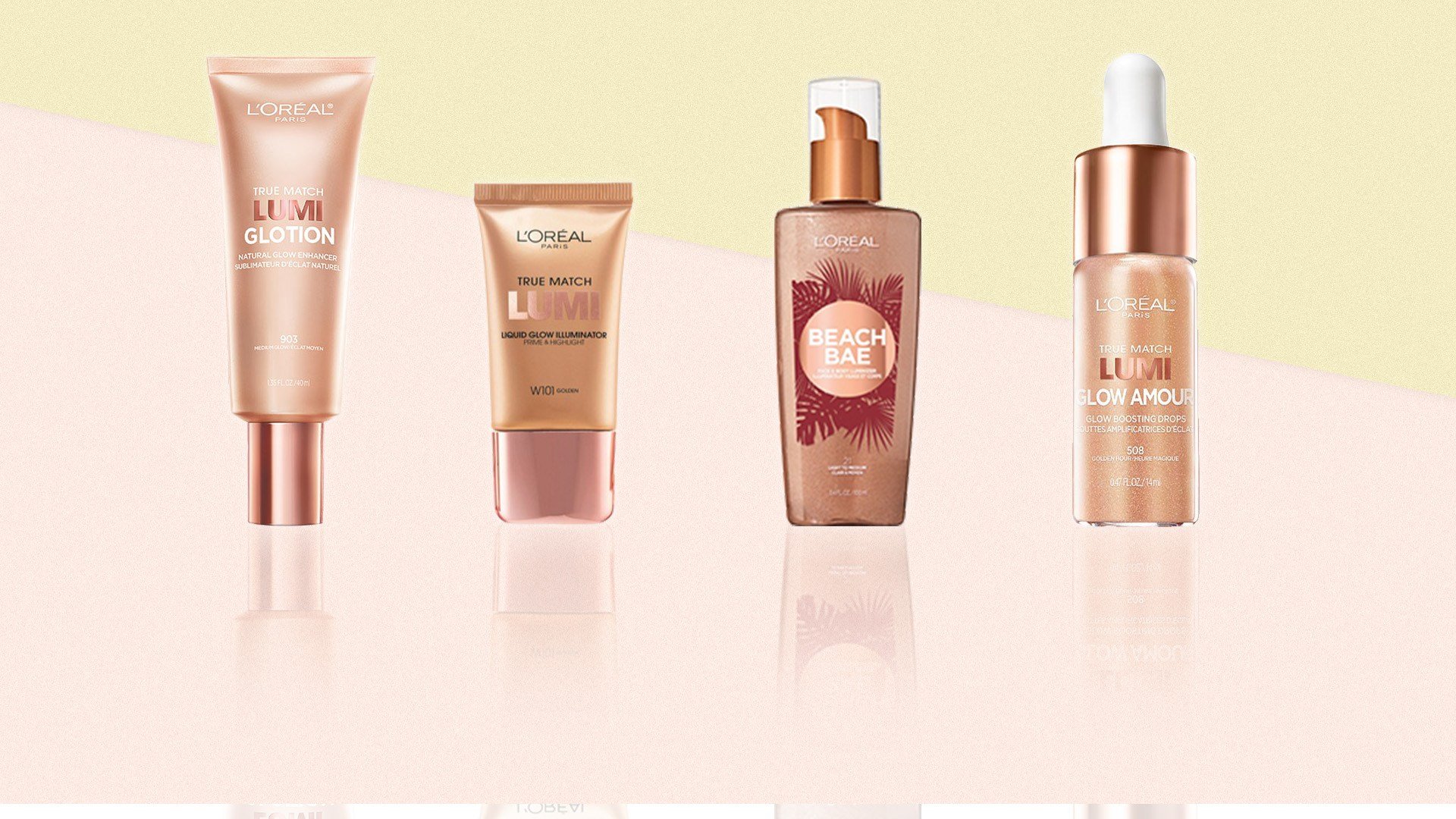 We'd say there's no better time than the new year to shine bright—with your makeup look, that is. If you're looking to add some glow to your routine in 2020, you've come to the right place. You may be familiar with powder highlighters, but have you considered using a liquid option instead? Liquid highlighters are trending, and it may have something to do with their blendable, pigmented liquid formulas. Want to try one for yourself? Below, we're sharing four liquid highlighters to add to your makeup bag this year.
OUR 4 BEST LIQUID HIGHLIGHTERS
Without further ado, allow us to introduce you to our four best liquid highlighters.
L'Oréal Paris True Match Lumi Glotion Natural Glow Enhancer: What do you get when you combine a lotion and highlighter? A glotion, of course! This highlighting glow lotion is about to be your best friend in 2020, as it can be used to create an all-over natural glow and to highlight specific features. The hydrating liquid formula is ideal for the winter months or those with parched skin who may not be inclined to swipe powder highlighter onto dry areas.
The highlighting formula delivers an illuminating color tint to enhance your skin's natural glow for a healthier, brighter-looking complexion. Instantly, skin is illuminated with a fresh, natural-looking glow. Not to mention, the glotion is infused with glycerin and shea butter and provides all-day, continuous hydration. This liquid highlighter is available in four shades: Fair, Light, Medium, and Deep. Each can be worn alone, under foundation, or on targeted areas for a more luminous effect.
How to use it: Choose the shade that best matches your skin tone. For an all-over glow, apply under or over foundation. To use as highlighter, apply a shade that's lighter than your skin tone to your cheekbones, forehead, cupid's bow, and chin.
L'Oréal Paris True Match Lumi Glow Amour Glow Boosting Drops: Add a drop of luminance to your makeup look with this glow-boosting, liquid highlighter. These revolutionary drops of highlighting pigment instantly illuminate skin for a dewy look. With an ultra-lightweight formula and non-greasy texture, the drops blend seamlessly onto skin to build luminosity. There are two shades to choose from: Golden Hour and Daybreak. Infused with shea butter, the drops go on smooth while providing rich hydration.
How to use it: Shake well before use, then apply with a makeup blender or your fingers. For an all-over glow, mix with foundation, moisturizer, or primer. For a targeted glow, use alone or over foundation on your cheekbones, the bridge of your nose, your forehead, and cupid's bow. Use one drop for a natural, dewy glow or two drops for a more intense glow.
L'Oréal Paris True Match Lumi Liquid Glow Illuminator: This liquid highlighter has a lightweight formula available in three shades to flatter every skin tone and undertone. The shade Golden enhances peachy or yellow tones in warm skin tones. Rose enhances yellow, peachy, pink, or blue tones in neutral skin tones, and Ice can be used to enhance pink or blue tones in cool skin tones. The liquid highlighter can be used for an all-over glow or a more targeted highlight.
How to use it: For an all-over glow, wear alone or mixed with foundation. Apply with fingertips in a "C" motion around eyes, cheekbones, and down the bridge of your nose, blending onto skin. For targeted highlighting, follow the same method to apply and blend. Use above and below brow bones to enhance eyes. To boost cheekbones, apply in a diagonal line from the middle of your cheekbone toward your hairline. Apply down the bridge of your nose and dot onto your cupid's bow to define your lips.
L'Oréal Paris Summer Belle Makeup Beach Bae Face & Body Liquid Luminizer: This liquid highlighter is hydrating, lightweight, and ultra-bendable for an all-over, dewy-bronzed look. And when we say all over, we mean all over—this luminizer can be used on your face and body! Packed with multi-reflective liquid pearls, the formula will leave your skin with an illuminated, sun-lit glow. The highlighter comes in two shades: Light to Medium and Medium to Deep.
How to use it: Apply all-over, smoothing onto skin, for instant, sheer bronze color.
{ "@context": "https://schema.org/", "@type": "WebPage", "speakable": { "@type": "SpeakableSpecification", "cssSelector": ["speakable-content"] }, "url": "https://es.lorealparisusa.com/revista-de-belleza/maquillaje/maquillaje-facial/best-liquid-highlighters" }
Descubrir más trucos y consejos
Ver todos los artículos
Shop Featured Makeup products
Discover More
{ "@context": "http://schema.org", "@type": "BreadcrumbList", "itemListElement": [ { "@type":"ListItem", "position": 1, "item": { "@id": "/", "name": "Home" } } , { "@type":"ListItem", "position": 2, "item": { "@id": "https://es.lorealparisusa.com/revista-de-belleza", "name": "Revista de belleza" } } , { "@type":"ListItem", "position": 3, "item": { "@id": "https://es.lorealparisusa.com/revista-de-belleza/maquillaje", "name": "Consejos de maquillaje para cada look" } } , { "@type":"ListItem", "position": 4, "item": { "@id": "https://es.lorealparisusa.com/revista-de-belleza/maquillaje/maquillaje-facial", "name": "Maquillaje facial" } } , { "@type":"ListItem", "position": 5, "item": { "@id": "https://es.lorealparisusa.com/revista-de-belleza/maquillaje/maquillaje-facial/best-liquid-highlighters", "name": "best-liquid-highlighters" } } ] }