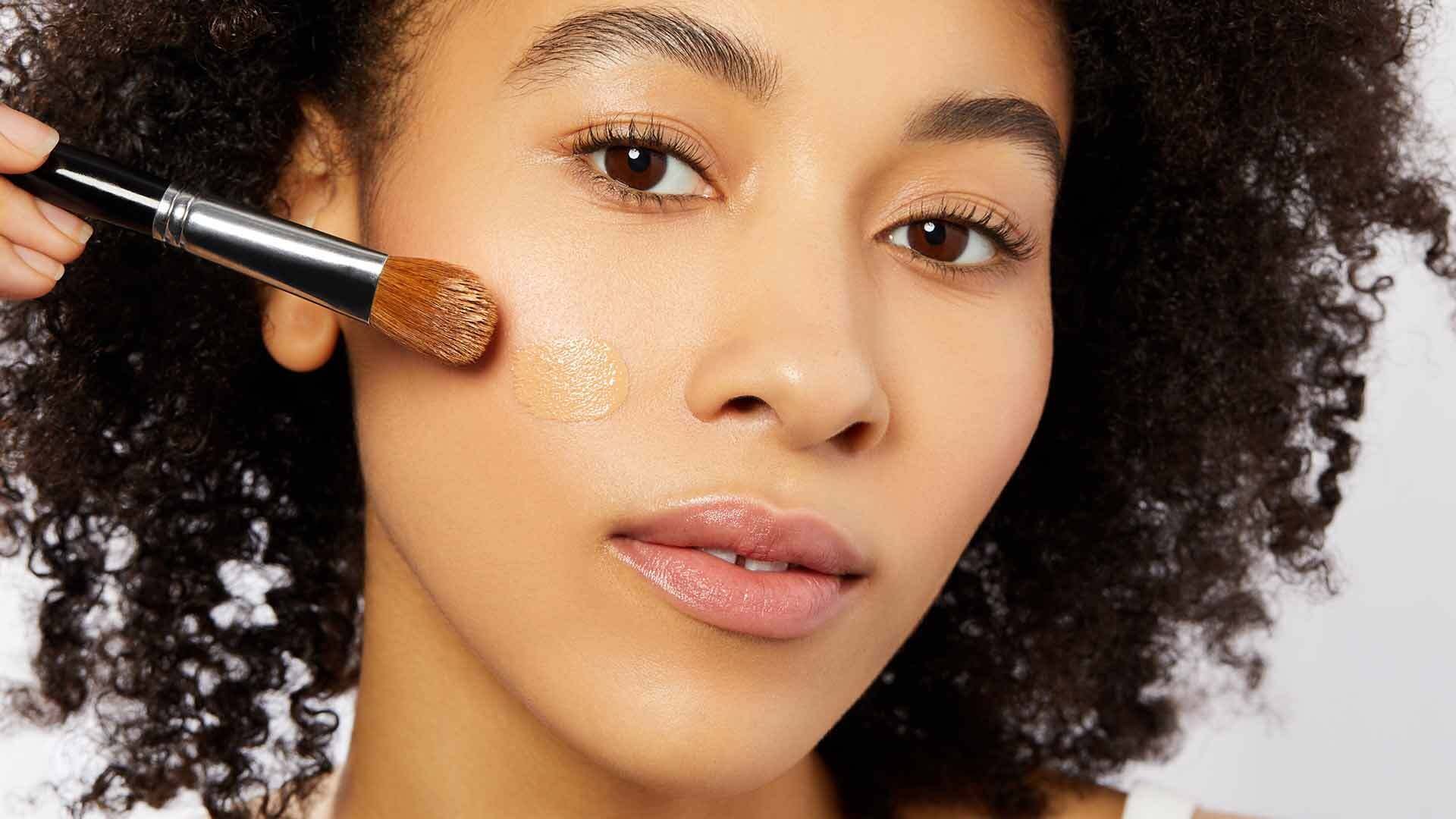 When it comes to your makeup routine, we can bet that foundation plays a starring role. It's an essential beauty product that helps create a flawless-looking base for the rest of your look and works wonders at masking imperfections. We also love the fact that it comes in various formulas and finishes, allowing you to get a matte or dewy look. That being said, applying foundation can be a process—and sometimes it doesn't go onto your skin the way you thought it would. However, when you do apply it the right way, you can enhance your complexion and get a radiant barely-there foundation finish. So to help you get the smoother and skin-like results of your dreams, we've rounded up five tips you should incorporate into your beauty routine starting now.
Tip #1: Prep Your Skin The Right Way
Skin care is critical when it comes to prepping for makeup. To get a flawless finish, you'll need to start with a clean and smooth base. So be sure to cleanse, exfoliate, and moisturize before reaching for any makeup tool. It's also important to note that this step is critical no matter what time of day you're applying makeup. You'll always need to make sure you have a great base to ensure that your makeup will last and look good.
When doing makeup midday or for a night out after work, you still need to cleanse first, so, reach for the L'Oréal Paris Micellar Cleansing Water Complete Cleanser Waterproof – All Skin Types. It will help lift dirt and oil, from the skin so you don't lay foundation over bacteria that can cause breakouts. There's also no rinsing required, making it ideal for a quick cleanse. Then follow up with a makeup primer like the L'Oréal Paris Studio Secrets Professional Magic Perfect Base, which helps smooth lines and hides pores. Apply it dot by dot and blend it in using gentle circular motions over your entire face or on targeted areas, (i.e. your nose and cheeks to minimize the appearance of pores or your T-zone to help reduce the look of shininess.
Editor's Tip: Make sure your primer and foundation formulas work well together. Layering on products that contain too much of the same ingredients can cause pilling. Giving your products enough dry time on the skin as well can help avoid this issue.
Tip #2: Choose A Formula Based On Your Skin Type
When it comes to picking the right foundation, keep your skin type in mind. If you have dry skin that tends to look dull, you may want to opt for a radiant finish foundation, like the L'Oréal Paris Infallible Pro Glow Foundation. And if your skin tends to be on the oily side, a matte-finish foundation, like the L'Oréal Paris Infallible Up to 24H Fresh Wear in a Powder, matte finish, could be a good option for you. For combination skin types, we recommend using the L'Oréal Paris Infallible Longwear Foundation Shaping Sticks. Cream makeup products are great to use because they won't stick to areas of your skin that are dry and won't add excess shine to oily spots.
Tip #3: Test Your Foundation In Different Lighting
To prevent any makeup mishaps, be sure to test your foundation shade in different lighting before going out in public. Even if your foundation looks great under the bright lights of your bathroom doesn't mean it will look the same way in natural light. Remember, you're not going to have bright lights around you all the time, so it's important to check what your makeup will look like in natural lighting. You should also keep this in mind year-round because as the seasons change, your complexion can change a few shades as well. Due to less sun exposure in the winter, you may need to go a few shades lighter. And in the summer, you may need to go a couple of shades deeper if you get a tan. So be sure to apply just a swipe of foundation first and look at it under different lighting before doing your entire face.
Tip #4: Color Match Like A Pro
If you're still color matching on the side of your jaw or neck, we've got news for you—there's a better way. To save time on tip three try color-matching like the pros and swipe your foundation shade to the center of your chest instead. Since our faces and necks can be several different colors all over, due to sun exposure, hyperpigmentation, and more, those areas won't give you an exact shade match. The chest area will reflect your undertones better and give you the right hue for an overall even skin tone look that also matches your body.
Editor's Tip: Don't have time to test our foundation shades in the store? Try out the L'Oréal Paris Virtual Makeup Try-On Tool, which allows you to try shades from any of the L'Oréal Paris foundation lines.
Tip #5: Use The Right Application Tools
Yes, you can apply foundation to your face with your fingers—but using a makeup sponge or foundation brush can give you a smoother look that mimics the work of a professional. Makeup blenders like the L'Oréal Paris Infallible Blend Artist Foundation Blender are great for applying liquid foundations because the sponge gives off a naturally blended finish. Brushes are great for powder foundations since the bristles can help pick up the product easily, and it allows you to be more precise on target areas.
Editor's Tip: No matter what tool you choose, always build-up to the amount of product you'd like to apply instead of adding it all at once. This will help prevent your makeup from looking cakey.
Photo Credit: Chaunte Vaughn
{ "@context": "https://schema.org/", "@type": "WebPage", "speakable": { "@type": "SpeakableSpecification", "cssSelector": ["speakable-content"] }, "url": "https://es.lorealparisusa.com/revista-de-belleza/maquillaje/maquillaje-facial/foundation-hacks-to-simplify-your-routine" }
Descubrir más trucos y consejos
Ver todos los artículos
Shop Featured products
Discover More
{ "@context": "http://schema.org", "@type": "BreadcrumbList", "itemListElement": [ { "@type":"ListItem", "position": 1, "item": { "@id": "/", "name": "Home" } } , { "@type":"ListItem", "position": 2, "item": { "@id": "https://es.lorealparisusa.com/revista-de-belleza", "name": "Revista de belleza" } } , { "@type":"ListItem", "position": 3, "item": { "@id": "https://es.lorealparisusa.com/revista-de-belleza/maquillaje", "name": "Consejos de maquillaje para cada look" } } , { "@type":"ListItem", "position": 4, "item": { "@id": "https://es.lorealparisusa.com/revista-de-belleza/maquillaje/maquillaje-facial", "name": "Maquillaje facial" } } , { "@type":"ListItem", "position": 5, "item": { "@id": "https://es.lorealparisusa.com/revista-de-belleza/maquillaje/maquillaje-facial/foundation-hacks-to-simplify-your-routine", "name": "foundation-hacks-to-simplify-your-routine" } } ] }