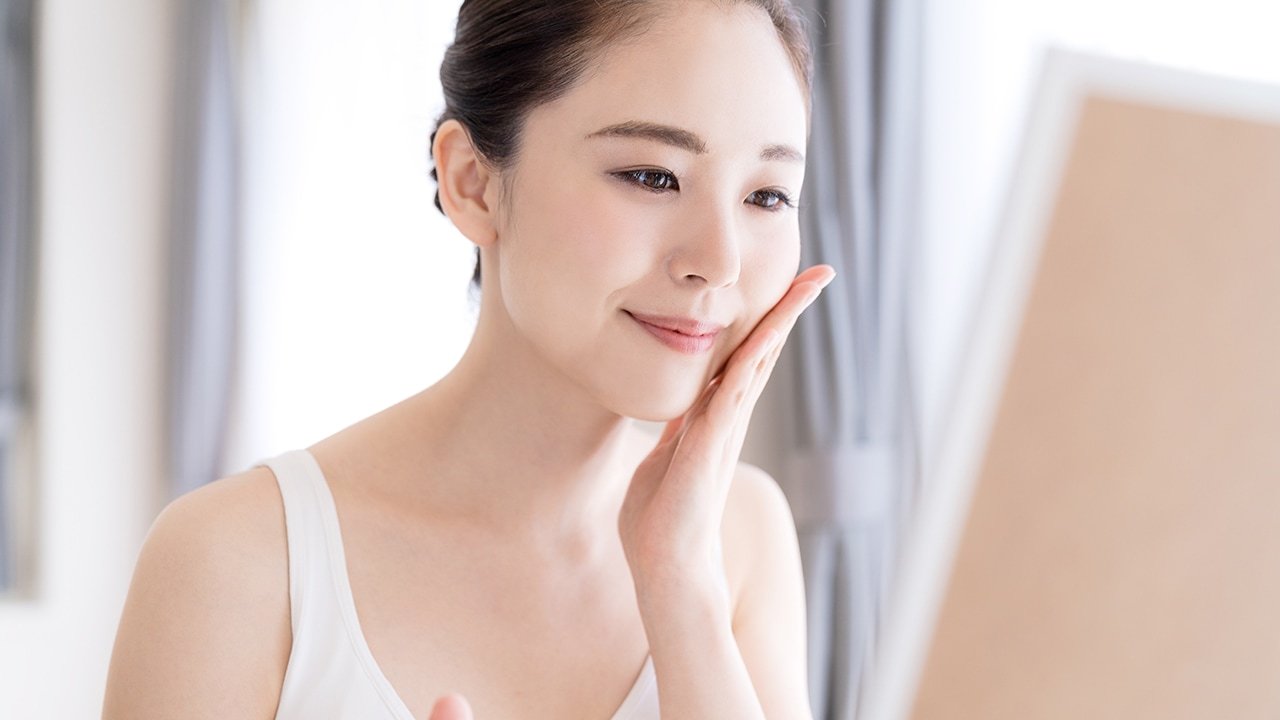 When it comes to makeup products, we'd consider makeup primer a holy grail. After all, is there anything more frustrating than looking at your face in the mirror and noticing that your makeup has started to fade in the middle of the day? Or even worse—that your lipstick or eye shadow has started to migrate to other parts of your face? Ugh, so not cool. How can you avoid any of this happening, though? The answer is primer makeup! Wondering what that is? You wouldn't be the first person to find yourself asking, "What is face primer?" Let's break it down…
WHAT IS MAKEUP PRIMER?
There are primers specifically for the face, eyes, lashes, and lips—each of which can help make your makeup stay in place. Generally, primers are applied as the first step in your makeup routine to help create a smooth canvas on which to apply the rest of your products, as well as to help keep your foundation, eye shadow, mascara, and lipstick in place. Primer—for face and eye makeup in particular—can also be useful for those with oily skin who tend to have issues with their makeup moving around. Primers most often have formulas that resemble serums, creams, or even tinted moisturizers, but they can even come in the form of face mists.
Ready to try out using makeup primer for yourself? Here's how to apply makeup primer so that you can help prevent a midday makeup meltdown and create a more seamless makeup application routine in one fell swoop.
HOW TO APPLY FACE PRIMER
Stop yourself from reaching for your foundation and concealer right away. First, it's time to prime. What is face primer? It's the answer to keeping your face makeup in place day and night! After completing the final step in your skin care routine, apply your primer dot by dot onto your skin. Blend in a gentle circular motion over your entire face or to targeted areas. You can wear the primer alone or under foundation for a smoother, more even application and longer wear time. Certain primers can also be mixed with foundation, in which case you can apply the concoction with a makeup blender, like the L'Oréal Paris Infallible Blend Artist Foundation Blender, using quick dabbing and rolling motions to blend it out.
OUR BEST FACE PRIMERS
We have good news—there's a face primer out there for just about everyone! Whether you're looking to combat redness, mattify your skin, or give your face a highlighted effect, there's an option that fits. Have your pick from our best face primers:
L'Oréal Paris Infallible Pro-Glow Lock Makeup Primer: Looking to get your glow on? This non-comedogenic, breathable primer illuminates and hydrates skin for a finish that glows. To really glow up, wear it with the L'Oréal Paris Infallible Pro-Glow Foundation.
L'Oréal Paris True Match Lumi Shake & Glow Dew Mist: Another radiant primer option, spritz this hydrating, priming face mist onto your complexion to prep your skin for makeup.
L'Oréal Paris Infallible Pro-Matte Makeup Primer: If you have a preference for matte makeup (or you have oily skin), we have you covered. This primer's matte finish stops shine and blurs imperfections, providing the perfect canvas for your other makeup products, like the L'Oréal Paris Infallible Pro-Matte Foundation and L'Oréal Paris Pro-Matte Powder.
L'Oréal Paris Studio Secrets™ Professional Magic Perfecting Base: It's hard to find a primer that does it all, but this silky, lightweight option helps to smooth lines, hide pores, and banish imperfections. Plus, it glides onto skin, leaving it velvety-smooth to the touch. The result is a unified, matte finish that looks flawless—a.k.a. everything you could want.
L'Oréal Paris Magic Lumi Light Infusing Primer: This highlighting primer offers a multitude of effects. Wear it under or mixed with foundation to create a soft light illusion, or use it to sculpt your face by highlighting only specific areas of your face.
Editor's tip: Beyond choosing your primer based on your skin care concerns and makeup needs, it can be beneficial to match your primer to your foundation. Here's How to Pick the Right Primer for Your Foundation.
HOW TO APPLY EYE PRIMER
Does your eye makeup tend to smudge pretty easily? Does your eyeliner fade as the day goes on? Does your eye shadow never look as pigmented as it should be? If you answered yes to any of the above, try using an eye primer first. Really, the fix might be just that easy! Apply a tiny bit of eye primer onto your eyelids, gently blending it with your ring finger. And if you wear eyeliner along your lower lash line or like to smudge a little shadow beneath your eyes, don't forget to apply primer there, too. Using an eye primer to prep for your eye makeup can serve a few purposes, helping to create a smooth base for easier application, lock your look in place, and even make eye shadows appear more vibrant.
Editor's tip: Fair-skinned beauties, this one's for you. If you hate seeing your veins through the thin skin of your eyelids, look for an eye primer with a tint that matches your skin tone. That way, your veins won't distract from your makeup look.
HOW TO APPLY LASH PRIMER
Yep, there are products for your eyelashes that aren't mascara. Lash primer does exist—and if you already can't go a day without coating your lashes with mascara, you might want to consider adding this product to your beauty routine. Why, you ask? Well, lash primers can help make lashes look longer and more voluminous. Basically, there's no reason not to use one! To give it a try, place the brush at the base of your lashes and gently sweep up to the tip. Give the primer a moment to dry, then layer your mascara on top. Just be sure to completely coat your lashes since lash primers are typically light in color—unlike mascara.
OUR BEST LASH PRIMERS
Think there's room to up your lash game? Then you know what you need—a lash primer. Have your pick from our best lash primers:
L'Oréal Paris Voluminous Lash Primer: Your hair isn't the only thing that can get a blowout! This lightweight primer creates a blowout effect, building dramatic volume and length on each lash. Lashes are delicately wrapped in a smooth layer of primer to create an even base and boost the effects of your favorite mascara.
L'Oréal Paris Voluminous Lash Paradise Mascara Primer/Base: Want more pink in your life? Thankfully, even your primed lashes can be pastel pink. Formulated with rose oil, this pink lash primer volumizes and enhances mascara wear to minimize flaking. After applying the primer, use the L'Oréal Paris Voluminous Lash Paradise Mascara for a perfecting pairing.
HOW TO APPLY LIP PRIMER
Rocking a bold lip color is a great way to grab everyone's attention—but chances are, you've probably spent a whole lot of time worrying about whether your lipstick has gotten on your teeth or looks patchy. So, before you swipe on your lipstick, use a lip primer to help smooth things out and make sure application goes off without a hitch. After your lips are primed, follow with lip liner and a long-lasting lipstick—then you can rest easy knowing your lip color isn't going anywhere.
Editor's tip: Don't have a lip primer on hand? In that case, your lip liner can serve double duty. You can achieve a similar priming effect by filling in your lips entirely—not just outlining them—with a lip liner, like the L'Oréal Paris Colour Riche Matte Lip Liner.
Next up: In our humble opinion, you can never know too much about how to help your makeup look last longer. Continue furthering your knowledge with our article on Our Best Makeup Setting Sprays.
{ "@context": "https://schema.org/", "@type": "WebPage", "speakable": { "@type": "SpeakableSpecification", "cssSelector": ["speakable-content"] }, "url": "https://es.lorealparisusa.com/revista-de-belleza/maquillaje/maquillaje-facial/how-to-use-makeup-primer" }
Descubrir más trucos y consejos
Ver todos los artículos
Shop Featured Makeup products
Discover More
{ "@context": "http://schema.org", "@type": "BreadcrumbList", "itemListElement": [ { "@type":"ListItem", "position": 1, "item": { "@id": "/", "name": "Home" } } , { "@type":"ListItem", "position": 2, "item": { "@id": "https://es.lorealparisusa.com/revista-de-belleza", "name": "Revista de belleza" } } , { "@type":"ListItem", "position": 3, "item": { "@id": "https://es.lorealparisusa.com/revista-de-belleza/maquillaje", "name": "Consejos de maquillaje para cada look" } } , { "@type":"ListItem", "position": 4, "item": { "@id": "https://es.lorealparisusa.com/revista-de-belleza/maquillaje/maquillaje-facial", "name": "Maquillaje facial" } } , { "@type":"ListItem", "position": 5, "item": { "@id": "https://es.lorealparisusa.com/revista-de-belleza/maquillaje/maquillaje-facial/how-to-use-makeup-primer", "name": "how-to-use-makeup-primer" } } ] }