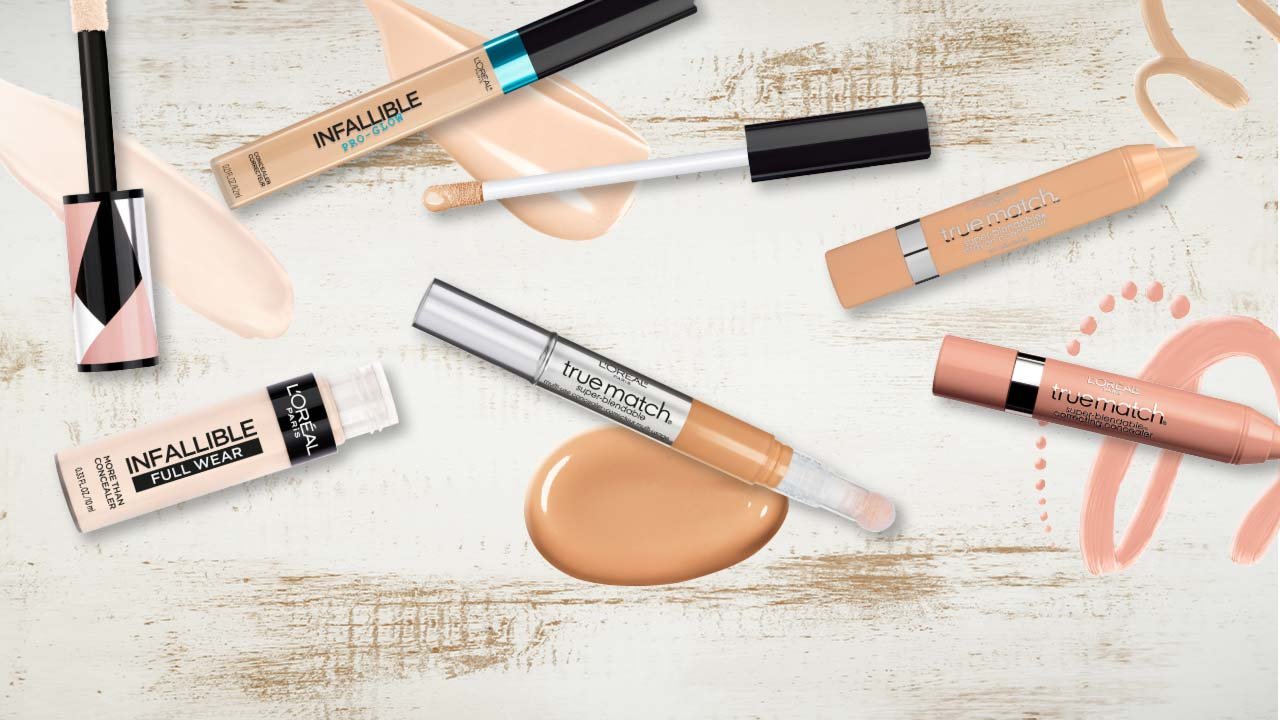 As if being tired from lack of sleep wasn't bad enough, dark circles and under-eye bags are a dead giveaway you stayed up a little past your bedtime. While getting the proper amount of beauty sleep may not always be in the cards, you don't have to let your beauty look suffer from it. With the help of a little under-eye concealer, you can fake it 'til you make it into bed on time. Below, we're sharing our five best drugstore under-eye concealers so you can hide dark under-eyes and look magically more awake.
OUR BEST UNDER-EYE CONCEALERS
Ready for the round-up? Take your pick from the below to disguise unsightly under-eyes.
L'Oréal Paris Infallible Full Wear Concealer Waterproof, Full Coverage: This drugstore under-eye concealer has a super high-coverage formula and comes in a wide range of shades for every skin tone. With its extra-large applicator, it's easy to get maximum coverage in one stroke to cover under-eye circles. Not to mention, the non-greasy formula is waterproof—meaning it won't transfer, fade, or flake so you can count on its flawless matte finish to last all day. Just remember, a little goes a long way!
L'Oréal Paris True Match Super-Blendable Multi-Use Concealer: Looking for something a little less opaque? This concealer has a medium-coverage formula that's designed to work with your skin to conceal and correct the under-eye area and blur imperfections while still maintaining a natural appearance. The soft-touch cushion applicator and super-blendable formula make smooth and precise application easy for a flawless effect. Available in a diverse range of 14 true-to-you shades, there's an option to match every skin tone and undertone.
L'Oréal Paris True Match Color Correcting Crayon: If you have some pretty noticeable dark under-eye circles, you may want to turn to a color-correcting concealer. This crayon concealer conceals, neutralizes, and transforms. To disguise dark circles, use the Peach, Bisque, or Orange shade, depending on your skin tone. The ultra-soft formula provides coverage that blends easily and is lightweight.
L'Oréal Paris True Match Super-Blendable Crayon Concealer: With the same crayon format as the color corrector, this concealer allows for precise application thanks to its pointed tip. The innovative formula provides sheer to full coverage that blends easily and won't look cakey—perfect for concealing your under-eye area!
L'Oréal Paris Infallible Pro-Glow Concealer: This longwear concealer has a lightweight, radiant formula that will brighten up dark circles. The formula is also ultra-blendable and buildable, allowing you to easily customize your coverage.
HOW TO USE CONCEALER UNDER YOUR EYES
Now that you know about our best under-eye concealers, you may be wondering if there are tips and tricks when it comes to applying one. Below, find three tips on how to use concealer under your eyes.
TIP #1: GO LIGHTER
When it comes to applying concealer under your eyes to disguise dark circles and under-eye bags, it's a good idea to go one to two shades lighter than your skin tone. This will help brighten the eye area and thus combat any discoloration!
TIP #2: MAKE IT TRIANGULAR
Stop—don't just apply a straight swipe of concealer under your eyes! Instead, apply your concealer in an upside-down triangle under each eye. This will create the illusion of well-rested eyes by camouflaging puffy under-eye bags. Yes, please!
TIP #3: BLEND IT OUT
One of the most important things to consider when aiming to hide dark circles? Blending! You wouldn't want any harsh lines to give away your little secret, would you? Use a makeup blender, like the L'Oréal Paris Infallible Blend Artist Foundation Blender, to blend and buff your concealer so no one can tell (not even you!) where your concealer stops and your skin begins.
Next up: While makeup can come in handy to temporarily hide dark circles and under-eye bags, the right skin care products can do wonders when it comes actually reducing their appearance. Read our article to learn about Our Best Eye Creams for Dark Circles Under the Eyes.
{ "@context": "https://schema.org/", "@type": "WebPage", "speakable": { "@type": "SpeakableSpecification", "cssSelector": ["speakable-content"] }, "url": "https://es.lorealparisusa.com/revista-de-belleza/maquillaje/maquillaje-facial/under-eye-concealer" }
Descubrir más trucos y consejos
Ver todos los artículos
Shop Featured Makeup products
Discover More
{ "@context": "http://schema.org", "@type": "BreadcrumbList", "itemListElement": [ { "@type":"ListItem", "position": 1, "item": { "@id": "/", "name": "Home" } } , { "@type":"ListItem", "position": 2, "item": { "@id": "https://es.lorealparisusa.com/revista-de-belleza", "name": "Revista de belleza" } } , { "@type":"ListItem", "position": 3, "item": { "@id": "https://es.lorealparisusa.com/revista-de-belleza/maquillaje", "name": "Consejos de maquillaje para cada look" } } , { "@type":"ListItem", "position": 4, "item": { "@id": "https://es.lorealparisusa.com/revista-de-belleza/maquillaje/maquillaje-facial", "name": "Maquillaje facial" } } , { "@type":"ListItem", "position": 5, "item": { "@id": "https://es.lorealparisusa.com/revista-de-belleza/maquillaje/maquillaje-facial/under-eye-concealer", "name": "under-eye-concealer" } } ] }