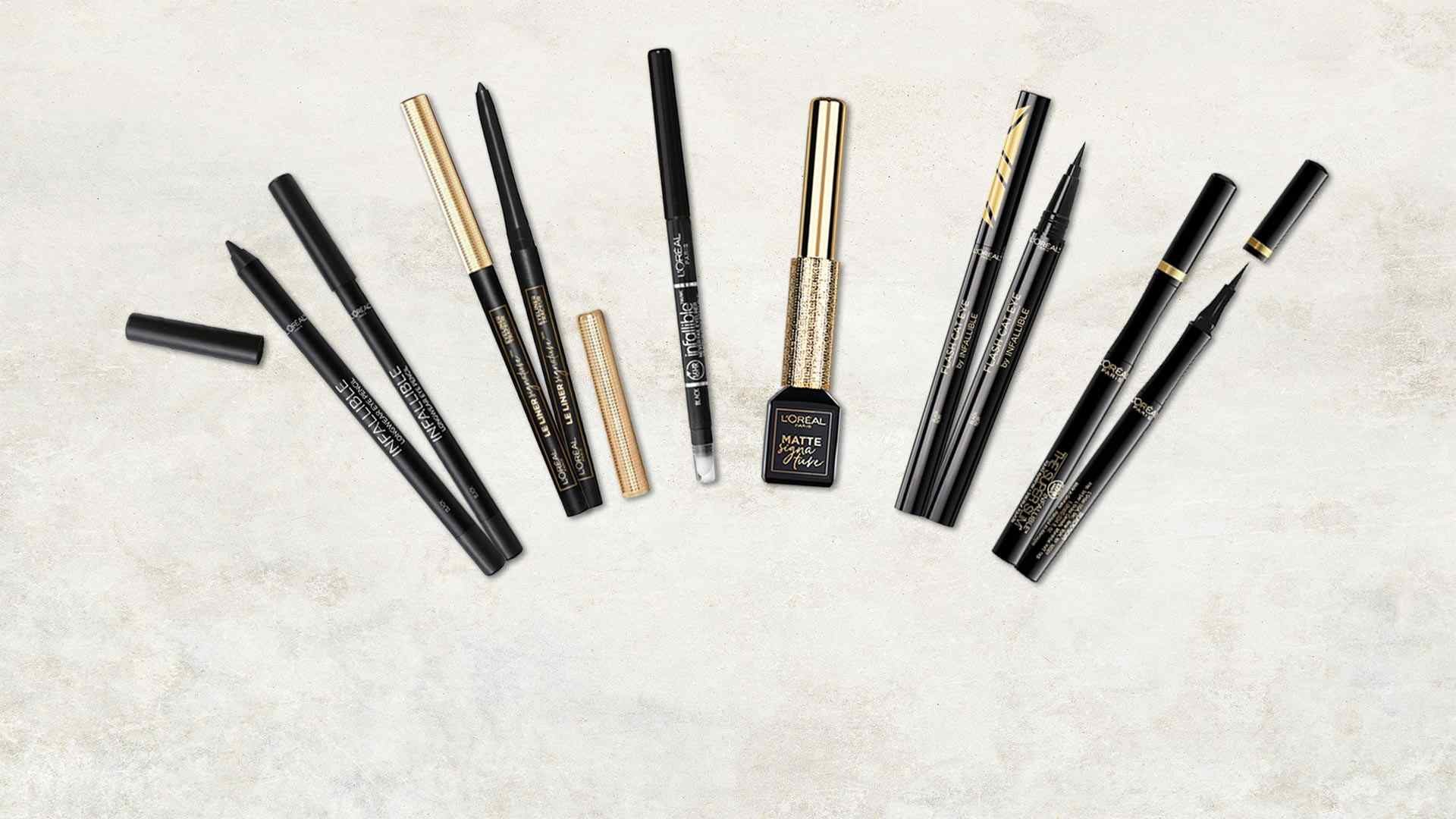 Let's be honest, no matter what makeup products make their way onto your must-have list, it's safe to say black eyeliner will always hold a permanent spot. This makeup staple can be used to give your lashes an instantly lush appearance and to create the illusion of a different eye shape. Basically, it's the perfect finishing touch to top off any eye makeup look, which is why the abundance of black liner offerings comes as no surprise to us. Of course, with so many options out there, it can be hard to pinpoint the best black eyeliner that can take you from a.m. to p.m. sans smearing or fading. Lucky for you, we're here to steer you in the right direction. Keep reading to learn all about our best drugstore black eyeliner options for transforming your makeup looks in 2021 and beyond.
OUR BEST BLACK EYELINERS
Now is the time to make some room in your makeup collection for our best black eyeliners. Whether you're a fan of pencil, gel, or liquid eyeliner, we're narrowing down the best black eyeliner options to suit all of your needs. Let's get down to business.
OUR BEST WATERPROOF BLACK EYELINER
When it comes to eyeliner, or any makeup product for that matter, longevity is key for a picture-perfect look. If you're not too fond of your makeup being ruined by the rain or sweat (who is?), reach for a waterproof black eyeliner like the L'Oréal Paris Le Liner Signature Easy-Glide Mechanical Eyeliner, Waterproof. The smudge-proof, waterproof formula won't flake or fade throughout the day.
How to use it: Apply along your upper and lower lash lines from inner to outer corner of the eye.
OUR BEST MATTE BLACK EYELINER
Sure, shiny finishes have their place, but we love the look of a matte, black eyeliner. The L'Oréal Paris Matte Signature Liquid Dip Eyeliner, Waterproof is our best matte black offering. It's also smudge-free, transfer-resistant, and complete with a precise applicator, so you can count on this eyeliner to stay in place all day long.
How to use it: Glide the eyeliner along your upper lash line from the inner to the outer corner of your lid. For a thin line, use a light hand. Press harder for a thick, bold line.
OUR BEST BLACK EYELINER PENCIL FOR SMUDGING
For those who can't resist a smudged look, you may want to stock up on the L'Oréal Paris Infallible Never Fail Eyeliner. This mechanical black eyeliner offers a rich and creamy formula that glides on your eyes seamlessly for a long-lasting finish. It also comes with a built-in sharpener and smudger so you can create that perfectly messy look with ease.
How to use it: Start at the inner corner of your lower lash line. Glide the eyeliner and work toward the outer corner. To create an edgy, smokey eye, gently smudge the line with the smudger.
OUR BEST BLACK EYELINER FOR WINGS
If dramatic eye looks are your go-to, then you know the importance of using a precise eyeliner to get the job done. And you can never go wrong with the L'Oréal Paris Infallible Flash Cat Eye Waterproof Brush Tip Liquid Eyeliner. It's designed with a brush tip so you can create the perfect look without the fear of smudging. Best of all, this eyeliner comes equipped with a removable winged eyeliner stencil to help you get the perfect cat eye every time.
How to use it: Start by placing the stencil on the outer edge of your eye, laying it flat on the skin. Fill in the stencil to draw the wing, then gently remove the stencil, and continue the line across your upper lash line.
OUR BEST QUICK-DRY BLACK EYELINER
For days when you're pressed for time, you need an eyeliner that dries quickly and creates precise lines. This is where the L'Oréal Paris Infallible The Super Slim Liquid Eyeliner comes in. It's designed with an ultra-fine tip and a quick-dry formula, helping you draw sleek lines to complement your makeup look.
How to use it: Begin at the inner corner of your lid. Apply the eyeliner to your lash line and continue outward.
OUR BEST BLACK EYELINER FOR THE WATERLINE
If you want to line your waterline for the ultimate sultry, rocker-worthy look, the L'Oréal Paris Infallible Pro-Last Waterproof, Up to 24HR Pencil Eyeliner is your best bet. This waterline eyeliner comes in handy to create long-lasting, smudge-proof lines that can easily go the distance with all of your makeup looks.
How to use it: Apply the pencil eyeliner starting at the inner corner of your lower lash line and glide the pencil until you reach the outer corner.
Next up: Now that you have the scoop on our best drugstore black eyeliner options, we have a few ideas for how to put them to use. Check out our article, Best Eye Makeup and Eye Shadow Trends For 2020, for some inspiration.
{ "@context": "https://schema.org/", "@type": "WebPage", "speakable": { "@type": "SpeakableSpecification", "cssSelector": ["speakable-content"] }, "url": "https://es.lorealparisusa.com/revista-de-belleza/maquillaje/maquillaje-ojos/best-black-eyeliners" }
Descubrir más trucos y consejos
Ver todos los artículos
Shop Featured Makeup products
Discover More
{ "@context": "http://schema.org", "@type": "BreadcrumbList", "itemListElement": [ { "@type":"ListItem", "position": 1, "item": { "@id": "/", "name": "Home" } } , { "@type":"ListItem", "position": 2, "item": { "@id": "https://es.lorealparisusa.com/revista-de-belleza", "name": "Revista de belleza" } } , { "@type":"ListItem", "position": 3, "item": { "@id": "https://es.lorealparisusa.com/revista-de-belleza/maquillaje", "name": "Consejos de maquillaje para cada look" } } , { "@type":"ListItem", "position": 4, "item": { "@id": "https://es.lorealparisusa.com/revista-de-belleza/maquillaje/maquillaje-ojos", "name": "Maquillaje de ojos" } } , { "@type":"ListItem", "position": 5, "item": { "@id": "https://es.lorealparisusa.com/revista-de-belleza/maquillaje/maquillaje-ojos/best-black-eyeliners", "name": "best-black-eyeliners" } } ] }