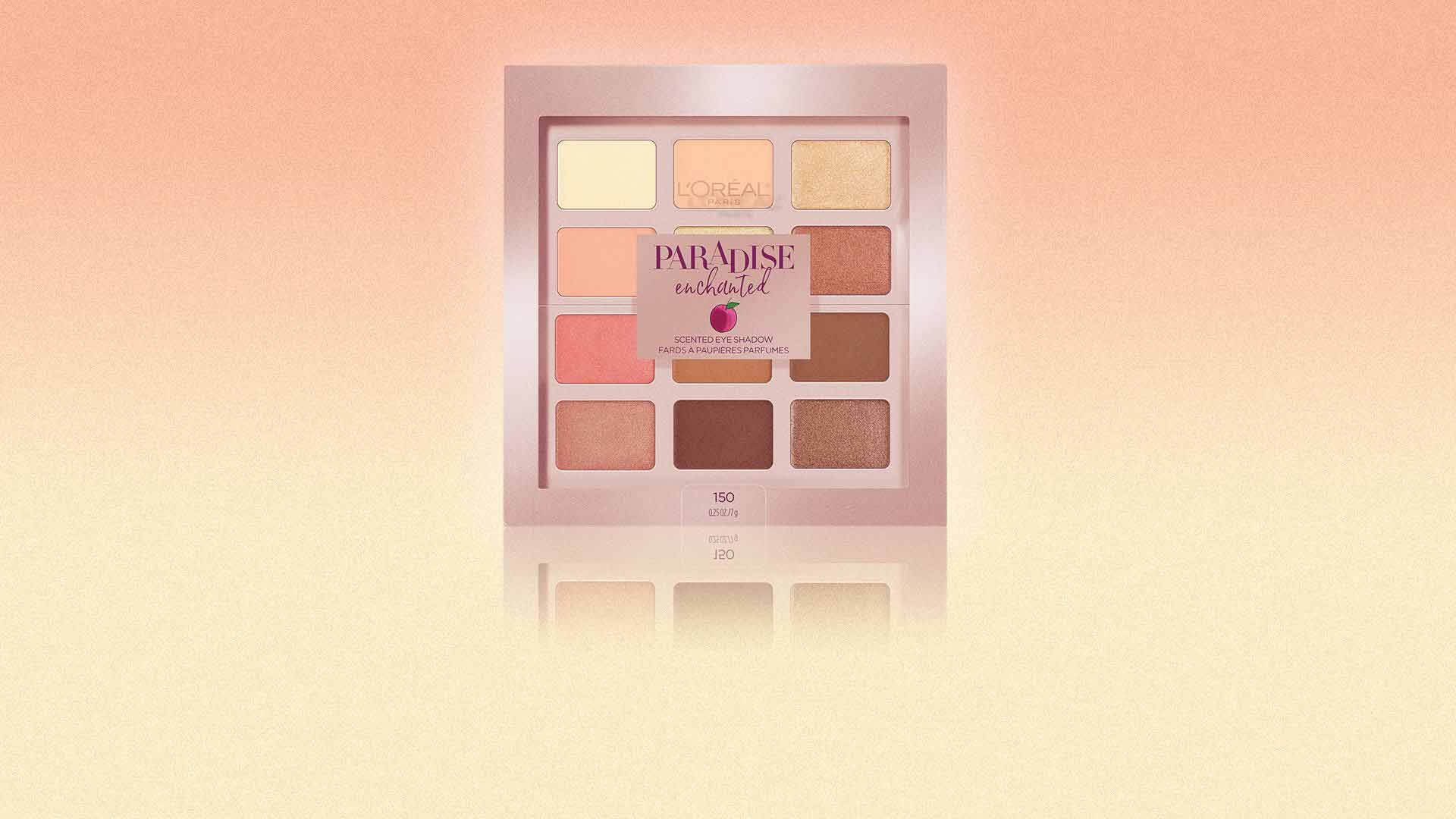 Peach makeup is one of the most universally flattering beauty trends. What started as the must-have peach hair color trend has quickly turned into one of the hottest eyeshadow hues, too! From daytime smoky eyes to nighttime cut creases, peach eyeshadow is about to become your go-to. All of the hues associated with this fresh, juicy fruit—from the pale coral of a perfectly ripe peach to the neutral flesh tones found inside—are being embraced so that nothing is overlooked. Below, we're sharing a few easy ways to get in on the trend and create a peachy makeup look. Go ahead and grab a peach eyeshadow palette and follow along so you can look as sweet as a peach in no time!
3 WAYS TO WEAR PEACH SMOKY EYESHADOW
Like we mentioned, there are quite a few on-trend ways to wear peach eyeshadow. Below, find three step-by-step tutorials to bring your peachy look of choice to life.
PEACH EYESHADOW LOOK #1. SMOKY EYE
One of our favorite ways to wear peach eyeshadow is to create a peach smoky eye. Who said smoky eyes had to be dark and mysterious? With various shades from our best peach eyeshadow palette, you'll be able to achieve depth and definition without looking overdone, making for a look that can easily translate from desk to drinks.
Get the look by following these simple steps:
STEP 1: START WITH PRIMER
The key to any solid statement eye is helping to ensure that it stays put for whatever the day has in store. The best way to do that? Using a long-lasting eye primer to help give your shadow something to adhere to. With just a dab of primer, you can help prevent your makeup from transferring.
STEP 2: PICK YOUR PEACHES
To get this look, you'll want one light peach shade and one that's slightly darker. The texture and vibrancy are totally up to you. You can go with super bright peach shades for a more fluorescent look, or you can veer toward more neutral shades like those featured in the L'Oréal Paris Paradise Enchanted Scented Eyeshadow Palette. Pro-tip: Opting to use a peach eyeshadow palette instead of searching for individual shadows will simplify things and ensure your colors coordinate!
STEP 3: USE YOUR LIGHTER PEACH SHADE FIRST
Using an eye shadow brush, swipe a touch of your lighter peach eyeshadow across your upper lid.
STEP 4: ADD DEPTH WITH THE DARKER SHADE
Next, use an angled shadow brush to blend the darker peach color into your crease and up toward your brow bone.
STEP 5: HIGHLIGHT!
To finish, use a near-white matte or shimmering eye shadow to highlight just under the tail of your brow bone and around the inner corner of your eye. Voila! Perfectly peach and ready for whatever the day has in store.
PEACH EYESHADOW LOOK #2: CUT CREASE
Another big trend is the ever-gorgeous cut crease. Requiring a bit more skill and precision, a cut crease is all about creating a noticeable, ultra-sleek line of demarcation between your lid and your crease. Pair that with peach eyeshadows, and you better believe you have a match made in beauty heaven!
Get the look by following these simple steps:
STEP 1: START WITH A NEUTRAL PEACH SHADE
Using a fluffy eye shadow brush, coat your upper lid with a neutral peach shade from the same eyeshadow palette we talked about above.
STEP 2: CREATE YOUR CUT CREASE
Using the L'Oréal Paris Infallible Pro-Last Waterproof, Up to 24HR Pencil Eyeliner in Purple, sketch a sideways V-shape from the outer corner of your eye toward the middle of your crease. Be sure that the line is thicker at your outer corner and thinner along your crease.
Editor's note: The purple will be reminiscent of the skin of an overly ripe peach. So pretty!
STEP 3: BLEND IT OUT
Using a tapered blending brush, blend the eyeliner out toward the outer corner of your eye without disrupting the sharp bottom edge of your cut crease.
STEP 4: ADD SOME MORE DEFINITION
Above your crease, add a touch of the L'Oréal Paris Infallible 24 HR Eye Shadow in Smoldering Plum for just enough sparkle and depth.
STEP 5: HIGHLIGHT!
To complete your statement eye shadow look, use a light shimmering eye shadow, like the L'Oréal Paris Colour Riche Eye Shadow in Paris Beach, to highlight your inner corner and below the arch of your brow. Just like that, your eye shadow look is pretty peachy!
PEACH EYESHADOW LOOK #3: MONOCHROMATIC
Don't feel skilled enough to recreate a peach smoky eye or cut crease? Go for a monochromatic look instead! With just a swipe of peach eye shadow on your upper lid and a smidge below your bottom lid, you'll only need a coat or two of black or blue mascara (try the L'Oréal Paris Voluminous Original Washable Bold Eye Mascara in Cobalt Blue) to look positively peachy and totally on trend!
HOW TO COMPLETE YOUR PEACHY MAKEUP LOOK
Now that you know three different peachy eye makeup looks, why not learn how to incorporate them into a full-out, all-over peach makeup look? Keep reading to learn how to create this super sweet look for yourself.
STEP #1: GIVE YOURSELF A GLOWY COMPLEXION
Everyone loves a juicy peach. And when it comes to makeup looks, glowy is our version of juicy—which means your peachy makeup look calls for a glowy, dewy complexion. Apply the L'Oréal Paris Infallible Pro-Glow Foundation with the L'Oréal Paris Infallible Blend Artist Foundation Blender to perfect your skin.
STEP #2: MAKE THINGS PEACHY
You'll want to give your complexion its own dose of peachy beauty, so grab a peach blush to do just that! We recommend coloring your cheeks with the L'Oréal Paris True Match Blush in Barely Blushing or Subtle Sable.
STEP #3: PICK YOUR PEACHY EYE MAKEUP LOOK
Take your pick from the three peachy eyeshadow options we told you about earlier—or create your own! We promise there's a peachy eye for every occasion.
STEP #4: PAINT YOUR POUT
Finish your peachy makeup look by coating your lips in a peachy hue, like the L'Oréal Paris Colour Riche Lipstick Shine Lipstick in Shining Peach or Glossy Fawn.
All peached out? Why not sport a similar hue that's equally on-trend? We're talking about coral, of course! Here are 7 Ways to Wear Coral Makeup.
{ "@context": "https://schema.org/", "@type": "WebPage", "speakable": { "@type": "SpeakableSpecification", "cssSelector": ["speakable-content"] }, "url": "https://es.lorealparisusa.com/revista-de-belleza/maquillaje/maquillaje-ojos/how-to-use-peach-eye-shadow" }
Descubrir más trucos y consejos
Ver todos los artículos
Shop Featured Makeup products
Discover More
{ "@context": "http://schema.org", "@type": "BreadcrumbList", "itemListElement": [ { "@type":"ListItem", "position": 1, "item": { "@id": "/", "name": "Home" } } , { "@type":"ListItem", "position": 2, "item": { "@id": "https://es.lorealparisusa.com/revista-de-belleza", "name": "Revista de belleza" } } , { "@type":"ListItem", "position": 3, "item": { "@id": "https://es.lorealparisusa.com/revista-de-belleza/maquillaje", "name": "Consejos de maquillaje para cada look" } } , { "@type":"ListItem", "position": 4, "item": { "@id": "https://es.lorealparisusa.com/revista-de-belleza/maquillaje/maquillaje-ojos", "name": "Maquillaje de ojos" } } , { "@type":"ListItem", "position": 5, "item": { "@id": "https://es.lorealparisusa.com/revista-de-belleza/maquillaje/maquillaje-ojos/how-to-use-peach-eye-shadow", "name": "how-to-use-peach-eye-shadow" } } ] }