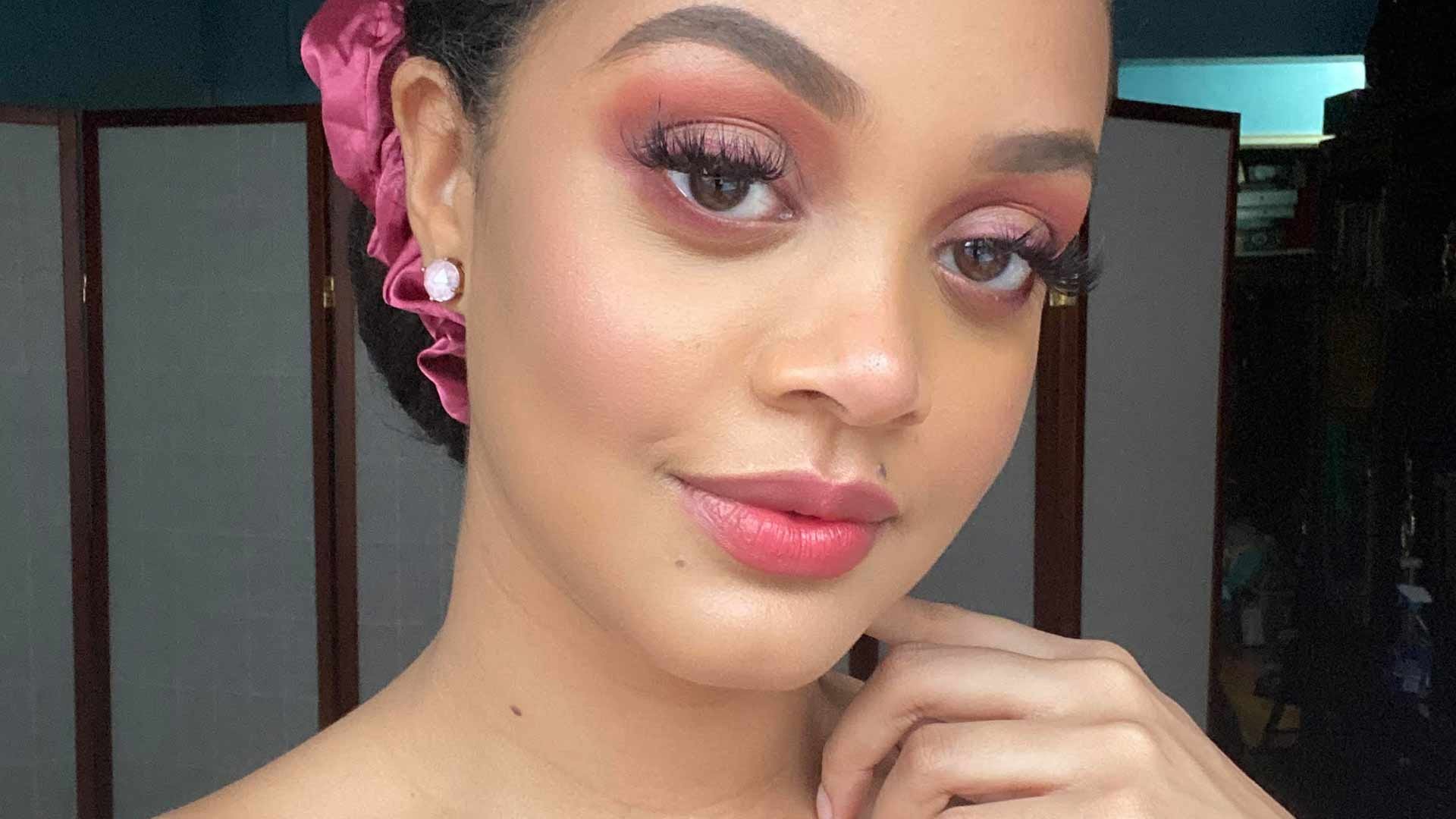 While you may already be rocking a red lip as part of your makeup look, there's another feature on your face that you haven't considered that could also look stunning in a crimson hue—your eyes! If you're feeling a bit hesitant about that, we get it—most of the time, red eyes are typically associated with crying, allergies and being sick. And if you don't have the skilled hands of a professional makeup artist or influencer, a red eye look can seem like a lofty goal that can go wrong with just one wrong stroke of an eyebrow brush. But it's time to switch things up and rethink things, and make red a go-to color for eye makeup looks. You can create so many looks using red eye makeup—it doesn't have to be reserved for costumes and the holidays. Interested in giving it a try yet? Below, we're sharing four tutorials on how to wear different hues of red eyeshadow, eyeliner, and mascara to help you step up your red eye makeup game.
Red Eye Makeup Looks
There are a couple of ways you can incorporate a red hue into your look, and no, you don't necessarily have to commit to a statement eye. It's super easy to customize a look to your liking. Here are four red eye makeup options worth trying.
Look #1: Red Shimmery Smokey Eye
For a fun twist on the traditional smokey eye look, try using red instead. Start off by blending a deep red eyeshadow into your crease and all over your lids. Then apply a burgundy shade like the L'Oréal Paris Colour Riche Monos Eyeshadow in Matte-Ison Avenue to the outer corners of your eyelids and blend out any harsh edges. Tap on some of the L'Oréal Paris Brilliant Eyes Shimmer Liquid Eye Shadow Makeup in Radiant Ruby all over the lid. To finish off the look, highlight your brow bone using a light golden shade, like the L'Oréal Paris Infallible 24 HR Eye Shadow in Endless Pearl.
Look #2: All Over Red Matte Lids
If bright red isn't your thing, consider using a deeper shade to blend out and balance any red eye makeup look. Start off by sweeping a shadow like the L'Oréal Paris Colour Riche Monos Eyeshadow in Acro-Matte all over your crease. Then apply a brighter red eyeshadow to the top and bottom lids. Go back in with a blending brush using the first deeper shade to buff out any harsh edges and create a seamless transition between the two colors. Finish off the look by coating your lashes with the L'Oréal Paris Voluminous Lash Paradise Washable Mascara in Blackest Black for extra drama.
Look #3: Deep Red Crease
For a simple and easy glam look, try placing a deep reddish hue onto your crease. Start by blending in a deep burgundy color into your crease and pull it out down to the center of the lids. Then sweep on a light beige shade like the L'Oréal Paris Colour Riche Monos Eyeshadow in Matte Chill on the center and inner corner of the lids. Complete the look by creating a wine red cat eye wing using the L'Oréal Paris Matte Signature Liquid Dip Eyeliner, Waterproof in Burgundy.
Look #4: Burgundy Water Line
Prefer a subtle pop of red? Line your waterline with the L'Oréal Paris Infallible Pro-Last Waterproof, Up to 24HR Pencil Eyeliner in Burgundy for an unexpected and understated way to introduce red into your makeup look. Use a small eyeshadow brush to smudge out the color a bit for a sultry effect. You can also swipe on a few coats of the L'Oréal Paris Air Volume Mega Mascara, Lightweight Mega Volume Washable in Blackest Black for a pop of bold lashes to add to the look.
Finish Off With The Perfect Lip
When it comes to completing your red eye makeup look, you can choose to go for bold lips or pair it with a nude lipstick that will allow your eyes to be the center of attention. Whether you decide to rock lipstick or lipgloss, there are plenty of options to choose from. We recommend trying out shades from the L'Oréal Paris Rouge Signature Matte Lip Stain line if you prefer a lightweight liquid. For a more creamy finish, reach for a color of your liking from the L'Oréal Paris Colour Riche Creamy Matte Lipstick, Rich Hydration line. If you prefer a high-shine wet look that lasts for hours, choose from the L'Oréal Paris Infallible 8 Hour Pro Lip Gloss, hydrating finish collection.
Editor's Tip: Don't forget to outline your lips using a lip liner. This will help define and enhance your natural lip contour. We recommend pairing your favorite lippie with a red or burgundy liner from the L'Oréal Paris Age Perfect Makeup Anti-Feathering Lip Liner - Smooth Application collection. The liners feature a soft tip for a precise and smooth application, with no tugging at the lips.
{ "@context": "https://schema.org/", "@type": "WebPage", "speakable": { "@type": "SpeakableSpecification", "cssSelector": ["speakable-content"] }, "url": "https://es.lorealparisusa.com/revista-de-belleza/maquillaje/maquillaje-ojos/red-eyeshadow-and-eyeliner" }
Descubrir más trucos y consejos
Ver todos los artículos
Shop Featured products
Discover More
{ "@context": "http://schema.org", "@type": "BreadcrumbList", "itemListElement": [ { "@type":"ListItem", "position": 1, "item": { "@id": "/", "name": "Home" } } , { "@type":"ListItem", "position": 2, "item": { "@id": "https://es.lorealparisusa.com/revista-de-belleza", "name": "Revista de belleza" } } , { "@type":"ListItem", "position": 3, "item": { "@id": "https://es.lorealparisusa.com/revista-de-belleza/maquillaje", "name": "Consejos de maquillaje para cada look" } } , { "@type":"ListItem", "position": 4, "item": { "@id": "https://es.lorealparisusa.com/revista-de-belleza/maquillaje/maquillaje-ojos", "name": "Maquillaje de ojos" } } , { "@type":"ListItem", "position": 5, "item": { "@id": "https://es.lorealparisusa.com/revista-de-belleza/maquillaje/maquillaje-ojos/red-eyeshadow-and-eyeliner", "name": "red-eyeshadow-and-eyeliner" } } ] }