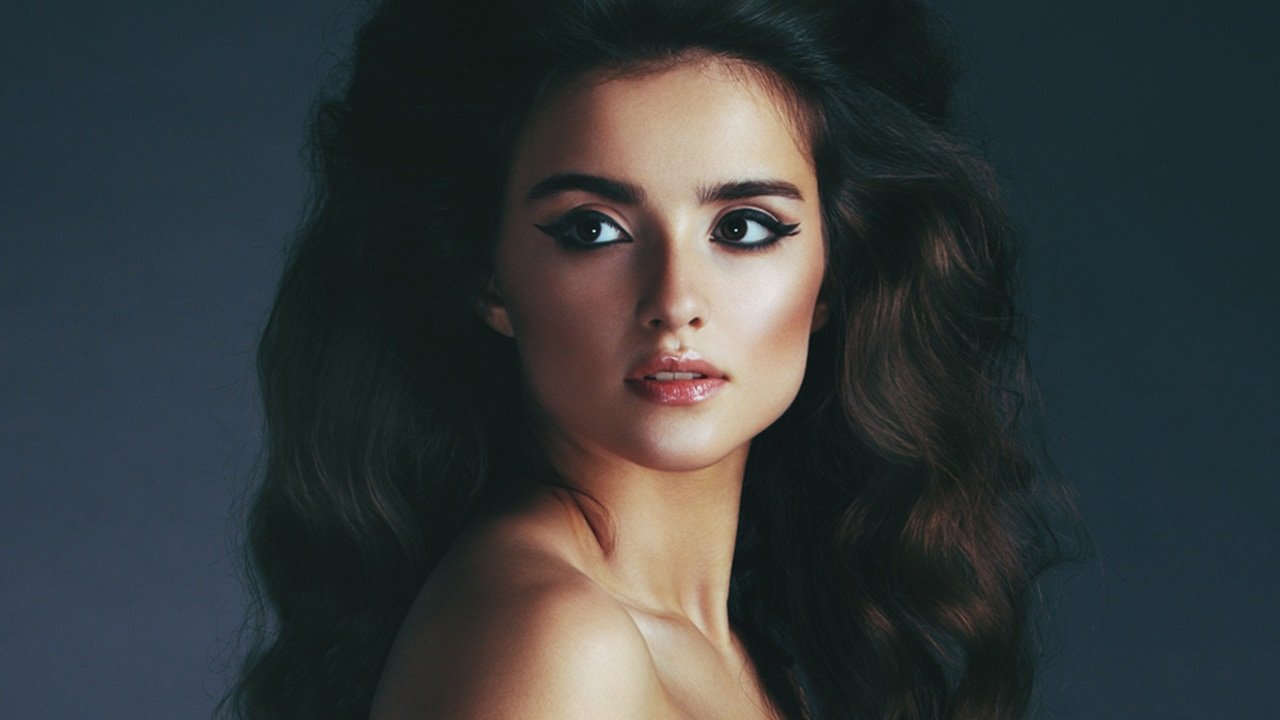 Makeup has the power to completely transform your beauty look and transport you back to an era you may not have had the chance to be a part of. Throwback makeup looks, inspired by decades from the '20s all the way up to the '90s, have become one of the biggest makeup trends for exactly that reason. Enter the latest makeup craze: '60s makeup.
If you've ever wondered, "What did makeup look like in the '60s?", you've come to the right place. Sometimes it's best to look for cues from previous generations and take a break from testing trends that are just hitting the scene in 2020. Below, we're helping you do just that. Keep reading to learn how to do '60s makeup, 10 different ways.
'60S MAKEUP LOOK #1: FROSTED LIPS
Frosted, baby pink lips were all the rage in the '60s. You may remember the frosted makeup trend resurfacing in the '90s, and now it's back once again (what goes around, comes around, right?). Follow the steps below for a frosted pink pout, then pair the look with a thick cat eye, luscious lashes, and a glowing complexion.
STEP #1: EXFOLIATE YOUR LIPS
A frosted lip color on flaky lips is a huge no-no, as this trend can easily emphasize a dry pout. Smooth things out with the help of a lip scrub like the L'Oréal Paris Pure-Sugar Nourish & Soften Cocoa Scrub.
STEP #2: MOISTURIZE
Next up: hydration! Give your pout a boost of moisture by swiping on a lip balm.
STEP #3: FROST AWAY
Time to reach for your lipstick! For an updated take on this throwback trend, first color your lips with a traditional baby pink lipstick, like the L'Oréal Paris Colour Riche Lipstick Lipcolour in Ballerina Shoes. Then, reach for a frosted hue, like the L'Oréal Paris Colour Riche Lipstick Lipcolour in Tickled Pink, and apply it on the center of your lips for a frosted touch. This will also help to make your lips look bigger—score!
'60S MAKEUP LOOK #2: CUT CREASE
When it came to the eyes, the '60s were all about the cut crease. While this dramatic eye makeup look is still on-trend today, consider giving it a modern twist by trying a negative space cut crease. Follow our tutorial: How to Create a Negative Space Cut Crease.
'60S MAKEUP LOOK #3: UNDER-EYE CAT EYE
Let's be honest, a cat eye is one of those makeup looks that likely won't ever go out of style. However, the '60s had a take on this look that's different from the cat eye we're used to today: the under-eye cat eye. This look focuses on your lower lash line, as opposed to your upper lash line. Here's how to get this '60s eye makeup look.
STEP #1: KEEP YOUR EYE SHADOW SIMPLE
When it comes to your eye shadow, opt for a matte nude shade—like the L'Oréal Paris Colour Riche Monos Eyeshadow in Paris Beach—on your lid. This will keep the focus on your statement eyeliner look.
STEP #2: WING IT OUT
Ready to line your eyes? Grab a black liquid liner, like the L'Oréal Paris Infallible Flash Cat Eye Waterproof Brush Tip Liquid Eyeliner in Black. This innovative felt tip liner features an easy-to-use removable wing stencil, making it the ideal choice for this look! Here's how to use it.
1. Position the stencil. Place the stencil so the wing outline is at the outer edge of your eye, flat against your skin. You want to position the stencil so that the base of your wing is aligned with your lower lash line.
2. Fill it in. Take your eyeliner and fill in the stencil.
3. Remove the stencil. Move the stencil away from your skin, revealing your wing.
4. Line your lower lash line. Use your liquid liner to line your lower lash line starting from the inner corner and connecting to your wing at the bottom of your outer corner. Keep the line thin toward your inner corner and gradually make it thicker as you get closer to your outer corner.
5. Line your upper lash line. Complete your eyeliner look by creating a thin, fluid line along your upper lash line that connects with your wing.
STEP #3. COAT YOUR LASHES
Finish the look with a few coats of a mascara that will add some serious length to your lashes, like the L'Oréal Paris Unlimited Lash Lifting and Lengthening Washable Mascara.
'60S MAKEUP LOOK #4: GRAPHIC EYELINER
Graphic eyeliner looks, like the double wing, were another popular eyeliner technique in the '60s. For this look, you'd create a traditional wing along with a second wing pointing downward that connects to your lower lash line. If you give this a try, be sure to keep a small amount of space in-between the two wings for a clean, modern look. Complete the look with glossy lips and defined brows.
Editor's note: Not sure about a double wing but still want to give graphic eyeliner a try? Here are 8 Graphic Eyeliner Looks to Add to Your Eye Makeup Rotation.
'60S MAKEUP LOOK #5: GLOWING SKIN
When it came to face makeup, women in the '60s kept things to a minimum. Natural-looking, glowing skin was the overall goal, leaving it to the eyes or lips to be the center of attention. Follow the steps below to get your glow on just like they did.
STEP #1: PRIME YOUR FACE
Begin by reaching for a radiant finish primer, like the L'Oréal Paris Infallible Pro-Glow Lock Makeup Primer, for a long-wearing, luminous base.
STEP #2: APPLY YOUR FOUNDATION
Next, pick up a glowing foundation. The L'Oréal Paris Infallible Pro-Glow Foundation is ideal for this look thanks to its dewy finish and medium coverage.
STEP #3: ADD A NATURAL FLUSH
Natural-looking skin was huge in the '60s, so forego the bronzer and reach for a subtle peachy blush. Apply the L'Oréal Paris True Match Blush in Barely Blushing to the apples of your cheeks to finish the look!
'60S MAKEUP LOOK #6: DOE EYES
What would a '60s makeup round-up be without a doe-eyed makeup look? This iconic look is all about creating the illusion of innocent, wide eyes.
STEP #1: PAINT YOUR LID
For this '60s eye makeup look, reach for a shimmering nude eye shadow, like the L'Oréal Paris Infallible 24 HR Eye Shadow in Endless Pearl, and apply it all over your lid.
STEP #2: LINE YOUR EYES
Next, line your waterline with a nude eyeliner. This will make your eyes look bigger! You can use the L'Oréal Paris Infallible Pro-Last Waterproof, Up to 24HR Pencil Eyeliner in Nude for this step.
STEP #3: COAT YOUR LASHES
After you've lined your waterline, use a lengthening mascara to coat your upper and lower lashes. The L'Oréal Paris Telescopic Original Waterproof Lengthening Mascara, with its intense length formula and unique lash by lash separation, will do the job perfectly.
STEP #4: DEFINE YOUR BROWS
Last but not least, shape your brows with sharp, defined arches. First, use the doe-foot applicator of the L'Oréal Paris Unbelievabrow Longwear Waterproof Brow Gel to fill in any sparse areas. Then, use the angled brush to define your shape and accentuate your arch. Next, comb the spoolie through your brows to blend the look.
'60S MAKEUP LOOK #7: BLUE EYESHADOW
As far as eyeshadow shades go, a bold blue was often worn as an all-over shade on the eye. If you keep up-to-date with the latest makeup trends, you know that blue eyeshadow looks just so happen to be trending once again in 2020! If you want some help giving this '60s-inspired makeup trend a try, here's How to Wear Blue Eyeshadow and Eye Makeup.
'60S MAKEUP LOOK #8: NUDE LIPS
The '60s were particularly focused on dramatic eye makeup looks and simple lips. So, while you may be tempted to reach for a trendsetting shade, if you want your makeup to represent the era, you'll want to swipe on a nude lipstick. To get the look, simply paint your pout with the L'Oréal Paris Rouge Signature Matte Lip Stain in I Tease.
'60S MAKEUP LOOK #9: FALSE LASHES
Like we said, bold eyes were all the rage in the '60s. Of course, the best way to amp up the drama in your eye makeup look is to apply a pair of falsies! False eyelashes will instantly take your eye makeup look to new extremes, giving you a fringe with intense length and volume that can't be rivaled.
Editor's tip: Have trouble applying falsies? Here are 12 Hacks to Make Applying False Lashes Easier.
'60S MAKEUP LOOK #10: GREY EYESHADOW
Another eyeshadow shade that was extremely popular in the '60s? Grey! Yup, you could say grey was the new (or rather, old) black. To give this shade a try in 2020, here's How To Create a Grey Eyeshadow Look.
Now that you know how to do '60s makeup, perhaps you'd like to move onto your strands. Here are The Best '60s Hairstyles for a Retro Look.
{ "@context": "https://schema.org/", "@type": "WebPage", "speakable": { "@type": "SpeakableSpecification", "cssSelector": ["speakable-content"] }, "url": "https://es.lorealparisusa.com/revista-de-belleza/maquillaje/tendencias-maquillaje/60s-makeup-looks" }
Descubrir más trucos y consejos
Ver todos los artículos
Shop Featured Skin Care products
Discover More
{ "@context": "http://schema.org", "@type": "BreadcrumbList", "itemListElement": [ { "@type":"ListItem", "position": 1, "item": { "@id": "/", "name": "Home" } } , { "@type":"ListItem", "position": 2, "item": { "@id": "https://es.lorealparisusa.com/revista-de-belleza", "name": "Revista de belleza" } } , { "@type":"ListItem", "position": 3, "item": { "@id": "https://es.lorealparisusa.com/revista-de-belleza/maquillaje", "name": "Consejos de maquillaje para cada look" } } , { "@type":"ListItem", "position": 4, "item": { "@id": "https://es.lorealparisusa.com/revista-de-belleza/maquillaje/tendencias-maquillaje", "name": "Tendencias de maquillaje" } } , { "@type":"ListItem", "position": 5, "item": { "@id": "https://es.lorealparisusa.com/revista-de-belleza/maquillaje/tendencias-maquillaje/60s-makeup-looks", "name": "60s-makeup-looks" } } ] }