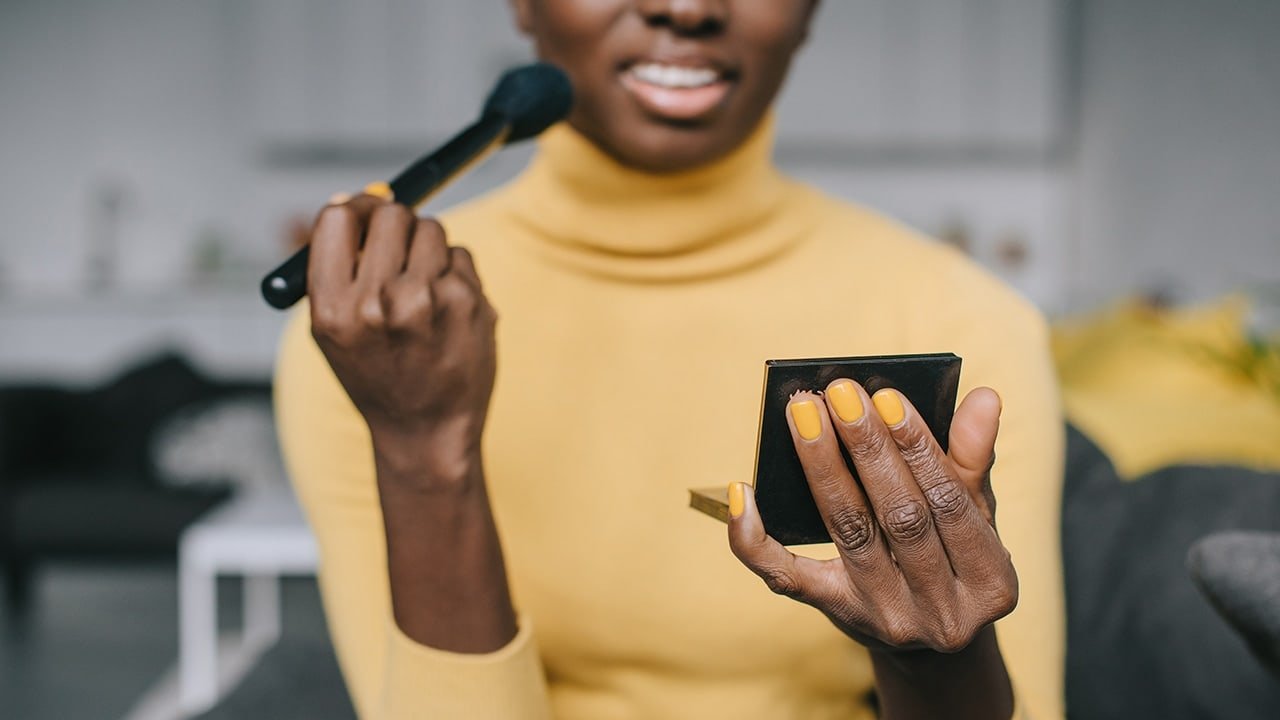 When you're constantly on the go, you may feel as if you don't even have enough time for a face of basic makeup before you head out of the door each day. But don't assume looking good has to take a ton of time. It's all about strategically using the right tips and tricks to help tie everything together—without making you late.
Below, find 13 basic makeup tips specifically for busy girls—from using the right foundation formula to getting the most out of multi-use skin care products. Your makeup routine is about to get a whole lot easier!
BASIC MAKEUP TIP #1: KNOW YOUR STEPS
Have you ever found yourself asking, "What are the basic makeup steps?" Well, you were right to wonder. Understanding the correct makeup routine order is key to kicking off even the most simple makeup looks. Stick with these simple steps that break down how to do basic makeup for beginners.
Step 1: Prime. So, when applying makeup, what goes on first? That would be your primer. This gives the rest of your makeup an even base to stick to and helps it last longer.
Step 2: Foundation or BB cream. Next up is your foundation or BB cream—whichever product you want to use for all-over coverage. This should come before your concealer.
Step 3: Concealer. If you have any spots that need more coverage, follow with concealer.
Step 4: Cheek products. Now's your chance to apply blush, bronzer, and highlighter—everything you need to make your cheekbones pop.
Step 5: Eyeshadow. Sweep on your eyeshadows when your face is finished, but make sure fallout doesn't mess with your under-eye concealer.
Step 6: Eyeliner. Eyeliner should be applied after eyeshadow so that it doesn't get muddied.
Step 7: Mascara. Coating your lashes can really complete any look!
Step 8: Lipstick. Last but certainly not least, lipstick (or any lip product) will be the finishing touch.
BASIC MAKEUP TIP #2: USE STICK FOUNDATION
If you only have time for one step in your morning face makeup routine, let it be foundation. On busy days, we happen to be fans of stick foundation, since it's easy to apply and blend. You can use the L'Oréal Paris Infallible Longwear Foundation Shaping Sticks to contour and perfect your complexion in a few quick swipes.
BASIC MAKEUP TIP #3: AND A MAKEUP BLENDER
It's not just about the foundation you wear; it's about how you apply it, too. Instead of using your fingers to blend your cream foundation, concealer, or contour products, grab a makeup blender for a more seamless finish! The L'Oréal Paris Infallible Blend Artist Foundation Blender has a pointed tip on one end and a rounded edge on the other. To use, apply a few swipes of foundation on your face, then use dabbing and rolling motions to create even coverage.
Editor's note: If you add a makeup sponge to your routine, learning how to clean it correctly is a must! Use a gentle soap and water to cleanse your makeup blenders, then squeeze out the excess water and store them in a cool, dry place. For more tips, head on over to our article, How to Clean Makeup Brushes and Blenders.
BASIC MAKEUP TIP #4: USE MICELLAR WATER
Okay, so this is a skin care product, but hear us out! If you make a makeup mishap when rushing to apply your basic makeup look, a bit of micellar water on a cotton swab can save the day without forcing you to start from square one. Stock your vanity with the L'Oréal Paris Micellar Cleansing Water Waterproof - All Skin Types, and you can use it for quick fixes as well as removing it all at the end of the day.
BASIC MAKEUP TIP #5: SMOOTH ON BB CREAM
Want lightweight coverage without the heavy feel? It may be time to welcome a BB cream to your routine. This multi-purpose beauty staple is a great way to sport flawless skin sans the super long process. Give it a try with the L'Oréal Paris Magic Skin Beautifier BB Cream, which is formulated with encapsulated pigments infused in an ultra-light lotion with vitamin C and vitamin E. Designed to smooth skin's texture, provide an even complexion, and hydrate skin, this offering covers all of the bases.
BASIC MAKEUP TIP #6: SWIPE ON SOME LIPSTICK
Need a quick transformation? We happen to be of the opinion that a pretty shade of lipstick can instantly perk up your face. So, before you run out of the door, try to spare a few seconds to apply some color! We love the L'Oréal Paris Rouge Signature Lip Stain, which comes in over 35 highly pigmented shades that have a long-lasting formula—making it the perfect option for your busy, no-time-to-reapply routine!
BASIC MAKEUP TIP #7: COLOR YOUR POUT WITH LIP GLOSS
If you're ready to elevate your pout game, lip gloss will definitely take you there! An excellent way to liven up your lip color with the right amount of shine, this beauty essential can be worn over top lipstick or solo for a winning look. Step into the world of lip gloss with the L'Oréal Paris Infallible 8 HR Le Gloss line, which offers a range of 20 luminous shades that will go the distance.
BASIC MAKEUP TIP #8: WEAR WATERPROOF CONCEALER
Wearing waterproof concealer is another essential for busy girls. Whether you use it along with foundation to contour and highlight or wear it alone to disguise dark circles is up to you! The waterproof formula will allow your concealer to stay put throughout the day, meaning you won't have to find time in your busy schedule for touch-ups. Try using the L'Oréal Paris Infallible Full Wear Concealer Waterproof, Full Coverage, which has a full-coverage, matte, and waterproof formula.
BASIC MAKEUP TIP 9: KEEP A FACE MIST ON-HAND
A face mist can instantly add a dewy glow to your complexion, refreshing your basic makeup look in practically no time at all. Not to mention it'll help your makeup look last longer. Basically, this is a must for any busy girl. Spritz the L'Oréal Paris True Match™ Shake & Glow Dew Mist onto your face throughout the day to revive your complexion and keep your glow going.
BASIC MAKEUP TIP #10: RELY ON STICK FORMULAS
Our first basic makeup tip involved stick foundation, but that isn't the only stick formula worth paying attention to. Using other makeup products that come in stick form, i.e., blush and highlighter sticks, will help you cut down on the time it takes to create your makeup look. Use the L'Oréal Paris Infallible Longwear Blush Shaping Sticks to add some color to your complexion and the L'Oréal Paris Infallible Longwear Highlighter Shaping Sticks to get your glow on, all while speeding up your routine.
BASIC MAKEUP TIP #11: SCULPT YOUR BROWS with brow mascara
Groomed brows don't have to take a ton of time. If you're in a rush, simply use the L'Oréal Paris Brow Stylist Boost & Set Mascara in Clear to sculpt and shape your brows without all of the drama. Apply the gel in upward strokes following your brow shape and brush through to set your brows. You'll be surprised what a difference this can make!
BASIC MAKEUP TIP #12: USE LIQUID EYE SHADOW
When it comes to eye shadow, it always feels as though there's never enough time in the morning—but that's because you haven't met liquid eye shadow. Rather than whipping out your powder formulas and eye shadow brushes, swipe a color of your choice onto your lids, then blend with your finger. Give it a go with the help of the L'Oréal Paris Brilliant Eyes Shimmer Liquid Eye Shadow Makeup. Trust us, you'll never look at eyeshadow the same!
BASIC MAKEUP TIP #13: COAT LASHES WITH CLEAR MASCARA
Mascara can make all the difference in your beauty look, but it can also take time to apply without ending up with brown or black specks on your lids and under-eyes. Give your lashes a boost without the fear of spoiling your look by applying a coat of clear mascara.
Next up: Want more time-saving beauty tips that will fit into your busy schedule? Here's A Simple 3-Step Skin Care Routine for Busy Days.
{ "@context": "https://schema.org/", "@type": "WebPage", "speakable": { "@type": "SpeakableSpecification", "cssSelector": ["speakable-content"] }, "url": "https://es.lorealparisusa.com/revista-de-belleza/maquillaje/tendencias-maquillaje/basic-makeup-for-busy-girls" }
Descubrir más trucos y consejos
Ver todos los artículos
Shop Featured Makeup products
Discover More
{ "@context": "http://schema.org", "@type": "BreadcrumbList", "itemListElement": [ { "@type":"ListItem", "position": 1, "item": { "@id": "/", "name": "Home" } } , { "@type":"ListItem", "position": 2, "item": { "@id": "https://es.lorealparisusa.com/revista-de-belleza", "name": "Revista de belleza" } } , { "@type":"ListItem", "position": 3, "item": { "@id": "https://es.lorealparisusa.com/revista-de-belleza/maquillaje", "name": "Consejos de maquillaje para cada look" } } , { "@type":"ListItem", "position": 4, "item": { "@id": "https://es.lorealparisusa.com/revista-de-belleza/maquillaje/tendencias-maquillaje", "name": "Tendencias de maquillaje" } } , { "@type":"ListItem", "position": 5, "item": { "@id": "https://es.lorealparisusa.com/revista-de-belleza/maquillaje/tendencias-maquillaje/basic-makeup-for-busy-girls", "name": "basic-makeup-for-busy-girls" } } ] }