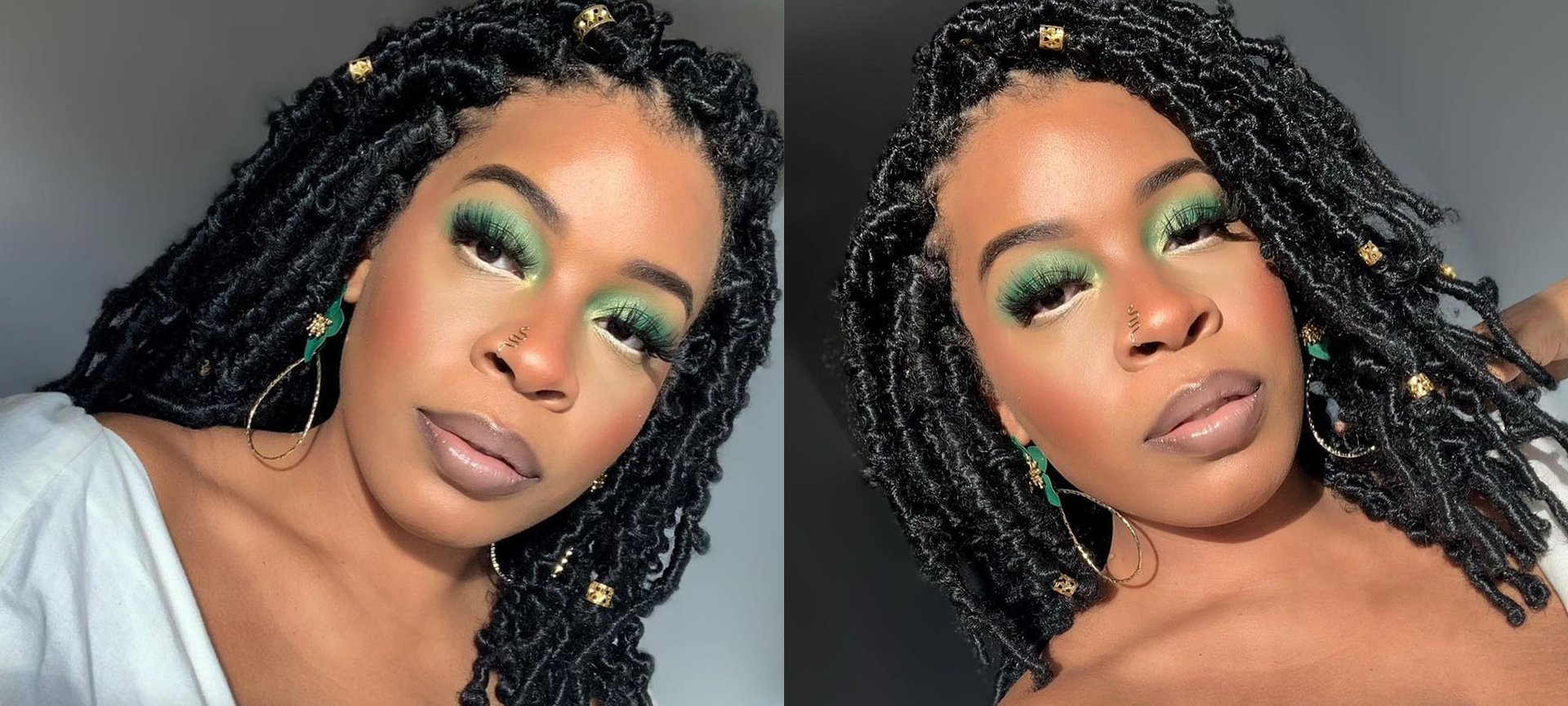 tendencias de maquillaje
6 Best Beauty Trends From 2021 To Try This Holiday Season
Haute makeup is the gift that keeps on giving.
When it comes time to get ready for your holiday plans, you may not be inclined to try out a new makeup look. However, what better time than the end of the year to give some of the hottest trends you've been scrolling past a spin? From finally trying that orange lipstick to rocking a hip new eyeliner shape, this holiday season is the perfect occasion to wear all of them (not at the same time—unless you're just that bold). To help inspire you to try something new, we're sharing six beauty trends from 2021 for your festive face.

Colorful Under-Eye Eyeshadow
One of our favorite beauty trends to emerge this year happens to be underline eyeshadow. It's characterized by the boldest part of your statement eye being on your lower lid. To test this trend on your holiday face, try creating this eye makeup style with a jewel-toned eyeshadow.

Get the look: Cover your upper lids with a neutral shadow, followed by a swipe of the L'Oréal Paris Infallible 24 HR Eyeshadow in Golden Emerald or the L'Oréal Paris Colour Riche Monos Eyeshadow in Green Promenade along your lower lash line. Then blend it out for an ethereal finish. Top it off with a coat of the L'Oréal Paris Voluminous Lash Paradise Washable Mascara.


Reverse Cat Eye Winged Eyeliner
A great way to add some creative liner looks to your makeup repertoire is with the reverse cat eye trend — a gorgeous spin on a classic look.
Get the look: Reach for the L'Oréal Paris Infallible Pro-Last Waterproof, Up to 24HR Pencil Eyeliner, and trace a curved cat eye along your upper lash line. Next, create an inverted wing that extends from the outer corner and across your lower lash line, all the way towards the inner corner. Coat your top and bottom lashes with a few generous swipes of the L'Oréal Paris Air Volume Mega Mascara, Lightweight Mega Volume Washable, and you're ready for any holiday event.

Flushed Cheeks
This year the pop of color makeup trend has made its way to all parts of the face, including the cheeks. From bright pink and orange to berry and red-orange shades, a blush with a burst of color will amp up your complexion and create a radiant look that will turn heads.
Get the look: Try the trend by sweeping your cheeks with the L'Oréal Paris Age Perfect Makeup Radiant Satin Blush with Camellia Oil in Marigold. This creamy, satin blush applies effortlessly without caking or drying and instantly gives your cheeks a healthy, radiant glow.

Glowy Skin
Summer may be all about the dewy complexion but this winter, glowy skin is also in. No matter the season, healthy, hydrated skin is always in style and one look that focuses on the beauty from within is the no makeup, makeup trend.
Get the look: Use a radiant finish foundation to give your complexion a gorgeous sheen—we recommend the L'Oréal Paris Infallible Pro-Glow Foundation. Next, accentuate your features with a subtle sweep of bronzer and a pop of blush on the apples of your cheeks. Finally, add a quick swipe of mascara to your lashes for a soft but stunning finish.

Colorful Eyelashes
Colored mascara rises to any holiday occasion, giving your lashes a fuller appearance and a colorful tint at the same time. Depending on the shade you choose, you can also complement the color of your eyes and add vibrant flair to your eye makeup.
Get the look: Head on over to our article, How to Wear Colored Mascara, and give your standard black tube a break.


Bright Lipstick
When it comes to a makeup trend that screams confidence, a standout lip color is always one. Bold lipstick has come a long way in the beauty world, and it's become a must-have beauty look. Whether you fancy deep reds and corals or purples and pinks, the right offering can give your makeup look the perfect wash of color.
Get the look: Pick up a vivid shade from the L'Oréal Paris Colour Riche Reds Of Worth Satin Lipstick With Saturated Color line to make some magic happen. To keep your color in place and prevent bleeding, reach for a lip liner that matches your lipstick. Then, starting at the center of your lip, swipe the color on and work toward the outer edges of your mouth. Repeat on your upper lip, making sure to follow the contour of your pout. Lastly, place a tissue between your lips and press them together to remove excess color. This will keep your bright lip hue from accidentally transferring to your teeth.
Next: 10 Holiday Beauty Buys Under $20

Written by: Lauren Paige Richeson, Photo Credit: Tarah, IG/@taintedbytatou
{ "@context": "https://schema.org/", "@type": "WebPage", "speakable": { "@type": "SpeakableSpecification", "cssSelector": ["speakable-content"] }, "url": "https://es.lorealparisusa.com/revista-de-belleza/maquillaje/tendencias-maquillaje/holiday-makeup-trends" }
Descubrir más trucos y consejos
Ver todos los artículos
Mejora tu rutina
Muestra más amor a tu nuevo look:
makeup
{ "@context": "http://schema.org", "@type": "BreadcrumbList", "itemListElement": [ { "@type":"ListItem", "position": 1, "item": { "@id": "/", "name": "Home" } } , { "@type":"ListItem", "position": 2, "item": { "@id": "https://es.lorealparisusa.com/revista-de-belleza", "name": "Revista de belleza" } } , { "@type":"ListItem", "position": 3, "item": { "@id": "https://es.lorealparisusa.com/revista-de-belleza/maquillaje", "name": "Consejos de maquillaje para cada look" } } , { "@type":"ListItem", "position": 4, "item": { "@id": "https://es.lorealparisusa.com/revista-de-belleza/maquillaje/tendencias-maquillaje", "name": "Tendencias de maquillaje" } } , { "@type":"ListItem", "position": 5, "item": { "@id": "https://es.lorealparisusa.com/revista-de-belleza/maquillaje/tendencias-maquillaje/holiday-makeup-trends", "name": "holiday-makeup-trends" } } ] }