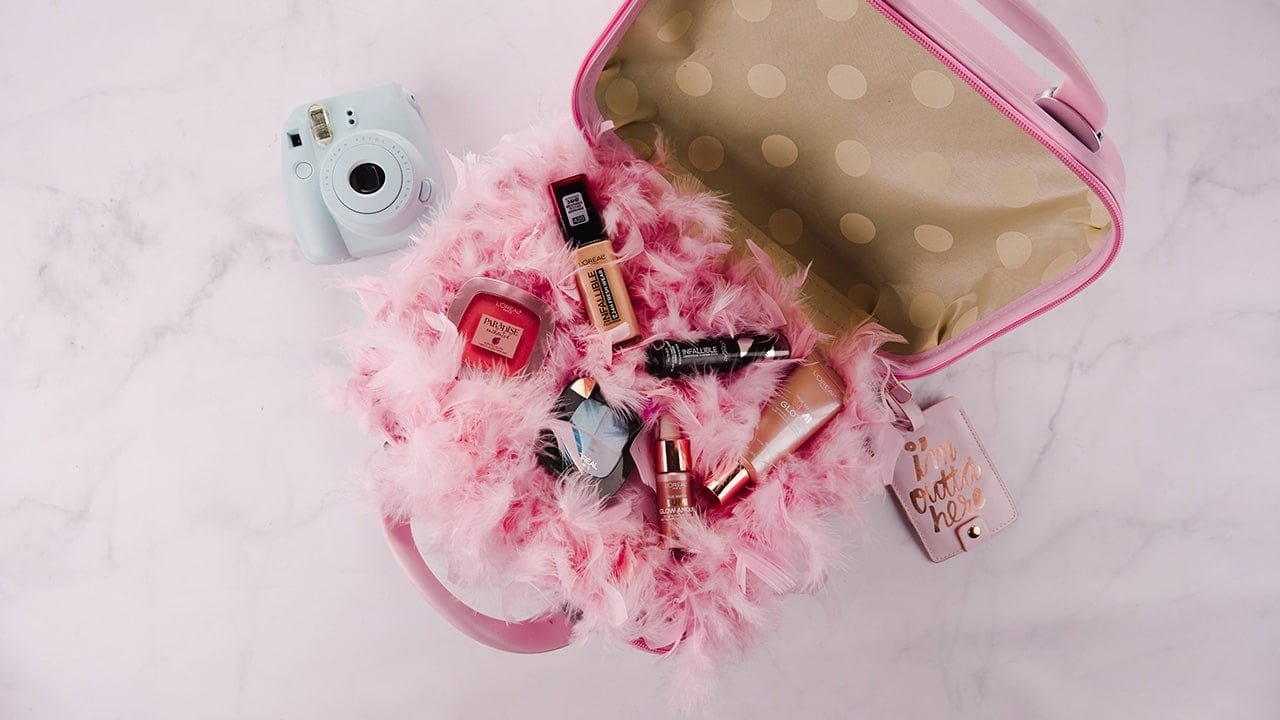 You have your makeup routine down pat—but that's when you're at home. When you walk out the door and embark on a trip of any kind, travel makeup is a whole other ballgame. You have to contend with the possibility of broken bottles and messy makeup bags, all while on the go. Traveling can be stressful enough, and there's no reason your makeup needs to contribute to that stress. With a couple (okay, eight) helpful tips, you can master traveling with makeup. We're sharing all of our best travel makeup tips, from how to prevent leaks to how to keep makeup brushes and blenders clean. No more leaky liquid foundations or crushed compacts full of face powder!
TRAVEL MAKEUP TIP #1: USE UP PRODUCT SAMPLES
There's one thing all makeup lovers have in common: A stash of product samples that they never use. They've probably come as samples with other makeup purchases, or perhaps they just caught your eye in the checkout line (been there). Either way, we're betting they don't see their fair share of daylight—at least until now. Instead of bringing along all of your full-size products for short trips, break out your samples. They are, after all, perfectly-sized for travel makeup. Give them a try while you're traveling, and at the end of the trip, you can toss all the tiny tubes and packets for a lighter load on your way home. It's a win all around.
TRAVEL MAKEUP TIP #2: TRANSFER INTO TRAVEL CONTAINERS
Chances are you won't have a sample to fill in for every single one of your go-to products. If that's the case, try putting some of your must-haves, like makeup setting spray and primer, into travel-friendly containers. You can purchase small jars and bottles or reuse ones from travel-sized products you've already emptied out, putting in just enough product to get you through the trip. Not only does this make it easier to pack your favorite products, but it's also more environmentally friendly if you opt to reuse containers.
Editor's tip: You don't always need containers meant for cosmetics. A clean contact lens case is the right size for storing the perfect amount of product to last you a few days!
TRAVEL MAKEUP TIP #3: CUSHION WITH COTTON PADS
There's (almost) nothing worse than arriving at your destination, only to find that all of your beauty products were broken in the process of getting there. Bye, bye powder highlighter and blush. To avoid spending your vacay cleaning up shattered eye shadows, simply place a piece of a cotton pad (cut it up to fit just right) over top of the powder. Then, shut the compact or palette with the cotton pad inside, and you should be good to go. The cotton pad, fitted right on top of the product and under the top of the palette, will keep everything in place and help prevent any shattering.
Use this tip with your favorite powder products, like the L'Oréal Paris Colour Riche Pocket Palette Eye Shadow in Avant Garde Azure and L'Oréal Paris True Match™ Blush.
TRAVEL MAKEUP TIP #4: STOP LEAKS WITH PLASTIC WRAP
Like it or not, sometimes liquid makeup and a quick flight can be a recipe for disaster. We've all experienced it—you open up your makeup bag after disembarking from an airplane and are greeted with a major leak. Whether your liquid foundation has somehow opened itself mid-flight, or maybe your makeup primer lost its cap, it's never a fun mess to clean up—not to mention, it's a total waste of product. Thankfully, there's a way to help prevent it.
When you're packing up your makeup, sit all the liquids aside. Open them up and place small pieces of plastic wrap under the caps for an extra layer of protection—much like when products have little pieces of foil over their openings before you ever use them. Give this travel makeup tip a whirl with the L'Oréal Paris Infallible 24 Hour Fresh Wear Foundation, Lightweight.
TRAVEL MAKEUP TIP #5: USE TAPE FOR SECURITY
Don't have plastic wrap at the ready? Another way to prep your travel makeup is with a simple piece (or three) of tape. We know, it's not the most glamorous look to have a piece of tape sealing off your pretty products, but it will get the job done. Simply fasten a piece of tape over the tops of your products. If it's in bottle form, like the L'Oréal Paris True Match™ Lumi Glow Amour Glow Boosting Drops, make sure the tape covers the entire cap and goes down two sides of the product, which will really ensure that it doesn't slide or slip off while en route.
TRAVEL MAKEUP TIP #6: PACK MULTI-TASKING MAKEUP
As tempting as it can be, there's no need to bring every makeup item that resides on your vanity with you. Keep your luggage light by bringing only the essentials and utilizing products that serve more than one purpose. For example, rather than packing separate concealer, highlighter, and contouring shades, just grab a palette that contains all three products in one. Here are some of our best multi-tasking makeup products to choose from:
To highlight and add color and dimension…bring the L'Oréal Paris True Match™ Lumi Glow Nude Highlighter Palette.
To hydrate and brighten…bring the L'Oréal Paris True Match™ Lumi Glotion Natural Glow Enhancer.
TRAVEL MAKEUP TIP #7: KEEP BRUSHES AND MAKEUP BLENDERS SEPARATE
It may seem like an easy solution to toss all of your makeup blenders and brushes into the same bag with your makeup, but we'd advise against doing so. Not only can you end up with a real mess if your tools aren't totally clean, but the bristles on your brushes can be crushed. No thanks! Play it safe and pack your brushes in a separate makeup bag or stow them away in a brush roll.
Alternatively, you can choose to pack only products that can easily be blended out with your fingers—aka cream formulas, like the L'Oréal Paris Infallible Longwear Foundation Shaping Sticks. That way, you can leave your brushes at home! For a lesson in being hands-on with your makeup, read our article, How to Apply Makeup with Your Hands.
TRAVEL MAKEUP TIP #8: USE MICELLAR WATER TO CLEAN YOUR MAKEUP BAG
By the end of your travels, chances are your makeup bag won't be a pretty sight. Even if you stop spills and keep everything that should be separate, separate, a bit of a mess can still happen. That's why you'll want to come prepared. Rather than carry a makeup bag made of an absorbent fabric, which won't be easy to clean, use one that can easily be wiped off. If you follow this advice, anytime you notice a mess, you can quickly saturate a cotton pad with the L'Oréal Paris Micellar Cleansing Water Complete Cleanser Waterproof – All Skin Types and give it a quick clean. Problem solved!
Don't forget to pack your skin care products, too! Head on over to our article, Travel Light: 5 Skin Care Products to Pack.
{ "@context": "https://schema.org/", "@type": "WebPage", "speakable": { "@type": "SpeakableSpecification", "cssSelector": ["speakable-content"] }, "url": "https://es.lorealparisusa.com/revista-de-belleza/maquillaje/tendencias-maquillaje/how-to-travel-with-makeup" }
Descubrir más trucos y consejos
Ver todos los artículos
Shop Featured Makeup products
Discover More
{ "@context": "http://schema.org", "@type": "BreadcrumbList", "itemListElement": [ { "@type":"ListItem", "position": 1, "item": { "@id": "/", "name": "Home" } } , { "@type":"ListItem", "position": 2, "item": { "@id": "https://es.lorealparisusa.com/revista-de-belleza", "name": "Revista de belleza" } } , { "@type":"ListItem", "position": 3, "item": { "@id": "https://es.lorealparisusa.com/revista-de-belleza/maquillaje", "name": "Consejos de maquillaje para cada look" } } , { "@type":"ListItem", "position": 4, "item": { "@id": "https://es.lorealparisusa.com/revista-de-belleza/maquillaje/tendencias-maquillaje", "name": "Tendencias de maquillaje" } } , { "@type":"ListItem", "position": 5, "item": { "@id": "https://es.lorealparisusa.com/revista-de-belleza/maquillaje/tendencias-maquillaje/how-to-travel-with-makeup", "name": "how-to-travel-with-makeup" } } ] }