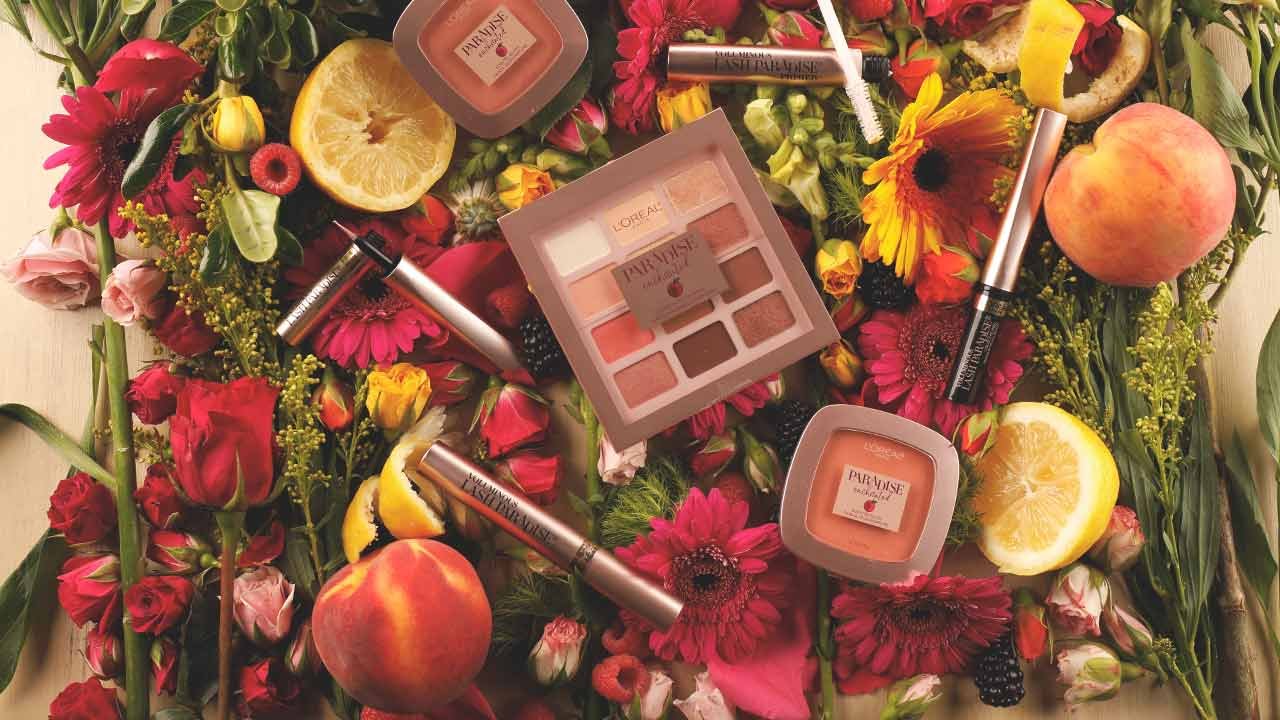 If you're looking for new makeup products to try, we have something to share. The L'Oréal Paris Paradise Collection features a range of products from face makeup to eye makeup that you're going to love. Here's an in-depth review of the line, the products it includes, and how to use them for your next makeup look.
L'ORÉAL PARIS PARADISE COLLECTION REVIEW
The Paradise collection features seven exciting makeup products. There are three mascaras, one mascara primer, one eyeliner, one blush, and one eyeshadow palette included in the line. The collection boasts beautiful, neutral colors that will allow you to create everyday makeup looks that can easily be transitioned for a night out. Equally as impressive is the fact that each of the powder products in the line has a fruity scent, allowing you to have the ultimate sensorial experience when applying your makeup.
7 PARADISE COLLECTION PRODUCTS TO TRY
As we mentioned earlier, there are seven makeup products included in the Paradise Collection. Here's a breakdown of each one:
L'Oréal Paris Voluminous Lash Paradise Mascara Primer/Base: This pink-tinted mascara primer will give you thick, voluminous lashes. The formula includes rose oil and helps your mascara adhere to your lashes for longer wear.
L'Oréal Paris Paradise Enchanted Scented Eyeshadow Palette: This eyeshadow palette contains 12 captivating, warm eye shadow shades for you to add to your collection. With shades ranging from creamy ivories to coral pinks to bronzed ambers, it has a diverse range that will give you the opportunity to create many eye makeup looks. The palette also contains shadows with a range of finishes from shimmering pearls to mattes, giving you plenty of variety.
L'Oréal Paris Paradise Enchanted Fruit-Scented Blush Makeup: This blush comes in four shades (Bashful, Just Curious, Fantastical, and Charming) with varying finishes from shimmers to mattes. With its soft, velvety texture, ultra-blendable formula, and rich, long-lasting color pay off, there's nothing not to like.
L'Oréal Paris Voluminous Lash Paradise Liquid Eyeliner: This creamy liquid eyeliner has a water-resistant formula that will give you rich, long-lasting color. The eyeliner glides on easily, is smudge-proof, and comes in Rose Gold and Black shades.
L'Oréal Paris Voluminous Lash Paradise Washable Mascara: This mascara will give your lashes voluptuous volume and intense length—what more could you want? Its silky-smooth formula doesn't flake, clump, or smudge and removes easily with soap and water. The mascara comes in Blackest Black, Black, and Black Brown.
L'Oréal Paris Voluminous Lash Paradise Waterproof Mascara: This waterproof mascara will last all day, providing your lashes with dramatic volume. There are two shades available: Black and Blackest Black.
L'Oréal Paris Voluminous Lash Paradise Mascara Mystic Black: This mascara glides on and gives your lashes silky volume with just one coat. The formula is feathery soft, clump-free, and flake-free.
HOW TO GET A PARADISE MAKEUP LOOK
Now that you know all about the Paradise Collection, it's time to find out how to put these products to use! This natural makeup look can be worn daily whether you're going to school, work, or running errands.
Step 1: Create your base
To start, you'll want to give yourself flawless skin. Use a BB cream, like the L'Oréal Paris Magic BB Anti-Fatigue (For All Skin Types), all over your face. Apply the BB cream to hydrate, correct, perfect, and revive your skin. You'll be left with a flawless bare skin finish—perfect for the base of this makeup look.
Step 2: Grab your blush
Once your skin is perfected, it's time to add a pop of color! Use one of the blushes from the Paradise collection to brighten up your cheeks. Brush the blush on your cheekbones in a "C" and inverted "C" shape to help define your face.
Step 3: Apply eye shadow
For this everyday makeup look, you want to keep your face makeup simple. The next area to focus on is your eyes. Use the collection's eye shadow palette to create a neutral eye makeup look. To start, apply a medium nude shade to your lids. Next, use a darker brown shade in the crease. To finish your eye shadow look, apply the lightest shade to the inner corner of your eye and below the arch of your eyebrows.
Step 4: Wing it
Now it's time to amp up your look by adding some winged eyeliner! Use the collection's liquid eyeliner to line your upper lash line and create a small wing.
Step 5: Pump up your lashes
Next, add volume to your lashes. Apply lash primer before finishing with a few coats of one of the collection's fabulous mascaras.
Step 6: Apply a neutral lip color
To complete your makeup look, apply a neutral lipstick, like the L'Oréal Paris Colour Riche Lipstick Shine Lipstick in Glossy Fawn.
For more inspiration for your next makeup look, read our article, How to Create a Negative Space Cut Crease.
{ "@context": "https://schema.org/", "@type": "WebPage", "speakable": { "@type": "SpeakableSpecification", "cssSelector": ["speakable-content"] }, "url": "https://es.lorealparisusa.com/revista-de-belleza/maquillaje/tendencias-maquillaje/loreal-paris-paradise-collection-review" }
Descubrir más trucos y consejos
Ver todos los artículos
Shop Featured Makeup products
Discover More
{ "@context": "http://schema.org", "@type": "BreadcrumbList", "itemListElement": [ { "@type":"ListItem", "position": 1, "item": { "@id": "/", "name": "Home" } } , { "@type":"ListItem", "position": 2, "item": { "@id": "https://es.lorealparisusa.com/revista-de-belleza", "name": "Revista de belleza" } } , { "@type":"ListItem", "position": 3, "item": { "@id": "https://es.lorealparisusa.com/revista-de-belleza/maquillaje", "name": "Consejos de maquillaje para cada look" } } , { "@type":"ListItem", "position": 4, "item": { "@id": "https://es.lorealparisusa.com/revista-de-belleza/maquillaje/tendencias-maquillaje", "name": "Tendencias de maquillaje" } } , { "@type":"ListItem", "position": 5, "item": { "@id": "https://es.lorealparisusa.com/revista-de-belleza/maquillaje/tendencias-maquillaje/loreal-paris-paradise-collection-review", "name": "loreal-paris-paradise-collection-review" } } ] }