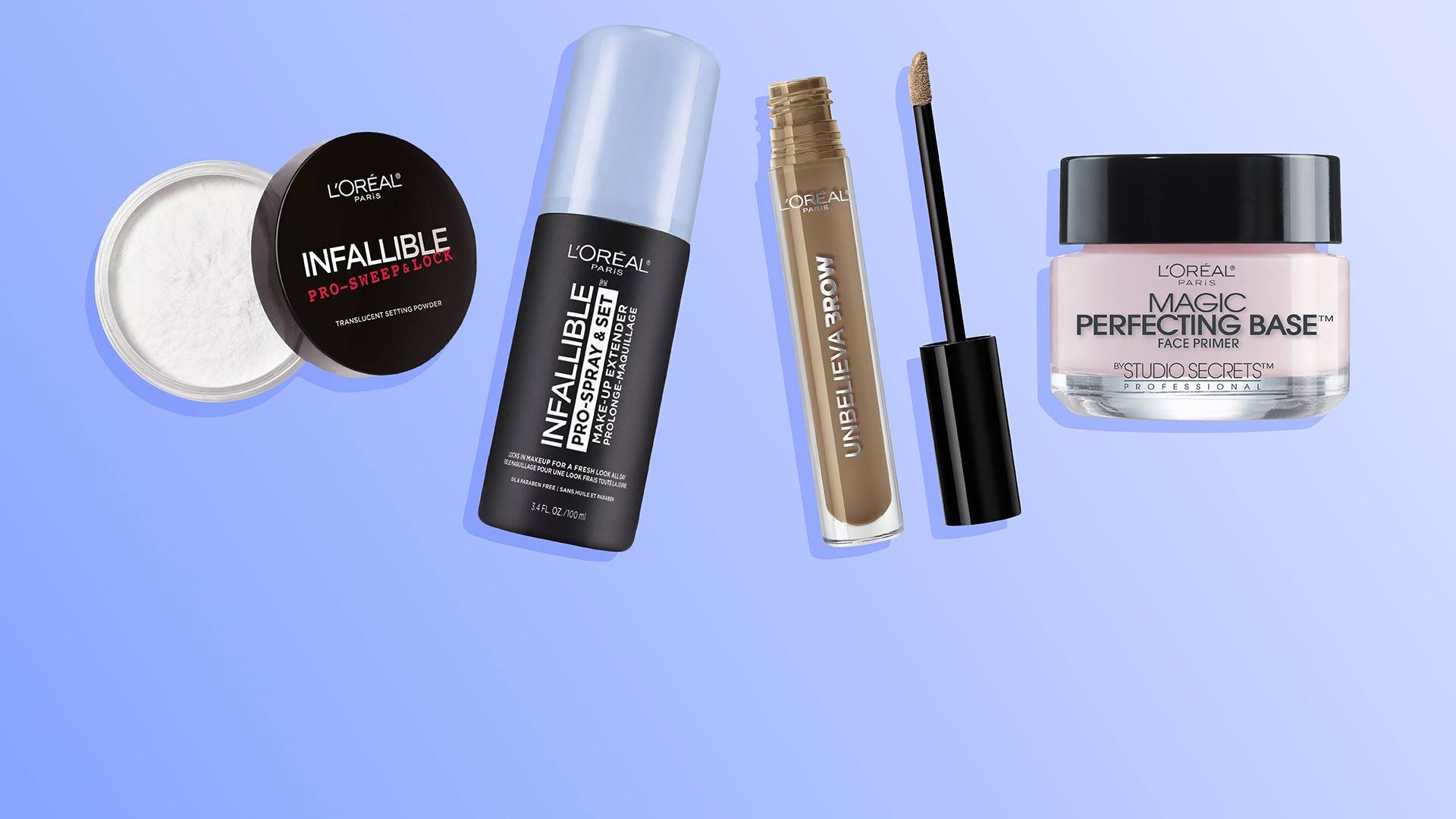 If you have oily skin, you know how difficult it can be to get makeup to stay put on your face. Maybe it lasts until lunch, but by the end of the day it tends to have faded away, or worse. The good news is there are quite a few makeup products out there—ranging from mattifying primer and foundation to loose setting powder—that those with oily skin could benefit from using. Below, we share our must-have makeup for oily skin and how to use each product for a look that stays in place. The best part: they're all affordable and available at the drugstore!
THE BEST DRUGSTORE PRIMER FOR OILY SKIN
Worried that your primer will make your skin look even shinier? Then reach for a mattifying primer before applying foundation. Our best drugstore primer for oily skin, the L'Oréal Paris Infallible Pro-Matte Lock Makeup Primer, will do just the trick! The silky, lightweight formula glides onto skin and minimizes the look of pores. Apply it dot by dot all over or to targeted areas, then blend out using a gentle circular motion.
If your oily skin is often accompanied by enlarged pores, consider grabbing the L'Oréal Paris Studio Secrets Professional Magic Perfecting Base. Thankfully, when your skin care routine for enlarged pores hasn't quite kicked in yet, this primer can help to hide them, smooth the appearance of fine lines and cover imperfections.
THE BEST DRUGSTORE FOUNDATION FOR OILY SKIN
Scared that liquid foundation will slip and slide around your oily face? You don't have to limit yourself to just powder foundations. It's all about finding a liquid foundation with a long-lasting formula, like the L'Oréal Paris Infallible Pro-Matte Foundation. Apply this drugstore favorite for oily skin with a makeup blender, like the L'Oréal Paris Infallible Blend Artist Foundation Blender, using dabbing and rolling motions to blend for a seamless finish. Of course, you don't have to stick with a matte foundation if that's not your preference. Just make sure to use a foundation that has a water, sweat, and transfer-resistant formula, like the L'Oréal Paris Infallible Up to 24HR Fresh Wear Foundation, Lightweight. You can count on this foundation for a natural-looking finish that'll last all day and night.
If you do want to stick with a powder foundation for your oily skin, make sure to choose an option that offers long-wear and no caking, like the L'Oréal Paris Infallible Up To 24H Fresh Wear in a Powder, matte finish. The weightless texture offers all-day comfort.
THE BEST DRUGSTORE SETTING POWDER FOR OILY SKIN
If you have oily skin, we're sure face powder has become a part of your daily makeup regimen. Setting powder is one of the most praised heroes of the makeup industry—with just a dusting of translucent face powder, you can help set your look for the day. Since makeup can start to fade midday if you have oily skin, apply a setting powder when you're done with the rest of your makeup. We love the L'Oréal Paris Infallible Pro-Sweep & Lock Loose Setting Face Powder.
THE BEST DRUGSTORE CONCEALER FOR OILY SKIN
Oily skin types need—and we mean need—a concealer with lots of staying power. Our recommendation? Look for a long-lasting waterproof formula that will stay in place no matter how greasy you get. Try the L'Oréal Paris Infallible Full Wear Concealer Waterproof, Full Coverage, applying it onto any imperfections you want to disguise.
THE BEST DRUGSTORE BLUSH FOR OILY SKIN
You may not consider blush completely essential to your makeup look, until your blush wears off after just a few hours. A bit of blush on the apples of your cheeks can make all the difference in how healthy your skin looks, so you surely want it to last. For a long-wearing, buildable option, try the L'Oréal Paris Infallible Longwear Blush Shaping Sticks.
THE BEST DRUGSTORE EYEBROW MAKEUP FOR OILY SKIN
Your eyebrows won't look on point if your makeup starts melting halfway through the day. Don't want to have to worry about making frequent touch-ups? The L'Oréal Paris Brow Stylist Brow Definer Waterproof Eyebrow Pencil and the L'Oréal Paris Brow Stylist Frame & Set both offer long-lasting, waterproof, and smudge-resistant results. If you prefer a gel, the L'Oréal Paris Unbeliavabrow Longwear Waterproof Brow Gel also has a waterproof, sweat-resistant formula that won't smudge or transfer. First, use the doe foot applicator to fill in any sparse areas. Then, define and perfect your shape with the angled brush. Finish the look by combing through your brows with the spoolie.
THE BEST DRUGSTORE EYESHADOW FOR OILY SKIN
Don't forget, eyelids can get greasy too! To ensure your eyeshadow doesn't succumb to oily lids, stick with a long-lasting formula like the fade-proof and waterproof L'Oréal Paris Infallible 24 HR Eye Shadow.
THE BEST DRUGSTORE EYELINER FOR OILY SKIN
Top off your statement eye with a waterproof eyeliner, like the L'Oréal Paris Le Liner Signature Easy-Glide Mechanical Eyeliner, Waterproof. Whether you apply it all the way across your upper lash line or concentrate it in the corner of your eyes, you're sure to make an impact with this ink-like pencil. You can even tightline your inner rims with this eyeliner and won't have to worry about it budging as you go about your day. And if you want to put your liquid liner skills to the test, reach for the L'Oréal Paris Voluminous Lash Paradise Liquid Eyeliner. The waterproof formula means your cat eye won't go anywhere, even if you're having a particularly oily day.
THE BEST DRUGSTORE MASCARA FOR OILY SKIN
We've all had our mascara end up smudged under our eyes by the end of the day—sometimes even by midday. And oily skin types probably experience this unfortunate situation more often than not when they wear mascara. Thankfully, there's an easy solution—and it doesn't involve giving up on having bold lashes. Just opt for a waterproof mascara, like the L'Oréal Paris Air Volume Mega Mascara Waterproof, Lightweight. Once it dries down on your lashes, it truly won't budge—until you wash it off, that is.
{ "@context": "https://schema.org/", "@type": "WebPage", "speakable": { "@type": "SpeakableSpecification", "cssSelector": ["speakable-content"] }, "url": "https://es.lorealparisusa.com/revista-de-belleza/maquillaje/tendencias-maquillaje/makeup-products-for-oily-skin" }
Descubrir más trucos y consejos
Ver todos los artículos
Shop Featured Makeup products
Discover More
{ "@context": "http://schema.org", "@type": "BreadcrumbList", "itemListElement": [ { "@type":"ListItem", "position": 1, "item": { "@id": "/", "name": "Home" } } , { "@type":"ListItem", "position": 2, "item": { "@id": "https://es.lorealparisusa.com/revista-de-belleza", "name": "Revista de belleza" } } , { "@type":"ListItem", "position": 3, "item": { "@id": "https://es.lorealparisusa.com/revista-de-belleza/maquillaje", "name": "Consejos de maquillaje para cada look" } } , { "@type":"ListItem", "position": 4, "item": { "@id": "https://es.lorealparisusa.com/revista-de-belleza/maquillaje/tendencias-maquillaje", "name": "Tendencias de maquillaje" } } , { "@type":"ListItem", "position": 5, "item": { "@id": "https://es.lorealparisusa.com/revista-de-belleza/maquillaje/tendencias-maquillaje/makeup-products-for-oily-skin", "name": "makeup-products-for-oily-skin" } } ] }