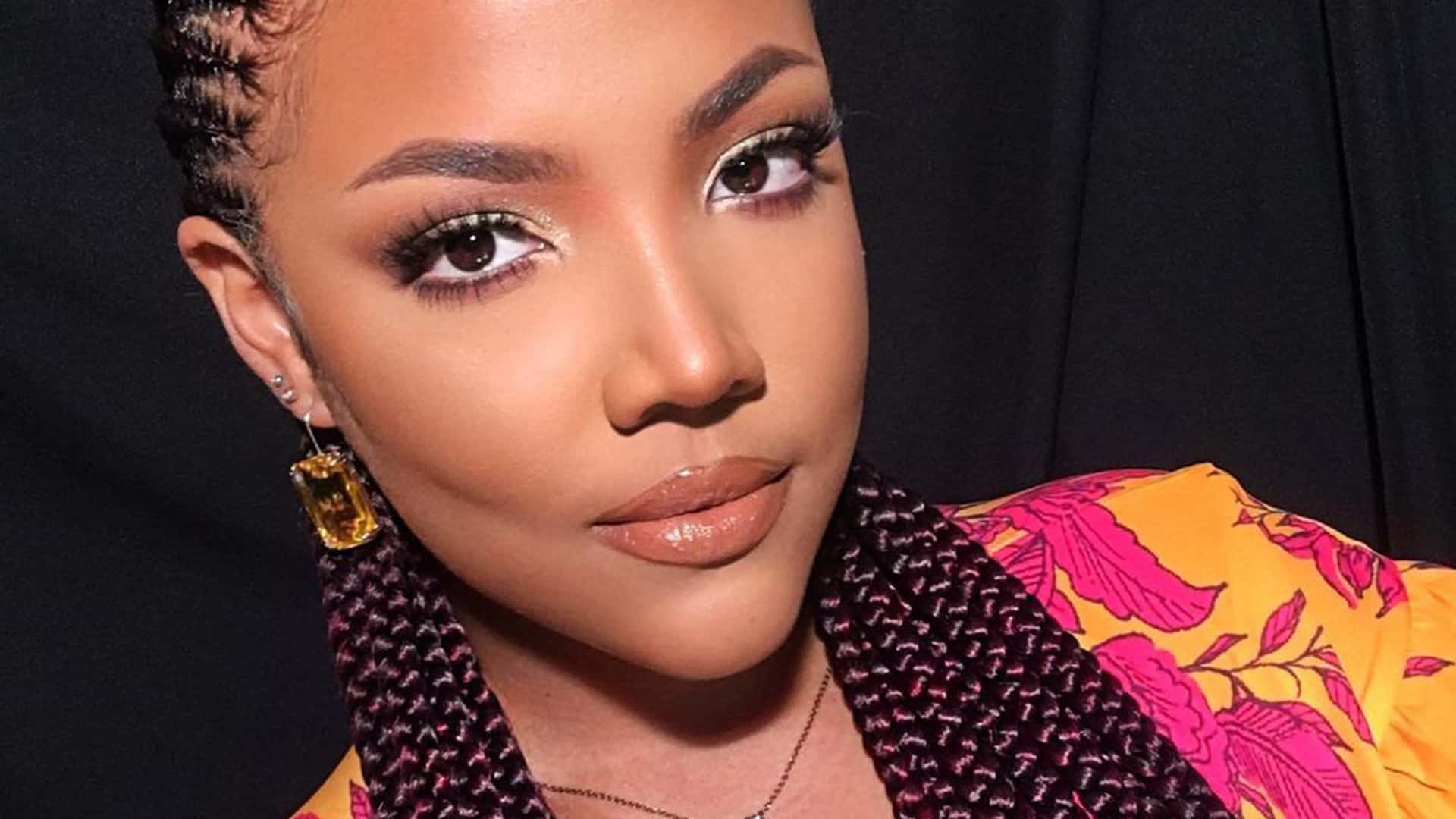 There's no denying the beauty of braided hairstyles. They're typically pretty low maintenance, they're easy to accessorize and they're a go-to for all hair types. What's not to love about braids? One of the most popular braided styles is cornrows, a tried-and-true classic that's perfect for any occasion. When done right, cornrows can help protect natural hair by minimizing the damage that comes with brushing and styling your strands daily. We also love them because there are countless ways to wear and style cornrows. From elegant updos to zig-zag styles, straight-back plaits to eclectic ponytails and everything in between—the options are limitless. Check out these 20 cornrow hairstyles that will make you want to grab your comb, some gel and start braiding.
Hairstyle #1: High Bun
Comfortable and easy to do—the high bun is a classic for a reason. To get this look, simply gather your cornrow braids in both hands and twist the hair around itself to form a high, voluminous braided bun at the top of your head. Be sure to secure the knot with a hair tie or plenty of bobby pins to keep it in place all day.
Hairstyle #2: Half-Up Ponytail
We're already suckers for a classic half-up hairstyle, so if you add cornrows into the mix, get ready for some serious heart-eye emoji action. For this look, start by gathering a section of hair at the crown of your head and create some small cornrows. After that, gather that same section into a ponytail on top of your head and use a scrunchie to hold it in place. The rest of your natural hair can be left out in the back.
Hairstyle #3: Fulani Cornrows
Fulani braids, named after the Fulani people of West who were known to be the originators of the style, are a versatile and detailed hairstyle that sports a few cornrow braids down the center of the head and several cornrows braided in a row going out towards the temples on either side. It's a stunning braided hairstyle that pairs well with beads and metallic hair accessories.
Hairstyle #4: Double Ponytail
A chic way to step outside of the box, double cornrow ponytails add a flirty and playful vibe to your look. Simply gather your cornrows into two ponytails on either side of your head, making sure that both sides line up evenly. Then finish off the look by adding a few stylish clips to accessorize.
Hairstyle #5: High Ponytail
Cornrow ponytails are one of the easiest ways to instantly upgrade your traditional pony. This requires braiding your cornrows up towards the crown of your head so that you can easily gather them. Then, pull all the braids into a high ponytail and secure them with a statement hair tie.
Hairstyle #6: Cornrow Mullet
This might sound scarier than it actually looks. But remember, once upon a time a certain starlet we adore walked the red carpet in a mullet and it was fabulous. And this will be too! But instead of your traditional business in the front, party in the back style, make it all fun. You can do it two ways: you can cornrow braid your hair in the front, leaving your hair in the back out fully or you can mix cornrows in the front with loose box braids to hang in the back. Feel free to add in some hair to give those front braids drama and body.
Hairstyle #7: Low Bun
For a quick and easy hairstyle–pull your cornrows into a low ponytail, then twist the braids around themselves to form a low bun at the nape of your neck. Pin it in place, and you're good to go!
Editors Tip: Don't forget to lay down your edges in the front to complete this look. Use a small edge brush and apply a dime-size amount of the L'Oréal Paris Lock It Extreme Style Gel Lock It Clean Style Gel to your baby hairs to keep them in place.
Hairstyle #8: Braided Frohawk
This cornrow hairstyle may be best left to a stylist (or friend) due to its intricate design but it's worth the extra effort it requires. To create this look, you'll have to begin creating cornrows on both sides of your scalp meeting towards the middle of your head, leaving the ends unbraided. Use a pick to fluff out the unbraided ends and add bobby pins to keep it centered like a mohawk. Feel free to add some extensions to give it more volume.
Hairstyle #9: Colorful Cornrows
Spritz individual braids with a temporary hair color spray for a playful twist on your go-to plaits. Take your pick from the various shades in the L'Oréal Paris Colorista Hair Makeup Temporary 1-Day Hair Color Spray line. Since these hair colors wash out in just one shampoo, you'll be able to switch colors easily.
Hairstyle #10: Small Cornrows
Small cornrows look beautiful, and they are a great way to play around with the thickness of your braids— and the thinner the braids, the more you'll have across your head. Next time you're at the salon, have your stylist weave your mane into ultra-thin braids. Just be delicate around the hairline so that you don't put too much tension on your roots.
Hairstyle #11: Zig-Zag Cornrows
This style utilizes zig-zag parts to create a playful and fun twist with cornrows. You can create zig-zag pattern parts throughout your mane and weave your braids straight back. If you're not too familiar with braiding yet, we recommend going to a professional stylist for this look.
Hairstyle #12: Waist-Length Cornrows
This one is pretty self-explanatory: It features cornrows that fall to your waist. If you don't have long hair, you can have your stylist weave in extensions to get to the length you'd like. It's a bit more high-maintenance than some of the other styles on this list, but worth it if you're looking for major length and drama.
Editor's Tip: Be careful when adding in hair this long to your natural curls. If your hair is fine or thin it can put too much stress on it, causing breakage or even root damage.
Hairstyle #13: Straight Back Cornrows
Cornrow styles don't have to be complicated for your braids to look beautiful. One of the simplest and most beautiful ways to wear cornrow braids is straight back for a classic braided and low maintenance look
Hairstyle #14: Side-Swept Cornrows
For a side-swept look, create a deep side part and divide your hair into two sections. Take the larger section and weave it into thin, sleek braids that run perpendicular with the part. Allow the rest of your hair to hang free for extra movement.
Hairstyle #15: Cornrow Bangs
If you're a girl that just loves a bang, well, you don't have to give it up when you cornrow your hair. Make it a part of the style and finish it with a chic braided bang. You can let it hang loosely at the front of your face like a traditional fringe, or get really creative with it and weave the braids into each other across the font of the face, hanging ever-so-slightly. Unless you're a skilled braider, go see your stylist for this one.
Hairstyle #16: Multi-dimensional Cornrows
If you want to give your strands a bit of added texture, consider varying the size of your braids throughout your head. Mix and match thin and thick cornrows for a multi-dimensional mane with lots of personality, twists and turns.
Hairstyle #17: Halo Braid
This ethereal style may seem complicated, but looks can be deceiving. First, part your hair into two sections as you would for a half-up hairstyle and clip the bottom layer out of the way. Cornrow braid the top half from one end to the other, then release the bottom layer of hair and continue the braid from where the other half left off. You're going in a circle around the head until you finish with a crown. Tuck the ends in using a bobby pin and adorn with accessories as you see fit. Opt for a large single braid or a medley of cornrows.
Hairstyle #18: Accent Braids
If you're looking to switch things up with your braids, you use smaller braids to accent larger ones. To recreate this look, you'll need to part your hair in half and create small intricate braids at the top of your head on one half and then intertwine them into one larger braid. For the larger braid, you can also use extensions to add length. Then repeat the same steps to the other half of the head.
Editor's Tip: Finish off the look by using some gel to style your baby hairs in front. Try the L'Oréal Paris Lock It Extreme Style Gel Lock It Clean Style Gel and use a fishtail comb to lay those hairs down.
Hairstyle #19: Stitch Cornrows
Stitch braids are one of our favorite cornrow hairstyles, though it does require a bit of skill to pull off. They are meant to have a uniform and crisp look and will require the use of a pomade or gel to help keep the hair in place. The plaits you create will have to use the stitch method, which will require some additional finger techniques when braiding. And the hair should be divided into sharp horizontal lines down the head. If you're not too familiar with stitch braiding, head to a professional who can give you the exact look you want.
Hairstyle #20: Shuruba Cornrows
Shuruba cornrows are a traditional Ethiopian style that features tight braids woven to the crown of the head and secured, while the remaining hair is left free. You can add visual interest with angled parts or incorporate a thicker center braid with chic hair clips for a gorgeous finish.
Main Photo Credit: @chelslayyyy
{ "@context": "https://schema.org/", "@type": "WebPage", "speakable": { "@type": "SpeakableSpecification", "cssSelector": ["speakable-content"] }, "url": "https://es.lorealparisusa.com/revista-de-belleza/peinado/peinados-de-trenzas/cornrows" }
Descubrir más trucos y consejos
Ver todos los artículos
Shop Featured Hair Color products
Discover More
{ "@context": "http://schema.org", "@type": "BreadcrumbList", "itemListElement": [ { "@type":"ListItem", "position": 1, "item": { "@id": "/", "name": "Home" } } , { "@type":"ListItem", "position": 2, "item": { "@id": "https://es.lorealparisusa.com/revista-de-belleza", "name": "Revista de belleza" } } , { "@type":"ListItem", "position": 3, "item": { "@id": "https://es.lorealparisusa.com/revista-de-belleza/peinado", "name": "Encuentra tu próximo look sexy" } } , { "@type":"ListItem", "position": 4, "item": { "@id": "https://es.lorealparisusa.com/revista-de-belleza/peinado/peinados-de-trenzas", "name": "Peinados con trenzas" } } , { "@type":"ListItem", "position": 5, "item": { "@id": "https://es.lorealparisusa.com/revista-de-belleza/peinado/peinados-de-trenzas/cornrows", "name": "cornrows" } } ] }