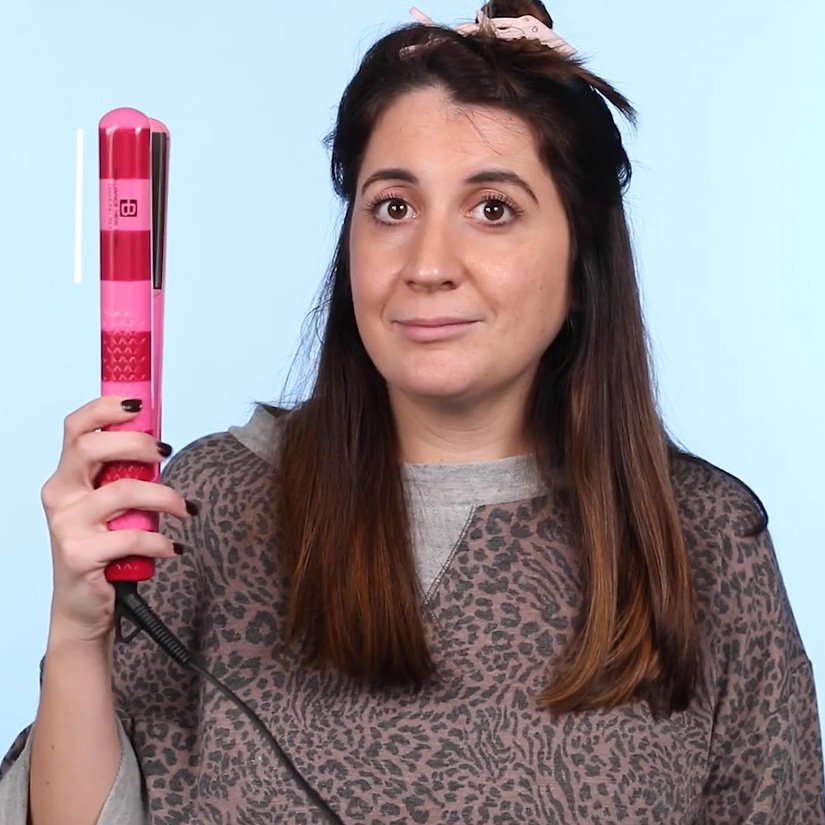 Curling irons are great tools to have on hand. In fact, you've probably used one many times to take your hairstyle up a notch. If you don't have a curling iron available, however, you can actually use a flat iron to curl your hair in a pinch. Yep, it's true! All it takes is a little bit of practice—and the right tips based on if you have short hair, medium hair, or long hair. Ready to learn how to curl your hair with a flat iron? Grab your straightener—and a heat protectant—and follow along for beautiful flat iron curls.
THE BEST FLAT IRON FOR CURLING YOUR HAIR
Can you curl hair with a flat iron? Yes, but just any old flat iron won't do. There are a lot of different flat irons available, and in addition to offering different features, like temperature controls, ceramic plates, and automatic shut-off options, they come in a full range of sizes. As far as the best flat iron for curling your hair goes, you'll want to use a straightener that is only one or two inches wide.
It's a good idea to steer clear of flat irons that are flat with large paddles, since you won't get round curls from these, plus it'll be difficult to wrap your hair around them. A thin flat iron that's one to two inches in width is the perfect size for creating curls. It can also be beneficial to look for a hair straightener with rounded ends, as these tend to make curling your hair a little bit easier.
HOW TO PREP YOUR HAIR FOR USING A FLAT IRON
Before learning how to curl your hair with a flat iron, you'll need to put in the proper prep work. The best way to prep for curling hair with a flat iron is to blow-dry it smooth first. Start in the shower by using a smoothing shampoo and conditioner system, like the L'Oréal Paris EverSleek Keratin Caring Shampoo and L'Oréal Paris EverSleek Keratin Caring Conditioner.
After hopping out of the shower, apply a heat protectant. Try the L'Oréal Paris Advanced Hairstyle SLEEK IT Iron Straight Heatspray. Now it's time to blow-dry your hair! Section your hair off so that it's easier to dry, and use a paddle brush for a smooth finish. Once you're done with that, you're ready to move on to the next step. That is to say, you're ready to put your flat iron to work and master how to curl hair with a straightener.
HOW TO CURL YOUR HAIR WITH A FLAT IRON
When it comes to learning how to curl your hair with a straightening iron, there isn't just one method—there are actually quite a few! Today, we're going to highlight one of the most popular techniques. You'll be able to master this how-to with just a little practice, trust us. While it might be tricky at first, the more you do it, the easier it'll become.
To start, split your hair into sections so that it is easier to work with. If you have thinner strands, a top and bottom layer should be sufficient. Thick hair may need to be divided into further sections.
Begin curling by clamping your hair inside the flat iron where you want the curl to start. Wrap the ends of your hair over the flat iron, while twisting the iron toward you. Hold for a few seconds. Keep the ends in your grip, and gently pull the iron down until you reach the ends of your hair, then let it go. The process can be boiled down to clamp, wrap, twist, and pull. If you're a visual learner, watch the video above and mimic the movements with your flat iron.
Editor's note: You can actually decide to roll the flat iron over or under—just make sure to pick the same direction for every section of hair so that your flat iron curls look uniform.
HOW TO CURL SHORT HAIR WITH A FLAT IRON
Styling short hair with hot tools may seem difficult, but we promise it can be done. All you need are the right tools and a little patience. While the steps we shared above are perfect for medium or long hair, to curl short hair, we recommend a different approach.
Once you're ready, clamp the section of your hair, starting as close to your roots as possible. Twist away from your face and hold the hair for a few seconds. Slightly release your grip and roll your hair in between the plates of the flat iron to repeat. Now, you can clamp and release the flat iron until you reach the ends of your hair. This leaves your strands with wavy curls. Pro tip: Switch up the direction you're curling your hair for a more voluminous look.
HOW TO KEEP YOUR FLAT IRON CURLS FROM DROPPING
After you're done curling your entire head of hair with a flat iron, break up the curls with your fingers for a looser (and chicer) final look. Your last step should be setting your hairstyle with hair spray. Spritz on the L'Oréal Paris Elnett Precious Oil Satin Hairspray, then show off those beautiful waves or curls!
Now that you know how to curl with a straightener, let's move on to more hairstyle ideas and tutorials. Head on over to our article, 10 Step-by-Step Hairstyle Tutorials for Cute, Easy Hairdos, next.
{ "@context": "https://schema.org/", "@type": "WebPage", "speakable": { "@type": "SpeakableSpecification", "cssSelector": ["speakable-content"] }, "url": "https://es.lorealparisusa.com/revista-de-belleza/peinado/peinados-tendencias/how-to-curl-hair-with-flat-iron" }
Descubrir más trucos y consejos
Ver todos los artículos
Shop Featured Hair Care products
Discover More
{ "@context": "http://schema.org", "@type": "BreadcrumbList", "itemListElement": [ { "@type":"ListItem", "position": 1, "item": { "@id": "/", "name": "Home" } } , { "@type":"ListItem", "position": 2, "item": { "@id": "https://es.lorealparisusa.com/revista-de-belleza", "name": "Revista de belleza" } } , { "@type":"ListItem", "position": 3, "item": { "@id": "https://es.lorealparisusa.com/revista-de-belleza/peinado", "name": "Encuentra tu próximo look sexy" } } , { "@type":"ListItem", "position": 4, "item": { "@id": "https://es.lorealparisusa.com/revista-de-belleza/peinado/peinados-tendencias", "name": "Tendencias de peinado" } } , { "@type":"ListItem", "position": 5, "item": { "@id": "https://es.lorealparisusa.com/revista-de-belleza/peinado/peinados-tendencias/how-to-curl-hair-with-flat-iron", "name": "how-to-curl-hair-with-flat-iron" } } ] }