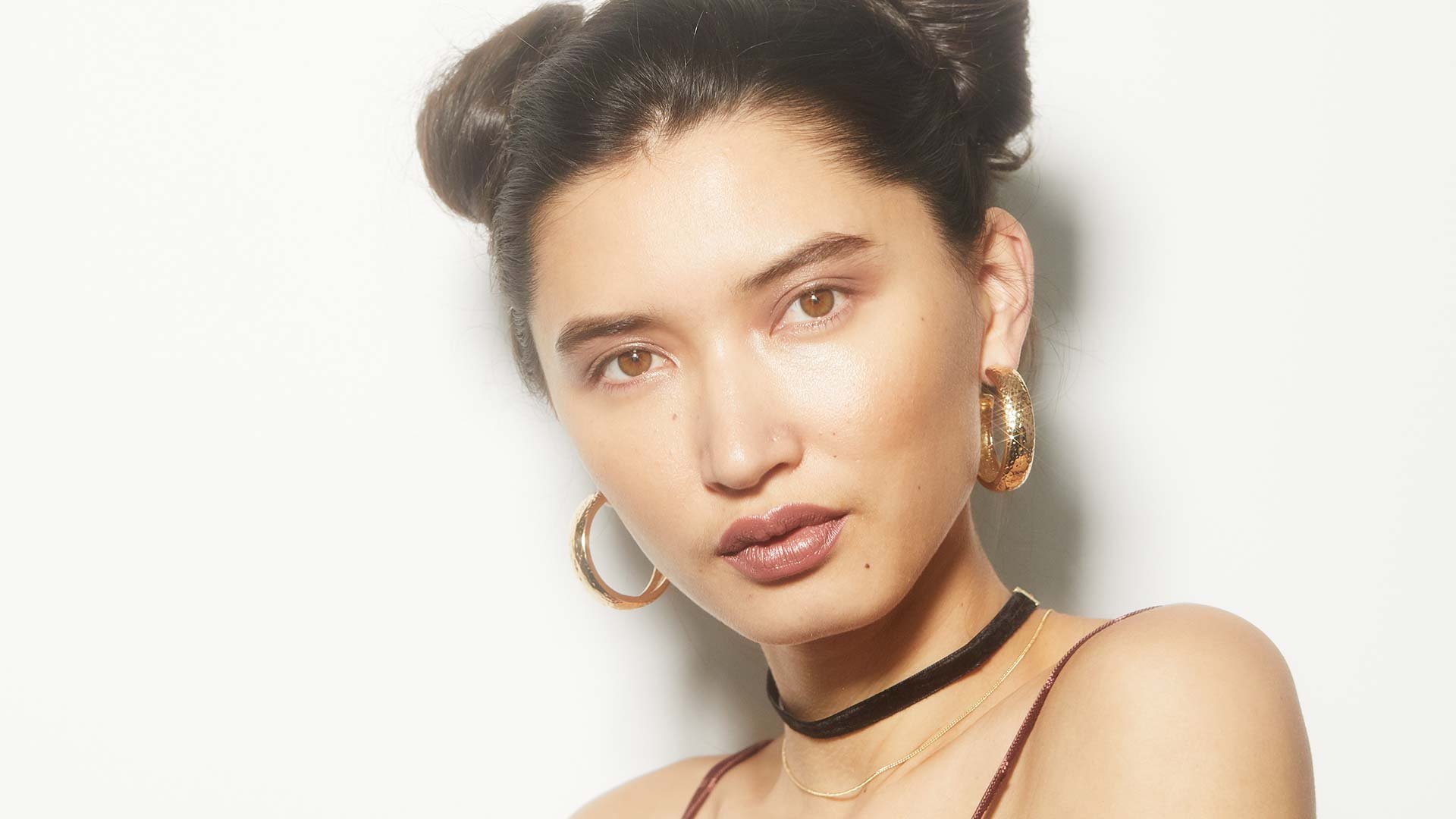 So, you're a '90s kid through and through—or you were born slightly too late but love everything about the decade, including '90s hair. Either way, there's no doubt in our minds that the '90s was an era where a number of the coolest hairstyle trends, from grunge hair to butterfly hair clips, graced the beauty scene. Whether you want to take a walk down memory lane or recreate a version of a style from the years past, here are 10 of our favorite '90s hairstyles to consider and product recommendations you can use to create that throwback beauty look.
Hairstyle #1: High Pigtails
Nothing says the '90s like this pop star-inspired 'do. High pigtails were all the rage during this decade, and it's an easy-to-do style that many still wear today. Apply a few drops of the L'Oréal Paris Elvive Dream Lengths Frizz Killer Serum Leave-In into your hands and run it through the lengths of your ponytails to keep them frizz-free.
Hairstyle #2: Crimped Hair
If you still have your crimping iron stowed away, now is a great time to wipe off the dust and put this throwback styling tool to use. If you don't have a crimper, apply a generous amount of the L'Oréal Paris Advanced Hairstyle CURVE IT Elastic Curl Mousse throughout your strands. It will work to create definition and hold the style in place. Next, start braiding small sections of hair across your entire head and secure each braid with an elastic. Let the braids fully dry overnight or sit under a hooded dryer. Once your hair is fully dry, undo the braids and you'll be left with beautiful crimped hair.
Hairstyle #3: Face-Framing Strands
Hair wispies have yet to go out of style, and we love how pretty two small strands on either side of the face can look with various hairstyles like ponytails, buns, and braids. Depending on the style you are going for, section off two medium-or small-sized strands of hair that will frame your face. And spritz your hair with the L'Oréal Paris Elnett Precious Oil Satin Hairspray to keep them shiny and smooth.
Hairstyle #4: Spiral Curls
Tiny, tight curls were very popular in the '90s—and lucky for us, it's a style that has made its way back to the limelight. To get the look, use a curling wand that has a small barrel. Before you begin curling, ensure that your hair is evenly coated with a heat protectant, like the L'Oréal Paris Elvive Dream Lengths Air Volume Heat Slayer Pre-Iron Spray Leave-In, which has a lightweight formula that works to protect your hair from heat damage for up to 450 degrees. To get tight spiral curls, grab a one-inch section of hair and hold the iron close to your root. Then wrap the hair around the barrel, hold for a few seconds, and release.
Hairstyle #5: Half-Up, Half-Down With Butterfly Clips
Butterfly hair clip accessories instantly bring back '90s nostalgia, and we love using them as a fun way to jazz up basic hairstyles. Get the look by sectioning off the top part of your hair at the crown of your head. Then spilt that part into smaller two-inch sections and either twist each section or add butterfly clips to create a cool look.
Hairstyle #6: The Middle Part
This classic and timeless hairstyle pairs well with various beauty looks. You can also dress up your middle part with hair accessories or dress it down by just rocking your natural tresses. Keep it sleek by applying a few pumps of the L'Oréal Paris Elvive Dream Lengths Frizz Killer Serum Leave-In throughout your strands.
Hairstyle #7: Slicked Back
We can't forget about the fellas! Slicked back hair wasn't just reserved for the women—men were also known for smoothing their hair back with a bit of hair gel or cream. Get the look by applying a generous amount of the L'Oréal Paris Studio Line Flexible Strong Hold Hair Cream to wet strands. Feel free to leave a few messy strands hanging around your face for a carefree look.
Hairstyle #8: Frosted Tips
Bleached tips and colored highlights were no stranger to our favorite boy bands during this era. And if you're not ready to stick to one color, try spraying your tips with a temporary hair dye like the L'Oréal Paris Colorista Hair Makeup Temporary 1-Day Hair Color Spray. Since these shades wash out after one shampoo, there is no need to worry about harming your strands or committing to this color—or hairstyle.
Hairstyle #9: Gelled And Spiked
Another throwback style we can't forget about is gelled, spiked hair. This hairstyle was seen on celebrities and everyday folks alike, making it one of the most memorable hairstyles from the decade. For this look, use the L'Oréal Paris Advanced Hairstyle Lock It Extreme Style Gel, which is a high performance gel that will help sculpt and lock your style in place with maximum hold for up to 24 hours.
Hairstyle #10: The Curtain Haircut
This parted down the middle, face-framing haircut was worn by some of the greatest heartthrobs in the '90s. If you're looking to upgrade your hairstyle, give this look a try and book an appointment with your stylist. Be sure to spritz your hair after with the L'Oréal Paris Elnett Precious Oil Satin Hairspray, formulated to soften, smooth, and add shine to dry hair.
Photo Credit: Chaunte Vaughn
{ "@context": "https://schema.org/", "@type": "WebPage", "speakable": { "@type": "SpeakableSpecification", "cssSelector": ["speakable-content"] }, "url": "https://es.lorealparisusa.com/revista-de-belleza/peinado/peinados-tendencias/popular-90s-hairstyles" }
Descubrir más trucos y consejos
Ver todos los artículos
Shop Featured products
Discover More
{ "@context": "http://schema.org", "@type": "BreadcrumbList", "itemListElement": [ { "@type":"ListItem", "position": 1, "item": { "@id": "/", "name": "Home" } } , { "@type":"ListItem", "position": 2, "item": { "@id": "https://es.lorealparisusa.com/revista-de-belleza", "name": "Revista de belleza" } } , { "@type":"ListItem", "position": 3, "item": { "@id": "https://es.lorealparisusa.com/revista-de-belleza/peinado", "name": "Encuentra tu próximo look sexy" } } , { "@type":"ListItem", "position": 4, "item": { "@id": "https://es.lorealparisusa.com/revista-de-belleza/peinado/peinados-tendencias", "name": "Tendencias de peinado" } } , { "@type":"ListItem", "position": 5, "item": { "@id": "https://es.lorealparisusa.com/revista-de-belleza/peinado/peinados-tendencias/popular-90s-hairstyles", "name": "popular-90s-hairstyles" } } ] }