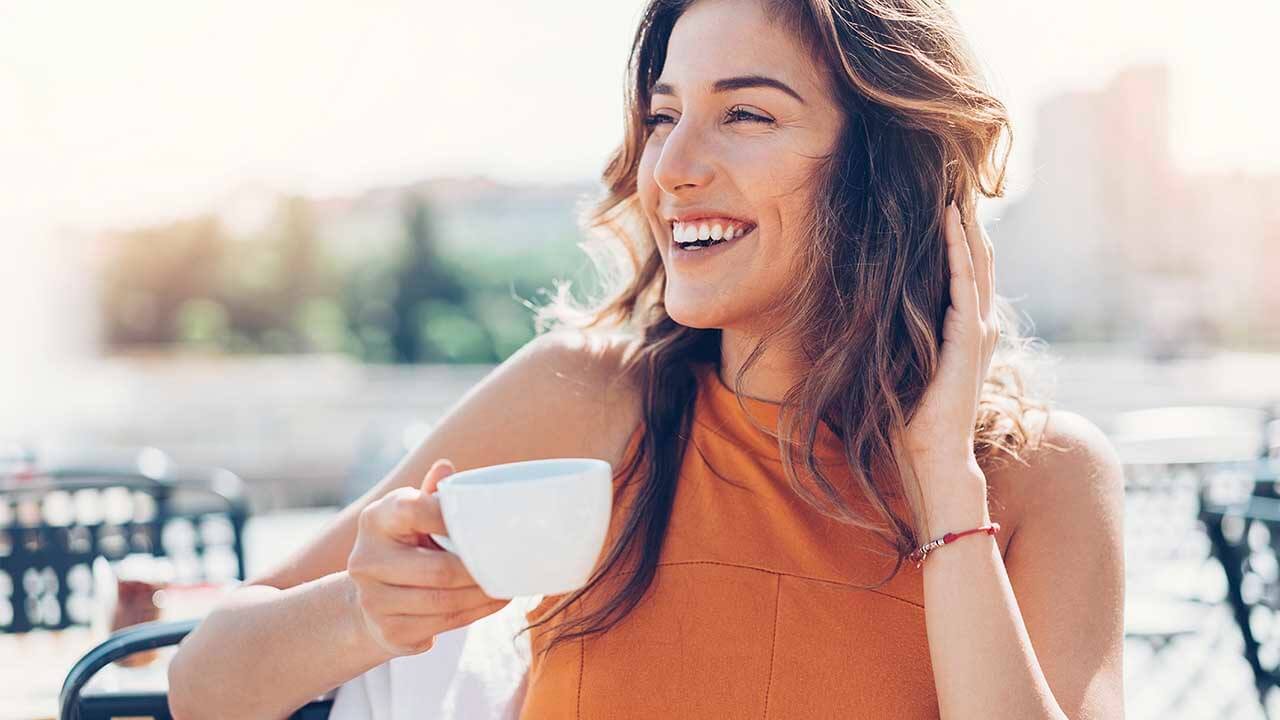 Cinnamon swirl, pumpkin spice, dark mocha—let's face it, hair colors these days sound more like something you'd hear in a café than a salon. The latest coffee-inspired hue is caramel latte. A seamless blend of brown hair with caramel highlights, caramel latte is gearing up to be the newest way to order bronde hair. Below, learn how to get caramel hair highlights so you can have a caramel latte hair color of your own. We'll also be sharing how to keep your caramel color looking sweet all season long, so read through to the end.
WHAT IS CARAMEL LATTE HAIR?
Like its café-inspired counterparts, caramel latte is achieved by using the balayage technique—a French hair color process that requires you (or your hairdresser) to hand paint the color onto the strand away from the root. This gives it that perfectly blended finish and makes for a much more seamless grow-out process.
As for the caramel latte color, it involves a brown base with caramel highlights placed throughout. A caramel latte hair color is best served to natural brunettes looking to add a little bit of warmth and dimension to their color. You can opt for dark or light brown hair with caramel highlights, based on your starting color. Read on to find out how to get your own caramel latte hair color.
HOW TO GET BROWN HAIR WITH CARAMEL HIGHLIGHTS
To get the caramel latte look at home, reach for a box of L'Oréal Paris Frost & Design in Caramel. The kit comes with a high-precision pull-through cap to help you expertly place your caramel highlights.
In addition to the pull-through cap, you'll also receive hooks, lightening powder, creme developer, after-color conditioning shampoo, toning rinse, protective creme, an instruction guide, and a pair of gloves.
When you're ready to color your hair, put on your hair coloring gloves, and follow the included instructions to start changing your hair hue.
Editor's note: Since this caramel latte hair is meant to be seamless and subtle, know that coloring your naturally brown hair with this highlighting kit will give you a very warm result. If you prefer an ashier finish or a more bold, noticeable color, consider going to the salon to get a professional hairdresser to customize your caramel latte hair color. Additionally, if you want dark brown hair with caramel highlights, you may need multiple coloring sessions to achieve your desired lightness.
HOW TO TAKE CARE OF CARAMEL LATTE HAIR
After coloring your hair—whether you choose to go caramel latte, rose blonde, or any color in between—you'll need to update your hair-care routine. Here are a few tips for color-treated hair, like caramel brown highlights, to keep in mind.
TIP #1. CHANGE YOUR SHAMPOO AND CONDITIONER
Colored hair requires shampoos and conditioners that have been specifically formulated for color-treated hair. Even if you really love your current hair-care system, it could dull your new hair color. Replace your tried-and-true products with the L'Oréal Paris EverPure Repair & Defend Shampoo and L'Oréal Paris EverPure Repair and Defend Conditioner. Apply the shampoo to wet hair, then wash out with lukewarm water. Next, load your locks up with the conditioner before rinsing once more.
TIP #2. USE A HAIR MASK ON A TWICE WEEKLY BASIS
When it comes to color-treated hair, conditioner might not cut it as your sole source of hydration. Once or twice a week, swap the conditioner for a hair mask after shampooing. Try the L'Oréal Paris EverPure Repair Remedy Balm.
TIP #3. TAKE PRECAUTIONS WHEN HEAT STYLING
We don't blame you for wanting perfect curls or super straight strands, but that doesn't mean it's safe to use heat tools all the time—especially after coloring your hair. While it's true caramel lattes are delish when served hot, your new 'do will look amazing whether you heat style it or let your mane air dry. If you do decide to blow dry, straighten, or curl your hair after dying, don't do it every day, and be sure to use a heat protectant when you do. Next time you straighten your hair, try the L'Oréal Paris Advanced Hairstyle SLEEK IT Iron Straight Heatspray.
We love hair colors inspired by all things edible. Next, consider vanilla lilac or smoked marshmallow hair. Here are our articles on both trending hues: Embrace The Purple Hair Color Trend with Vanilla Lilac Hair and Smoked Marshmallow Hair Is The Sweet Hair Color You Need For Winter.
{ "@context": "https://schema.org/", "@type": "WebPage", "speakable": { "@type": "SpeakableSpecification", "cssSelector": ["speakable-content"] }, "url": "https://es.lorealparisusa.com/revista-de-belleza/coloracion/tutoriales-coloracion/how-to-get-caramel-latte-hair" }
Descubrir más trucos y consejos
Ver todos los artículos
Shop Featured Hair Care products
Discover More
{ "@context": "http://schema.org", "@type": "BreadcrumbList", "itemListElement": [ { "@type":"ListItem", "position": 1, "item": { "@id": "/", "name": "Home" } } , { "@type":"ListItem", "position": 2, "item": { "@id": "https://es.lorealparisusa.com/revista-de-belleza", "name": "Revista de belleza" } } , { "@type":"ListItem", "position": 3, "item": { "@id": "https://es.lorealparisusa.com/revista-de-belleza/coloracion", "name": "Ideas atrevidas de profesionales de la coloración" } } , { "@type":"ListItem", "position": 4, "item": { "@id": "https://es.lorealparisusa.com/revista-de-belleza/coloracion/tutoriales-coloracion", "name": "Tutoriales de coloración" } } , { "@type":"ListItem", "position": 5, "item": { "@id": "https://es.lorealparisusa.com/revista-de-belleza/coloracion/tutoriales-coloracion/how-to-get-caramel-latte-hair", "name": "how-to-get-caramel-latte-hair" } } ] }