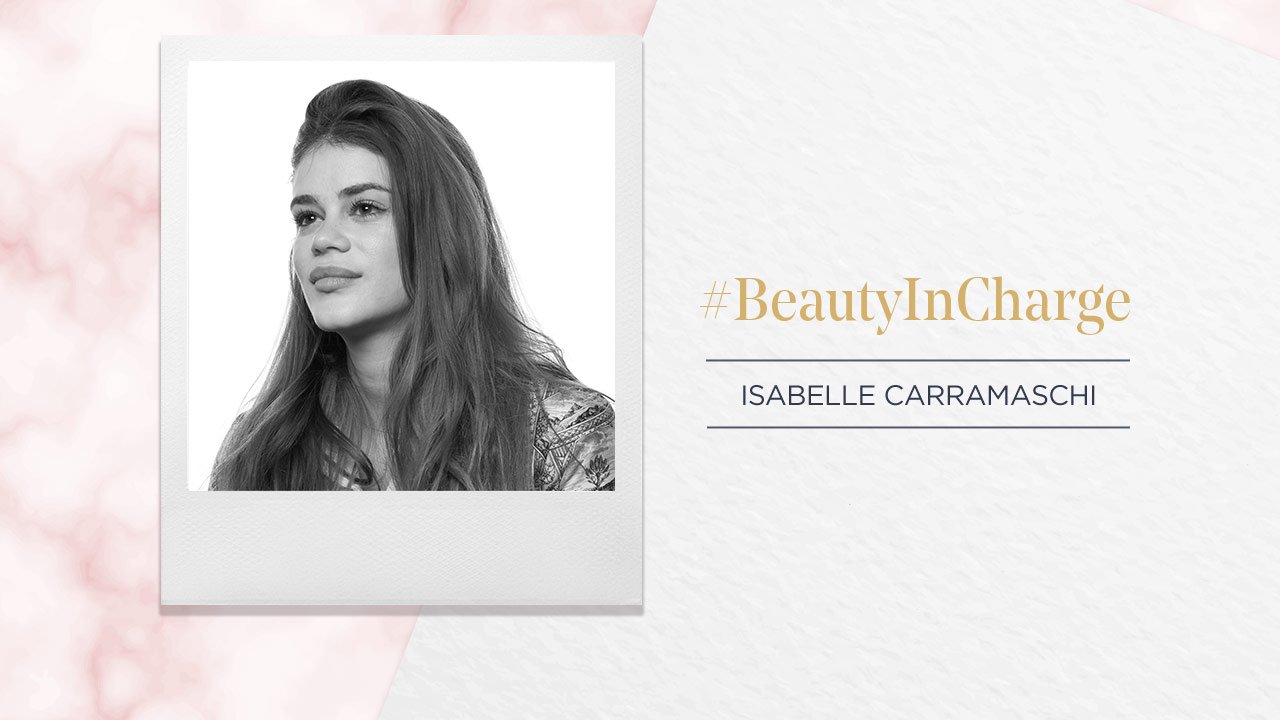 tendencias-belleza
#BeautyInCharge: Introducing L'Oréal Paris' Assistant Vice President of Cosmetics
Our #BeautyInCharge series takes a look at how people in a wide range of roles are able to take charge and own their positions. In the series, we speak with L'Oréal Paris employees at all levels, from those who've been with the brand for years to those who are just getting their foot in the door, and unsurprisingly, they all have amazing career advice, beauty product faves, and so much more to share.
Everyone loves an inside look—and as lovers of makeup, skin care, and hair care, who wouldn't want the inside scoop on what goes on behind the scenes when it comes to creating some of your favorite beauty products? In this installment of our #BeautyInCharge series, Isabelle Carramaschi—L'Oréal Paris' Assistant Vice President of Cosmetics—is sharing all the details on how your beauty faves go from the lab to the shelves, her best beauty career advice, and some of her own beauty must-haves. Read on to meet a real beauty expert!
ON WORK
What is your current position and what was the path that got you there?
"I'm Assistant Vice President for L'Oréal Paris at the Cosmetics Hub; it's a very special place where we create all of our innovations. So yes, I get paid to play with makeup all day!
"It was a very unique path. I started off working in the publishing business, in the production department of a Brazilian magazine. I was very, very young. I left home when I was about 18, so I had to start working somewhere and they gave a quirky girl a shot! I was infatuated by beauty and by the editorial world. From there I moved to advertising and worked for small to big agencies like Ogilvy & Mather. But advertising products and re-telling brand stories was not enough, I wanted to create them and lead the narrative.
"When I turned 26, I left Brazil to get my masters at Cambridge in the UK. This decision wasn't random, it was one of the Universities that had connections with L'Oréal—and in my head, L'Oréal was paradise, a place beyond the rainbow where all the beauty products lived. While there I attended an event hosted by L'Oréal and started talking to a recruiter and conversations started blooming. He told me to apply online but I had, of course, already done that which gained me a few points and led me to my interview with the L'Oréal gatekeeper in Paris. She saw I was really interested in hair care (like any good Brazilian woman) and that's how it all started—and it's been seven years now."
How has working for a beauty brand in the US differed from working in Brazil?
"It's very different, America is the mecca of makeup. The consumer habits are so evolved, it's impressive. And it's so different how the Americans view beauty in comparison to the Brazilians—the aesthetics of it. They have different aspiration and that changes the game. I had to learn to think very differently. I have to say after living in different countries and having been exposed to so many different stereotypes of beauty, I have certainly evolved and have become more accepting of my little imperfections and have become more adventurous with my makeup, fashion, and life choices."
Is this what you always envisioned you'd be doing?
"I started with a greater connection with fashion, hence the publishing. And to be honest, I was always transitioning between worlds. I didn't quite fit in with what some would label as 'geeks,' despite my academic focus, and didn't quite fit in with the 'fashionistas' either. It took me a long time to understand I did not need to fit, nor choose. What I envisioned I'd be doing definitely shifted, but I was always in the middle of it and always had a plan, even if I changed directions along the way."
How did your childhood and family influence your career path?
"It was influenced a lot by my mother. She graduated in biology and genetics, but afterward, she went to art school in Paris and started sculpting and working with the arts. My love for beauty and aspiration started with her. Also, watching her as a woman, getting ready in the bathroom—there's definitely a connection there.
"My father is a plastic surgeon, and it definitely incited a premature conversation of how I felt about my looks and bringing out those teenage insecurities. It also exposed me to different cosmetics procedures, dermatologists, and plastic surgery conventions. It became very normal to be surrounded by beauty and the role it takes in women's confidence in combination with our own psyche. Plastic surgery, for my father, was about reconstructing your self-esteem rather than becoming a new person, which generated a lot of frustration for a teenager who just wanted a linear nose and the answer was always an absolute 'no'—but I'm so happy I kept it natural.
"The funny thing is, my choice in working in marketing was a conscious way to stay far from plastic surgery. But in the end, the apple does not fall far from the tree and I remain working with beauty and creating products to rebuild a little piece of women's self-esteem, as it does for me."
Describe a typical workday.
"There is no typical day! And I love it, I never get bored. As a developer, our best days are when we're actually looking at new technology submissions from the labs and thinking about all of the ideas that we have for the next year's innovation. On those occasions, we get to the office and usually start calls early with our labs in Paris. When products are approved as safe and we've tried them ourselves, we invite consumers to play with them. Some consumers are hard working women, moms, and daughters, and it's special to listen to them—they have different points of view. Some days we invite the beauty junkies—women who are as obsessed with makeup as we are—and they always show us new tricks."
Do you test products yourself?
"Yes, we do. Everything that comes from the lab has already gone through microbiology safety approval to make sure that it's safe, but being safe doesn't mean that you're going to get the end look you want. The whole purpose of this kind of testing is to make sure that we achieve the look we're aiming for. That we cater to the needs that you're looking for and that we're making makeup artist tricks and looks available to you in a very easy way.
"The testing is cool, but it's also not cool—sometimes we don't get the results. Once I tested an eyebrow product and did the design a little wrong because I was still learning how to use the applicator. It was a five-day tint, so for five days I had resting angry face with my beyond bold brows."
How do you use "disruptive innovation" in your career?
"Disruptive innovation is super important because it basically means you're changing how people live, even if in a small way. Imagine your life at a time without conditioners, mascara, blow-dryers…it changes how you do things from then on and it changes how we view the world, of what's considered pretty—that's the beauty of it."
What is the "Blue Ocean Strategy" and how does it apply to your job?
"The Blue Ocean Strategy is essentially when your competitors are all playing on one field and rather than launch a similar product you create something completely new and different.
"For example, while a lot of the brands were focusing on traditional hair color, L'Oréal Paris launched Colorista Hair Makeup and created a new category. Another example would be that women used to have to do acrobatics in the mirror to reach all of their lashes and achieve makeup artist looks, but they now have Unlimited Mascara, which has a bendable wand to help coat those hard-to-reach spots. It's all about true innovation and not following the crowd."
What is the biggest challenge you've faced in your career?
"I mean, I'm a Latina and a woman so I had a few. I think the biggest challenge is understanding what's beautiful in a completely different culture. When I moved to Paris, in my first L'Oreal job, I spoke French but I did not speak French beauty. The pace of beauty is brutal and will move and evolve even if you can't keep up with it, so my advice is to adapt, change, and be open or you will be left behind.
"With a new country, comes a new life and rediscovering who you are and who the people around you are, all with completely new lenses. At work, you're finding new partners and new ways of influencing your co-workers while understanding unspoken rules."
What's been your proudest career moment to-date?
"When I started as a young girl, I didn't envision myself building a career or being such a workaholic. But being so passionate about work has led me to such a beautiful path. I've gotten to know so many countries via L'Oréal. I had the opportunity to stay in Paris, in New York, and in Rio. It's such a blessing to be having this worldwide exposure to different cultures and people. Joining L'Oréal has allowed me to meet so many interesting people and being surrounded by people that I admire makes me super proud."
Let's talk #WorkPerks - What are the best ones at L'Oréal Paris?
"I love the inside scoop—knowing the innovation, what's coming, trends, and the events. Having a peek at red carpets. Having the preview and having the first trial of the products is really amazing because it's such a fun discovery and playtime for us. It's also always so special to see our products coming to life with real women like myself. It's kind of like a fairytale, so that's really special."
What's something that might surprise someone about working at L'Oréal?
"I think people on the outside envision L'Oréal as either a very hardcore corporate company or as glamour, champagne, and more glamour, but it's both. It's a lot of work and pushing yourself but it's so much fun too because of the development, the relationships, and yes, the events.
"But my biggest reason for staying and being at L'Oréal is because you can come as you are and they will embrace it. You can show up in the latest pair Jimmy Choo heels or with distressed Isabel Marant sneakers (or any unbranded sneakers). If you want to have blue hair or no hair, it doesn't matter. The crazy, the quirky (like me), the traditional, all have a place to come and it's all very normal at L'Oréal and they welcome you with open arms. That's the beauty of this company."
Do you have a mentor at L'Oréal? What have they taught you?
"I have a few mentors at L'Oréal. Ludy Schuverer, the Senior Vice President at Urban Decay, has taught me a lot about loyalty and resilience. Like me, she's a Latin woman trying to make her way in the global corporate environment and she is one of those strong women that has survived so much and still manages to have it all—having a personal life and a career. She's definitely an example for me with how she handles crises with class. That's when you know a classy lady, in a moment of crisis.
"Cyril Chapuy who was my boss at the DMI when I joined L'Oréal and Zak Yopp are both visionaries in storytelling using iconography. They gave brands a soul, making them a house for products to live in. And I can't not mention my peers, they are my 'classmates,' our debates and companionship get me through the bad and the good days."
What's your best piece of career advice for someone who wants to make it big in beauty?
"I would say in any career—and beauty is no different—there's this idea of moving forward. Don't stop. Don't let the noise get in your head. Be super resilient. I think resilience is what got me here.
"When it comes to beauty, being in love with what you do. If you're not in love and passionate about it, there's no beauty career that will work.
"Networking is definitely something super important. If you want to start a career in beauty and you haven't yet, go to the events and go to the websites. Put your time in and it will come."
How do you strike the right work-life balance?
"I'm a workaholic by choice—I love what I do. I ended up falling in love, so on the weekends, I want to visit new stores, see what's happening, and see the trends. You end up working more because you love what you do. Work-life balance is loving what you do and having both worlds blend so well together that you can't see where one ends and the other begins."
ON BEAUTY & STYLE
L'Oréal has a killer company store. What are the products you stock up on there?
"Maison Margiela fragrances—I love their perfume. I love Replica Flower Market. I think it's the best perfume ever. I also love the Lancôme Hypnôse mascara. The It Cosmetics Bye Bye Under Eye concealer is another one of my favorites. I'm already a little older, so it's very important for me to keep my under-eye bags covered and have a formula that does not settle into lines. It's one of my go-to products. I also love the Vichy Dermafinish Corrective Fluid Foundation. I use it on days when I don't want as much coverage, but I want to even out my skin tone."
What are your favorite LOP products?
"I love the Lash Paradise Mascara. For me, it's more for a nighttime look. I enjoy it for a more dramatic look, but I'm more discreet at work. For lips, I am absolutely in love with Rouge Signature. I love, love, love the bare lip sensation and waking up with blush pink lips. What I usually do is apply I Represent—that's my favorite shade—and kind of smudge it. It looks like your natural lip with a hint of pink. For hair, I'm obsessed with EverPure Frizz-Defy, this is the best-kept beauty secret in hair, such a beautiful formula. I feel like the fragrance is so addictive and it's been one of my favorites for the last five years. I also love Rapid Reviver, it may be sold for $5.99, but it's my go to, I use it twice a week. I tested it a lot at the tech center and fell in love with it—hair is treated but not weighed down!"
Any new launches you're excited for/wish were in the pipeline?
"There are a lot of things that I wish existed that we're trying to work on. For example, I love tinted lashes. I get my lashes tinted because they're not super black and I want to wake up without feeling completely bare. For me, a lash tint that's ultra-safe for sensitive eyes is a must that I'd love to launch. I'd also love instant application lash extensions!"
Favorite beauty trends right now...
"I love the red lip that's coming back with a smudged twist. I'm big on minimalist makeup. I do love the idea of a bold eye and nothing else. My favorite beauty trend right now is enhancing your natural beauty, freckles, or dumpling skin. Anything that brings out natural features. It took me so long to fall in love with my own nose shape and lip shape—so I do love that. The last trend I'm loving is soft contouring—enhancing your natural bone structure without overdoing it. I think you can be a super powerful woman and still be soft and feminine."
How would you describe your typical beauty/grooming routine?
"Every morning my beauty routine for work takes me about half an hour. I start by washing my face. After I wash my face, I apply a moisturizer and an eye cream to eliminate puffiness. I do a spritz of the Shake & Glow Mist and leave it to dry for a little bit. During that time, I finish other stuff or pick my outfit using the Finery app—I love it. Then I apply either a tinted moisturizer or foundation. It depends on how many meetings I have throughout the day and what I'm doing. If I do the tinted moisturizer, I try to enhance the coverage a little bit with concealer on my under-eyes and lines. On those areas, as well as on top of my cupid's bow, I apply a little bit of a concealer that is slightly lighter than what I usually apply. Then I apply concealer under my brows to just make them lift a little bit. After that, I apply mascara to my bottom lashes and then my top. I love people thinking that I didn't spend that much time—that's the beauty of French beauty. Then I do my powders. I mix three shades of bronzer because I like to look tan and rosy. Then I apply blush to my cheekbones."
How has your diverse heritage impacted your outlook on beauty?
"It's impacted my outlook completely because I empathize with lots of different tribes and I try to understand that each one has their own concerns. The diversity is also something that's made me fall in love with different looks. Going to Paris, I fell in love with that French brow style, it's a different kind of boy brow because it's kind of messy in comparison to that of the US, which is more groomed.
"It's given me different views of beauty and I think I'll have changed my hair color about seven times, by the time people are reading this. I had copper hair until just last night. I've been bright red, completely brunette, blonde. New hair, new energy."
You're stranded on a desert island—what are the top five things you have with you?
"Mascara—I don't go anywhere without mascara. My friends, so we can make a party of it. I'm ashamed to say, but I'm addicted to Coke Zero— like a complete addict. White chocolate. That's only four, but sugar, friends, a little makeup, and I'm happy. Oh, and my little B, she is most certainly not just a puppy…funny how a little animal can make us more human—she has to be on the island."
Do you feel like you have a signature look? How did you cultivate it?
"I don't think I have a signature look, but people around me do. It's very difficult when you're trying to assess yourself and your own look. I would say I always try to make it look like messy hair, but it took me so much time to get it there. I like natural, tan, luminous makeup. It's a big mix of French and Brazilian styles."
ON EVERYTHING ELSE
What's your favorite karaoke song?
"I fear karaoke. I'm not that outgoing when it comes to singing. It's one thing when you're on a board trying to present the project that you spent so much time working on because you feel confident. Singing is really hard. I think if I had to sing, I would sing a little Samba song."
What's your guilty pleasure?
"I have so many guilty pleasures. I love shopping for shoes. I think that's my number one guilty pleasure. I love going to the opera, to Broadway. That's one of the reasons why I love living here in New York. It's the influence of music. Anything with music, I'm into it.
What's your favorite book?
"The Book Thief by Markus Zusak. It's about the story of a girl during World War II. It's very special because it shows her discovery of the power of words and how they have a life of their own once they're spoken or written. We as developers write concepts, try to tell stories, and try to understand how words impact people as well. So this book has special meaning to me.
"I'll admit, nowadays I read a lot of trashy books, like romances. I love them. The other books that I think shaped me at a younger age were books with strong female characters. Madame Bovary by Gustave Flaubert was a scary one because it looked at a woman that got married and didn't like her life. Coming from Brazil, that was the expected path in some ways."
What would your high school superlative have been?
"That's a difficult one. It took me a while to find myself. In high school, I think it would have been 'most mysterious.' No one really knew me. On one side, I was a geek and very, very focused. I used to tutor my friends in math. On the other side, I was this beauty junkie that was super interested in fashion. Some days I'm also super outspoken and others I'm more introspective. So, I guess I was a bit mysterious."
Next: #BeautyInCharge: Meet L'Oréal Paris' Social Media Coordinator
{ "@context": "https://schema.org/", "@type": "WebPage", "speakable": { "@type": "SpeakableSpecification", "cssSelector": ["speakable-content"] }, "url": "https://es.lorealparisusa.com/revista-de-belleza/consejos-de-belleza/tendencias-belleza/beauty-career-advice-isabelle-carramaschi" }
Descubrir más trucos y consejos
Ver todos los artículos
Shop Featured Hair Color products
Discover More
{ "@context": "http://schema.org", "@type": "BreadcrumbList", "itemListElement": [ { "@type":"ListItem", "position": 1, "item": { "@id": "/", "name": "Home" } } , { "@type":"ListItem", "position": 2, "item": { "@id": "https://es.lorealparisusa.com/revista-de-belleza", "name": "Revista de belleza" } } , { "@type":"ListItem", "position": 3, "item": { "@id": "https://es.lorealparisusa.com/revista-de-belleza/consejos-de-belleza", "name": "Ideas profesionales para tu look único" } } , { "@type":"ListItem", "position": 4, "item": { "@id": "https://es.lorealparisusa.com/revista-de-belleza/consejos-de-belleza/tendencias-belleza", "name": "Tendencias de belleza" } } , { "@type":"ListItem", "position": 5, "item": { "@id": "https://es.lorealparisusa.com/revista-de-belleza/consejos-de-belleza/tendencias-belleza/beauty-career-advice-isabelle-carramaschi", "name": "beauty-career-advice-isabelle-carramaschi" } } ] }