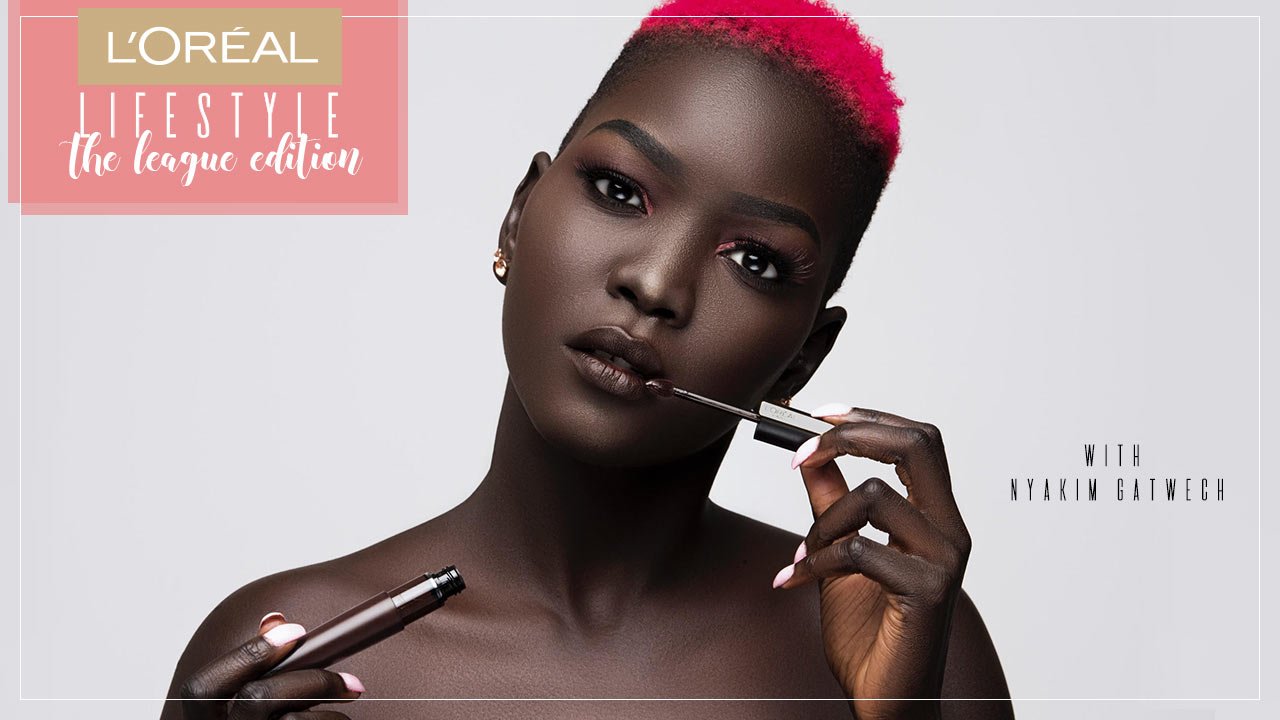 tendencias-belleza
L'Oréal Lifestyle: How Nyakim Gatwech Embraced Her Skin and Found Success in the Beauty Industry
You can learn a lot about someone from scrolling through their social media feed, looking at snapshots of their lives and reading captions—but don't you ever want to know more about the people you follow? Nyakim Gatwech is certainly someone we want to know more about. A member of the 2019 L'Oréal League—L'Oréal Paris' influencer ambassador program—Nyakim is a South Sudanese model known for her gorgeous complexion and dark skin tone. Here, she grants our (and your) wish of wanting to know more and talks about gaining confidence, reminding herself of her worth, her best beauty tips, and more.
On growing up in Africa and moving to the US…
"I grew up with so much love in Africa as a child and when I flew overseas to be here in America, my confidence was shattered," Nyakim says. After moving to the United States, even her interest in beauty was impacted by the people she was surrounded with, but her love for beauty and fashion never faded away. While it wasn't always easy, Nyakim says it was having to rebuild her confidence that made her the strong, outspoken, and proud black model that she is today.
On her nickname…
If you aren't one of Nyakim's more than 400,000 followers, you might not know the nickname she's been given: Queen of Dark. The nickname, which is based on her stunningly deep skin tone, has become a point of pride—earning a spot in her Instagram bio and a hashtag on many of her posts. Speaking on the name, Nyakim says this, "For most people, the name might be seen in a negative light, but I'm proud of the name and claim it with pride."
On getting where she is today…
How does one end up a model, influencer, and an all-around force in the beauty industry? According to Nyakim, it was her passion for the fashion world, an ambition to prove people wrong, and hard work that brought her to where she is now. "My will to help others realize their beauty, and acceptance of mine, got the attention of L'Oréal Paris," says Nyakim. From there, it's practically history, with Nyakim joining The League and becoming part of the L'Oréal family.
On a typical workday…
What is a day in the life of a model and influencer like? Well, for Nyakim, if it's a workday, it starts with waking up at six in the morning. She takes a shower and cleanses with one of the L'Oréal Paris Pure-Sugar face scrubs before eating breakfast and jumping on the train to head to a photoshoot—and from there, the day isn't nearly over. She says, "Once I'm done with my morning shoots I get to my afternoon/evening shoots—I usually do more than one shoot each day." In between shoots she finds time to respond to emails and fans and stay up to date on all of her social media accounts. Basically, it's a downtime-free day!
On career advice…
Speaking of work, Nyakim offered up her best career advice: Don't let anyone shatter your dreams, don't give up if you get rejected, try harder, and never quit. All advice that can be applied to just about any career you could want!
For anyone interested in becoming an influencer in particular, Nyakim says, "As an influencer, you have to have a story and be able to articulate yourself well so that your words/work can reach many."
On L'Oréal must-haves…
Who better to receive product recommendations from than a true beauty lover like Nyakim? Among her L'Oréal favorites are the L'Oréal Paris True Match Super Blendable Makeup, L'Oréal Paris Unlimited Lash Lifting and Lengthening Washable Mascara, and L'Oréal Paris Unbelievabrow Longwear Waterproof Brow Gel.
On beauty advice…
Nyakim embraces classic beauty advice like never sleeping with makeup on, getting plenty of sleep, and always drinking lots of H2O.
She also has advice to share with women of color, who often struggle with finding their foundation shade match. She says, "My tip would be don't give up on finding your shade." With brands releasing wider ranges of foundations, your shade is out there. Nyakim also recommends always trying on foundation before buying, so it's a good idea to head to stores with testers.
On beauty trends—good and bad…
When it comes to beauty trends, they can't all be hits. Nyakim's current hits and misses are brow-centric. While eyebrow braids are one beauty trend she'll never try, she's living for microblading.
On getting inspired…
Staying inspired is an essential part of Nyakim's work—and life—and she has no shortage of places to find it. She looks to Youtubers, influencers, and models for inspiration.
Travel can also be a major source of inspiration, so where is she headed next? Nyakim offers up that she'll hopefully be visiting Lagos, Nigeria.
On a typical weekend…
Enough about work—what happens on the weekends? Nyakim shares, "My weekends usually start on Saturdays. Most likely in the morning I relax and meditate." Later in the night, it's time to go out with close friends. As for Sundays, Nyakim says, "I always go to church in the morning," continuing, "Keeping in touch with my religion is very important to me."
If the weekend includes brunch, her favorite spot is Union Rooftop in Minneapolis. It's clear there's no debate about what to eat there; Nyakim has a go-to order—the famous BBQ ribs. Alternatively, if the weekend consists of a date night, Nyakim's go-to is an Italian restaurant. Yum!
On self-care…
Self-care made a name for itself in 2018, and there's still plenty of need to practice it in 2019. The importance of a self-care routine isn't lost on Nyakim. She shares, "I am constantly reminding myself how beautiful and worthy I am and that I have a purpose to inspire and uplift others." When she's feeling down, she takes a moment to look in the mirror and remind herself who she is.
Next: L'Oréal Lifestyle: Going Beyond Beauty, Militza Yovanka Lets You Into Her World
{ "@context": "https://schema.org/", "@type": "WebPage", "speakable": { "@type": "SpeakableSpecification", "cssSelector": ["speakable-content"] }, "url": "https://es.lorealparisusa.com/revista-de-belleza/consejos-de-belleza/tendencias-belleza/nyakim-gatwech-interview" }
Descubrir más trucos y consejos
Ver todos los artículos
Shop Featured Makeup products
Discover More
{ "@context": "http://schema.org", "@type": "BreadcrumbList", "itemListElement": [ { "@type":"ListItem", "position": 1, "item": { "@id": "/", "name": "Home" } } , { "@type":"ListItem", "position": 2, "item": { "@id": "https://es.lorealparisusa.com/revista-de-belleza", "name": "Revista de belleza" } } , { "@type":"ListItem", "position": 3, "item": { "@id": "https://es.lorealparisusa.com/revista-de-belleza/consejos-de-belleza", "name": "Ideas profesionales para tu look único" } } , { "@type":"ListItem", "position": 4, "item": { "@id": "https://es.lorealparisusa.com/revista-de-belleza/consejos-de-belleza/tendencias-belleza", "name": "Tendencias de belleza" } } , { "@type":"ListItem", "position": 5, "item": { "@id": "https://es.lorealparisusa.com/revista-de-belleza/consejos-de-belleza/tendencias-belleza/nyakim-gatwech-interview", "name": "nyakim-gatwech-interview" } } ] }