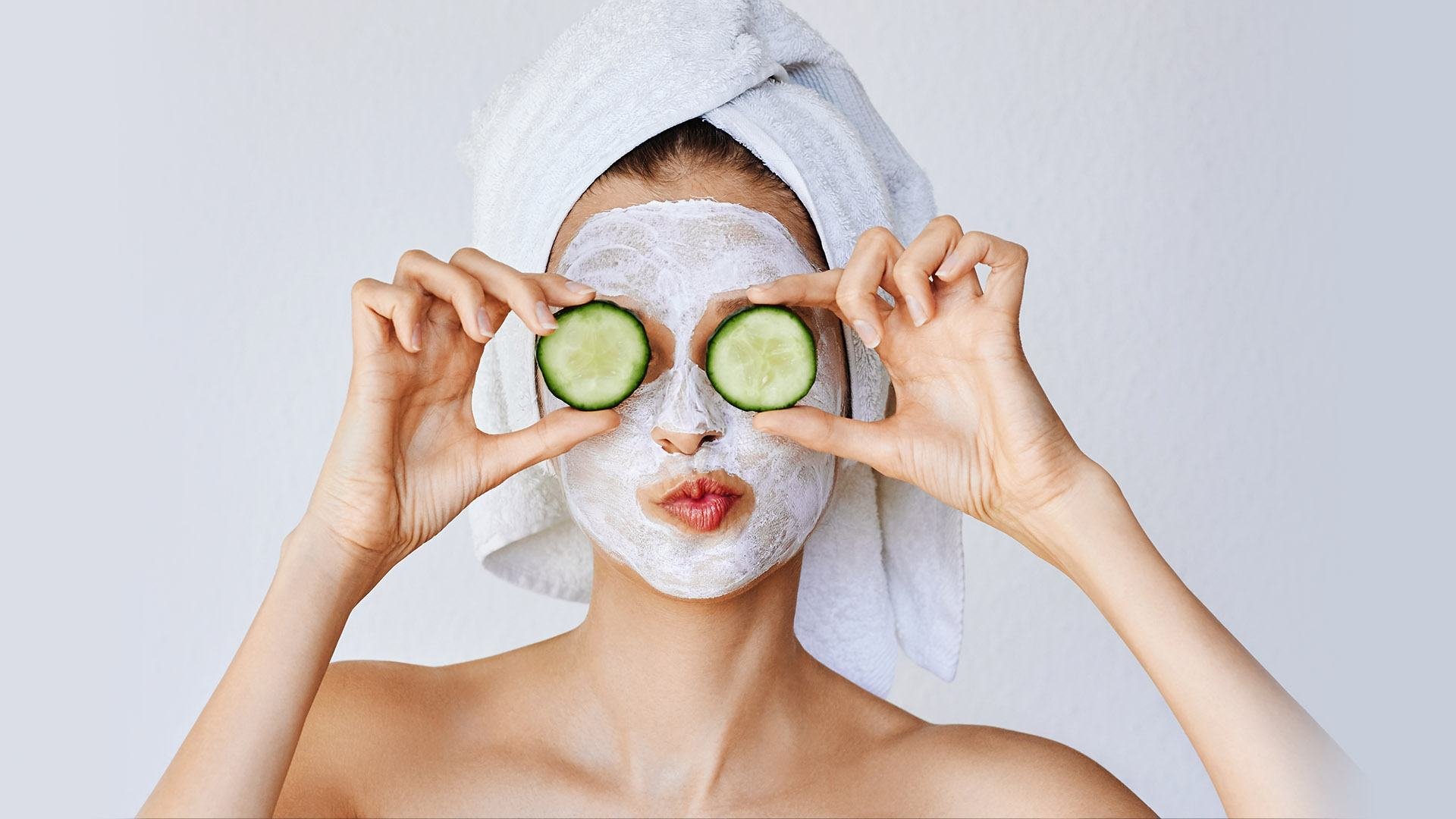 Keeping up with your regular beauty routine may seem near impossible without nail appointments, salon visits, and professional spray tans, but that's actually not the case. In fact, there are plenty of beauty treatments you can indulge in from the comfort of your own home. From self-care steps to practicing your makeup skills, keep reading for 12 things to do at home in the name of revamping your beauty look.
1. ENJOY A FACE MASK
In need of a pampering session? Then it's time to give your skin a little TLC with a face mask. Face masks are great for addressing various skin care concerns, while giving you the pick-me-up you need. And if you haven't already, it's only a matter of time before you add face masks to your regular regimen. Grab the L'Oréal Paris Pure-Clay Multi-Mask Tripod Kit, which contains three clay masks to address dull, rough, and oily skin. You can pick and choose which to use or break out all three and give the multi-masking trend a try.
2. AND A HAIR MASK
Extend your love of masking to your strands with the help of a hair mask. This holy grail hair product can be found in a myriad of formulas that provide different benefits. Hydration, shine, protecting your new hair color, and so on. If it's a hair concern of yours, there's probably a mask to help. Have your pick from some of our best hair masks below.
If you have dry hair…try the L'Oréal Paris Elvive Extraordinary Oil Curls Re-Nourish Mask, which hydrates curly hair to reveal bouncy, defined, lustrous curls.
If you have damaged hair…pick up the L'Oréal Paris Elvive Total Repair Extreme Emergency Recovery Mask. This luxurious formula helps to condition, deeply renewing broken fibers of damaged hair for a healthy-looking mane.
If you have color-treated hair…reach for the L'Oréal Paris Elvive Color Vibrancy Repair and Protect Balm. This post-color repair hair treatment helps to smooth and protect hair, so your color continues to look vibrant. It also works to repair visible damage from processing in just one use.
If you have dull hair…grab the L'Oréal Paris EverPure Repair Remedy Balm, which is formulated with acai palm and an antioxidant complex. This sulfate-free mask repairs damaged hair strand by strand for stronger, shinier hair.
3. GIVE YOURSELF A SCALP MASSAGE
Believe it or not, your scalp needs some attention too! Working your fingers in circular motions over your scalp for a DIY massage could be just the self-care fix you need. To give your scalp even more attention, add the L'Oréal Paris EverFresh Micro-Exfoliating Scrub to your hair care routine. Formulated with apricot seeds, this scrub gently exfoliates to remove dirt, oil, and other impurities for a healthy look and feel.
4. STYLE YOUR HAIR WITH A BLOWOUT
If you're in the mood for a bouncy blowout, there's no need to put it off until you're able to head to the salon again. You can totally get a chic blowout without leaving home. Best of all, you don't even have to worry about using a blow-dryer! That's right, you can get a fresh, flow-y mane without exposing your strands to too much heat. Head on over to our article, How to Get the Look of a Blowout Without a Blow Dryer, to make it happen!
5. PLAY WITH HAIR COLOR
Want to add a burst of color to your mane? Consider it handled! You can play with color without having to worry about making major hair color mistakes. With temporary hair color, you have free rein to mix and match different colors without making a commitment. Intrigued? The L'Oréal Paris Colorista Hair Makeup Temporary 1-Day Hair Color Spray and L'Oréal Paris Colorista Hair Makeup Temporary 1-Day Hair Color can makeover your locks instantly, then be washed out with your next shampoo.
If you want to stick with your desired hair color for a bit longer, the L'Oréal Paris Colorista Semi-Permanent Hair Color lasts between seven and 15 shampoos and allows you to experiment with equally fun colors.
6. PUT IN CLIP-IN HAIR EXTENSIONS
Speaking of switching things up in the hair department, clip-in hair extensions are a great place to start. This hair trend helps you add both length and volume to your mane in a matter of minutes. For a step-by-step tutorial, head on over to our article, How To Clip in And Style Hair Extensions.
7. PAMPER YOURSELF WITH A FACE MASSAGE
Missing the spa? Well, you can totally bring that luxurious experience to your home with the help of a face massage. An excellent way to de-stress, improve your overall mood, and even help the appearance of your skin, face massages definitely live up to the hype. If you're game to reap all of the benefits of this trendy self-care staple, visit our article on How to Give Yourself a Face Massage.
8. GET A TAN
Sometimes you can't get to the beach, but you also can't get a spray tan. Of course, that doesn't mean that sun-kissed skin is out of reach. Self-tanner is a great way to achieve bronzed skin without stepping foot outside. One of the best beauty things to do at home, self-tanner comes in various formulas that can give you a seamless, natural-looking tan. Check out our article, The Best Self-Tanner for Every Situation, and you can score a gorgeous tan all year round.
9. REORGANIZE YOUR MAKEUP BAG
When you have a little extra time on your hands, it's the perfect opportunity to get organized. And we know the perfect place to start: your makeup bag. Your everyday makeup bag is probably filled with dirty beauty tools, way too many makeup products, and the bag itself may even need a thorough cleaning. To help restore order to your essentials, read about How to Clean and Organize Your Makeup Bag.
10. TRY OUT PRESS-ON NAILS
Sure, you may be saving money by not paying a visit to your manicurist, but having unkempt nails is likely driving you a bit crazy. Lucky for you, you can score a salon-quality manicure in little to no time. Press-on nails, we're looking at you! Available in various shapes and sizes, press-on sets are a great alternative for getting a stylish mani at home.
11. LEARN HOW TO DO PINK OMBRÉ NAILS
Have you been wondering about things to do at home that can help fill your time? Now's your chance to expand your nail design skills and master the pink ombré nail trend. Once you have this trendy design down pat, you'll be dying to post on social media and show off your nail art! Check out our article, How to Do Pink Ombré Nails All On Your Own, for step-by-step instructions.
12. PRACTICE WINGED LINER
If rocking a fierce eye makeup look is high on your priority list, we think it's time you learn how to get the perfect winged liner. A true beauty classic, winged liner is a gorgeous way to call attention to your eyes for a flirty look—but it takes some effort to really get the hang of it. If your social calendar is looking less packed as of late, use that time to become a cat eye pro. Not sure where to start? Look to our article, Wing It: Learn How to Do Cat Eye Makeup with Our 7 Expert Tips, for help.
Next: Get a Virtual Makeover to Try On Hair Colors and Makeup
{ "@context": "https://schema.org/", "@type": "WebPage", "speakable": { "@type": "SpeakableSpecification", "cssSelector": ["speakable-content"] }, "url": "https://es.lorealparisusa.com/revista-de-belleza/consejos-de-belleza/tendencias-belleza/things-to-do-at-home" }
Descubrir más trucos y consejos
Ver todos los artículos
Shop Featured Skin Care products
Discover More
{ "@context": "http://schema.org", "@type": "BreadcrumbList", "itemListElement": [ { "@type":"ListItem", "position": 1, "item": { "@id": "/", "name": "Home" } } , { "@type":"ListItem", "position": 2, "item": { "@id": "https://es.lorealparisusa.com/revista-de-belleza", "name": "Revista de belleza" } } , { "@type":"ListItem", "position": 3, "item": { "@id": "https://es.lorealparisusa.com/revista-de-belleza/consejos-de-belleza", "name": "Ideas profesionales para tu look único" } } , { "@type":"ListItem", "position": 4, "item": { "@id": "https://es.lorealparisusa.com/revista-de-belleza/consejos-de-belleza/tendencias-belleza", "name": "Tendencias de belleza" } } , { "@type":"ListItem", "position": 5, "item": { "@id": "https://es.lorealparisusa.com/revista-de-belleza/consejos-de-belleza/tendencias-belleza/things-to-do-at-home", "name": "things-to-do-at-home" } } ] }