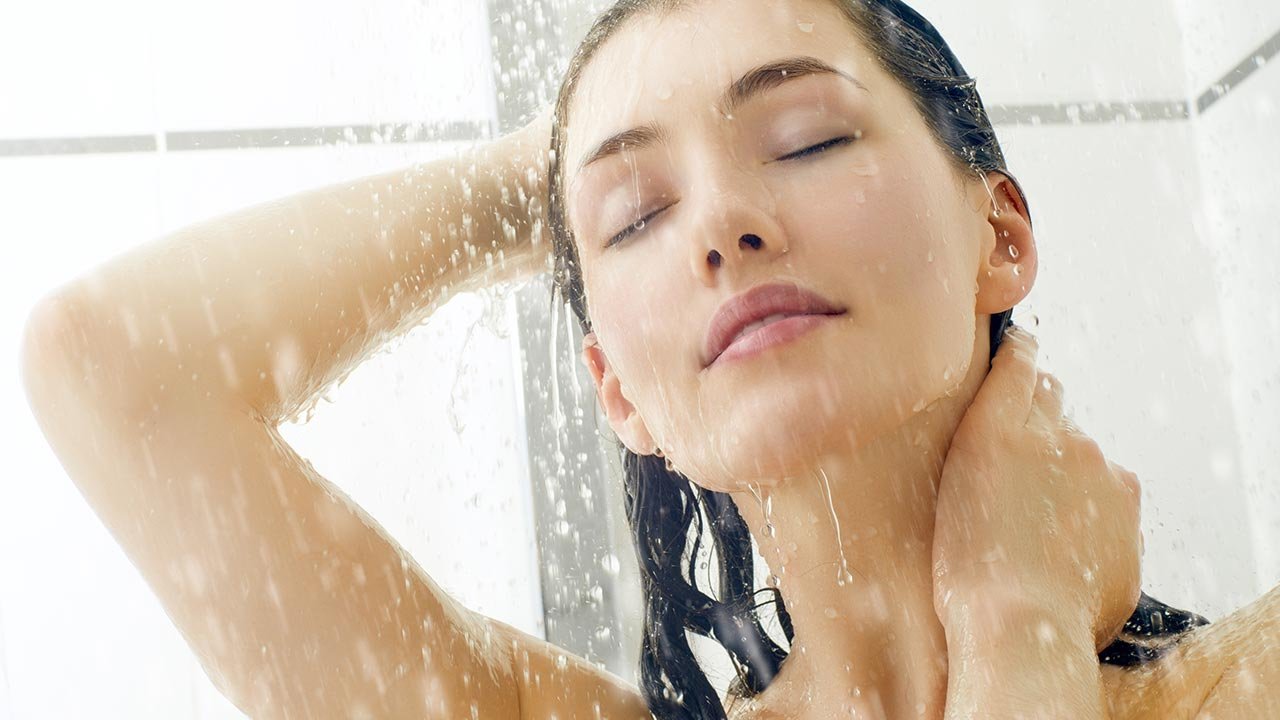 Have you given much thought to how the water in your shower is affecting your hair? If you have hard water, you may need to. When it comes to hair care, it's super easy to think that all you need are the right hair care products to keep your strands healthy-looking, but the water you wash with could be holding you back from the hair of your dreams. You may already know that cleansing your strands with lukewarm water is essential, but beyond temperature, different types of water, especially hard water, can have different effects on your hair. If the relationship between hard water and hair has piqued your interest, you've come to the right place. Here, we're getting to the bottom of what washing with hard water does to hair.
WHAT IS HARD WATER?
First things first, what is hard water? According to the National Center of Biotechnology Information (NCBI), hard water is simply water with a high concentration of calcium and magnesium ions. Hardness can be caused by other dissolved metals such as aluminum, barium, strontium, iron, and zinc. On the flip side, soft water refers to water without a high concentration of minerals.
HOW DOES HARD WATER AFFECT HAIR?
Per the NCBI, hard water can have various health-related side effects, but one you may be quick to notice is how it impacts your mane. Have you ever traveled somewhere and noticed that your hair looks different than normal after showering? That could be because the water is either harder or softer than what you're used to. The truth is, the hardness of the water in your shower can make a pretty big difference in your hair. With that said…
DOES HARD WATER CAUSE HARM TO HAIR?
If you have hard water, we hate to tell you this, but the answer is yes. According to an NCBI study, hard water decreases hair strength and increases hair breakage. This was found when comparing hair treated with hard water to hair treated with deionized water.
WILL HARD WATER LEAVE HAIR FEELING ROUGH?
The previous question really answers this one for you. When hair is weak with split ends and broken pieces, its texture is affected. The broken ends won't feel as smooth as hair that's less damaged, which can cause your strands to feel rough.
WHAT ELSE CAN YOU EXPECT FROM WASHING WITH HARD WATER?
Hard water can have different impacts on certain hair types and even colors. A study from the NCBI found that virgin hair and bleached hair had different outcomes when treated with hard water. Hair stiffness was noticeable in both virgin and bleached hair, while virgin hair showed to have greater style retention after being treated with hard water. Bleached hair, on the other hand, had slightly reduced style retention.
HOW TO HANDLE HAVING HARD WATER
If hard water is taking a toll on your strands, you aren't out of luck. And no, you don't need to move somewhere with softer water. Follow our six tips below to start helping your hair.
TIP #1: TRY A SHOWER HEAD FILTER
Swapping out your shower head is a relatively easy home improvement task, and it could make a difference in how your hair looks and feels. A shower head filter meant for hard water can be used to help remove some of the minerals in the water to improve its quality. Just remember, these filters are meant to be changed regularly!
TIP #2: WASH WITH LUKEWARM WATER
We can't say this enough: You always want to wash your strands with lukewarm water. Since hot H2O can cause your hair to lose its natural oils, leading to dryness, it's best to turn down the dial with every wash.
TIP #3: SWITCH TO A STRENGTHENING HAIR CARE SYSTEM
Per the American Academy of Dermatology (AAD), it's important to use a shampoo and conditioner formulated specifically for your hair type. With that said, if you're trying to strengthen your locks, give the L'Oréal Paris EverStrong Thickening Shampoo and L'Oréal Paris EverStrong Thickening Conditioner, which work together to strengthen and fortify fragile, thin hair, a try.
Additionally, you can take your hair strengthening system up a notch by using a corresponding hair treatment, i.e., the L'Oréal Paris EverStrong Break Proof Lotion. Formulated with goji, this lightweight lotion moisturizes, revives shine, and fortifies hair sensitized by UV rays, water, and heat styling.
TIP #4: USE CLARIFYING SHAMPOO REGULARLY
When you have hard water, minerals and salts can build up on your hair, making it more important than ever to clarify your strands. Once a week or so, use a clarifying shampoo to remove buildup.
TIP #5: REPLENISH MOISTURE
Damaged hair tends to lose natural moisture, plus clarifying your hair can call for increased nourishment. Give your mane what it needs with the L'Oréal Paris Elvive Total Repair 5 Rapid Reviver Deep Conditioner. Formulated with a conditioning serum, this deep conditioner helps to fortify each strand, reinforcing the hair fiber and leading to less breakage.
TIP #6: REACH FOR A HEAT PROTECTANT
Heat can lead to damage and breakage, just like hard water. Since you don't need more of that, make sure to use a heat protectant for styles that require breaking out your blow-dryer, curling iron, or straightener. While we understand that some styles naturally call for heat-styling tools, it's essential to protect your strands from the heat. Reach for the L'Oréal Paris Advanced Hairstyle SLEEK It Straight Iron Heatspray, which works to seal in shine, calm frizz, and protect your hair from heat damage.
TIP #7: AIR DRY YOUR MANE
Instead of using your hot tools over and over, consider giving your strands a break with air drying. Not only does limiting the heat help keep your strands as healthy as can be, but you can also experiment with chic ways to style your mane. Pick up the L'Oréal Paris Advanced Hairstyle CURVE IT Elastic Curl Mousse and apply an egg-sized amount to your strands. Scrunch and let air dry for soft and bouncy curls.
DOES SOFT WATER AFFECT YOUR HAIR?
What about soft water? Well, it turns out even soft water can have an effect on your strands. The NCBI study found that depending on the amount of chemical damage your hair has, notable amounts of water hardness metals can be extracted even from soft water—AKA, reduction in strength and increased stiffness can still be caused by soft water.
{ "@context": "https://schema.org/", "@type": "WebPage", "speakable": { "@type": "SpeakableSpecification", "cssSelector": ["speakable-content"] }, "url": "https://es.lorealparisusa.com/revista-de-belleza/cuidado-capilar/cabello-danado/hard-water-hair" }
Descubrir más trucos y consejos
Ver todos los artículos
Shop Featured Hair Care products
Discover More
{ "@context": "http://schema.org", "@type": "BreadcrumbList", "itemListElement": [ { "@type":"ListItem", "position": 1, "item": { "@id": "/", "name": "Home" } } , { "@type":"ListItem", "position": 2, "item": { "@id": "https://es.lorealparisusa.com/revista-de-belleza", "name": "Revista de belleza" } } , { "@type":"ListItem", "position": 3, "item": { "@id": "https://es.lorealparisusa.com/revista-de-belleza/cuidado-capilar", "name": "Todo sobre el cabello sano" } } , { "@type":"ListItem", "position": 4, "item": { "@id": "https://es.lorealparisusa.com/revista-de-belleza/cuidado-capilar/cabello-danado", "name": "Cuidado del cabello dañado" } } , { "@type":"ListItem", "position": 5, "item": { "@id": "https://es.lorealparisusa.com/revista-de-belleza/cuidado-capilar/cabello-danado/hard-water-hair", "name": "hard-water-hair" } } ] }