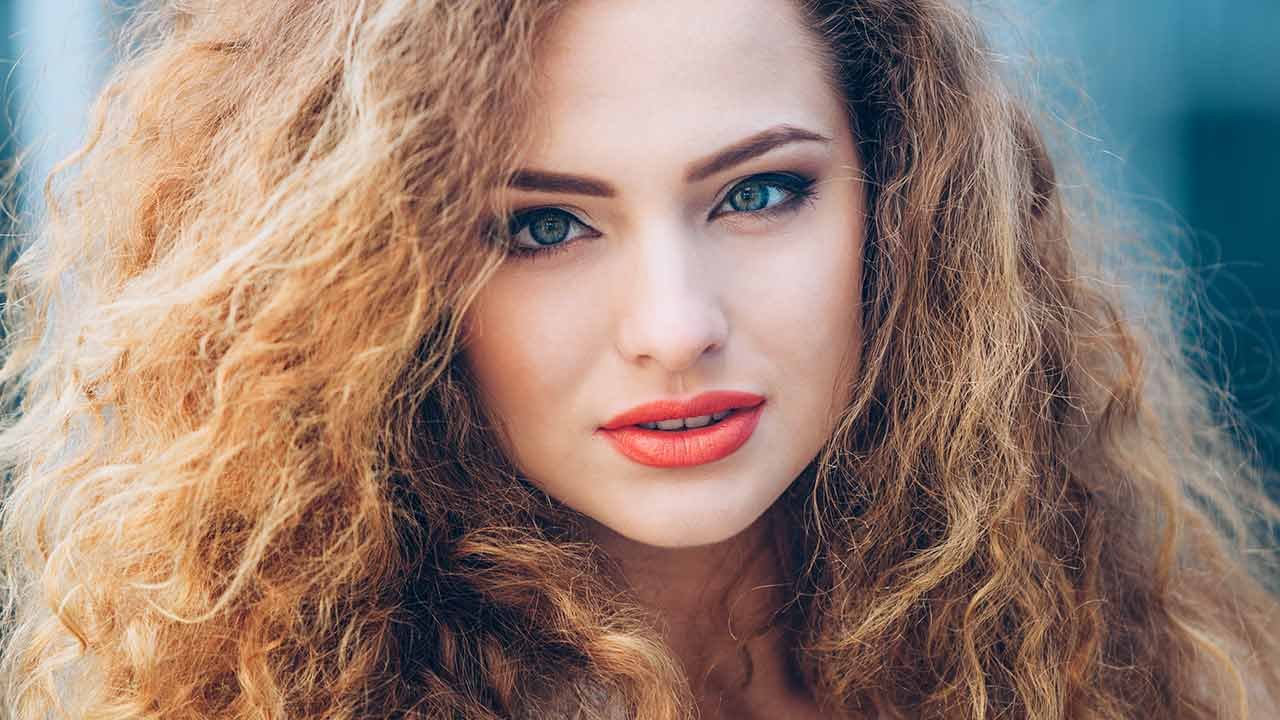 When it comes to hair, there's something we think we can all agree on: Frizz—regardless of what causes it—is so unbelievably annoying. And when you don't feel your best about your hair, it can seriously throw you off your game. Whether you're naturally prone to frizzy hair or humidity is to blame, it can be difficult to style your strands if you don't have the right tips (or anti-frizz hair care products!) in your arsenal. The good news is, with proper frizz control, smooth and more manageable strands are possible. Yes, really! Want to know how? Keep reading to learn how to tame frizzy hair.
FRIZZY HAIR TIP #1: USE PRODUCTS FORMULATED FOR FRIZZY HAIR
Just as it's wise to use skin care products formulated for oily skin if you have a shiny complexion, you should consider using frizz control products if frizzy hair is a concern of yours. Not sure where to start? Try a coordinating system of frizz-fighting hair care products that includes a shampoo, conditioner, and hair serum, like the L'Oréal Paris EverPure Frizz-Defy Shampoo, L'Oréal Paris EverPure-Frizz Defy Conditioner, and L'Oréal Paris EverSleek Frizz Finish Oil-In-Serum.
Apply the shampoo on wet hair and gently massage it into a lather, then rinse. Follow up with the conditioner, leaving it on for one to two minutes before rinsing out. Once you're done with washing your hair, apply a small amount of serum through the length of your hair to help tame frizz and flyaways and smooth each strand.
FRIZZY HAIR TIP #2: PICK THE RIGHT STYLING PRODUCTS
It might be tempting to blow-dry your hair immediately after you hop out of the shower, but hear us out: Letting your mane air dry could be the best gift you give yourself for prettier hair. Instead of blasting your strands with your blow-dryer, use a heat-free volumizing mousse to give your hair a bouncy finish.
Try the L'Oréal Paris Advanced Hairstyle BOOST IT Volume Inject Mousse to liven up your strands. Simply apply an egg-sized amount of this hair mousse on damp hair and scrunch your strands. If you really can't part with your blow-dryer, make sure to use a frizz-taming heat protectant, like the L'Oréal Paris Advanced Hairstyle SLEEK IT Frizz Vanisher Cream, first.
FRIZZY HAIR TIP #3: BRUSH UP ON YOUR BRUSH KNOWLEDGE
It's important to be mindful of the hair brushes you use. After all, not all brushes are created equal, and using the wrong one could lead to knots, tangles, frizzy hair, and possibly even breakage (ouch!). When your hair is wet, it's especially fragile, so use a brush specifically designed for wet hair. This can make detangling easier. Meanwhile, when your hair is dry, consider using a boar bristle brush to help smooth strands.
Editor's tip: Are you a hair brush novice? Brush up on your knowledge with How to Find the Best Brush for Your Hair.
FRIZZY HAIR TIP #4: PAT—DON'T RUB—YOUR HAIR WITH A TOWEL TO DRY
Being gentle is the name of the game. If you tend to aggressively rub your hair with a towel post-shower, it's time to switch up your hair care technique. Instead, squeeze out excess water with your hands and use the towel to gently pat your hair dry.
FRIZZY HAIR TIP #5: TAKE CARE OF YOUR SCALP
A clean scalp can help support healthy-looking hair. Use a scalp scrub, like the L'Oréal Paris EverFresh Micro-Exfoliating Scrub, every few weeks or as needed to help slough away impurities, flakes, and any buildup of dirt and excess oils.
FRIZZY HAIR TIP #6: BRUSH YOUR HAIR BEFORE BED
You wouldn't go to sleep without taking off your makeup, would you? Nope, we thought not! So, why would you hit the hay without brushing your hair? We get it: This might seem unnecessary, but it can actually help. When you brush your hair, you're distributing your natural oils from root to tip, which can help reduce the appearance of frizz. Now, that's something you can have sweet dreams about!
FRIZZY HAIR TIP #7: PROTECT YOUR STRANDS AT NIGHT
Speaking of catching some Z's, a great way to keep frizz at bay is to cover your hair with a satin scarf or sleep on satin sheets and pillowcases. If you've been wondering what causes frizzy hair, not protecting your strands could be the reason behind your frizz. Every time you sleep without protecting your hair, you run the risk of losing natural oils, which can make your hair dry and cause frizz to occur. Not cool! Play it safe and protect your strands to eliminate the chance of frizz, especially if you have dry, brittle hair.
FRIZZY HAIR TIP #8: GET A TRIM
Sometimes damage from split ends contributes to unhealthy-looking hair. The more it splits, the more likely it is you'll suffer from frizz. The easy solution is to get a haircut. No need to cut it all off—merely dusting split ends will help tame the appearance of frizz.
FRIZZY HAIR TIP #9: GO NATURAL
Chemicals in hair color, perms, and chemical straighteners can leave your hair highly processed, which can result in visible breakage, split ends, and other damage that promotes unruly-looking hair. Instead of processing hair, consider embracing your natural hair to reduce the likeliness of frizz.
FRIZZY HAIR TIP #10: RESCUE IT RIGHT
If your hair needs some extra love, try using a deep conditioner to help replenish your tresses. A few times a week, swap your conditioner out for the L'Oréal Paris Elvive Total Repair 5 Rapid Reviver Deep Conditioner, which can help detangle your locks and prevent hair breakage.
FRIZZY HAIR TIP #11: PROTECT IT POOLSIDE
Chlorine can cause damage that builds up over time. Wear a swim cap when you're in the pool and be sure to rinse with cool water as soon as you exit the water.
FRIZZY HAIR TIP #12. SWITCH YOUR STYLE
If you've fallen into a hairstyle rut, your hair may show it. Wearing your hair the same way can weaken it because you're likely putting pressure on the same places every day. Switch things up to relieve the stress points.
FRIZZY HAIR TIP #13. WATCH THE WEATHER
Humidity can be one of your greatest enemies when it comes to frizzy hair. You can't control the weather, but you can prepare your hair for the elements. Seek out leave-in conditioners and serums that can help smooth your hair and keep frizzies at bay, like the L'Oréal Paris Elvive Smooth Intense Frizz Taming Serum.
FRIZZY HAIR TIP #14: SLICK IT BACK
When in doubt, slick your frizzy strands back into a low, sleek ponytail. Use a hair gel, like the L'Oréal Paris Advanced Hairstyle LOCK IT Clean Style Gel, to keep your strands in place with an extra-strong hold and all-day natural-looking shine.
FRIZZY HAIR TIP #15: SEAL IN YOUR STYLE
Oftentimes, frizz can develop throughout the day or evening—whether that's from the weather or dancing the night away. Seal in your style with a frizz-fighting hairspray like the L'Oréal Paris Advanced Hairstyle LOCK IT Weather Control Hairspray.
FRIZZY HAIR TIP #16: FINISH WITH SHINE
Finishing off your styling session right is essential. For the perfect finishing touch, use a serum or balm that gives your hair a gorgeous shine and a final smoothing.
FRIZZY HAIR TIP #17: ACCEPT YOUR HAIR TYPE
While for some, frizzy hair is an occasional occurrence, for others, it's more of a mainstay. It could be that frizz is just part of your natural texture. In that case, asking how to get rid of frizzy hair is likely for naught. You can't change your hair type, but you can get it under control. Keep that in mind and use these tips to tame your frizz, not try to eradicate it.
Next up: Enjoyed learning how to tame frizzy hair? For more frizzy hair recs, check out our article, 10 Easy Hairstyles for Frizzy Hair.
{ "@context": "https://schema.org/", "@type": "WebPage", "speakable": { "@type": "SpeakableSpecification", "cssSelector": ["speakable-content"] }, "url": "https://es.lorealparisusa.com/revista-de-belleza/cuidado-capilar/cabello-frizz/how-to-manage-frizz" }
Descubrir más trucos y consejos
Ver todos los artículos
Shop Featured Hair Care products
Discover More
{ "@context": "http://schema.org", "@type": "BreadcrumbList", "itemListElement": [ { "@type":"ListItem", "position": 1, "item": { "@id": "/", "name": "Home" } } , { "@type":"ListItem", "position": 2, "item": { "@id": "https://es.lorealparisusa.com/revista-de-belleza", "name": "Revista de belleza" } } , { "@type":"ListItem", "position": 3, "item": { "@id": "https://es.lorealparisusa.com/revista-de-belleza/cuidado-capilar", "name": "Todo sobre el cabello sano" } } , { "@type":"ListItem", "position": 4, "item": { "@id": "https://es.lorealparisusa.com/revista-de-belleza/cuidado-capilar/cabello-frizz", "name": "Cuidado del cabello con frizz" } } , { "@type":"ListItem", "position": 5, "item": { "@id": "https://es.lorealparisusa.com/revista-de-belleza/cuidado-capilar/cabello-frizz/how-to-manage-frizz", "name": "how-to-manage-frizz" } } ] }