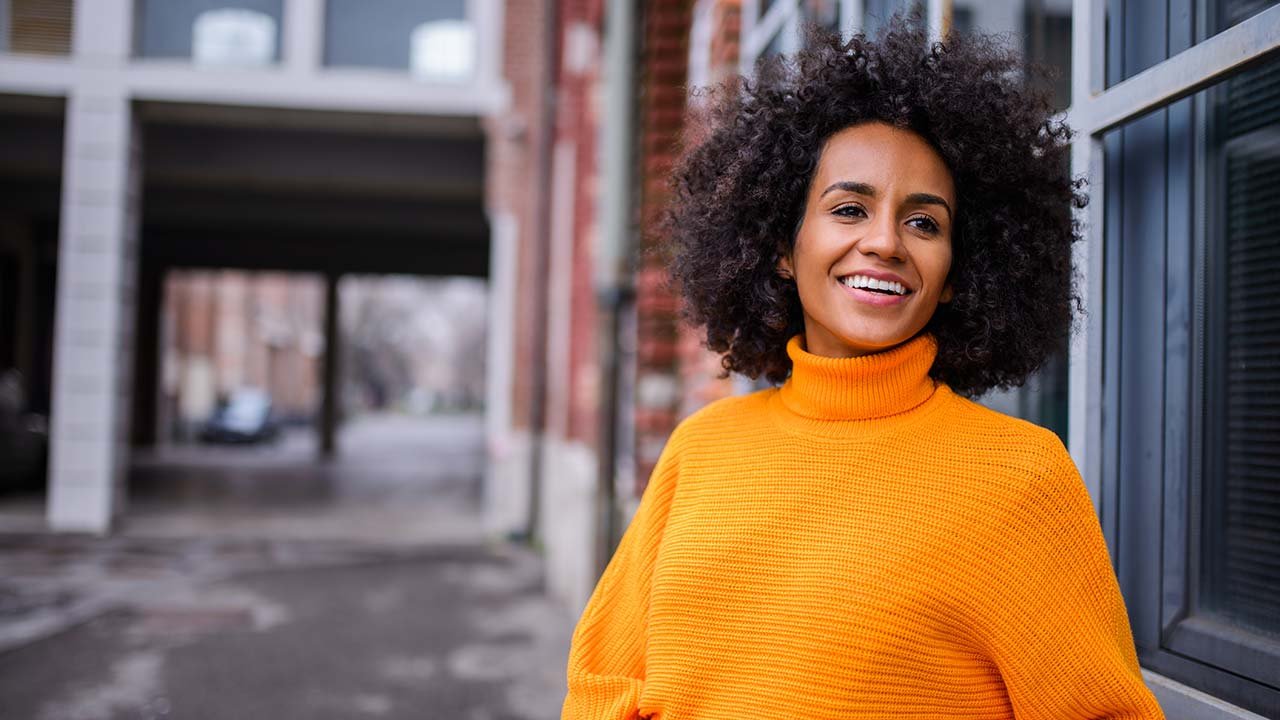 Whether you've been dreading the end of summer or are absolutely blissed out thinking about the dropping temperature, there's a way to make your transition into fall a lot easier. With any change in the seasons, it's a good idea to make a few adjustments to your skin care routine, and fall is no exception. No doubt, you'll want to know all the hacks to help make those changes a little bit easier. So, below we've rounded up 10 of them! Keep reading for all our best fall skin care hacks—from chemical exfoliation to wardrobe pieces to keep around—to try this season.
FALL SKIN CARE HACK #1: MOISTURIZE WHILE WET
Once fall hits, you may find that it's becoming increasingly important to apply moisturizer to your skin. And that says a lot considering moisturizing is a must all year long—for all skin types! Look at the shifting of the seasons as a sign and take the time to make sure you're moisturizing to the very best of your abilities. As the air gets cooler and drier, you may notice that your skin is starting to feel drier, too. The biggest source of mistakes is typically when you choose to moisturize. According to the American Academy of Dermatology (AAD), the best time to moisturize is when your skin is wet, as this can help lock in hydration. Reach for a water-based moisturizer and get to hydrating as soon as you pat your skin dry after cleansing. Have your pick from the L'Oréal Paris Hydra-Genius line, below. There's an option for everyone!
L'Oréal Paris Hydra Genius Daily Liquid Care - Normal/Oily Skin: In normal and oily skin, external factors such as pollution, UV rays, and excessive cleansing can damage skin's moisture barrier, causing loss of moisture and an increase in oil production. As a result, your complexion can start to look overly shiny. This water-based moisturizer helps reduce the appearance of excess shine and has a matte finish.
L'Oréal Paris Hydra Genius Daily Liquid Care - Normal/Dry Skin: Normal and dry skin faces external factors such as pollution and UV rays that can damage the skin's moisture barrier, increasing loss of moisture and causing it to become drier. As a result, skin's surface loses its glow, becoming dull-looking. This water-based moisturizer envelops skin with moisture, improving the look of skin's radiance.
L'Oréal Paris Hydra Genius Daily Liquid Care - Extra Dry Skin: Your skin has a very fragile moisture barrier that can be easily damaged by external factors such as pollution and UV rays. Skin consequently loses its ability to retain moisture, becoming easily dehydrated, feeling tight and uncomfortable. This water-based moisturizer envelops skin with moisture, providing comfort.
Editor's tip: Of course, moisturizer isn't the only way to amp up hydration! Prior to applying one of the above face moisturizers, reach for the L'Oréal Paris Revitalift Derm Intensives 1.5 Pure Hyaluronic Acid Serum, which enhances the skin's own moisture retention for lasting hydration.
FALL SKIN CARE HACK #2: MAKE TIME FOR A MASSAGE
Try to think of something more enjoyable than a massage. Take a second or two, but you'll be hard-pressed to find an answer—and your skin would likely agree. Don't reserve receiving massages for spa days—you can give them to yourself practically any day, any time. Rub a facial oil onto your skin, massaging in circular motions to help with circulation. That's right—something that allows you to spoil yourself and your skin all at once. This sounds like a can't miss activity to us! Want to get the full experience? Here's How to Give Yourself a Facial Massage.
FALL SKIN CARE HACK #3: CLEANSE WITH MICELLAR WATER
Upgrade your skin care routine with a trendy (and super-easy to use) cleanser this fall. Yep, it's time to familiarize yourself with France's favorite cleanser—micellar water. (You'll find all the details on how they work in our article, What Is Micellar Water and How Do You Use It?) To use, saturate a cotton pad with the liquid cleanser and sweep across your skin to get clean—no rinsing or rubbing required. Try the L'Oréal Paris Micellar Cleansing Water - Normal to Dry Skin this fall, since it hydrates and soothes.
FALL SKIN CARE HACK #4: CHOOSE A CHEMICAL EXFOLIATOR
Exfoliating dull, dead skin cell buildup can be a useful part of your autumn skin care regimen. And when it comes to exfoliating your skin, you have options. One of our favorite types of exfoliation is the chemical kind. According to the AAD, chemical exfoliation involves the use of salicylic acid, alpha hydroxy acids (like glycolic acid), or enzymes to chemically break down skin surface buildup. Consider using the L'Oréal Paris Revitalift Bright Reveal Brightening Daily Peel Pads, which resurface dull, uneven tone and rough texture to reveal fresh-looking skin and can even help to reduce the appearance of wrinkles over time.
FALL SKIN CARE HACK #5: GIVE YOUR HANDS SOME TLC
Ah, fall! While we love this season for so many reasons (including pumpkin spice everything), it is also the time of year when flu prevention becomes top of mind. Meaning, you'll probably find yourself washing your hands pretty frequently. But all that hand-washing can lead to your poor digits drying out. Use this as a prime excuse to go ahead and pamper your hands. Rub an oil onto your cuticles and smooth a hand cream, like the L'Oréal Paris Age Perfect Hydra Nutrition Manuka Honey All Over Balm - Face, Neck, Chest and Hands, on every night to help combat dryness.
FALL SKIN CARE HACK #6: KEEP THE BROAD-SPECTRUM SUNSCREEN COMING
You may have made it to fall, but that doesn't mean your skin concerns have completely changed since summer. June through August may boast the hottest days of the year, but sun protection is critical all year round. During fall, you'll want to continue applying a broad-spectrum sunscreen with an SPF of 15 or higher every single day as directed. And of course, don't forget to reapply at least every two hours or immediately after swimming or sweating! But applying (and reapplying) sunscreen isn't the only sun protection measure you should be taking daily this fall. Don't worry—we're laying it all out in our next tip below!
FALL SKIN CARE HACK #7: HAVE SUNGLASSES ON HAND
Sunglasses are often touted as a total summer wardrobe accessory, but while they certainly look chic on the beach, you should be sporting a UV-blocking pair no matter the season. Keep a pair of sunglasses in the car and in your bag, and slip them on whenever you're outside during daylight hours. Go ahead and pick out a pair of large frames—they're totally on-trend. In addition to putting on a pair of sunnies, you should also throw on a broad-brimmed hat and cover up exposed areas in long sleeves and pants. Finally, you should limit your amount of time in the sun (especially between 10 a.m. and 2 p.m., which are peak hours) and seek shade.
FALL SKIN CARE HACK #8: SWITCH HOW YOU SLEEP
By now, everyone should be in on the fact that beauty sleep is indeed real. And you can take your nighttime skin care routine to the next level this autumn by incorporating an overnight face mask into your life. The L'Oréal Paris Revitalift Triple Power Anti-Aging Overnight Mask is a luxurious, leave-on creamy mask that forms a virtual protective mask to cradle skin. Immediately, skin feels more hydrated. To use, apply the overnight mask to cleansed skin prior to sleep every evening. Use it alone or as the last step after eye cream and serum. Smooth it over your face, neck, and jawline until absorbed. Leave it on overnight to see results.
FALL SKIN CARE HACK #9: LEARN TO LAYER
Fall is a season meant for learning—after all, it is back-to-school time. Whether you're heading back to class or simply sharpening up a few skills, fall serves as an ideal opportunity to learn something key in beauty—and that would be how to layer skin care products. While there's some variation from product to product, there's a basic rule you can follow in most cases. Layer products in order of their thickness. Layering your skin care products the right way can help ensure that they work properly. If you're working to moisturize more, try applying a hydrating serum underneath your favorite moisturizer, like we mentioned earlier.
FALL SKIN CARE HACK #10: CLEAN OUT YOUR COLLECTION
News flash: Spring cleaning doesn't have to happen in the spring. Fall is just as good of a time as any to clean out your skin care collection, ditching any products that are past their prime. Just as you toss food that's expired, the same should be done with skin care products. If a product has passed its expiration date, it's best to say bye-bye.
Next up: While you're cleaning out your skin care collection, you might as well get to organizing it, too! Need some help? Here's How to Organize Your Skin Care Products.
{ "@context": "https://schema.org/", "@type": "WebPage", "speakable": { "@type": "SpeakableSpecification", "cssSelector": ["speakable-content"] }, "url": "https://es.lorealparisusa.com/revista-de-belleza/cuidado-piel/fundamentos-del-cuidado-de-la-piel/fall-skin-care-hacks-to-try" }
Descubrir más trucos y consejos
Ver todos los artículos
Shop Featured Skin Care products
Discover More
{ "@context": "http://schema.org", "@type": "BreadcrumbList", "itemListElement": [ { "@type":"ListItem", "position": 1, "item": { "@id": "/", "name": "Home" } } , { "@type":"ListItem", "position": 2, "item": { "@id": "https://es.lorealparisusa.com/revista-de-belleza", "name": "Revista de belleza" } } , { "@type":"ListItem", "position": 3, "item": { "@id": "https://es.lorealparisusa.com/revista-de-belleza/cuidado-piel", "name": "Tratamiento de la piel para todas las edades" } } , { "@type":"ListItem", "position": 4, "item": { "@id": "https://es.lorealparisusa.com/revista-de-belleza/cuidado-piel/fundamentos-del-cuidado-de-la-piel", "name": "Esenciales del cuidado de la piel" } } , { "@type":"ListItem", "position": 5, "item": { "@id": "https://es.lorealparisusa.com/revista-de-belleza/cuidado-piel/fundamentos-del-cuidado-de-la-piel/fall-skin-care-hacks-to-try", "name": "fall-skin-care-hacks-to-try" } } ] }