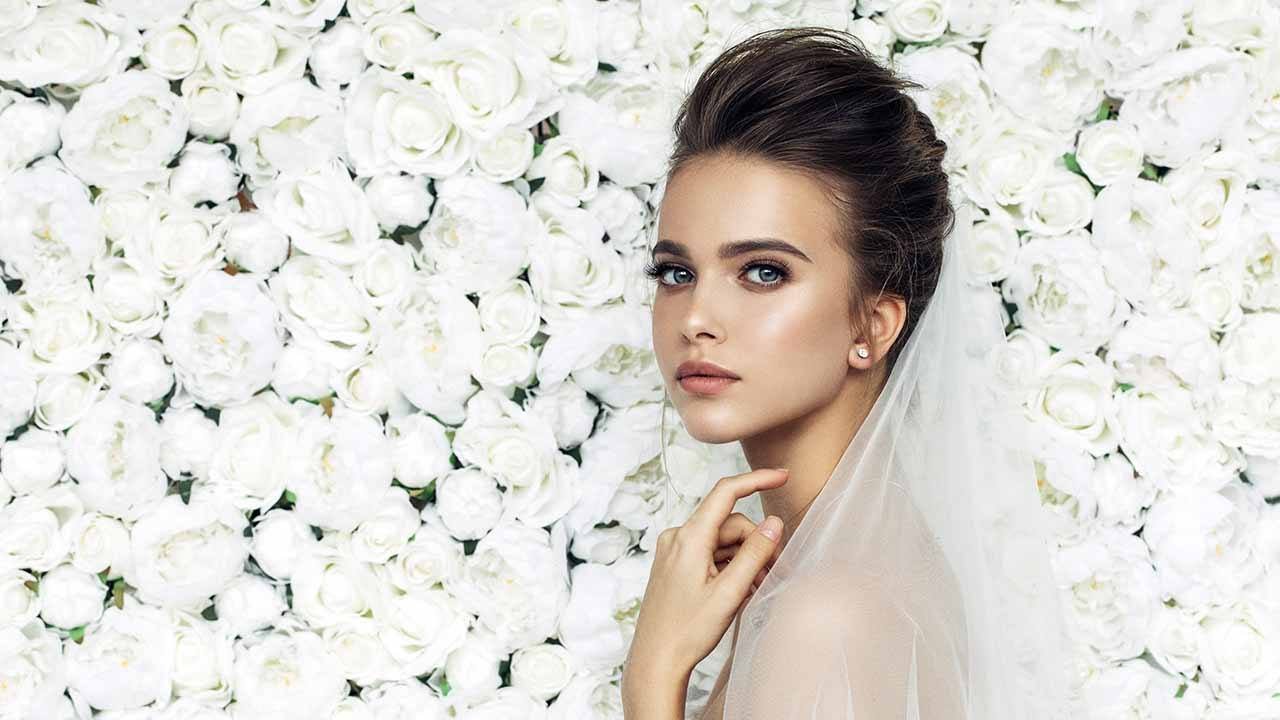 Imagine this: It's your wedding day, and you've spent hours perfecting your makeup look. There's just one small issue, as you shed a few tears during the ceremony, and later work up a sweat on the dance floor, your mascara starts to run and your foundation begins to fade. Basically, by the end of the night, you're one hot mess. But, before you get too upset by that imagery, know that it doesn't have to be that way. With the right lineup of long-lasting makeup, you can create a bridal makeup look that lasts and lasts. Want our best tips for makeup that can make it through all the stresses of your big day? Read on.
BRIDAL MAKEUP TIP #1: PRIME YOUR SKIN
To ensure that your makeup look will last through a full day of wedding activities, you'll need to start off on the right foot. We know you may skip out on wearing primer on the other 364 days in the year—and we won't get into whether that's an abomination or not—but your wedding day is not the time to cut corners. Taking an extra moment to smooth on primer before breaking out the rest of your face makeup could make all the difference in not only how long your look lasts, but how easily your makeup applies. Basically, what we're saying is, it's an essential step. So, choose a primer with your preferred finish, whether that's the L'Oréal Paris Infallible Pro-Glow Lock Makeup Primer or L'Oréal Paris Infallible Pro-Matte Lock Makeup Primer and apply it as the first step in your makeup routine.
BRIDAL MAKEUP TIP #2: APPLY LONG-WEARING FOUNDATION
If you weren't blessed with a flawless complexion, foundation is likely one of the products you'll be counting on the most. To look just as free of imperfections when your wedding ends as you did at the very beginning, be sure to wear foundation that offers long-lasting coverage. Try the L'Oréal Paris Infallible Up to 24HR Fresh Wear Foundation, Lightweight. To apply, blend the formula onto your face (and neck!) using the L'Oréal Paris Infallible Blend Artist Foundation Blender.
BRIDAL MAKEUP TIP #3: SET WITH TRANSLUCENT POWDER
Even longwear liquid foundations will have more staying power if set with a face powder. To avoid looking like you've caked on tons of makeup, opt for a lightweight translucent powder. You won't look like you've thrown an additional layer of makeup on your face but you'll have a little extra security that your face makeup won't slip and slide off your skin. Dip a fluffy makeup brush into a bit of the L'Oréal Paris Infallible Pro-Sweep & Lock Loose Setting Face Powder and sweep it onto your face, focusing on your T-zone—where you're most likely to get oily as the day goes on.
BRIDAL MAKEUP TIP #4: USE POWDER BLUSH AND CONTOUR PRODUCT
On days when we're trying to achieve the ever-trendy no makeup, makeup look, we love cream blush and contour products—but they aren't quite right for bridal makeup. The reason being that they have a tendency to not last as long as powder-based products. Thankfully, it's simple to swap out any creams you were planning to use for powder alternatives. For your contour, look for a cool-toned powder that's two to three shades darker than your skin tone. For your blush, look for a blendable powder formula, like the L'Oréal Paris Paradise Enchanted Fruit-Scented Blush Makeup.
BRIDAL MAKEUP TIP #5: PRIME YOUR EYES, TOO
Primer isn't just for your face! If you're planning to wear eye makeup—which we bet you are—you'll want to prime your eyes too. Dot a bit of eye primer on your lids, then blend it out using your finger.
Editor's tip: Forgot to pick up eye primer? In a pinch, concealer can serve a similar purpose! Try the L'Oréal Paris True Match™ Super-Blendable Multi-Use Concealer.
BRIDAL MAKEUP TIP #6: WEAR WATERPROOF EYE MAKEUP
Let's be real, your wedding is bound to get emotional. You literally can't convince us that you won't shed at least once tear sometime during the day. Just think about all the speeches and other special moments to come. As such, you'll want to prepare for inevitable waterworks by wearing waterproof eye makeup. We have all your bases covered below:
For a waterproof mascara…try the L'Oréal Paris Unlimited Lash Lifting and Lengthening Waterproof Mascara Blackest Black.
For a waterproof liquid eyeliner…try the L'Oréal Paris Voluminous Lash Paradise Liquid Eyeliner.
For a waterproof pencil eyeliner…try the L'Oréal Paris Infallible Pro-Last Waterproof Pencil Eyeliner.
BRIDAL MAKEUP TIP #7: OPT FOR A LIQUID LIPSTICK
Chances are you'll have to reapply your lipstick a few times on your wedding day. When you're kissing your new spouse and sipping on champagne, touch-ups are a must. Whether or not you'll have to reapply isn't up for debate, but how often you'll have to is. If you apply a standard bullet lipstick before your ceremony, you'll likely be in need of a touch-up by the time it's over. If you wear a liquid lipstick, on the other hand, you may be able to make it until after dinner to touch-up. Pretty convenient, right? So, make your wedding day extra sweet and wear one of the L'Oréal Paris Infallible Pro Matte Les Chocolats Scented Liquid Lipsticks.
BRIDAL MAKEUP TIP #8: FINISH WITH MAKEUP SETTING SPRAY
Wearing a face full of longwear makeup products is a good way to extend the life of your makeup look, no doubt. However, it isn't all you can do. Your final step when applying your makeup can make all the difference in how your look holds up. For the perfect finishing touch, lock in your makeup with a few spritzes of the L'Oréal Paris Infallible Pro-Spray & Set Makeup Extender Setting Spray.
Need more tips to help alleviate your pre-wedding jitters? Check out these Wedding Hair and Makeup Dos and Don'ts before your big day.
{ "@context": "https://schema.org/", "@type": "WebPage", "speakable": { "@type": "SpeakableSpecification", "cssSelector": ["speakable-content"] }, "url": "https://es.lorealparisusa.com/revista-de-belleza/maquillaje/looks-maquillaje/long-lasting-bridal-makeup-look" }
Descubrir más trucos y consejos
Ver todos los artículos
Shop Featured Makeup products
Discover More
{ "@context": "http://schema.org", "@type": "BreadcrumbList", "itemListElement": [ { "@type":"ListItem", "position": 1, "item": { "@id": "/", "name": "Home" } } , { "@type":"ListItem", "position": 2, "item": { "@id": "https://es.lorealparisusa.com/revista-de-belleza", "name": "Revista de belleza" } } , { "@type":"ListItem", "position": 3, "item": { "@id": "https://es.lorealparisusa.com/revista-de-belleza/maquillaje", "name": "Consejos de maquillaje para cada look" } } , { "@type":"ListItem", "position": 4, "item": { "@id": "https://es.lorealparisusa.com/revista-de-belleza/maquillaje/looks-maquillaje", "name": "Looks de maquillaje" } } , { "@type":"ListItem", "position": 5, "item": { "@id": "https://es.lorealparisusa.com/revista-de-belleza/maquillaje/looks-maquillaje/long-lasting-bridal-makeup-look", "name": "long-lasting-bridal-makeup-look" } } ] }