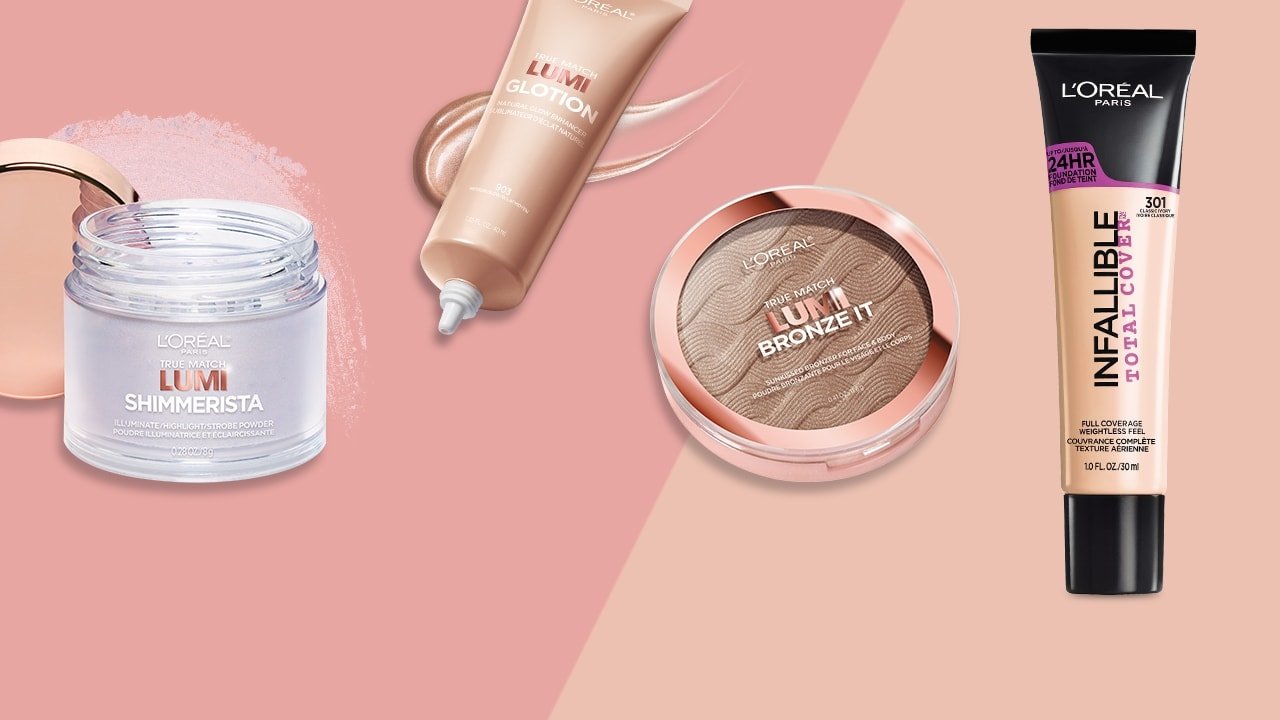 As makeup addicts, we're always looking for a way to update our bag of tricks. While you may have mastered the art of baking your face and applying the perfect red lip, there's one area of makeup application you may not have considered: body makeup! Yes, you read that right—body makeup is indeed a thing, and it can seriously make a difference in your overall beauty look. From contouring your body to temporarily disguising tattoos, there are quite a few uses for body makeup you may not have considered. Below, we're sharing our best body makeup and how to use it. Get ready to become a body makeup pro!
OUR BEST BODY MAKEUP
Interesting in incorporating body makeup into your routine? Here are a few product recs worth adding to your collection.
L'Oréal Paris Infallible Total Cover Foundation: This full coverage face and body foundation has an ultra-lightweight formula that offers a seamless finish. You can use it everywhere—on your face, arms, and legs—to cover imperfections and even skin tone. With its natural look and high coverage, the foundation blends instantly to cover dark spots, blemishes, scars, and hyperpigmentation for a flawless complexion.
L'Oréal Paris True Match Lumi Bronze It Bronzer: This sun-kissed bronzer can also be used on your face and body. The shimmering, buildable bronzing powder will leave your body with a lit-from-within glow. You can use this powder to create an all-over bronzed complexion or contour for a radiant, sculpted look.
L'Oréal Paris True Match Lumi Shimmerista Highlighting Powder: For skin that glows, look no further than this highlighting powder for face and body. The buildable formula will give your skin a prismatic, glowing look. The lightweight formula blends seamlessly onto skin, allowing the light to naturally reflect off the highpoints of your face and body. Try dusting it onto your collarbones when you sport an off-the-shoulder top!
L'Oréal Paris True Match Lumi Glotion Natural Glow Enhancer: This highlighting glow lotion instantly hydrates and illuminates skin for an all-over, fresh, natural glow and effortless radiance. The highlighting formula delivers an illuminating tint to enhance your skin's natural glow for a healthier, brighter complexion. Bonus: The glow lotion formula is infused with glycerin and shea butter and offers all-day continuous hydration.
L'Oréal Paris Summer Belle Makeup Bronze Please!: Ready for another body bronzer rec? If you prefer a matte formula, this one's for you. Available in three shades, the all-over bronzer makes it possible to achieve skin with a sun-lit look all year long.
L'Oréal Paris Summer Belle Makeup Beach Bae Face & Body Liquid Luminizer: Body shimmer is in, and we're absolutely here for it. This liquid illuminator, which has a non-greasy formula multi-reflective liquid pearls, will leave your skin with a sheer bronze, sun-glazed finish.
5 USES FOR BODY MAKEUP
Body makeup can be used quite a few ways for many different reasons. Here are five common uses for body makeup you may not have considered.
1. ACNE SCARS
If you've ever fallen victim to bacne and neglected to properly take care of it, you may now be dealing with the repercussions. Acne scars can take a toll on your confidence, which is why you may want to turn to body makeup to temporarily cover them up. With the right makeup application no one will be able to guess you're hiding the remains of blemishes! Head over to our article, How to Hide Acne Scars with Makeup, for everything you need to know.
2. TATTOOS
While you surely love your tattoos, there are times you may not want them on display. Whether for an interview or a formal photoshoot, whatever your reasoning, body makeup is the solution! The most important product when covering tattoos? Body foundation with a full coverage formula. Here's How to Temporarily Cover Up Tattoos With Makeup: The Complete Tutorial.
3. CONTOURING
You may be familiar with contouring your face, but do you know how to contour your body? Using bronzer and highlighter to create shadows on your body can make all the difference in how sculpted you look. Think: a contoured collarbone when you're wearing a scoop-neck blouse or defined abs when sporting a crop top.
4. VEINS
With the right makeup techniques, you can use body makeup to cover up veins—even varicose veins. If veins on your legs make you feel less confident in some of your favorite outfits, the next time you want to show off your gams, try disguising the veins with body makeup.
5. PSORIASIS
Another skin condition you can cover with body makeup is psoriasis, which is a common skin disease that can result in red, white, or silvery flakey patches of skin.
{ "@context": "https://schema.org/", "@type": "WebPage", "speakable": { "@type": "SpeakableSpecification", "cssSelector": ["speakable-content"] }, "url": "https://es.lorealparisusa.com/revista-de-belleza/maquillaje/maquillaje-facial/best-body-makeup" }
Descubrir más trucos y consejos
Ver todos los artículos
Shop Featured Makeup products
Discover More
{ "@context": "http://schema.org", "@type": "BreadcrumbList", "itemListElement": [ { "@type":"ListItem", "position": 1, "item": { "@id": "/", "name": "Home" } } , { "@type":"ListItem", "position": 2, "item": { "@id": "https://es.lorealparisusa.com/revista-de-belleza", "name": "Revista de belleza" } } , { "@type":"ListItem", "position": 3, "item": { "@id": "https://es.lorealparisusa.com/revista-de-belleza/maquillaje", "name": "Consejos de maquillaje para cada look" } } , { "@type":"ListItem", "position": 4, "item": { "@id": "https://es.lorealparisusa.com/revista-de-belleza/maquillaje/maquillaje-facial", "name": "Maquillaje facial" } } , { "@type":"ListItem", "position": 5, "item": { "@id": "https://es.lorealparisusa.com/revista-de-belleza/maquillaje/maquillaje-facial/best-body-makeup", "name": "best-body-makeup" } } ] }