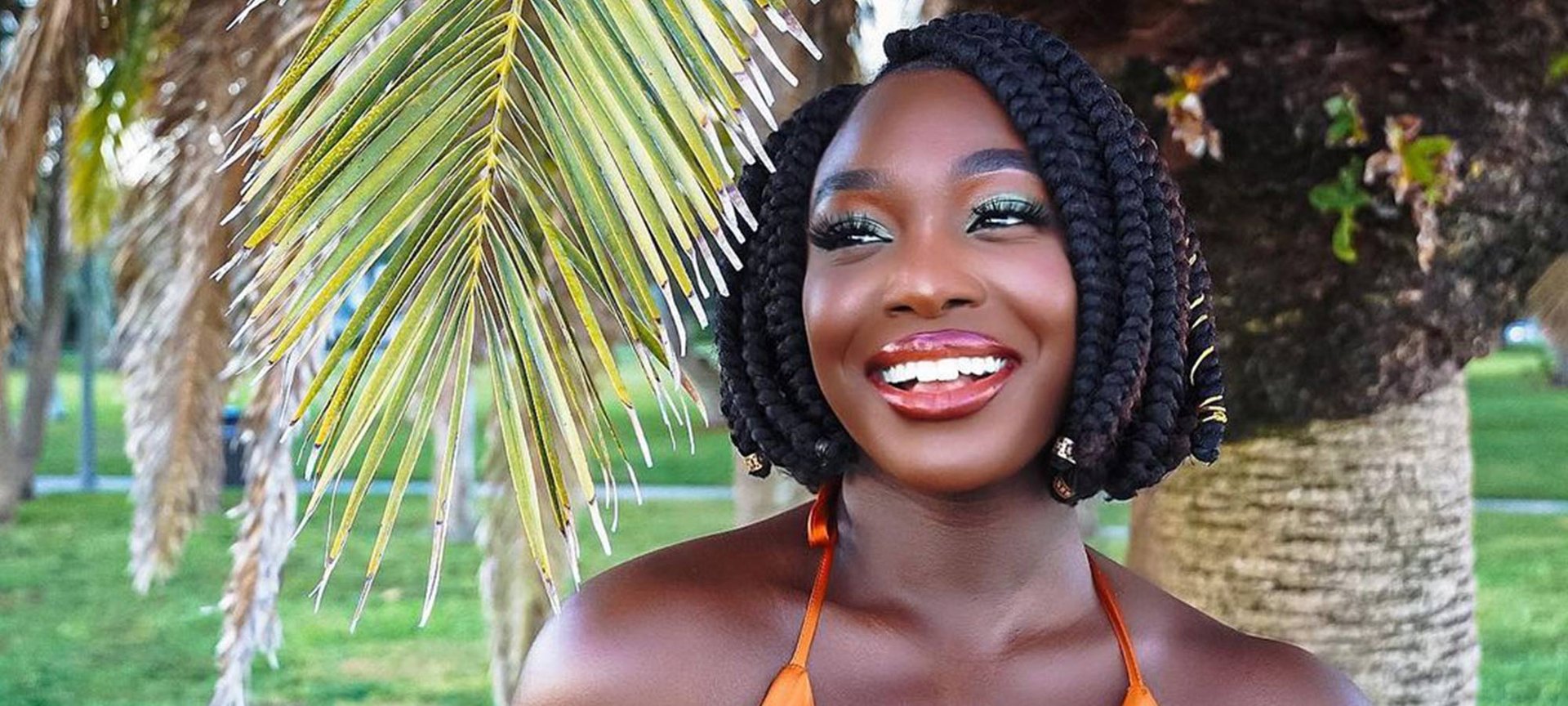 peinados cortos
17 Braided Bob Hairstyles To Try Right Now
Spice up your summer hairstyle.
As the weather gets hotter, it seems like everything gets shorter—your shorts, your workday, and even your hair! If you're planning on spending these summer months in the salt and sun then you're definitely going to want a protective style for your natural hair. That's why braided hairstyles are a great go-to— they're versatile, long-lasting, and easy to maintain. While long braids are always in, now is the perfect time to try out one of the summer's hottest beauty trends: the braided bob. This seriously stylish natural hairstyle is a stunner for short hair since the braids don't require a lot of length. From classic bob braids to bob box braids and more, the possibilities seem endless. Want some inspiration? Below, we're sharing 20 bob braid style ideas for natural hair.
Braided Bob Hairstyle #1: Asymmetrical Braided Bob
Shorter on one side than the other, asymmetrical bobs are a hair trend that you've likely seen sported by some of your favorite celebrities. Combine this cut with a braided mane, and you've got an asymmetrical braided bob ready for the return to the red carpet!
Braided Bob Hairstyle

#2: Braided Lob

Longer in the front and shorter in the back, we'd argue that the braided lob hairstyle is the best of both worlds. You'll have braids that fall slightly past your shoulders at the front of your head and shorter braids at the back, keeping your hair off your neck and out of the way. An asymmetrical lob is another option we love, even if it doesn't quite qualify as a braided bob thanks to those extra two or three inches of length, it's well worth a spot on this list!
Braided Bob Hairstyle

#3: Bob Box Braids

Box braids look amazing when paired with a bob because you can style box braids in so many ways! Style them into an updo or curl them一either way they look great and frame your face. Complete your look with a little edge control or a defining gel like L'Oreal Paris Advanced Hairstyle LOCK IT Clean Style Gel to perfect your baby hairs.
Braided Bob Hairstyle

#4: Blunt Braided Bob

If you're looking for a braided bob hairstyle that will make a statement, a blunt braided bob is for you. The blunt cut will add an edge to your beauty look while the braids will put a soft twist on the traditional blunt bob.
Braided Bob Hairstyle

#5: Dimensional Braided Bob

Want your bob braids to stand out a little more? Then you need a more dimensional hair color. Incorporate a mix of highlights and lowlights throughout your mane, then braid your hair. Your braids will really pop this way! You can also incorporate (short) extensions in a different color into your braids if you aren't ready to dye your hair.
Braided Bob Hairstyle

#6: Colorful Braided Bob

For a 'do that'll steal the show opt for a full color braided bob. Pick a vibrant hue (or two) to color your mane. You can even use a temporary hair color, like the L'Oréal Paris Colorista Hair Makeup Temporary 1-Day Hair Color Spray, for color that washes out in just one shampoo. Play around with the ombré hair color trendbraided hairstyles, which allows you to rock two eye-catching hues at the same time while adding the right amount of depth and dimension to your mane. It really makes your braids stand out!
Braided Bob Hairstyle

#7: Chin-Length Braided Bob

We love shoulder-skimming bobs, but there's no reason you can't go a little shorter. Hitting just below the chin, this braided bob style is best suited for those who want to emphasize their jawline.
Braided Bob Hairstyle

#8: Shoulder-Length Bob

Braided bobs don't have to stop at your chin, if you want some added length to your hairstyle then braids that sit right at your shoulders suit this trend perfectly. This is a great way to freshen up your longer braids by giving them a trim or go with your natural hair length and let the braids fall where they may!
Braided Bob Hairstyle

#9: Side-Swept Braided Bob

Switch things up by parting your bob braids to one side—which may actually be more flattering for your face shape than a middle part (here's How to Find the Best Part for Your Face Shape and Hair Type). A side-swept 'do can also create the appearance of a fuller mane.
Braided Bob Hairstyle

#10: Chunky Braided Bob

An easy way to switch up your braided bob is to play around with varying braid sizes. We love the look of lots of smaller braids, but you can also consider sporting thick, chunky braids to put a whole new spin on the braided bob.
Braided Bob Hairstyle

#11: Layered Braided Bob

Prefer a textured look? Add dimension and shape to your braided bob with layers. This style includes short, medium, and long braids for layers that will instantly add volume and definition to your braided bob hairstyle.

Editor's tip: To keep your braids fresh and voluminous in between styles, we recommend using a dry shampoo like L'Oréal Paris Elvive Dream Lengths Air Volume Dry Shampoo.

Braided Bob Hairstyle

#12: Braided Bob With Bangs

Bangs are totally on-trend at the moment! We love the way side-swept braided bangs complement a bob. To fake the look, part your hair to the side and pull a few braids across your forehead, pinning them in place for instant faux bangs.
Braided Bob Hairstyle

#13: Color Block Braided Bob

You likely know about the color block makeup trend, but did you know that you can rock a color-blocked braided bob? This contrasted look features braids of one color on one side of your head and braids of another color on the opposite side. We love this style with black and brunette braids for a subtle (yet still contrasted) look.
Braided Bob Hairstyle

#14: Braided Bob With Cornrows

When it comes to braiding natural hair, you can't go wrong with cornrows. Try a braided bob with cornrows, and your 'do will double as a protective hairstyle that shields your strands from the elements and promotes healthy hair. Before you braid, add a leave-in conditioner like the L'Oréal Paris Elvive Dream Lengths Super Curls Cream Leave-In to condition and nourish your strands.
Braided Bob Hairstyle

#15: Bob With A Bun

Love the idea of bob braids and want to ensure that prefer your strands stay out of your face? A braided bob with a bun will surely meet your standards. Boasting the short braided look you adore and a trendy bun that gets your hair out of the way, this style will add a playful and flirty vibe to your overall beauty look.
Braided Bob Hairstyle

#16: Micro Braided Bob

Classic braided bob hairstyles are showing no signs of slowing down, but the micro braided bob is not too far behind. Flaunting super-thin braids that come together to give your mane a fuller appearance with effortless movement, this style is a great way to tap into your love for '90s hairstyles.
Braided Bob Hairstyle

#17: Center Part Braided Bob

If you're with Gen Z on the middle part versus center part debate, then you may want to try the center-part braided bob on for size. Designed to call attention to your features, this beautifully woven look will have you ready for your close-up in no time!

Photo Credit: Tabitha Olatoyan, @lifewithife
{ "@context": "https://schema.org/", "@type": "WebPage", "speakable": { "@type": "SpeakableSpecification", "cssSelector": ["speakable-content"] }, "url": "https://es.lorealparisusa.com/revista-de-belleza/peinado/peinados-cortos/braided-bob-hairstyles" }
Descubrir más trucos y consejos
Ver todos los artículos
Shop Featured Hair Color products
Discover More
{ "@context": "http://schema.org", "@type": "BreadcrumbList", "itemListElement": [ { "@type":"ListItem", "position": 1, "item": { "@id": "/", "name": "Home" } } , { "@type":"ListItem", "position": 2, "item": { "@id": "https://es.lorealparisusa.com/revista-de-belleza", "name": "Revista de belleza" } } , { "@type":"ListItem", "position": 3, "item": { "@id": "https://es.lorealparisusa.com/revista-de-belleza/peinado", "name": "Encuentra tu próximo look sexy" } } , { "@type":"ListItem", "position": 4, "item": { "@id": "https://es.lorealparisusa.com/revista-de-belleza/peinado/peinados-cortos", "name": "Peinados cortos" } } , { "@type":"ListItem", "position": 5, "item": { "@id": "https://es.lorealparisusa.com/revista-de-belleza/peinado/peinados-cortos/braided-bob-hairstyles", "name": "braided-bob-hairstyles" } } ] }