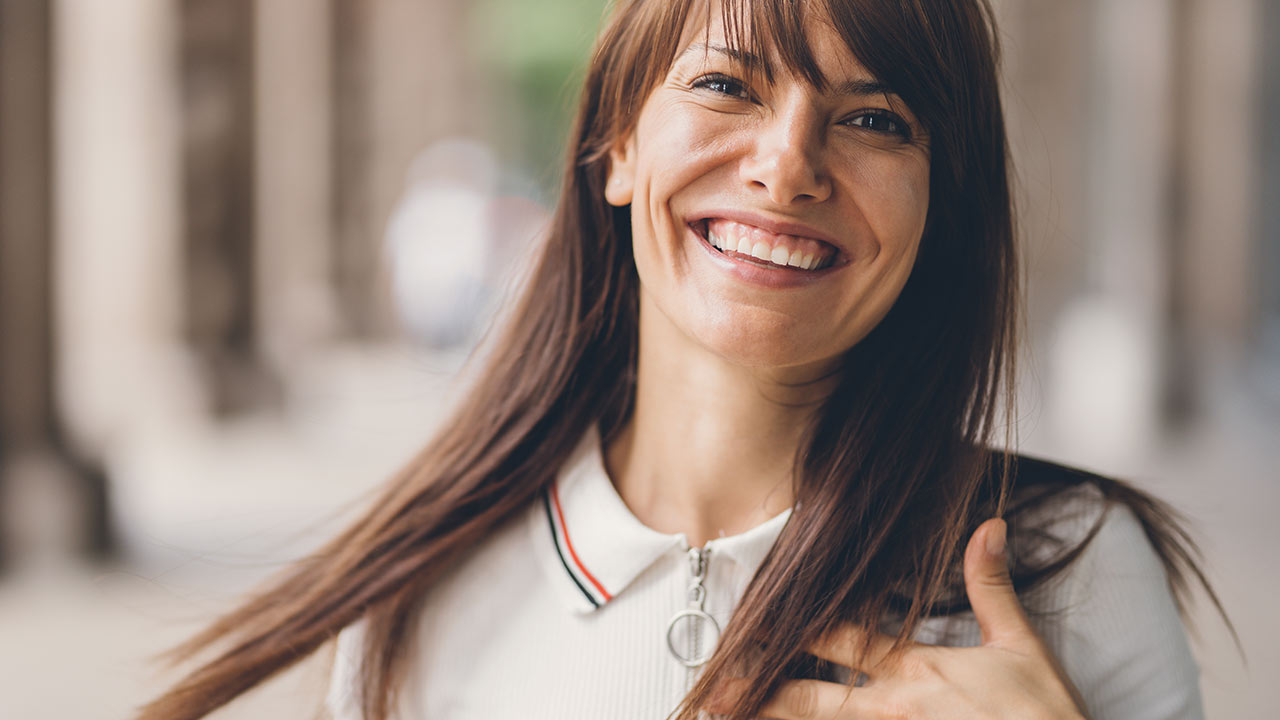 The same way that knowing your skin type can help you curate the perfect skin care routine, your face shape can help you find the most flattering hairstyles to accentuate your very best facial features. While there are numerous face shapes out there, today we're focusing on haircuts and hairstyles for heart-shaped faces.
A heart-shaped face is characterized by an elongated jawline, with the sharpest, smallest point of the face being the chin. Just think of it as a triangle flipped upside down with rounded edges. Heart-shaped faces are seen far and wide among celebrities, models, and everyday gals. And while not all of us are famous, by knowing your face shape, you can rock the very hairstyles that complement the faces of your favorite A-listers. So, who's ready to find their new haircut? Below, we share the 17 best hairstyles for heart-shaped faces, plus beauty tips for styling each one.
HEART-SHAPED FACE HAIRSTYLE #1: LONG PIECEY BANGS
There's nothing like a good pair of bangs for heart-shaped faces. Instead of your chin being a focal point, long, piece-y bangs soften your face shape for a seriously flirty, extra pretty look. To make sure you stay away from a schoolgirl look, keep your fringe no shorter than eyelid length. As a bonus, with added length comes the option to switch up your fringe on the daily, effectively leading us into our next look for heart-shaped faces.
HEART-SHAPED FACE HAIRSTYLE #2: LONG SIDE-SWEPT BANGS
If you take the long, piece-y bangs route but find yourself wishing for a little variation from time to time, comb your bangs over to the side for a quick and easy face shape-accentuating hairstyle. On the other hand, if you know from the get-go that you want to rock a side-swept look, ask your stylist to trim your tresses for an eye-catching cut. By wearing an angled, side-swept bang with the shortest pieces grazing your brows and the longest hitting the outer corners of your eyes, you'll be able to draw attention to your gorgeous eyes.
HEART-SHAPED FACE HAIRSTYLE #3: BLUNT BANGS
If you're feeling particularly daring and want to embrace one of the season's hottest trends, thank your lucky stars because blunt bangs work beautifully for those with heart-shaped faces. Just be sure to keep your fringe clipped to your brows, as going any shorter can serve less as an accentuation and more as an off-kilter facial element.
HEART-SHAPED FACE HAIRSTYLE #4: CLASSIC BANGS WITH PIN-STRAIGHT HAIR
Is pin-straight hair more your style? Combine your sleek strands with a classic set of bangs for a seriously trendy look. Bangs effortlessly bring the focus to your eyes, while your long mane allows you to play with length and highlight your cheekbones for a look that's sure to turn heads.
HEART-SHAPED FACE HAIRSTYLE #5: DEEP SIDE PART
When you have a heart-shaped face, you may find yourself wanting to accentuate areas of your face other than your chin. To do so, try wearing your hair in a deep side part. The asymmetrical hairstyle will play up your cheekbones for a truly chiseled look. The best part? You don't necessarily have to get your hair cut this way—simply move from a middle part to a side part when you see fit.
HEART-SHAPED FACE HAIRSTYLE #6: PIECEY PIXIE
Piece-y hairstyles have been all the rage for the last couple of years, and they're not losing steam. When paired with a heart-shaped face and cut close to the head, the result is an ultra-trendy pixie that emphasizes bone structure.
HEART-SHAPED FACE HAIRSTYLE #7: SHOULDER-GRAZING LOB
As much as we love a classic bob on a heart-shaped face, we're particularly fond of the lob at the moment. The slightly longer, face-framing angles make for a curtain showcasing a gorgeous face. The angles will help soften the jawline, while the short length won't drown out the shape altogether.
HEART-SHAPED FACE HAIRSTYLE #8: WAVY LOB
While you have lob hairstyles on the brain, a wavy lob may be worth adding to your must-try list. Paired with a middle part, this trendy hairstyle effortlessly frames your face for a delicate touch.
HEART-SHAPED FACE HAIRSTYLE #9: LONG CHOPPY BOB
Bobs are a timeless hairstyle that never skimps on the style meter. And in this case, the long choppy bob is the perfect match for heart-shaped faces. This hairstyle helps to highlight your cheekbones and frame your face for a super-flattering finish. All you need to amp up your look is a touch of hair mousse, like the L'Oréal Paris Advanced Hairstyle Curve It Elastic Mousse. Apply a dime-sized amount to your strands, scrunch, and go!
HEART-SHAPED FACE HAIRSTYLE #10: CLASSIC BOB
For those looking for a sophisticated hairstyle, the classic bob will come right in handy. With the length ending right at the chin, this style draws the eye to the center of your face for a balanced look. You can also experiment with fringe or classic bangs to really get the most out of this look.
HEART-SHAPED FACE HAIRSTYLE #11: CHIN-LENGTH CURLY BOB
We clearly have a thing for bob styles, and this chin-length curly bob is no exception. Much like other bob styles, this variation allows you to play with texture without eclipsing your face shape. In other words, it's a win-win!
HEART-SHAPED FACE HAIRSTYLE #12: LONG WAVY HAIR
This look works to soften your chin area while giving your hair a nice touch of volume for the ultimate Hollywood starlet look. You can spruce up your natural waves with some hair mousse or use a curling iron to get the look. If you go for the latter option, just be sure to use a heat protectant like the L'Oréal Paris Advanced Hairstyle Sleek It Iron Heatspray to keep your strands safe.
HEART-SHAPED FACE HAIRSTYLE #13: BOUFFANT UPDO
While you may think that updo hairstyles are a no-go for your heart-shaped face, the key to pulling this look off is to keep the volume at a minimum. You want a style that can balance out your sharp features and still provide that romantic look you love, and a bouffant updo fits the bill.
To get the look, part your hair into two sections, making sure the top section is smaller than the bottom. Use a rattail comb to tease the top section. Following up with a boar bristle brush, smooth your hair back and use bobby pins to pin in place. Spritz hair spray evenly over your hair, and you're all set.
HEART-SHAPED FACE HAIRSTYLE #14: CURLY POMPADOUR
What do you get when you combine edge with a touch of femininity? The curly pompadour. Known as the classic quiff haircut, this style adds a touch of height to your mane to give your face a more balanced look. For more on the pompadour, read our article, How to Style a Quiff Haircut.
HEART-SHAPED FACE HAIRSTYLE #15: TOP KNOT
For days when you need a chic style with little to no time to spare, a classic top knot is a great option. This style works to put your cheekbones on full display for a super sleek and chic look. To pull this look together, head on over to our article, How to Do the Perfect Top Knot, for a step-by-step tutorial.
HEART-SHAPED FACE HAIRSTYLE #16: FEATHERY FRINGE
Offering the best of both worlds in the bangs and textured hair department, this feathery fringe style won't steer you wrong. Thanks to your blended layered bangs, this look gives your face a slim look with a bit of softness for a standout hairstyle.
HEART-SHAPED FACE HAIRSTYLE #17: SHOULDER LENGTH SHAG CUT
Shag cuts are in high demand for good reason. Not only are they effortlessly stylish, but this cut also works to frame your face and provides movement for a flirty finish. You can even take this style up a few notches by pairing it with a hair color trend: ombré hair.
HOW TO TAKE CARE OF YOUR NEW HAIRCUT OR STYLE
Whichever hairstyle you choose, there are a few things you can do to make your updated mane look its absolute best. Take a look at your hair care routine and make sure that you have key products, including shampoo, conditioner, dry shampoo, and wave spray on-hand at all times.
Since heart-shaped faces are already top-heavy, a volumizing set of shampoo and conditioner, like the L'Oréal Paris EverPure Volume Shampoo and L'Oréal Paris EverPure Volume Conditioner, can help perk up your hair's overall shape for a more balanced look. What's more, a few pumps of the L'Oréal Paris Advanced Hairstyle BOOST IT Volume Inject Mousse will not only allow you to give your hair a break from hot tools, but will also help create natural-looking volume that pairs beautifully with a heart-shaped face.
{ "@context": "https://schema.org/", "@type": "WebPage", "speakable": { "@type": "SpeakableSpecification", "cssSelector": ["speakable-content"] }, "url": "https://es.lorealparisusa.com/revista-de-belleza/peinado/peinados-tendencias/best-haircuts-for-heart-shaped-faces" }
Descubrir más trucos y consejos
Ver todos los artículos
Shop Featured Hair Style products
Discover More
{ "@context": "http://schema.org", "@type": "BreadcrumbList", "itemListElement": [ { "@type":"ListItem", "position": 1, "item": { "@id": "/", "name": "Home" } } , { "@type":"ListItem", "position": 2, "item": { "@id": "https://es.lorealparisusa.com/revista-de-belleza", "name": "Revista de belleza" } } , { "@type":"ListItem", "position": 3, "item": { "@id": "https://es.lorealparisusa.com/revista-de-belleza/peinado", "name": "Encuentra tu próximo look sexy" } } , { "@type":"ListItem", "position": 4, "item": { "@id": "https://es.lorealparisusa.com/revista-de-belleza/peinado/peinados-tendencias", "name": "Tendencias de peinado" } } , { "@type":"ListItem", "position": 5, "item": { "@id": "https://es.lorealparisusa.com/revista-de-belleza/peinado/peinados-tendencias/best-haircuts-for-heart-shaped-faces", "name": "best-haircuts-for-heart-shaped-faces" } } ] }