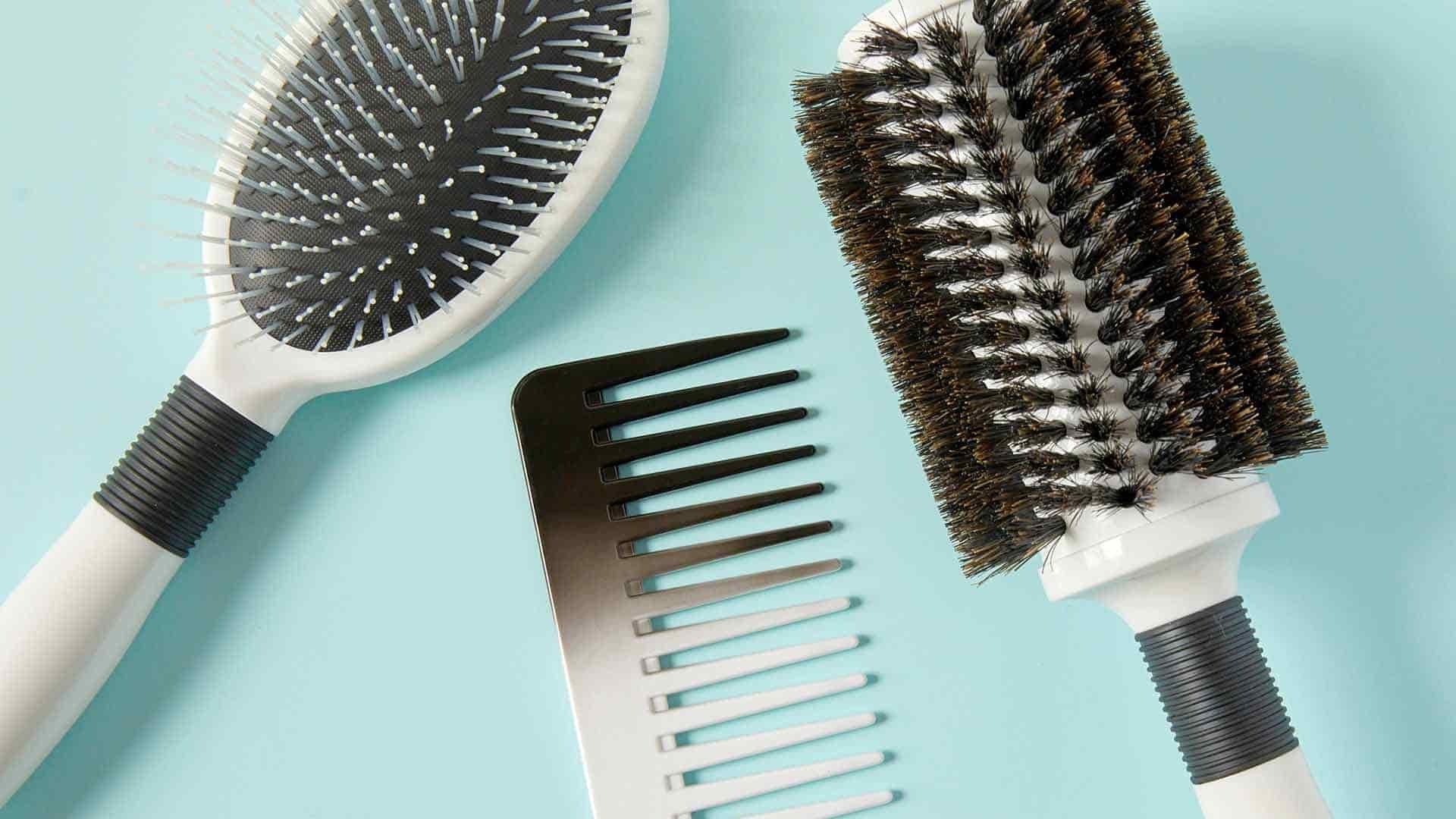 Whether it's buried deep in your bathroom cabinet or sitting proudly on your vanity, everyone owns a hair brush. The question is, do you own the right type of brush for your hair? Just because every hair brush has some sort of bristle doesn't mean any random one will work for you. Your hair texture—whether straight, wavy or curly—and the hairstyle you're seeking should impact the hair brush you find yourself reaching for.
Every type of brush for hair—from plastic to boar bristle—has its own purpose and a different way it should be used. With so many different options, even in this information age you practically need a guide to make sure you're getting it right. And thankfully, we're sharing the ultimate guide to hair brushes with you. Keep reading and you'll know which hair brush is right for your strands, and how to use it, in no time.
1. PADDLE BRUSH
This is such a classic that if your hair care collection only houses one brush, there's a strong possibility it's a paddle brush. You can surely picture its square shape, with a soft cushion typically filled with plastic bristles. While paddle brushes tend to be owned by everyone, they're really best suited for brushing through strands that are long and straight.
How to use it: When you brush through your hair while it's wet, you run the risk of breakage, so give your hair time to dry before using a paddle brush. Slowly move the brush through your hair—that's all there is to it. Brushing dry hair can have the unfortunate side effect of creating frizz so use a few pumps of a hair serum, like the L'Oréal Paris Elvive Dream Lengths Frizz Killer Serum Leave-In, to help tame frizzy hair.
2. ROUND BRUSH
If you've ever stepped foot in a hair salon, you should be familiar with round brushes. They're the ones your stylist likely yields as he or she gives you the blowout of your dreams. These brushes have a round barrel and are often covered with metal or nylon bristles, making them ideal for styling your hair with a blow dryer. If you're after hair with lots of volume or want to create curls without a curling iron, this is the right type of brush for your hair.
How to use it: Before you blow-dry, heat protectant is a must. Spritz damp hair with the L'Oréal Paris Elvive Dream Lengths Heat Slayer Pre-Iron Spray Leave-In. Once your hair is partially dry, split it up into small sections. Wrap hair around the brush and blow-dry, directing the blow-dryer toward the top side of the section. As you blow-dry, slowly move the dryer further down the section of hair. At the same time, pull the brush up and away from your head. Repeat this step on each section of your hair then blast with a quick shot of cool air to set the hairstyle.
3. VENTED BRUSH
For anyone who never, ever leaves the house with even a slightly damp mane, this is your best option. If you tend to find yourself rushing to get out the door, openings, or vents, in the brush will help speed up drying time. Not only can you get ready faster, but the less time spent blasting your hair with heat, the less damage you'll do.
How to use it: You know the deal! Spritz with a heat protectant first, then brush and blow-dry. Pull the brush through your hair, directing the heat from the blow dryer through the vents of the brush. That's it!
4. DETANGLING BRUSH
No matter how much conditioner you slather on or how carefully you style your hair before bed, sometimes knots are unavoidable. That's when you'll need a detangling brush for hair. Designed specifically for ridding your hair of knots, these hair brushes do the job without pulling out all of your hair. They're perfect for all types, so if you have straight hair, waves, curls or coils, you should keep a detangler handy.
How to use it: The best time to detangle your hair is when you're fresh out of the shower after using conditioner. Start by washing with the L'Oréal Paris EverPure Moisture Shampoo and following up with the L'Oréal Paris EverPure Moisture Conditioner. While your hair is wet, spritz on a hair detangler, or a serum that helps smooth out strands; then use a detangling brush meant for wet hair (not all are) to brush out any tangles or knots starting from the ends and working up to your roots. It may seem more time-consuming, but it's gentler on the hair.
5. TEASING BRUSH
When it comes to teasing brushes, the name really says it all. A teasing brush is a slim brush featuring boar bristles that helps to create tiny knots in your hair for a boost of volume. If you're used to taking your hair to new heights with a teasing comb, try swapping it out for a brush. The benefit of using a brush over a comb is that they aren't quite as harsh, allowing you to tease without risking the healthy appearance of your hair.
How to use it: Start by applying a volumizing hairspray or dry shampoo on your roots to add volume. We love the L'Oréal Paris Elvive Dream Lengths Air Volume Dry Shampoo. Then tease the hair anywhere near the roots. Once you have the placement in mind, pull the section of hair taut and use the teasing brush to brush toward your scalp on the underside of the hair. Keep teasing sections of hair until you've reached your desired look. Finish with the L'Oréal Paris Elnett Satin Hairspray Extra Strong Hold to help keep everything in place.
6. HAIR STRAIGHTENER BRUSH
Have you ever seen a brush with a cord coming out of one end? Hair brushes may not normally require an outlet, but some do. Hair straightening brushes look similar to your standard paddle brush, the only difference being they have a cord that allows them to heat up. This type of brush can accomplish two tasks at once: brushing out tangles and straightening your hair. That's one less tool you need to keep on hand!
How to use it: Always start with protection so spray your hair with the L'Oréal Paris Advanced Hairstyle SLEEK IT Iron Straight Heatspray. Splitting your hair into sections is key for using any kind of hair straightening tool, including a straightening brush. Move the straightening brush through each section of your hair, going slowly to ensure your strands become completely straight.
7. BLOW-DRYER BRUSH
A blow-dryer brush is another type of hair brush that works double duty, allowing you to streamline your routine. Instead of wielding both a hair brush and a blow-dryer to achieve that perfect, bouncy blowout, a blow-dryer brush does all the work for you. They look similar to your standard round brush, but like a hair straightener brush for hair, they have a cord. In this case, being plugged in allows air to come directly from the brush.
How to use it: A blow-dryer brush for hair most definitely counts as a heat tool, and as with any heat tool, heat protectant is a must. Turn on your brush and use it on your hair just as you would a normal round brush, only now you don't have to juggle a separate blow-dryer while you work your way through your hair.
Also consider keeping an edge brush in your arsenal too. It may not be for every day styling of your entire mane, but it's key for laying down and styling those baby hairs in your hairline.
Photo Credit: Chaunte Vaughn
Next: How to Clean Your Hair Brush
{ "@context": "https://schema.org/", "@type": "WebPage", "speakable": { "@type": "SpeakableSpecification", "cssSelector": ["speakable-content"] }, "url": "https://es.lorealparisusa.com/revista-de-belleza/peinado/peinados-tendencias/ultimate-guide-to-hair-brushes" }
Descubrir más trucos y consejos
Ver todos los artículos
Shop Featured Hair Style products
Discover More
{ "@context": "http://schema.org", "@type": "BreadcrumbList", "itemListElement": [ { "@type":"ListItem", "position": 1, "item": { "@id": "/", "name": "Home" } } , { "@type":"ListItem", "position": 2, "item": { "@id": "https://es.lorealparisusa.com/revista-de-belleza", "name": "Revista de belleza" } } , { "@type":"ListItem", "position": 3, "item": { "@id": "https://es.lorealparisusa.com/revista-de-belleza/peinado", "name": "Encuentra tu próximo look sexy" } } , { "@type":"ListItem", "position": 4, "item": { "@id": "https://es.lorealparisusa.com/revista-de-belleza/peinado/peinados-tendencias", "name": "Tendencias de peinado" } } , { "@type":"ListItem", "position": 5, "item": { "@id": "https://es.lorealparisusa.com/revista-de-belleza/peinado/peinados-tendencias/ultimate-guide-to-hair-brushes", "name": "ultimate-guide-to-hair-brushes" } } ] }