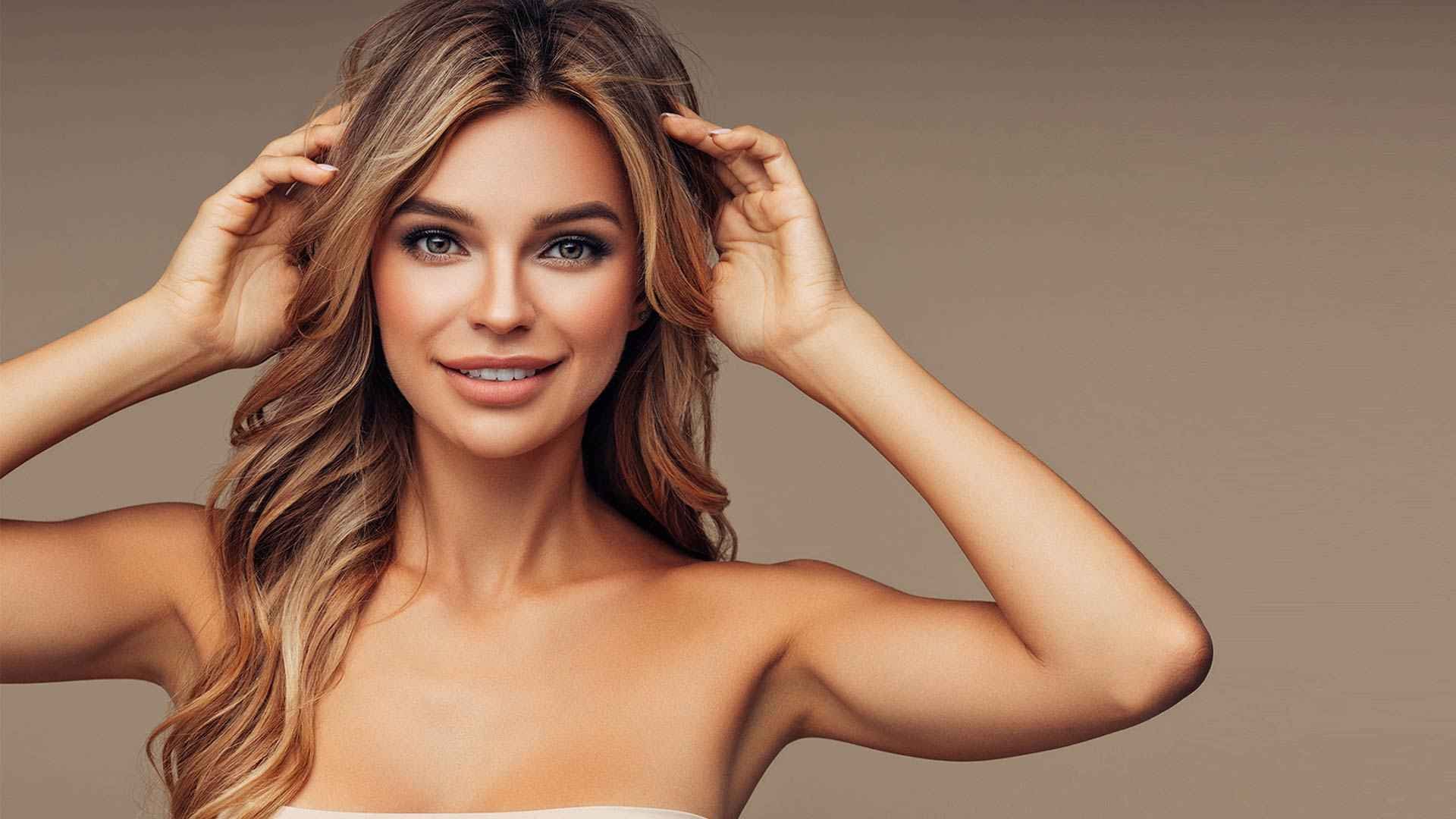 Whether you have thick or thin hair, you've probably dealt with flat hair at one point or another. Sure, flat hair has its place in the hairstyling world—we love it for a slicked-back look—but the majority of the time, most of us would rather have hair that looks full and voluminous. If you're wondering how to tackle flat hair and revamp it into a mane that speaks volumes (literally and figuratively), we're sharing the secret sauce. Ahead, find 20 tips to make flat hair look anything but limp.
What Causes Flat Hair?
Flat hair is a result of hair that has been weighed down. Buildup in the form of product residue, dirt, oils, and other impurities can weigh down your strands over time. That's why, after a day (or two) without washing your hair, it becomes noticeably flatter at the roots. Think about all that buildup! To give your hair a more-lifted look, rely on the right hair-care products. And if you're in a pinch, there are hair-styling products that can also give your flat hair a temporary boost. Keep reading for the details on both methods.
#1. Give Your Strands a Detox
As we mentioned, buildup is the main cause of flat hair. To help revive your flat strands, be sure to detox them. Try the L'Oréal Paris EverPure Sulfate Free Scalp Care + Detox Shampoo and L'Oréal Paris EverPure Sulfate Free Scalp Care + Detox Conditioner, which work together to deeply purify and cleanse the scalp of dirt, product buildup, and oil.
#2. Use a Volumizing Shampoo and Conditioner
Alternatively, volumizing shampoo and conditioner can also give your flat hair the boost you desire. Try our L'Oréal Paris EverPure Volume Shampoo and L'Oréal Paris EverPure Volume Conditioner. The pair is specifically formulated to revive fine, flat hair by infusing luminous shine and providing lasting volume.
#3. Tease Your Roots
Oftentimes, flat hair is most noticeable at the roots. For those who don't have time to hop in the shower to wash their hair, teasing the hair can create more volume at the crown of the head. If you're unfamiliar with this hair-styling technique, here's How To Tease and Backcomb Your Hair, for a step-by-step guide.
#4. Rock Voluminous Curls
Flat hair doesn't always occur solely at the roots. To give your strands an overall volume boost, use a curling iron to create voluminous curls throughout your mane. You can use a large-barrel curling iron to do this on two-inch sections of hair. Once you've curled all of your hair, use your fingers or a wide-tooth comb to gently brush through your curls and create a looser, more voluminous appearance.
#5. Try a Volume Spray
We touched on this earlier—certain styling products are specifically designed to help create the appearance of fuller hair. One heat-free option we love is a volume spray. Our L'Oréal Paris Advanced Hairstyle BOOST IT High Lift Creation Spray can be used to give flat hair instant body and fullness. You can focus it at your roots for a targeted lift, or apply it all-over as needed.
#6. Blow It Out
There's a reason why your mane looks so voluptuous when you leave the salon—a blowout instantly creates hair that's full of body and movement. One easy way to give yourself a blowout at home (without having to hold a round brush and blow-dryer simultaneously) is by using a blow-dry brush. Find all the details in our article, How To Use a Blow-Dryer Brush.
#7. Put It Up
If you're a fan of multitasking, you'll be happy to know that there are simple ways to lift flat hair—so you can focus on other areas of your beauty routine. One of those is by pulling your hair up into a high bun. Don't worry about creating the perfect bun—you can fine-tune your style later on. To start, create a high, loose bun on the center of your head. Pro tip: Secure it with a scrunchie so as not to leave any ridges. Then, spend time doing your skin care and makeup routines. When it's time to style your strands, you can take out your bun and reveal instantly lifted roots!
#8. Use a Pre-Shampoo Scrub
Moving back to hair-care, a pre-shampoo scrub is another option to manage flat hair and remove buildup. Use the L'Oréal Paris EverFresh Micro-Exfoliating Scrub, which contains apricot seeds, to remove impurities, flakes, and buildup from dirt and excess oils that can cause hair to be weighed down. Apply it to wet hair, massage, and rinse before following with shampoo and conditioner.
#9. Don't Overdo Conditioner
Speaking of conditioner, many people who have flat hair are making one major conditioner mistake: applying conditioner to their roots. Conditioners tend to have thick, hydrating formulas that are meant to nourish hair. While this is great for mid-lengths to ends, which tend to be on the dry side, it can seriously weigh down roots. The result is—you guessed it—the appearance of flat hair.
#10. Or Hair Serums
Another product that can do more harm than good to your roots (as far as appearances go) is hair serum. Just like conditioner, hair serum tends to have a thick formula—not to mention oil—that can weigh down your strands. If you use a hair serum in your routine, focus it on your mid-lengths to ends rather than your scalp and roots.
#11. Use a Hairpiece
You know what they say: fake it 'til you make it. To instantly create the illusion of lifted hair, you can use a faux hairpiece. There are a plethora of hairpieces on the market that are specifically made for creating volume at the crown of your head. Look for one that has a curved, bump-like appearance that can be clipped to your head and hidden underneath the hair at the crown.
#12. Or Hair Extensions
Many people are familiar with using hair extensions as a way to achieve longer-looking hair, and they can also be used to add volume. This is an ideal solution for those who find they have fine, flat hair daily. Don't worry—extensions don't have to be intimidating. Read more on How To Clip In and Style Hair Extensions.
#13. Rock a Double Ponytail
If your ponytail is falling flat, there's a simple solution: the double ponytail. For this, part your hair from ear-to-ear, creating a top and bottom section of hair. Clip the top section out of the way. Then, smooth the bottom section of your hair into a ponytail at the back of your head, securing with an elastic. Release your top section of hair and smooth it into a ponytail directly above the ponytail you just created. Secure the two ponytails together with another elastic. Instant volume!
#14. Put It Half-Up
If you notice you have flat hair at the top of your head, a half-up hairstyle could be the solution. Create a top knot or party pony with the hair at the crown of your head. Let the rest of your hair fall free. Your partial updo will instantly add height to your flat strands.
#15. Add Layers
For a more permanent solution, ask your hairdresser to add layers to your cut. They can help add volume to fine, flat hair. This style gives hair the illusion of having more body and movement. To get inspiration check out our article, The 40 Best Layered Haircuts.
#16. Use a Volumizing Mousse
Hair mousse is another styling product those with flat hair should always have in their arsenal. Apply the L'Oréal Paris Advanced Hairstyle BOOST IT Volume Inject Mousse to damp hair before styling. The formula is infused with thickening agents to give your hair a long-lasting, bouncy look.
#17. Switch Your Part
Something as simple as a part change can give flat hair a boost. When you part your hair the same way for a long time, your hair can become accustomed to the way it falls. By switching your part, your roots will be brushed in a direction they aren't used to going. This creates an arch-effect that will boost your roots.
#18. Finish With Volumizing Hairspray
The hairspray you use to set your style can also make a difference when it comes to flat hair. Look for a hairspray that has a volumizing formula, like our L'Oréal Paris Elnett Satin Hairspray Extra Strong Hold Volume. The spray creates effortless volume for fresh, natural-looking styles that hold all day.
#19. Turn To Dry Shampoo
By now, you know that oily and greasy hair can result in a weighed down appearance. For a quick fix, spritz some dry shampoo throughout your mane. It will soak up any excess oils that may be causing flat hair, giving your strands new life until your next wash.
#20. Give Rollers a Try
If you're a fan of the bun trick we mentioned earlier, you'll enjoy this flat hair tip. Putting your hair into rollers will instantly add volume by creating bouncy curls. Apply them before moving on to your makeup look, and let them work their magic.
Speaking of rollers, here's How To Use Hair Rollers For The Perfect Curls.
{ "@context": "https://schema.org/", "@type": "WebPage", "speakable": { "@type": "SpeakableSpecification", "cssSelector": ["speakable-content"] }, "url": "https://es.lorealparisusa.com/revista-de-belleza/cuidado-capilar/cabello-delgado/flat-hair-tips" }
Descubrir más trucos y consejos
Ver todos los artículos
Shop Featured Hair Care products
Discover More
{ "@context": "http://schema.org", "@type": "BreadcrumbList", "itemListElement": [ { "@type":"ListItem", "position": 1, "item": { "@id": "/", "name": "Home" } } , { "@type":"ListItem", "position": 2, "item": { "@id": "https://es.lorealparisusa.com/revista-de-belleza", "name": "Revista de belleza" } } , { "@type":"ListItem", "position": 3, "item": { "@id": "https://es.lorealparisusa.com/revista-de-belleza/cuidado-capilar", "name": "Todo sobre el cabello sano" } } , { "@type":"ListItem", "position": 4, "item": { "@id": "https://es.lorealparisusa.com/revista-de-belleza/cuidado-capilar/cabello-delgado", "name": "Cabello delgado" } } , { "@type":"ListItem", "position": 5, "item": { "@id": "https://es.lorealparisusa.com/revista-de-belleza/cuidado-capilar/cabello-delgado/flat-hair-tips", "name": "flat-hair-tips" } } ] }