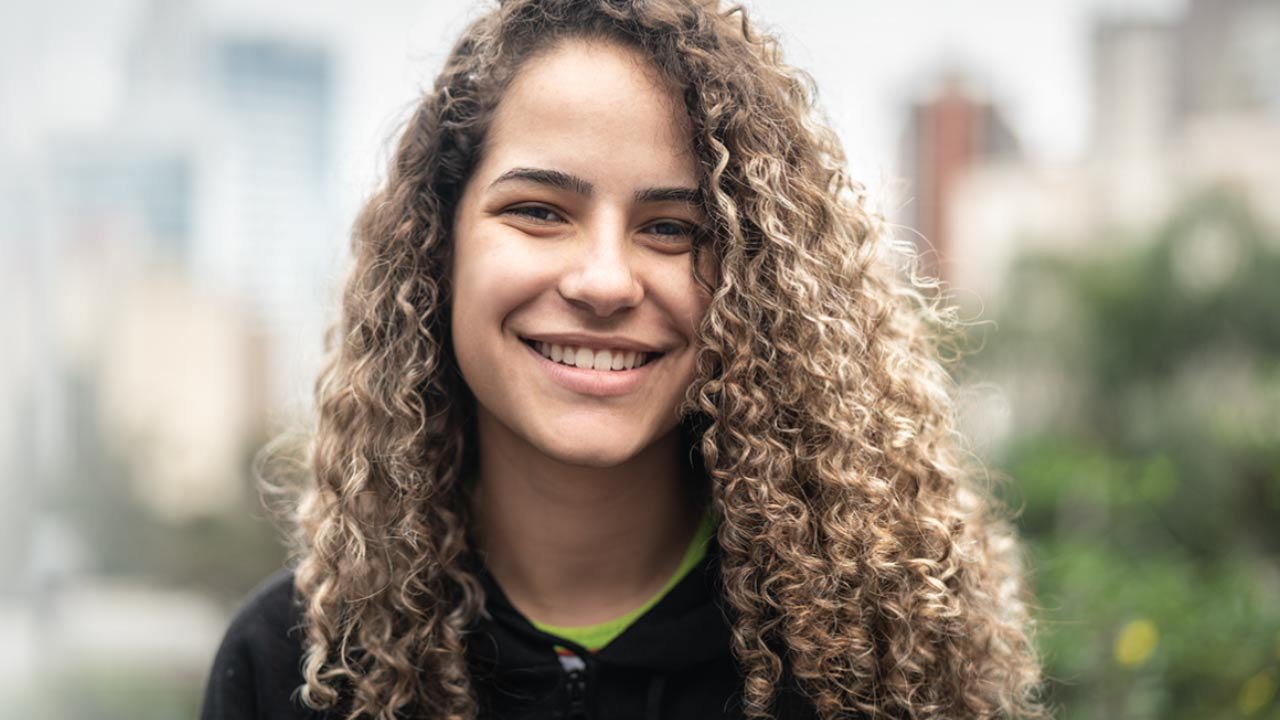 Think of your hair in its natural state—no heat styling or blow-drying. Do you have naturally curly hair? If you answered yes, then lucky you! Most people wonder how to get natural curly hair, and you already have natural curls. Although it might often feel like a chore to take care of your hair, the truth is that you've got the best of both worlds. You can go full-on curly, use a flat iron for pin-straight strands, or stay somewhere in between with loose beach-inspired waves. While the hairstyles for naturally curly hair are essentially endless, there is a certain hair care routine that you'll want to stick to in order to maintain healthy, hydrated strands. Keep reading for the ultimate guide on caring for naturally curly hair, including our best natural curly hair care products, plus some of our favorite haircuts and hairstyles for naturally curly hair.
WHAT IS NATURALLY CURLY HAIR?
This may seem obvious, but if your strands fall somewhere in between tight curls and wavy hair, you might be wondering if they still belong in the naturally curly category. The answer is yes! Naturally curly hair applies to coils of all shapes, sizes, and lengths. If you have curls of any type or tightness, you should be heeding the advice below, because the bottom line is: Curly hair requires special care!
THE BEST HAIR CARE ROUTINE FOR NATURALLY CURLY HAIR
Curly-haired gals, listen up: The structure of your hair isn't the same as your straight-stranded friends. As such, in order to maintain a healthy mane, you'll want to follow a hair care routine meant for natural curls. Behold, our best hair care tips for naturally curly hair.
TIP #1: USE A SHAMPOO AND CONDITIONER SYSTEM FOR CURLS
If you usually reach for the first shampoo and conditioner you see at the drugstore, or whatever you already have lying around the bathroom, it's time to change that! In order for your natural curls to be as healthy and hydrated as possible, you'll need to use a shampoo and conditioner system that is specifically formulated for curly hair. Makes sense, right? Try the L'Oréal Paris Elvive Extraordinary Oil Curls Shampoo and L'Oréal Paris Elvive Extraordinary Oil Curls Conditioner. This duo works to re-nourish and replenish curls with moisture, revealing bouncy, defined curls with continued use over time.
If you prefer a sulfate-free system, we have an option for you, too. Try the L'Oréal Paris EverCurl HydraCharge Shampoo and the L'Oréal Paris EverCurl HydraCharge Conditioner. This system is also formulated to gently cleanse and quench curls for anti-frizz definition.
Whatever option you choose, proceed as follows: Saturate your strands completely with water before reaching for your shampoo and sudsing up. Rinse your shampoo out thoroughly, then apply conditioner onto your lengths and ends and rinse out. Viola!
TIP #2: DON'T EVER SKIMP ON THE CONDITIONER
Pop culture might lead you to believe that it's OK to skip out on using conditioner since doing so can weigh down your strands and make for a greasy final look. However, naturally curly-haired ladies, this couldn't be farther from the truth! Because of their shape, curls tend to lose moisture more quickly than straight strands, so it is imperative that you condition them regularly. After every single shampoo, apply conditioner onto your curls from lengths to ends.
TIP #3: USE A HYDRATING HAIR MASK
Masks aren't just for your face! Using a hydrating hair mask in your regular hair care routine can go a long way in helping to restore moisture and eliminate dryness from your natural curls. What's better? You can easily swap a hair mask into your routine in place of conditioner even if you're in a rush and it won't add any additional time to your already packed schedule. Our favorite mask for naturally curly hair is the L'Oréal Paris Elvive Extraordinary Oil Curls Re-Nourish Mask, which renourishes and redefines curls after just one use. To use, apply the mask onto wet strands post-shampooing with the L'Oréal Paris Elvive Extraordinary Oil Curls Shampoo. Leave it on for three to five minutes (while you do other things, like wash your face or shave your legs), then rinse out completely.
TIP #4: KEEP YOUR SCALP HEALTHY
This goes for all hair types: Your scalp is where your hair comes from, so keeping it clean and healthy is of the utmost importance! You may not realize it, but over time things like excess product, oil, and dead skin cells can accumulate on your scalp. Using a clarifying scalp treatment in your hair care routine can help slough away unwanted buildup and keep your hair follicles happy. To use, apply the scrub onto wet hair before shampooing and gently massage it onto your scalp. Then, simply rinse out and proceed with your shampoo and conditioner as usual.
TIP #5: USE AN OIL-BASED LEAVE-IN TREATMENT
After you hop out of the shower, apply an oil-based hair serum onto the lengths and ends of your curls to seal in moisture. Try the L'Oréal Paris Elvive Smooth Intense Frizz Taming Serum, which will help polish and smooth the hair's surface, blocking out humidity and frizz. Simply apply a dime-sized amount of product onto your lengths and ends and leave it in.
TIP #6: USE A CREAM-BASED HAIR GEL FOR DEFINITION
When you think of hair gel, you probably think of the crunchy, goopy products of decades past. If so, then we have good news for you—today's curly-hair gels, which combine a treatment and styling product into one, won't leave your locks hard or sticky. The L'Oréal Paris EverCurl Sculpt & Hold Cream-Gel, for example, combines the care of a rich hydrating curl cream with the curl-defining power of a styling gel, all without any weigh-down. How cool is that? To use, dispense one to two pumps of product evenly throughout towel-dried hair, then simply let your curls air dry or style as usual.
TIP #7: AVOID HEAT STYLING
Sometimes, heat styling is inevitable—and that's OK, too! In these cases, just be sure to use a heat protectant, such as the L'Oréal Paris Advanced Hairstyle SLEEK IT Iron Straight Heatspray, before picking up your hot tools. And whenever you do need to use a blow-dryer, be sure to use the diffuser attachment that came with it. Not sure what a diffuser is, let alone how to use it? Here's How to Use a Hair Diffuser on Curls.
TIP #8: DON'T BRUSH YOUR HAIR WHEN IT'S WET
Instead of brushing through wet hair, invest in a wide-tooth comb to gently detangle wet strands. Your natural curls are most delicate when wet, so this is not the right time to grab your brush and go to town. Rather, try working in small sections from the bottom of your hair upward, using patience and a comb to detangle gently and slowly.
Editor's note: Detangling curly strands can be a tricky feat. For a full guide on the proper way to do so, check out our article, How to Brush and Detangle Curly Hair.
TIP #9: TURN DOWN THE HEAT IN THE SHOWER
This is another hair care tip that can benefit all hair types, natural curls included: Turning down the water temperature when you shower. Specifically, washing your hair with lukewarm water since hot water (as good as it may feel!) can strip your strands of their natural oils, which can lead to dryness and—you guessed it—damage. All of this can be avoided, however, by simply washing your strands with water that's milder in temperature, rather than scorching hot.
THE BEST HAIRSTYLES FOR NATURALLY CURLY HAIR
Now that you've got the hair care part down, let's talk style! In order to really show off your naturally curly mane, try rocking one of the following haircuts or hairstyles.
NATURALLY CURLY HAIRSTYLE #1: BEACHY WAVES
Is there any hairstyle more popular, chic, and classic than beachy waves? We think not. Fortunately for you curly-haired ladies, achieving effortless-looking waves doesn't take much effort at all. Simply apply a dollop of hair mousse onto damp hair, then scrunch up your ends and let your strands dry on their own. If more structured, loose waves are what you're after, fasten your strands into a braid (or two) when they're damp, then when they're almost fully dry, take out your braid. It's as easy as that!
NATURALLY CURLY HAIRSTYLE #2: FEATHERED LOB
Featured hairstyles are in, and they totally suit curly hair. If you're looking for a new naturally curly haircut that's perfect for medium-length hair and also happens to be seriously on-trend, we recommend the feathered lob.
NATURALLY CURLY HAIRSTYLE #3: TIGHT SPIRALS
Your hair already holds a curl, of course, but this style tightens things up just a bit. After applying a dollop of the L'Oréal Paris Advanced Hairstyle CURVE IT Elastic Curl Mousse onto dry strands from length to ends, grab a small spiral curling iron. Use a claw clip to secure the top layer of your hair out of the way, and start working on the bottom layer in small sections to create tight spiral curls. Once you're done with the underlayer, continue up top until your entire head is full of spirals. After you've worked so hard creating your perfect spirals, you'll also want to spritz on some high-hold hairspray to help ensure that they don't fall. Try the L'Oréal Paris Advanced Hairstyle LOCK IT Weather Control Hairspray, which delivers a lightweight mist to help tame unruly frizz and lock in your spiraled style.
NATURALLY CURLY HAIRSTYLE #4: HALF-UP, HALF-DOWN PONYTAIL OR BUN
One great natural curly hairstyle to help break up the body of your curls is a half-up, half-down look. There are tons of variations on this fun hairstyle, so you can find one for nearly every occasion. For some ideas, head to our article, The Best of Both Worlds: 6 Half-Up Hairstyles to Try.
NATURALLY CURLY HAIRSTYLE #5: FACE-FRAMING LAYERS
We love layered haircuts for curly hair, especially cuts that help show off your face. That's why you can't go wrong with face-framing layers, regardless of your hair length!
Still looking for more curly hair products? Don't worry; we've got no shortage of options! Here are Our Best Curly Hair Products.
{ "@context": "https://schema.org/", "@type": "WebPage", "speakable": { "@type": "SpeakableSpecification", "cssSelector": ["speakable-content"] }, "url": "https://es.lorealparisusa.com/revista-de-belleza/cuidado-capilar/cabello-frizz/naturally-curly-hair" }
Descubrir más trucos y consejos
Ver todos los artículos
Shop Featured Hair Care products
Discover More
{ "@context": "http://schema.org", "@type": "BreadcrumbList", "itemListElement": [ { "@type":"ListItem", "position": 1, "item": { "@id": "/", "name": "Home" } } , { "@type":"ListItem", "position": 2, "item": { "@id": "https://es.lorealparisusa.com/revista-de-belleza", "name": "Revista de belleza" } } , { "@type":"ListItem", "position": 3, "item": { "@id": "https://es.lorealparisusa.com/revista-de-belleza/cuidado-capilar", "name": "Todo sobre el cabello sano" } } , { "@type":"ListItem", "position": 4, "item": { "@id": "https://es.lorealparisusa.com/revista-de-belleza/cuidado-capilar/cabello-frizz", "name": "Cuidado del cabello con frizz" } } , { "@type":"ListItem", "position": 5, "item": { "@id": "https://es.lorealparisusa.com/revista-de-belleza/cuidado-capilar/cabello-frizz/naturally-curly-hair", "name": "naturally-curly-hair" } } ] }