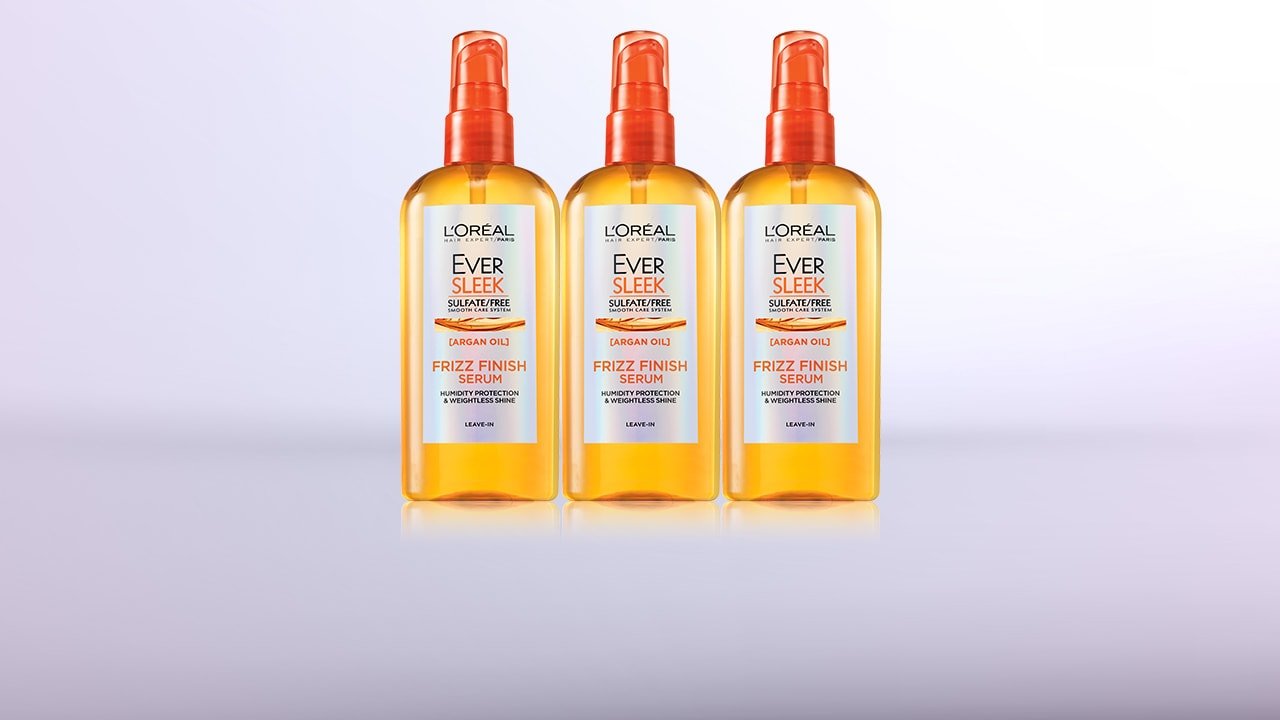 Sometimes, as hard as you may try to tame your frizzy hair, it can feel like an impossible task. We'll let you in on a little secret, though: Frizzy hair is hair that's calling out for moisture! While spritzing on some hair spray or slicking your strands down with hair gel might keep frizz at bay, it won't solve the underlying issue. Instead, you'll need something else—a hair treatment. Keep reading for all the details on our best hair treatment for frizzy hair, plus learn how to add it into your frizzy hair care routine. As another added bonus, we're also sharing our top tips for dealing with frizz in the long-term.
OUR BEST HAIR TREATMENT FOR FRIZZY HAIR
If you have frizzy hair, we're willing to bet that you'd try just about anything to tame it. Does that sound familiar? Allow us to introduce you to our best hair treatment for frizzy hair: The L'Oréal Paris EverSleek Frizz Finish Oil-In Serum. Formulated with argan oil and flower oils, this lightweight oil smooths strands and provides humidity and frizz control. If reading the word oil makes you instantly think of greasy roots, think again: This serum detangles and smooths without leaving any greasy residue behind. Instead, hair is silky, shiny, and touchably soft.
HOW TO USE OUR BEST HAIR TREATMENT FOR FRIZZY HAIR
Ready to try our best hair treatment for frizzy strands? Here's how to add it into your own hair care routine in order to see the best results.
STEP 1: SHAMPOO AND CONDITION
Those who are prone to frizz will want to back up their hair treatment with a shampoo and conditioner system that's formulated specifically to tame frizz and flyaways. Try the L'Oréal Paris EverPure Frizz-Defy Shampoo and the L'Oréal Paris EverPure Frizz-Defy Conditioner. This system is formulated with marula oil to deeply condition frizz-prone hair while also helping to provide long-lasting humidity control. To use, simply lather up the shampoo as usual, focusing the product mainly on your roots. Conversely, when you reach for the conditioner, apply the product mainly to your lengths and ends, avoiding the roots entirely.
STEP 2: TOWEL OFF
Once you hop out of the shower, towel off and allow your hair to dry a bit until it's only slightly damp. If you're running low on time, use a soft T-shirt to dry your strands and speed things along—it's gentler than a regular towel, which can actually cause damage to your hair.
STEP 3: APPLY
Using one to two pumps of the treatment, apply it onto the lengths and ends of your damp strands. Then, comb through with a fine-tooth comb or your fingers to make sure that the product is evenly distributed.
Editor's note: This product can also be applied to dry hair! Simply follow the same protocol: Apply one to two pumps onto the lengths and ends and brush through, then you're good to go.
STEP 4: STYLE AS USUAL
That's it, it's that easy to use our best hair treatment for frizz! Now, you can go about the rest of your hair styling routine as usual. Just remember that if you're going to use hot tools of any kind, spritz on a heat protectant beforehand to prevent damage. Try the L'Oréal Paris Advanced Hairstyle BLOW DRY IT Thermal Smoother Cream, which instantly smooths and protects strands prior to heat styling.
3 HAIR CARE TIPS FOR FRIZZY HAIR
Besides using a hair treatment for frizz, there are a number of things you can do to manage an unruly mane. Try adding the following three frizzy hair tips into your routine.
TIP #1: USE A HAIR MASK REGULARLY
Once a week, or as often as you can, swap out your regular conditioner for a nourishing hair mask that will help replenish hydration to your frizzy strands. Try the L'Oréal Paris EverPure Repair Remedy Balm, which is formulated with acai palm and our exclusive antioxidant complex to deeply repair damaged hair. To use, simply apply on wet strands after shampooing, leave on for three to five minutes, then rinse out.
TIP #2: TURN DOWN THE TEMPERATURE IN THE SHOWER
You've heard us say this one before, but we'll say it again: Washing your hair (and your skin) in hot water can strip it of essential oils and render it dry. When hair becomes dry, it can also become frizzy. Instead of that steamy shower, try bathing in lukewarm temperatures.
TIP #3: TAME FRIZZ IN A PINCH
As hard as you might work to prevent frizz by caring for your locks, there will be days when those flyaways just won't settle. For those occasions, it's good to have a quick trick in your arsenal, and we know just the thing: Spray a bit of hair spray onto a (clean) toothbrush that you don't use, then gently brush the toothbrush over the areas where your frizz is out of control. Rather than spraying hair spray all over, this allows you to target specific problem areas. Need a product rec? Try the L'Oréal Paris Elnett Satin Hairspray Strong Hold—it's a classic.
Next up: Our frizz-fighting advice doesn't stop here. Here are 5 Ways to Help Manage Frizzy Hair.
{ "@context": "https://schema.org/", "@type": "WebPage", "speakable": { "@type": "SpeakableSpecification", "cssSelector": ["speakable-content"] }, "url": "https://es.lorealparisusa.com/revista-de-belleza/cuidado-capilar/cabello-frizz/our-best-hair-mask-and-treatment-for-frizzy-hair" }
Descubrir más trucos y consejos
Ver todos los artículos
Shop Featured Hair Care products
Discover More
{ "@context": "http://schema.org", "@type": "BreadcrumbList", "itemListElement": [ { "@type":"ListItem", "position": 1, "item": { "@id": "/", "name": "Home" } } , { "@type":"ListItem", "position": 2, "item": { "@id": "https://es.lorealparisusa.com/revista-de-belleza", "name": "Revista de belleza" } } , { "@type":"ListItem", "position": 3, "item": { "@id": "https://es.lorealparisusa.com/revista-de-belleza/cuidado-capilar", "name": "Todo sobre el cabello sano" } } , { "@type":"ListItem", "position": 4, "item": { "@id": "https://es.lorealparisusa.com/revista-de-belleza/cuidado-capilar/cabello-frizz", "name": "Cuidado del cabello con frizz" } } , { "@type":"ListItem", "position": 5, "item": { "@id": "https://es.lorealparisusa.com/revista-de-belleza/cuidado-capilar/cabello-frizz/our-best-hair-mask-and-treatment-for-frizzy-hair", "name": "our-best-hair-mask-and-treatment-for-frizzy-hair" } } ] }