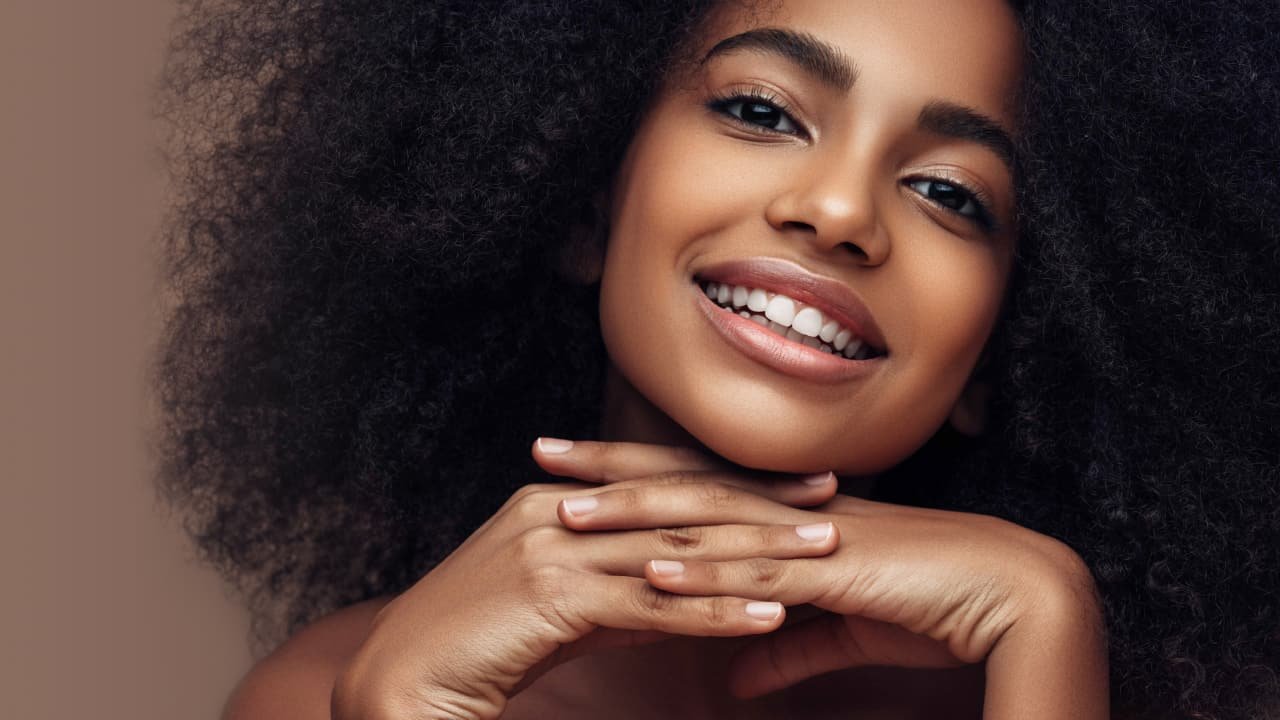 If you have natural hair, Google and YouTube have likely become two of your best tools when it comes to hair care tips, tutorials and product recommendations. Afro-textured hair has its own needs, especially because curly and coily hair can be especially fragile and prone to damage if you're not using the right products, according to the American Academy of Dermatology (AAD). Of course there's so much info out there on how to care for Black hair, so even after so much research you may be left with many questions about caring for your natural hair. We've rounded up some tips that you can always refer to that can bring your endless research to a much-needed halt. Check out these simple, but necessary musts to keep your natural hair healthy.
10 NATURAL HAIR CARE TIPS TO FOLLOW
Forget what you've learned about proper hair care and start fresh—natural hair has its own set of rules. Remember these tips below.
NATURAL HAIR CARE TIP #1: DON'T WASH YOUR HAIR DAILY
While most people with natural hair know that a daily wash day routine is simply out of the question, it can get tricky when you feel like you're dealing with an oily scalp. According to the Cleveland Clinic, your hair texture plays a large role in how often you should wash your hair. Black people tend to have dry hair (especially if you have low porosity or high porosity curls) that can become brittle, leading to breakage, if washed too often. And the Skin of Color Society (SOCS) notes that washing your hair too frequently can strip it of natural moisturizers from the hair, causing that dryness you want to avoid. Instead, as per the SOCS, washing your hair once a week or every other week will suffice in cleansing hair and removing product buildup.
Editor's Tip: If you have an oily scalp try a pre-poo treatment like the L'Oréal Paris EverPure Sulfate-Free Scalp Care + Detox Scrub before your shampoo and conditioner. Formulated with apricot seed and menthol, it helps to remove excess oil and other impurities from the scalp. And when you're between wash days opt for a quick refresher like the L'Oréal Paris Elvive Dream Lengths Air Volume Dry Shampoo which will absorb oil from your roots without leaving white residue on your curls.
NATURAL HAIR CARE TIP #2: OPT FOR CONDITIONER, NOT HAIR GREASE
When you do wash your hair, it's important to always reach for a conditioner post-shampoo. The AAD advises that you should take extra care in coating the ends of the hair with conditioner, as the ends are the oldest and most fragile part of your strands. And when you're ready to style, reach for a leave-in conditioner that's made with your curls in mind. You might have grown up using various types of hair grease, but while those can give hair shine, they don't always hydrate and moisturize your hair. Hair grease can also just make your scalp oily, which can lead to unwanted scalp acne or weighed down roots. We love the L'Oréal Paris Elvive Dream Lengths Super Curls Cream Leave-In to nourish and define curls for heat-free styling.
NATURAL HAIR CARE TIP #3: PROTECT YOUR STRANDS
Being a natural beauty doesn't necessarily mean that you never indulge in a bit of heat-styling. If you plan on styling your hair with heat tools, be sure to spritz your hair with a heat protectant prior as per the SOCS. Give the L'Oréal Paris Advanced Hairstyle SLEEK IT Iron Straight Heatspray a try.
NATURAL HAIR CARE TIP # 4: PROTECT YOUR EDGES
In addition to protecting your hair from heat, you also want to protect your edges from damage. Styling your baby hair is okay, but be gentle when you do, and be careful not to use products that will tear at your hairline when you remove them. If you lay your edges with gels or pomades, wash them out for removal. And avoid hairstyles that put too much tension on your sensitive hair there. The SOCS cites hairstyles such as too tight braids, weaves and ponytails as common culprits of traction alopecia—a form of hair loss caused by pulling on the hair follicle. It can be difficult and expensive to reverse if traction alopecia along your edges becomes severe.
NATURAL HAIR CARE TIP #5: USE RELAXERS WITH CAUTION
Considering relaxed hair? Be sure to do so with caution! The AAD recommends always going to a professional hairstylist to ensure that the relaxer is applied safely and to minimize hair damage. Moreover, touch-ups should only be done every two to three months and only to newly grown hair, per the AAD and SOCS.
The SOCS also recommends spacing out relaxer and permanent hair color applications at least two weeks apart.
NATURAL HAIR CARE TIP #6: COLOR WITH CAUTION
Listen, we all love to experiment with our hair and one of the most exciting ways to do that is to indulge in a new hair color. But not all hair color kits are created equal and they can really wreak havoc on your natural hair if they're not formulated for Afro-textured curls. Make sure if you go with an at-home hair color process you opt for one specifically made with your hair in mind, or made for all hair types and textures, like the L'Oréal Paris Colorista Hair Makeup Temporary 1-Day Hair Color Spray. This temporary hair color washes out after just one shampoo and requires no bleaching or processing. Otherwise, seek out a professional hair colorist who has expertise in your hair type.
Editor's Tip: If you're going to DIY, use the L'Oréal Paris Haircolor Concierge to consult with hair color professionals, get one-on-one tips and check out tutorials on how to color your hair at home.
NATURAL HAIR CARE TIP #7: KEEP HEAT TO A MINIMUM
Even if you really love heat styling your hair, the SOCS recommends only using a ceramic comb or iron once a week. The SOCS also suggests using a device with a temperature dial and putting it on the lowest possible temperature setting that gives you the style you want. Never use an actual iron as a substitute in a pinch—that's a fast track to serious hair damage and possible hair loss.
NATURAL HAIR CARE TIP #8: TRY A HOT OIL TREATMENT
Fragile hair needs TLC, and natural hair is no exception. To show your hair that oh-so-necessary love, the AAD suggests using a hot oil treatment twice a month to add additional moisture and elasticity to your mane. Aside from using a hot oil treatment, using a daily hair serum or oil can make all the difference in your strands—and add extra moisture! Try using the L'Oréal Paris Elvive Extraordinary Oil Treatment, a leave-in hair treatment that hydrates and nourishes to transform hair from being dry and lifeless to soft and lustrous.
NATURAL HAIR CARE TIP #9: BE MINDFUL OF YOUR HAIRSTYLE
Heat tools aren't the only hair styling option that can cause potential damage to your strands if you don't take the proper precautions. As we previously mentioned, certain hairstyles can cause wreckage to your natural curls too. Constant pulling on the hair from high tension hairstyles can cause loosening of the hair from the follicles. So it's important to avoid these styles, and refresh your box braids, cornrows and other protective styles often. Make sure your protective style is actually protecting your hair, not the opposite.
Editor's tip: If you have locs you might be tempted to twist your roots bi-weekly as you wash your hair. If you're not skilled at loc care see a professional loctician to ensure that you're not causing damage to your roots. You don't want to look up one day and have beautiful locs but no edges.
NATURAL HAIR CARE TIP #10: USE A SHAMPOO AND CONDITIONER FOR YOUR HAIR TYPE
Last but certainly not least, you'll want to use a system of shampoo and conditioner that's specifically formulated for your hair type. Reach for a duo of natural hair care products that work together to cleanse and restore natural moisture to dry, dull, or brittle hair without adding weight to your mane. You'll get the best results when you use a complete hair care system, which typically includes a weightless leave-in conditioner that also restores natural moisture and adds strength to your hair.
Photo Credit: Chinyere Erondu/@theconflictedwomanist
Next: 15 Hot Protective Hairstyles for Natural Hair
{ "@context": "https://schema.org/", "@type": "WebPage", "speakable": { "@type": "SpeakableSpecification", "cssSelector": ["speakable-content"] }, "url": "https://es.lorealparisusa.com/revista-de-belleza/cuidado-capilar/cabello-seco/tips-for-natural-hair" }
Descubrir más trucos y consejos
Ver todos los artículos
Shop Featured Hair Style products
Discover More
{ "@context": "http://schema.org", "@type": "BreadcrumbList", "itemListElement": [ { "@type":"ListItem", "position": 1, "item": { "@id": "/", "name": "Home" } } , { "@type":"ListItem", "position": 2, "item": { "@id": "https://es.lorealparisusa.com/revista-de-belleza", "name": "Revista de belleza" } } , { "@type":"ListItem", "position": 3, "item": { "@id": "https://es.lorealparisusa.com/revista-de-belleza/cuidado-capilar", "name": "Todo sobre el cabello sano" } } , { "@type":"ListItem", "position": 4, "item": { "@id": "https://es.lorealparisusa.com/revista-de-belleza/cuidado-capilar/cabello-seco", "name": "Cuidado del cabello seco" } } , { "@type":"ListItem", "position": 5, "item": { "@id": "https://es.lorealparisusa.com/revista-de-belleza/cuidado-capilar/cabello-seco/tips-for-natural-hair", "name": "tips-for-natural-hair" } } ] }