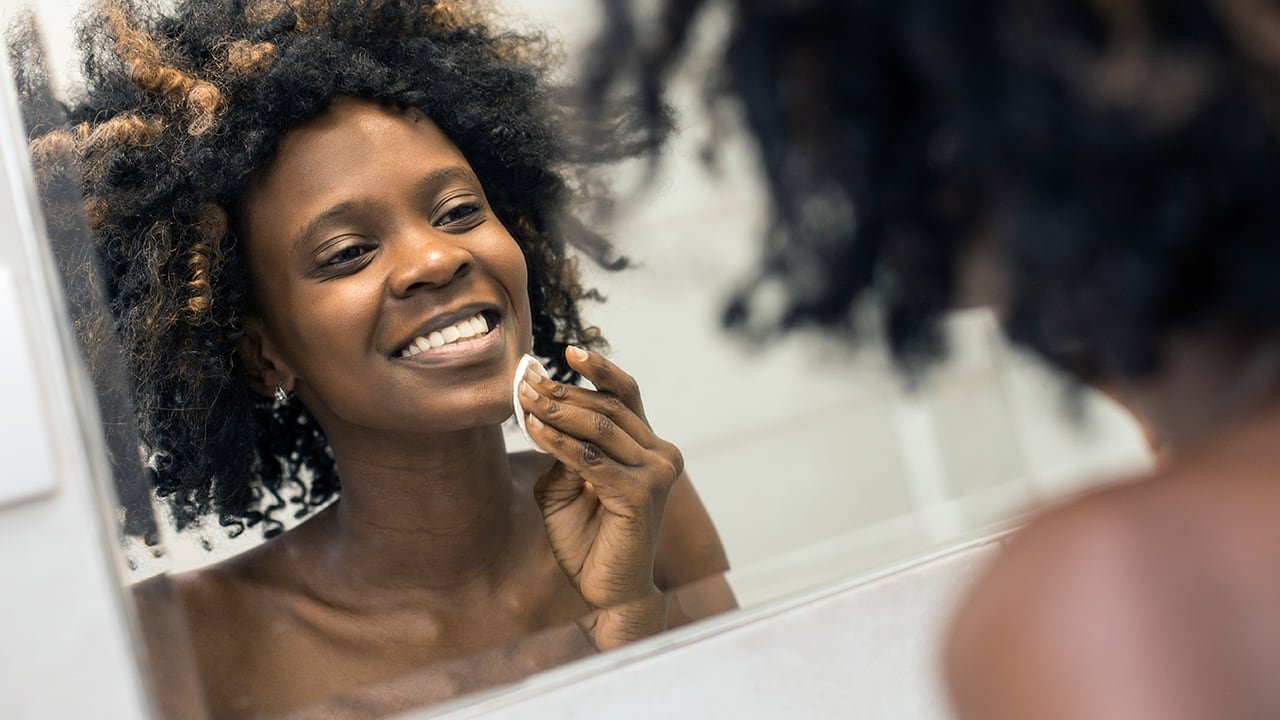 When it comes to exfoliating, mechanical exfoliators such as body and face scrubs are likely the first thing that comes to mind. What you may not realize is that there is more than one way to exfoliate. A liquid exfoliator is another option available to you—and they're just starting to get the attention they deserve. When we talk about liquid exfoliants, we're referring to toners and even serums that contain a chemical exfoliant. Keep reading to find out why you should consider using a chemical exfoliator and how to add one to your skin care routine.
WHY YOU SHOULD USE A LIQUID EXFOLIATOR
According to the American Academy of Dermatology (AAD), chemical exfoliation uses chemicals, such as alpha- and beta- hydroxy acids, to gently dissolve dead skin cells. The AAD recommends those with sensitive, dry, or acne-prone skin use a mild chemical exfoliator as opposed to a mechanical one, which could irritate those skin types. In addition to cleansers and moisturizers formulated with chemical exfoliants, you can use a liquid exfoliator to experience the benefits of chemical exfoliation. So, if you have one of the previously mentioned skin types or your skin simply can't handle mechanical exfoliation, a liquid exfoliant could be an ideal option for you.
HOW TO USE A LIQUID EXFOLIATOR
Now that you know what exactly a liquid exfoliator is, as well as why you might want to add one to your own skin care routine, it's time to break down how to use one. Read below for our step-by-step guide on how to use a liquid exfoliator.
STEP #1: CLEANSE
As with any skin care regimen, you want to start by cleansing your skin to remove any impurities and buildup from your daily endeavors. Take your pick from the L'Oréal Paris Pure-Clay line, which includes two facial cleansers that are formulated for different skin types.
STEP #2: EXFOLIATE
It's time to get down to business. This is where you put your chemical exfoliator into action. Simply saturate a cotton pad with the liquid exfoliator before smoothing it over cleansed skin once per day.
STEP #3: MOISTURIZE
After putting chemical exfoliators to use, moisturizing is a must. You can help replenish hydration by using a hyaluronic acid serum, like our L'Oréal Paris Revitalift Derm Intensives 1.9% Pure Hyaluronic Acid 7 Replumping Ampoules. Each ampoule contains 1.9% pure hyaluronic acid to visibly smooth and instantly hydrate your skin. Crack open the top of the ampoule and smooth half over your face, neck, and décolleté. Use the top as a plug to save the rest for a second use.
STEP #4: LOCK IN HYDRATION
To further hydrate your skin, you'll need to smooth on a moisturizer. Choose from one of the three L'Oréal Paris Hydra Genius moisturizers below, making your selection based on your skin type.
L'Oréal Paris Hydra Genius Daily Liquid Care - Normal/Oily Skin: Formulated for those with oily skin, this water-based moisturizer contains aloe vera water and hyaluronic acid. The moisturizer will give your skin intense and continuous hydration while leaving you with mattified, fresh, and healthy-looking skin.
L'Oréal Paris Hydra Genius Daily Liquid Care - Normal/Dry Skin: Formulated for those with dry skin, this moisturizer will give your skin instant, lightweight hydration. The moisturizer quenches dry skin, leaving it glowing, fresh, and radiant.
L'Oréal Paris Hydra Genius Daily Liquid Care - Extra Dry Skin: For those with extra dry skin, this moisturizer is ideal. The water-based formula breaks into water upon contact with your skin to deliver instant hydration that glides on easily. It also provides your skin with intense and continuous hydration, leaving it comfortable, fresh, and healthy-looking.
STEP #5: PROTECT
You should be wearing SPF every day, but this essential skin care step becomes especially important when you incorporate chemical exfoliators into your skin care routine, as they can increase sun sensitivity. So, before moving on to your makeup routine, be sure to apply a broad-spectrum sunscreen that meets the FDA's recommendations and has an SPF value of 15 or higher.
OUR BEST LIQUID EXFOLIATORS
If you're ready to add a liquid exfoliator to your skin care routine, below, find three of our best liquid exfoliator options for you.
L'Oréal Paris Revitalift Derm Intensives 10% Pure Glycolic Acid Serum: This daily serum is formulated with 10% pure glycolic acid and aloe, resulting in a soothing liquid exfoliant formula. Immediately, the serum will leave your skin feeling smoother and visibly refined. In one week, skin is resurfaced and younger-looking. Over time, skin tone is more visibly even, and dark spots and wrinkles are visibly reduced.
L'Oréal Paris HydraFresh Toner: With its gentle, non-drying formula, this toner refreshes and softens skin in a splash, revealing a smoother, brighter complexion and leaving skin smooth and supple. Formulated with pro-vitamin B5 and beta-hydroxy acid, it helps protect against moisture loss and gently sweeps away dull, tired skin. Even better, the formula is dermatologist-tested for gentleness.
L'Oréal Paris Revitalift Bright Reveal Brightening Daily Peel Pads: If you prefer a pre-soaked option—with no risk of spillage—this is for you. These daily peel pads are formulated with glycolic acid (a popular AHA) to gently yet effectively exfoliate dead skin cells and help renew the skin's surface layer. Not only will these peel pads help resurface uneven tone and rough texture, but they also reduce the appearance of wrinkles over time. Simply swipe one over cleansed skin every night.
Next up: If you're ready to learn about another skin care product currently gaining popularity, click through to read all about skin essences in our article, What Are Essences?
{ "@context": "https://schema.org/", "@type": "WebPage", "speakable": { "@type": "SpeakableSpecification", "cssSelector": ["speakable-content"] }, "url": "https://es.lorealparisusa.com/revista-de-belleza/cuidado-piel/fundamentos-del-cuidado-de-la-piel/how-to-use-liquid-exfoliator" }
Descubrir más trucos y consejos
Ver todos los artículos
Shop Featured Skin Care products
Discover More
{ "@context": "http://schema.org", "@type": "BreadcrumbList", "itemListElement": [ { "@type":"ListItem", "position": 1, "item": { "@id": "/", "name": "Home" } } , { "@type":"ListItem", "position": 2, "item": { "@id": "https://es.lorealparisusa.com/revista-de-belleza", "name": "Revista de belleza" } } , { "@type":"ListItem", "position": 3, "item": { "@id": "https://es.lorealparisusa.com/revista-de-belleza/cuidado-piel", "name": "Tratamiento de la piel para todas las edades" } } , { "@type":"ListItem", "position": 4, "item": { "@id": "https://es.lorealparisusa.com/revista-de-belleza/cuidado-piel/fundamentos-del-cuidado-de-la-piel", "name": "Esenciales del cuidado de la piel" } } , { "@type":"ListItem", "position": 5, "item": { "@id": "https://es.lorealparisusa.com/revista-de-belleza/cuidado-piel/fundamentos-del-cuidado-de-la-piel/how-to-use-liquid-exfoliator", "name": "how-to-use-liquid-exfoliator" } } ] }