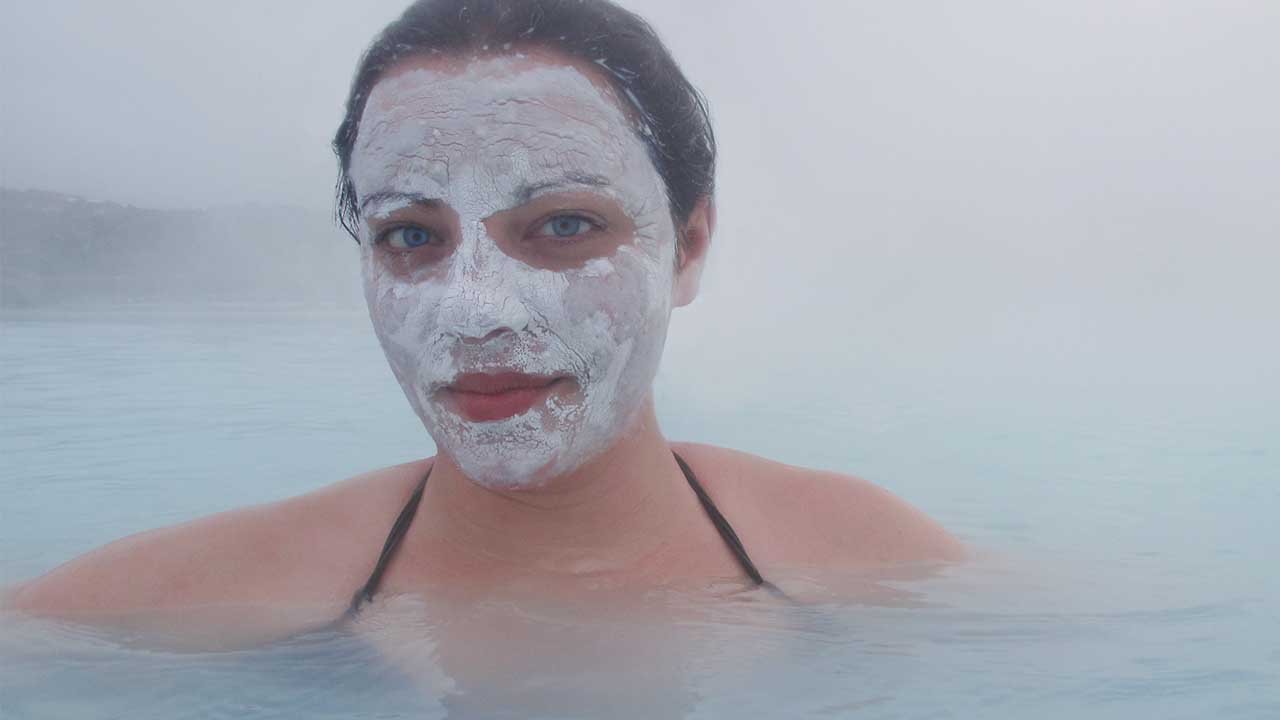 You're probably familiar with K-beauty, or Korean beauty, and maybe you've even heard of J-beauty, which hails from Japan, but there's another country that's taking over the beauty and skin care scene: Iceland. With frigid weather conditions year-round, women in Iceland have a long history of utilizing their country's natural resources to help keep their skin hydrated and youthful-looking. Some of Iceland's precious eco treasures include mineral-rich waters, which attract tourists from around the globe, berries chock full of antioxidants, and organic seaweed. The goal of all Icelandic skin care is simple: to keep skin moisturized and prevent signs of aging, such as fine lines and wrinkles. Here, we break down six Icelandic skin care trends, including tips and product recommendations for adding some of this country's beauty secrets into your own skin care routine.
Icelandic Skin Care Trend #1: Utilizing—and protecting against—the elements
With pristine and unspoiled natural resources, the women of Iceland understand that environment is everything when it comes to skin care. In addition to sourcing ingredients from the environment, they also take notice of environmental factors—like free radicals and air pollutants—that can negatively impact your skin. That's why it's crucial to protect your skin barrier against environmental stressors, including pollution and UV rays, with topical antioxidant-infused skin care products.
Icelandic Skin Care Trend #2: Seaweed-Infused Products
Wherever you look in Icelandic beauty, it all comes back to nature. One of the most potent ingredients used in Icelandic skin care products is seaweed or algae in some of its many forms. Red algae extract in particular has been proposed to help provide skin with antioxidant protection. As we mentioned above, when your skin is exposed to free radicals and everyday air pollution, it causes oxidation, which can lead to premature aging and skin damage. To add red algae into your skin care routine, use the L'Oréal Paris Pure-Clay Exfoliate & Refine Cleanser for daily cleansing and the L'Oréal Paris Pure-Clay Exfoliate & Refining Face Mask as a special treat two to three times per week.
Icelandic Skin Care Trend #3: Products formulated with vitamin c
Another antioxidant often found in Icelandic skin care products and routines is one you may already be familiar with: vitamin C. With the ability to reduce hyperpigmentation, improve clarity, and restore skin texture and tone, it's no wonder that women in Iceland love incorporating vitamin C into their beauty routines. One potent way to receive the beautifying benefits of vitamin C is by using a facial serum, like the L'Oréal Paris Revitalit Derm Intensives 10% Pure Vitamin C Serum. This serum should be applied to clean skin every morning and night, layered underneath your facial moisturizer.
Icelandic Skin Care Trend #4: Minimizing sun exposure
Another reason Icelandic women often boast such healthy, youthful-looking skin is that they don't have to face as much UV exposure as most other countries. That's because, for half of the year, Iceland only receives a few hours of sunlight a day! When it comes to protecting your skin and maintaining a youthful glow, this really works to the advantage of Icelandic women since the sun's UV rays can cause harm to your complexion and induce signs of premature aging, such as fine lines and wrinkles, hyperpigmentation, and dark spots.
While you can't change how much sunlight the country you call home receives, you can do your best to minimize your exposure. In addition to trying to stay out of the sun for extended periods of time and avoiding direct sunlight, protect your complexion with a facial moisturizer that's formulated with SPF, like the L'Oréal Paris Revitalift Bright Reveal Brightening Day Moisturizer SPF 30 or the L'Oréal Paris Revitalift Anti Wrinkle Firming Day Cream SPF 25.
One last sunlight-centric tip: It's crucial to apply SPF on cloudy days too because even though the sun may not be fully shining, UV rays can still reach—and harm—your skin.
Icelandic Skin Care Trend #5: Skin with a rosy glow
Is it just from the cold weather? No—that Scandinavian rosy glow reflects the overall health of skin. A healthy outer glow is largely related to moisture. With brutally cold winters, Iceland gets its fair share of dry, winter air. To combat its effects, women in Iceland know that a good facial moisturizer is key. Mature skin in particular tends to lose its natural rosy hue, but you can get a naturally fresh-faced appearance with a little help from the L'Oréal Paris Age Perfect Cell Renewal Rosy Tone Moisturizer.
Icelandic Skin Care Trend #6: beauty sleep
End your day with a nourishing overnight mask and you'll wake up feeling revived with a dewy complexion. Before getting into bed, apply the L'Oréal Paris Revitalift Triple Power Intensive Overnight Mask as the last step in your nightly skin care routine. The formula, which contains botanical extract centella asiatica, penetrates skin quickly and helps improve skin's firmness and visibly fight the look of aging skin.
Another important beauty rule: In order to look your best, you've got to actually get enough sleep! Everyone is different but aim for at least eight hours every single night.
Interested in learning more about other beauty and skin care trends from around the world? Next, educate yourself on 4 German Skin Care Trends that are starting to go global.
{ "@context": "https://schema.org/", "@type": "WebPage", "speakable": { "@type": "SpeakableSpecification", "cssSelector": ["speakable-content"] }, "url": "https://es.lorealparisusa.com/revista-de-belleza/cuidado-piel/fundamentos-del-cuidado-de-la-piel/icelandic-skin-care-trends" }
Descubrir más trucos y consejos
Ver todos los artículos
Shop Featured Skin Care products
Discover More
{ "@context": "http://schema.org", "@type": "BreadcrumbList", "itemListElement": [ { "@type":"ListItem", "position": 1, "item": { "@id": "/", "name": "Home" } } , { "@type":"ListItem", "position": 2, "item": { "@id": "https://es.lorealparisusa.com/revista-de-belleza", "name": "Revista de belleza" } } , { "@type":"ListItem", "position": 3, "item": { "@id": "https://es.lorealparisusa.com/revista-de-belleza/cuidado-piel", "name": "Tratamiento de la piel para todas las edades" } } , { "@type":"ListItem", "position": 4, "item": { "@id": "https://es.lorealparisusa.com/revista-de-belleza/cuidado-piel/fundamentos-del-cuidado-de-la-piel", "name": "Esenciales del cuidado de la piel" } } , { "@type":"ListItem", "position": 5, "item": { "@id": "https://es.lorealparisusa.com/revista-de-belleza/cuidado-piel/fundamentos-del-cuidado-de-la-piel/icelandic-skin-care-trends", "name": "icelandic-skin-care-trends" } } ] }