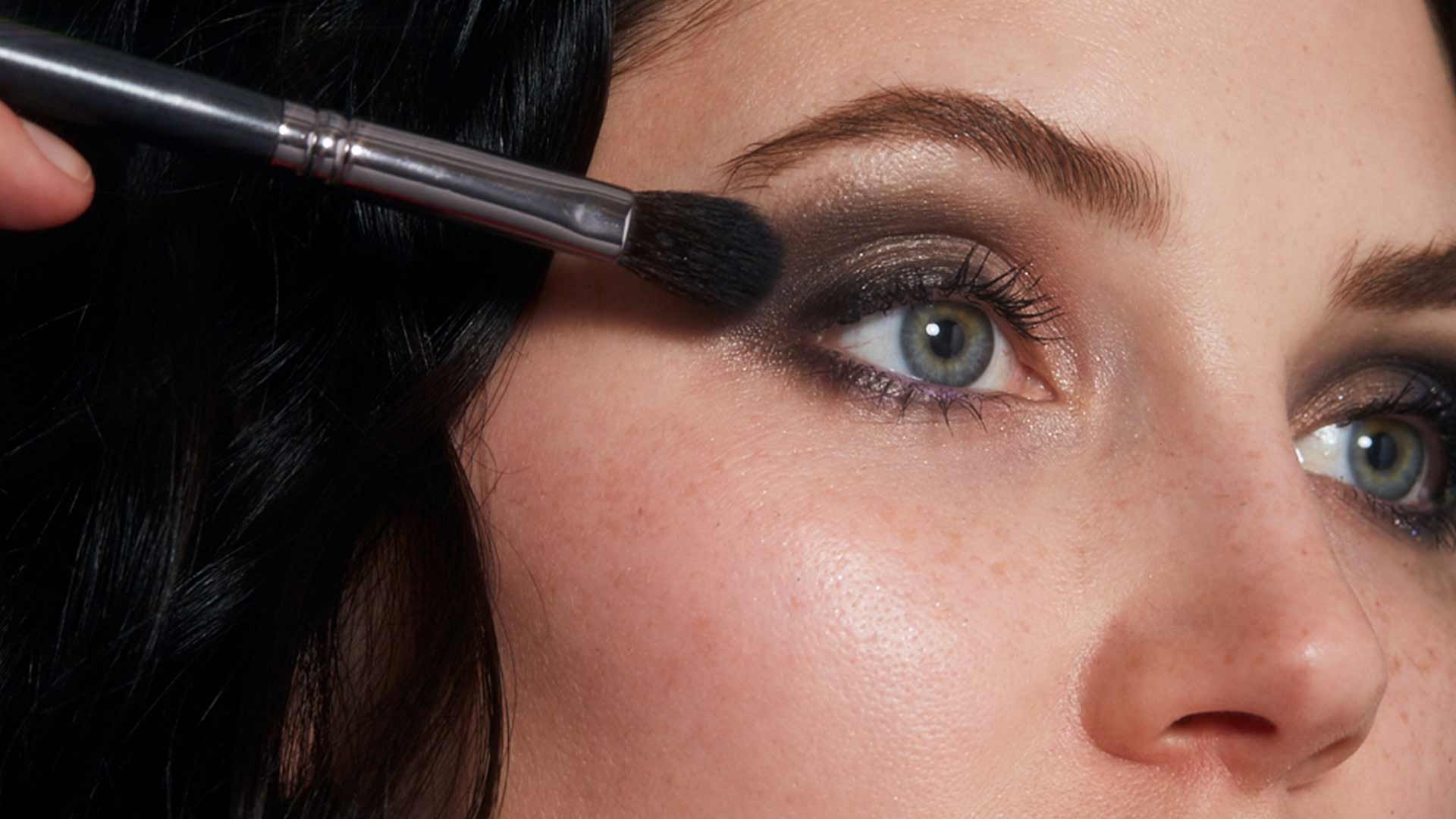 There's no denying that a black smokey eye will always be a classic go-to makeup staple. After all, black is a statement neutral color that undoubtedly flatters all skin tones and undertones. But it can feel intimidating to work with when we're talking about eye makeup because, well, mistakes happen. So we're sharing a 10-step tutorial on how to master this classic eyeshadow look so you can rock it confidently at any occasion.
Step #1. Prime Your Eyes
Starting with an eyeshadow primer is a smart idea for any eyeshadow look, but especially when you're working with a hue as bold as black. Eyeshadow primer will help keep your black eyeshadow from smudging, fading, creasing and transferring.
Step #2. Apply Your Base
In order to create an even canvas for your eyeshadow look, you'll want to start with a nude eyeshadow base. Use a flat eyeshadow brush to pack a L'Oréal Paris Colour Riche Monos Eyeshadow onto your lids. We recommend choosing a shade that's close to your skin tone to make for easier blending later on. Doing this not only sets the eyeshadow primer you applied previously into place, but it creates a base layer for the eyeshadow look which will ultimately help the rest of your shadows blend together harmoniously.
Step #3. Use a Transition Shade
Applying a transition eyeshadow shade is an important step when creating a black smokey eye. Pick a shade that's just a bit deeper than the shadow you applied as your base. This will help eliminate any harsh contrast between your nude lid and black crease, creating a more seamless finish. Use a fluffy eyeshadow brush and, with a back and forth windshield wiper motion, apply the shadow just above your crease.
Step #4. Define Your Crease
Don't reach for your black eyeshadow just yet—instead, grab a charcoal shade. This dark gray color will help further transition your nude lid to a black crease, avoiding super harsh edges in your look. As you've probably noticed, the key to creating a sophisticated smokey eye is to ensure that it appears blended and contains depth and dimension, which is why we suggest using multiple transition colors before going in with the black shadow. Take just a bit of the L'Oréal Paris Colour Riche Monos Eyeshadow in Meet Me in Paris onto a small fluffy brush and work it back and forth onto your crease.
Step #5. Add More Definition
Alright, it's time for the focal point of the look—the black eyeshadow. Use a crease brush to lightly pick up the L'Oréal Paris Colour Riche Monos Eyeshadow in Noir Cest Noir. Apply it to the outer corners of your eyes to deepen your look and bring your black smokey eye to life.
Step #6. Smudge Your Lower Lash Line
A great black smokey eye is more than just eyeshadow on your upper eyelids—you'll also need to bring your shadow along your lower lash line for an all-around smoked out appearance. This step is key to achieving a balanced look. First, take a small eyeshadow brush and apply your charcoal shade. Then, take things a step further by applying your black eyeshadow to the outer two-thirds of your lower lash line.
Step #7. Touch Up Where Needed
Working with dark colors leaves a lot of room for mistakes—don't sweat it, they're bound to happen. Fortunately, a bit of micellar water and a cotton swab can wipe away any mishaps or eyeshadow fallout that may have occurred while creating the look. Use the L'Oréal Paris Micellar Cleansing Water Complete Cleanser Waterproof - All Skin Types for spots that need touching up.
Step #8. Highlight Your Inner Corner
Now that the smokey portion of the look is perfected, brighten things up a bit by highlighting the inner corners of your eyes. This is an important step when creating dark eyeshadow looks because dark looks have the potential to make the eyes look a bit small and closed off. Adding a light shadow to the inner corners can help your eyes appear more open and vibrant. You can do this by popping the L'Oréal Paris Brilliant Eyes Shimmer Liquid Eye Shadow Makeup in String of Pearls right near your tear ducts.
Step #9. Line Your Eyes
You're almost there! Using a black liquid eyeliner, like the L'Oréal Paris Matte Signature Liquid Dip Eyeliner, Waterproof in Black, line your upper lash line to ground the look and give your eye shape even more definition. When it comes to adding eyeliner to a deep eyeshadow look, we suggest sticking with liquid liner because it tends to pack the most punch in terms of pigment. Then, line your lower waterline with the L'Oréal Paris Infallible Pro-Last Waterproof, Up to 24HR Pencil Eyeliner in Black to further define your lower lash line.
Step #10. Layer On Mascara
One last step: mascara! Apply a few coats of the L'Oréal Paris Air Volume Mega Mascara, Lightweight Mega Volume Washable in Blackest Black for voluminous, lengthened lashes that will perfectly finish off the black smokey eye of your dreams.
Photo Credit: Chaunte Vaughn
{ "@context": "https://schema.org/", "@type": "WebPage", "speakable": { "@type": "SpeakableSpecification", "cssSelector": ["speakable-content"] }, "url": "https://es.lorealparisusa.com/revista-de-belleza/maquillaje/maquillaje-ojos/black-smokey-eye-tutorial" }
Descubrir más trucos y consejos
Ver todos los artículos
Shop Featured products
Discover More
{ "@context": "http://schema.org", "@type": "BreadcrumbList", "itemListElement": [ { "@type":"ListItem", "position": 1, "item": { "@id": "/", "name": "Home" } } , { "@type":"ListItem", "position": 2, "item": { "@id": "https://es.lorealparisusa.com/revista-de-belleza", "name": "Revista de belleza" } } , { "@type":"ListItem", "position": 3, "item": { "@id": "https://es.lorealparisusa.com/revista-de-belleza/maquillaje", "name": "Consejos de maquillaje para cada look" } } , { "@type":"ListItem", "position": 4, "item": { "@id": "https://es.lorealparisusa.com/revista-de-belleza/maquillaje/maquillaje-ojos", "name": "Maquillaje de ojos" } } , { "@type":"ListItem", "position": 5, "item": { "@id": "https://es.lorealparisusa.com/revista-de-belleza/maquillaje/maquillaje-ojos/black-smokey-eye-tutorial", "name": "black-smokey-eye-tutorial" } } ] }