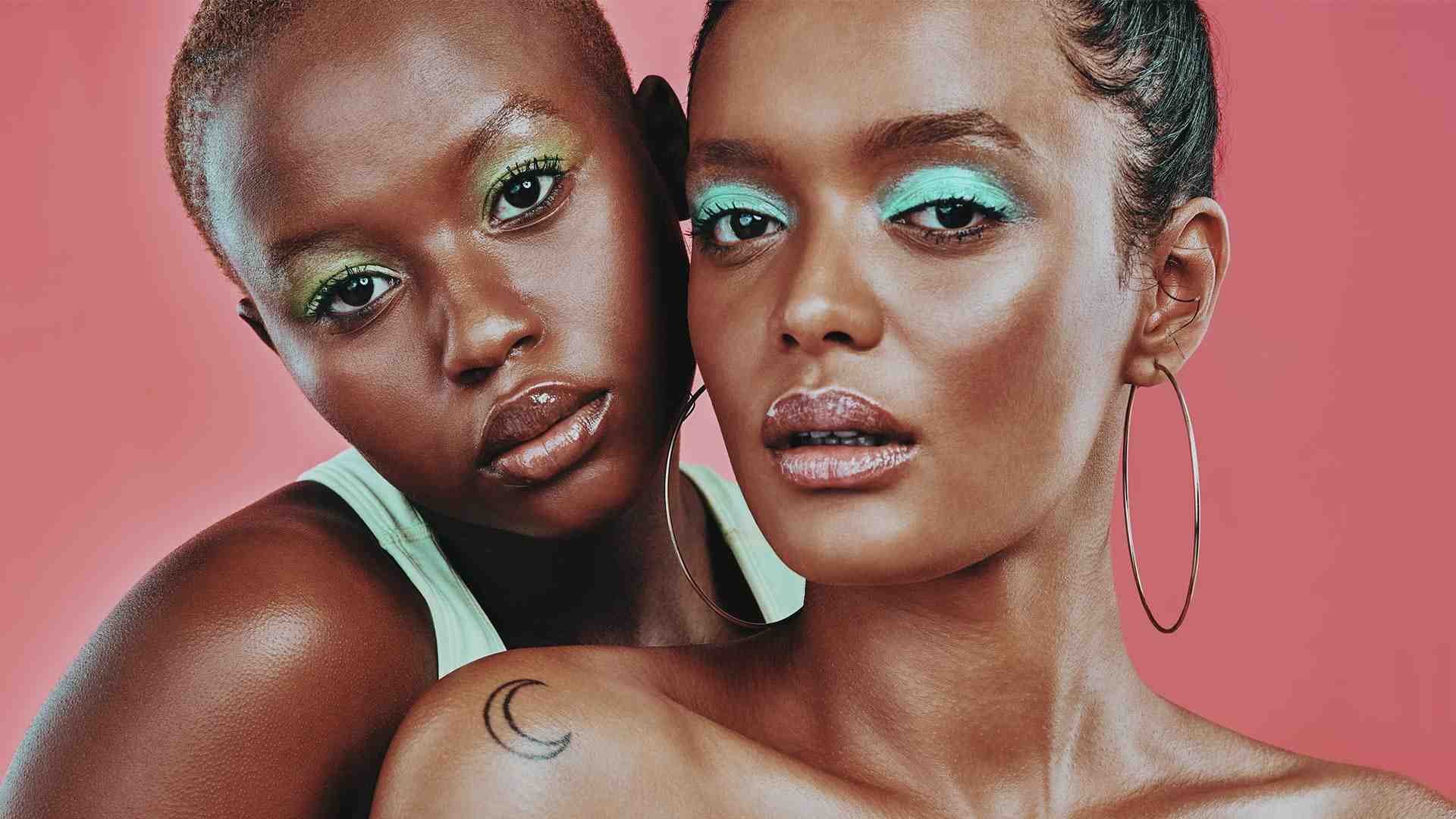 Wanting to wear bright makeup is one thing, but knowing how to wear it is another story. Most of us are used to quickly brushing on neutral eyeshadows and swiping black eyeliner along our lash lines—it might even be second nature at this point—but adding fun eye makeup shades into the mix changes things. Of course, we wouldn't want that to scare you away from wearing bright eyeshadow. It really isn't so different from using the everyday colors you've come to love. With just a few tips, anyone can apply—and pull off—a bright eye makeup look. Find all of our best tips, below.
BRIGHT EYE MAKEUP TIP #1: WEAR A SINGLE SHADE
Blending various shades of eyeshadow together can no doubt be beautiful, but when you're working with neon or bright colors, it isn't necessary. One is enough! Using a single bright shade is not only a major makeup trend, but it's easier than messing with multiple hues. Simply apply a bright eyeshadow of your choosing, like the L'Oréal Paris Brilliant Eyes Shimmer Liquid Eye Shadow Makeup in Radiant Ruby, to your lids, then use a clean brush to soften any harsh lines.
BRIGHT EYE MAKEUP TIP #2: SMUDGE SHADOW ALONG YOUR LOWER LASHES
When it comes to wearing bright eyeshadows, you aren't limited to a wash of color on your eyelids. For a pop of unexpected color, keep your upper lash line bare and bring the brightness downward, placing the shadow along your lower lash line instead. Using a small eye brush (or, in a pinch, a cotton swab), smudge a colorful eyeshadow (we love the L'Oréal Paris Infallible 24 HR Eye Shadow in Endless Sea and Eternal Sunshine, to give you a few options) against your lashes.
BRIGHT EYE MAKEUP TIP #3: FIGHT FALLOUT
Unless you want hot pink or neon green eyeshadow sprinkled over your entire under-eye area (not a super-flattering makeup look), you'd be advised to try and steer clear of eyeshadow fallout. While it isn't always totally avoidable, there are a few steps you can take to help. The most important rule in fending off fallout is to tap excess eyeshadow off your brushes before using them; that way, there's less "dust" to fall under your eyes.
You can also save your face makeup for last, which allows you to use the L'Oréal Paris Micellar Cleansing Water Complete Cleanser Waterproof - All Skin Types to wipe away anything that's fallen without ruining your concealer. Or, if you prefer to do foundation and concealer first, apply a thick layer of the L'Oréal Paris Infallible Pro Sweep & Lock Loose Setting Face Powder under your eyes before applying any eyeshadow. Once you're finished with your eyeshadow, you can simply take a makeup brush and sweep away the setting powder, removing fallout at the same time.
BRIGHT EYE MAKEUP TIP #4: CREATE A NEON CAT EYE
Let's not forget, eyeliner comes in bright colors, too. In fact, using a neon or bright eyeliner is one of the best ways to update your classic cat eye. Keep your eyeshadow simple—or don't wear any at all—and apply your eyeliner just as you normally would, adding a wing at the end. The only difference is you'll be using a bold shade instead of your basic black.
If you're partial to pencils, try the L'Oréal Paris Le Liner Signature Easy-Glide Mechanical Eyeliner, Waterproof in Violet Wool or L'Oréal Paris Infallible Pro-Last Waterproof, Up to 24HR Pencil Eyeliner in Cobalt Blue. If you'd prefer a liquid option, try the L'Oréal Paris Matte Signature Liquid Dip Eyeliner, Waterproof in Blue.
Editor's tip: For a refresher on how exactly to wing out your eyeliner, check out our article, Wing It: Learn How To Do Cat Eye Makeup With Our 7 Expert Tips.
BRIGHT EYE MAKEUP TIP #5: ALWAYS PRIME YOUR EYES
Of course, you'll want your bright eyeshadow look to last. Beyond that, you'll also want your eye makeup to be as vibrant as it can be. Both of those facts should lead you to the same place—that you're in need of an eye primer. Rather than using a sheer or flesh-toned one, try a white primer. Your makeup will stay put; plus, when you use a white base, your neon eyeshadows or eyeliners will stand out even more.
BRIGHT EYE MAKEUP TIP #6: WET YOUR BRUSH
If you're looking for a way to add some vibrancy to powder eyeshadows, all you need to do is get your makeup brush damp before dipping it into the eyeshadow. Voila, you'll get a bold, foiled effect when you apply the shadow.
BRIGHT EYE MAKEUP TIP #7: PAIR WITH DRAMATIC LASHES
No matter what colors are coating your lids, full lashes are always a win. To get more voluminous-looking lashes, tightline your eyes with a black eyeliner and then follow with a dramatic mascara, like the L'Oréal Paris Air Volume Mega Mascara, Lightweight Mega Volume Washable.
BRIGHT EYE MAKEUP TIP #8: KEEP THE REST OF YOUR LOOK NEUTRAL
When you sport show-stopping eyeshadow or eye-catching eyeliner, you won't want your face makeup or lip color to steal the show. Since not every aspect of your makeup look needs to be bright, keep everything but your eyes neutral. That means wearing a sheer blush and a nude lipstick, like the L'Oréal Paris Rouge Signature Matte Lip Stain in I Empower.
Next up: If you're wondering what to do with your hair color and like the idea of being matchy-matchy, find out How To Get Kaleidoscope Hair.
{ "@context": "https://schema.org/", "@type": "WebPage", "speakable": { "@type": "SpeakableSpecification", "cssSelector": ["speakable-content"] }, "url": "https://es.lorealparisusa.com/revista-de-belleza/maquillaje/maquillaje-ojos/how-to-apply-bright-eye-makeup" }
Descubrir más trucos y consejos
Ver todos los artículos
Shop Featured Skin Care products
Discover More
{ "@context": "http://schema.org", "@type": "BreadcrumbList", "itemListElement": [ { "@type":"ListItem", "position": 1, "item": { "@id": "/", "name": "Home" } } , { "@type":"ListItem", "position": 2, "item": { "@id": "https://es.lorealparisusa.com/revista-de-belleza", "name": "Revista de belleza" } } , { "@type":"ListItem", "position": 3, "item": { "@id": "https://es.lorealparisusa.com/revista-de-belleza/maquillaje", "name": "Consejos de maquillaje para cada look" } } , { "@type":"ListItem", "position": 4, "item": { "@id": "https://es.lorealparisusa.com/revista-de-belleza/maquillaje/maquillaje-ojos", "name": "Maquillaje de ojos" } } , { "@type":"ListItem", "position": 5, "item": { "@id": "https://es.lorealparisusa.com/revista-de-belleza/maquillaje/maquillaje-ojos/how-to-apply-bright-eye-makeup", "name": "how-to-apply-bright-eye-makeup" } } ] }