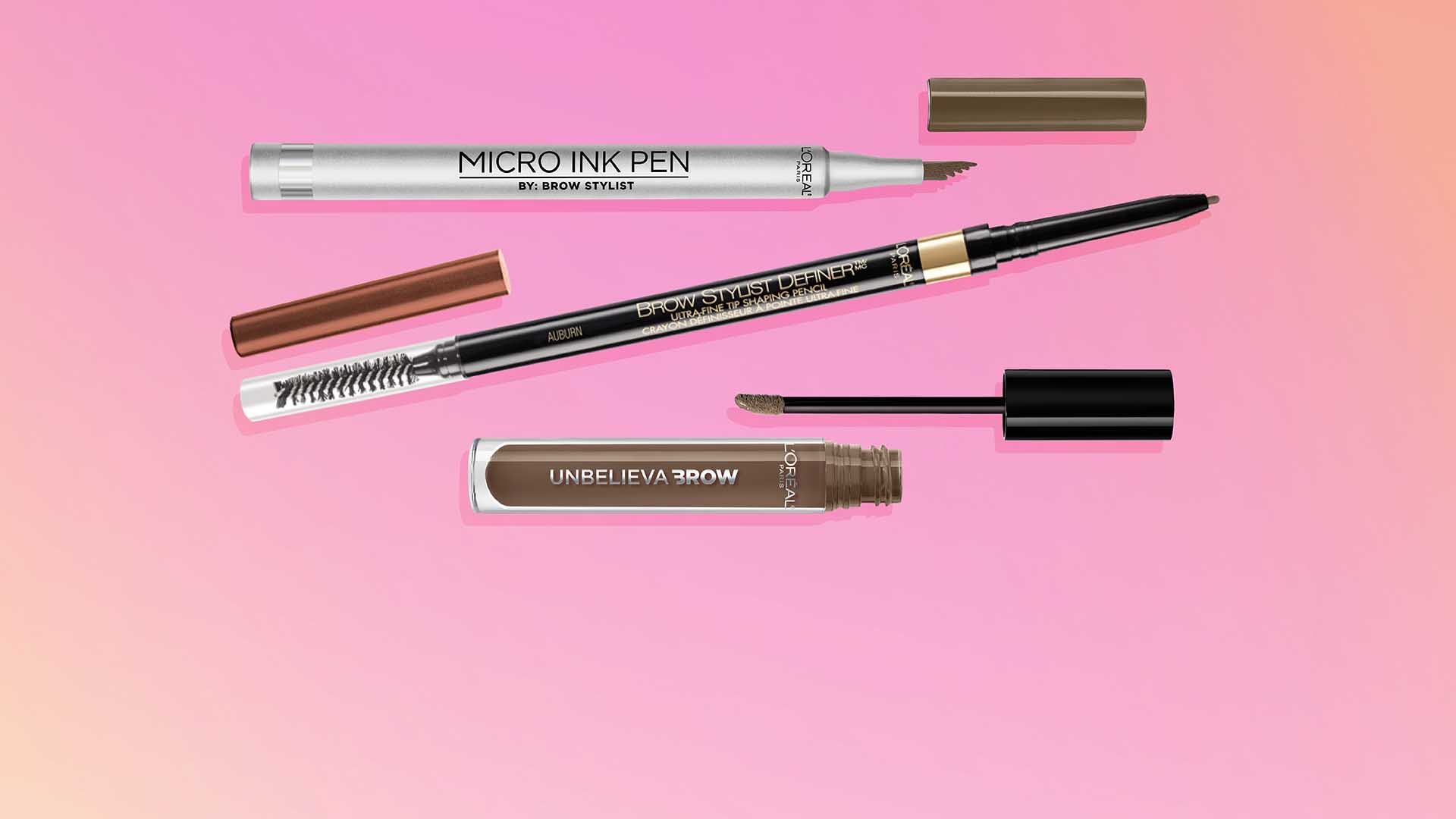 Eyebrows always seem to draw a host of controversy and strong opinions as trending styles vary greatly from decade to decade. The nineties brought pencil-thin brows with steep shaped arches, while modern day has many of us dying to achieve a fuller, more fluffy look. Despite what the current trend may be, the truth is that the style of one's eyebrows and the eyebrow makeup that works for them is highly individualized. Instead of working your way through a host of different products until you find your perfect match, we're sharing exactly which of our eyebrow products is right for you. Below, learn how to put your best eyebrows forward with your makeup match.
OUR BEST EYEBROW MAKEUP FOR BEGINNERS
Learning to fill in your eyebrows can be intimidating, but half the battle is picking the best eyebrow product. When it comes to achieving your best eyebrow look, makeup beginners should keep it simple, opting for a classic eyebrow mascara that offers a natural look. The L'Oréal Paris Brow Stylist Boost & Set Mascara has a gel-mousse formula that glides smoothly onto the hairs to boost the appearance of eyebrow volume and set your eyebrows in place. You can control how much you use, making this the perfect pick for eyebrow makeup newbies.
OUR BEST EYEBROW MAKEUP FOR AFICIONADOS
If you consider yourself to be a makeup pro, then it's time to get acquainted with a triangular tip eyebrow pencil. A triangle tip allows an eyebrow pencil to be used in multiple ways, making it the best eyebrow makeup choice for professionals in the beauty biz. The L'Oréal Paris Brow Stylist Shape & Fill Pencil precisely outlines, easily shades, and evenly fills in eyebrows. Plus, it has a styling spoolie for blending. Start with clean, brushed eyebrows, then outline the edges of your arches for precise lines. Fill in with the flat side of the pencil for even coverage, then define the tail of your eyebrows using the tip.
OUR BEST EYEBROW MAKEUP FOR SPARSE EYEBROWS
The more sparse your eyebrows are, the more effort they may require to look finished. Leave wide-tip crayons and pencils behind and reach for a pencil with a fine tip like the L'Oréal Paris Brow Stylist Definer Waterproof Eyebrow Mechanical Pencil. The precise point will allow you to create more realistic looking hair-like strokes for eyebrows that don't look drawn on. Use the pencil to outline your eyebrow shape, then fill in the gaps with light feathered strokes. Comb up following your arch shape with the soft blending brush for a more defined look.
OUR BEST EYEBROW MAKEUP FOR SUPER-SHARP EYEBROWS
If you spend any time at all on social media, you've probably noticed the ultra-full, defined brows being sported by influencers everywhere. For the best eyebrows that have a bit of drama to them, you'll want to use an eyebrow pomade. The L'Oréal Paris Brow Stylist Frame & Set is a cream pomade that comes with a double-ended brush and spoolie. The lightweight formula easily glides onto skin and eyebrow hairs to frame and set, while the brush can be used to draw in individual hairs, precisely shape arches, and fill in eyebrows for a naturally defined look that stays put. To apply, dip the brush into the pomade and outline your brows. Use the angled tip to draw eyebrow hairs in spare areas, filling until you reach your desired intensity. Comb and blend using the spoolie to style.
OUR BEST EYEBROW MAKEUP FOR BOLD EYEBROWS
Are you all about bold, dramatic-looking eyebrows? If you don't shy away from drawing attention to your arches, a pigmented brow gel sounds like a perfect fit for you. The L'Oréal Paris Unbelievabrow Longwear Waterproof Gel is a long-lasting waterproof eyebrow gel that fills and thickens your arches. To use, outline and define the shape of your brow with the angled brush, then use the doe-foot applicator to fill in. Finish up by combing through your brows with a spoolie. If you're looking to be extra bold, apply this eyebrow gel on top of an eyebrow pencil of your choice to create even more color, volume and definition.
OUR BEST EYEBROW MAKEUP FOR LONG-LASTING WEAR
There is almost nothing worse than finding that your brows have smeared and smudged by midday. You don't want to reveal that your arches aren't quite as thick as you've made them seem! Instead of having to carry your eyebrow makeup with you every day for touch-ups, it may be wise to add a waterproof formula into the mix so that it can save you the hassle. The L'Oréal Paris Brow Stylist Micro Ink Pen by Brow Stylist, Up to 48 HR Wear is a tinted brow pen that has a comb-tip applicator to easily shape natural-looking brows. This long-lasting formula does not fade or transfer, and it's waterproof and smudge-resistant..
OUR BEST EYEBROW MAKEUP FOR MATURE SKIN
Want to sport the perfect eyebrows to complement your mature makeup look? If you have mature skin, instead of reaching for traditional eyebrow pomades and gels which tend to appear more bold, a product that can help you achieve authentic looking arches might be your best bet. Reach for a nourishing eyebrow pencil that will help you create a soft definition to suit your look. The L'Oréal Paris Age Perfect Brow Magnifying Pencil with Vitamin E is a fine-tip eyebrow pencil formulated with vitamin E and mineral pigments to blend seamlessly onto the skin. The formula easily blends out to give brows natural-looking shape and soft definition. Use the fine-tip for precise application and the spoolie to gently brush hairs into place.
Photo Design: Sarah Duvivier
{ "@context": "https://schema.org/", "@type": "WebPage", "speakable": { "@type": "SpeakableSpecification", "cssSelector": ["speakable-content"] }, "url": "https://es.lorealparisusa.com/revista-de-belleza/maquillaje/maquillaje-ojos/what-eyebrow-makeup-product-should-you-use" }
Descubrir más trucos y consejos
Ver todos los artículos
Shop Featured Makeup products
Discover More
{ "@context": "http://schema.org", "@type": "BreadcrumbList", "itemListElement": [ { "@type":"ListItem", "position": 1, "item": { "@id": "/", "name": "Home" } } , { "@type":"ListItem", "position": 2, "item": { "@id": "https://es.lorealparisusa.com/revista-de-belleza", "name": "Revista de belleza" } } , { "@type":"ListItem", "position": 3, "item": { "@id": "https://es.lorealparisusa.com/revista-de-belleza/maquillaje", "name": "Consejos de maquillaje para cada look" } } , { "@type":"ListItem", "position": 4, "item": { "@id": "https://es.lorealparisusa.com/revista-de-belleza/maquillaje/maquillaje-ojos", "name": "Maquillaje de ojos" } } , { "@type":"ListItem", "position": 5, "item": { "@id": "https://es.lorealparisusa.com/revista-de-belleza/maquillaje/maquillaje-ojos/what-eyebrow-makeup-product-should-you-use", "name": "what-eyebrow-makeup-product-should-you-use" } } ] }