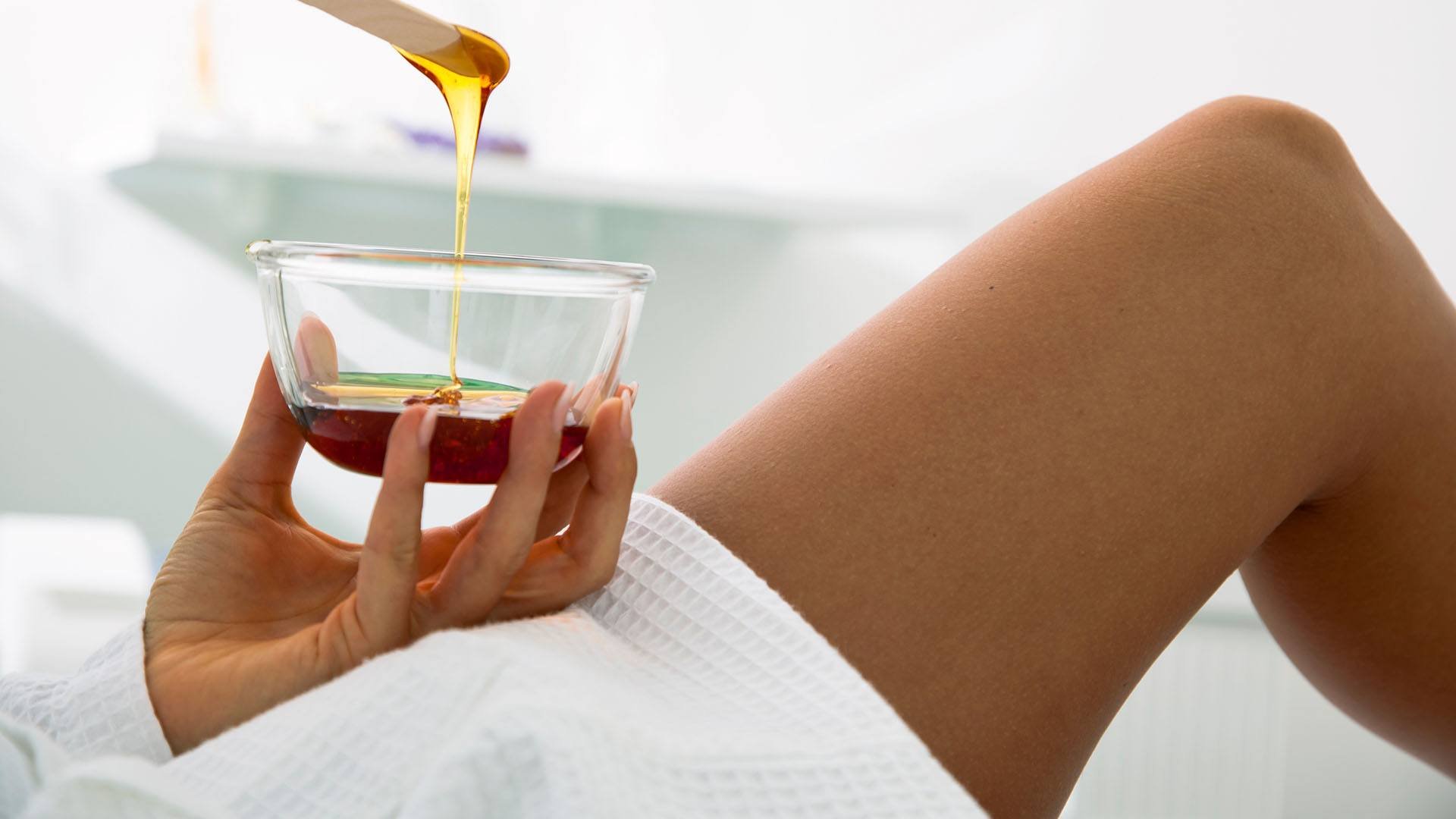 As much as we would like to avoid painful beauty treatments, a Brazilian wax—the hair removal method that involves removing all of the hair from your bikini area by using wax—is one we can't seem to part with. Because shaving can cause ingrown hairs and irritation, it's easy to see why some people prefer a bikini wax or choose to skip hair removal down there altogether. But really, the more you know—and the more Brazilian wax tips you have in your back pocket—the less intimidating waxing in that sensitive area will be. To get you ready for your first Brazilian, we're giving you the lowdown on what you need to know before your session.
BIKINI WAX VS. BRAZILIAN WAX: WHAT'S THE DIFFERENCE?
Some people believe that a bikini wax and a Brazilian wax are the same thing. And while both of these methods cater to your bikini zone, there are key differences to each technique. A bikini wax consists of removing hair around the perimeter of your bikini line area, making it a much quicker process. This means that you'd be able to wear a bikini, and no hair would be visible from the sides. This method is great for those who are not comfortable removing all of their hair but still want to groom it a bit.
On the other hand, a Brazilian wax removes all of the hair from your bikini area. Every strand of hair from the side, front, top, and back are removed. However, you do have the option of leaving a small strip of hair. Think of it as the next step up from the traditional bikini wax. If you prefer your bikini area to be completely bare, a Brazilian wax may be your perfect match.
HARD WAX VS. SOFT WAX
When it comes to getting a Brazilian wax, there are two wax types that may be used during your session: soft wax and hard wax. Soft wax is typically used with cloth strips to remove hair from your body. This type of wax is often used to remove hair on the armpits, legs, arms, and bikini area. During the waxing process, the wax adheres to the skin and hair, which some people can find uncomfortable.
On the flip side, hard wax is applied to the skin with thick layers at a time. Once the wax hardens, it's removed without the need of cloth strips. Hard wax is known to only grip hair, making it a great option for those who suffer from sensitive skin or are prone to ingrown hairs. This is the type of wax that's more often used in a Brazilian wax.
You can expect your Brazilian bikini wax to last for around four to six weeks before the hair starts to grow back. Keep in mind, everyone's hair grows at different rates, so this timeline can vary a bit from person to person.
CAN YOU DO A BRAZILIAN WAX AT HOME?
While you may want to save a few bucks and take care of hair removal all on your own, or perhaps COVID forced you to figure out your beauty maintenance regimen at home, we'd advise against DIYing a Brazilian wax whenever possible. For starters, you likely don't have the expertise, knowledge, and resources that professionals have. Not to mention, you may not be able to wax hard to reach areas all on your own. Keep it simple and rely on a licensed professional to get the job done to avoid causing yourself any injury, pain or reactions. The cost of getting a professional wax will different from region to region and facility to facility, but if you want incredibly smooth skin with minimal irritation, you might be able to justify the cost.
5 BRAZILIAN WAX TIPS TO REMEMBER FOR YOUR FIRST WAX
Now that you have some insight about what a Brazilian wax is and what to expect, it's time to prepare for the wax. Follow our tips below to get and keep your skin in fabulous shape!
TIP #1. EXFOLIATE YOUR SKIN A DAY BEFORE YOUR APPOINTMENT
Just as it's super important to exfoliate your skin as part of your skin care routine, the same rule applies here. You want to remove the dead skin cells from your bikini area to get a more precise hair removal.
TIP #2. YOUR HAIR SHOULD BE ¼-INCH LONG
The goal for your wax appointment is to remove all of your hair, but if your hair is not at least a ¼-inch long, it can be difficult for the wax to adhere to it. Allow your hair to grow out fully so you can achieve your desired result. While some wax specialists will trim your hair before the wax if necessary, you never know if practices might have changed in a post-COVID world. To play it safe, try to grow out your hair to be between one sixth of an inch and half an inch long, ideally somewhere in between.
TIP #3. DON'T SCRUB YOUR SKIN TOO SOON AFTERWARD
To help keep ingrown hairs and irritation at bay, it's essential to exfoliate your skin. However, exfoliating too soon after waxing can have adverse effects. To stay in the clear, you can begin exfoliating your bikini area two to three days after your wax session. And even after waiting a few days, you'll want to be gentle.
TIP #4. AVOID TIGHT CLOTHING
Once your skin has been waxed, it will be sensitive for the first 24 hours. Your best bet is to wear loose clothing before and after your wax appointment to allow your skin to breathe. Tight clothes can easily irritate the skin and may cause an infection to occur.
TIP #5. DON'T TOUCH YOUR BIKINI AREA
While we all love to feel how soft and smooth our skin is post-wax, you'll want to keep your hands above your waist. Since your hands are regularly exposed to dirt, oil, and bacteria, it's best to steer clear of the area to avoid transferring bacteria down there. After all, it's not worth having to tackle irritation as a result. Also, make sure not to hit the beach and expose your bikini area to the sun right after waxing as the skin will be sensitive. To play it safe, wait around 24 hours before sun exposure.
Photo Credit: Chaunte Vaughn
{ "@context": "https://schema.org/", "@type": "WebPage", "speakable": { "@type": "SpeakableSpecification", "cssSelector": ["speakable-content"] }, "url": "https://es.lorealparisusa.com/revista-de-belleza/cuidado-piel/preocupaciones-de-cuidado-de-la-piel/brazilian-wax-guide" }
Descubrir más trucos y consejos
Ver todos los artículos
Mejora tu rutina
Muestra más amor a tu nuevo look:
makeup
{ "@context": "http://schema.org", "@type": "BreadcrumbList", "itemListElement": [ { "@type":"ListItem", "position": 1, "item": { "@id": "/", "name": "Home" } } , { "@type":"ListItem", "position": 2, "item": { "@id": "https://es.lorealparisusa.com/revista-de-belleza", "name": "Revista de belleza" } } , { "@type":"ListItem", "position": 3, "item": { "@id": "https://es.lorealparisusa.com/revista-de-belleza/cuidado-piel", "name": "Tratamiento de la piel para todas las edades" } } , { "@type":"ListItem", "position": 4, "item": { "@id": "https://es.lorealparisusa.com/revista-de-belleza/cuidado-piel/preocupaciones-de-cuidado-de-la-piel", "name": "Preocupaciones de cuidado de la piel" } } , { "@type":"ListItem", "position": 5, "item": { "@id": "https://es.lorealparisusa.com/revista-de-belleza/cuidado-piel/preocupaciones-de-cuidado-de-la-piel/brazilian-wax-guide", "name": "brazilian-wax-guide" } } ] }