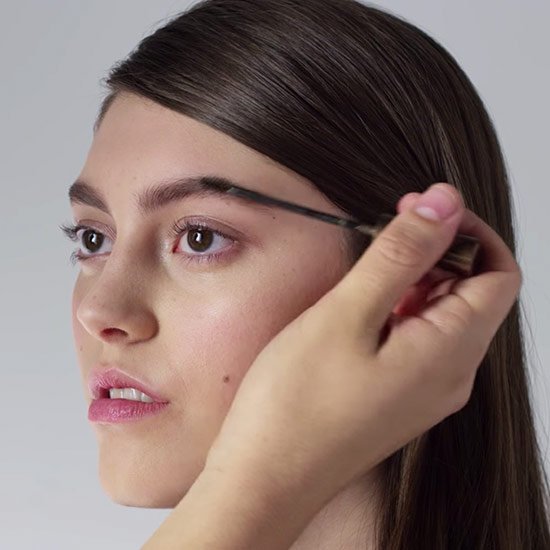 It's official: Big, bold brows are back, and they are most definitely a makeup trend that's here to stay. But with all of the many brow makeup products and eyebrow makeup tutorials out there, it can get confusing to know where to start. Looking for a basic eyebrow tutorial to help you create effortlessly defined arches? Luckily for you, we've got you covered! Here, we're walking you through an eyebrow tutorial for effortless arches, requiring only two eyebrow makeup products and a few minutes of your time. That's all it takes to create gorgeous, thick brows! This one is perfect for beginners, and once you've got the basics down, try out one of the five other eyebrow makeup tutorials we're sharing down below.
OUR EYEBROW TUTORIAL FOR BEGINNERS
You can follow along with the video above, but we're also breaking down and writing out the exact steps for this eyebrow tutorial for beginners. The overall idea here is to enhance the color and shape of your natural brows. For this tutorial, you'll be doing so with an eyebrow pencil and an eyebrow gel. There are plenty of other types of eyebrow makeup products out there, from pomades to powders and everything in between, but we like the pencil and gel for creating instant and effortless arches. Now, cue up the video and follow along with these steps.
Step #1: Start with a Clean Slate
First off, make sure you're starting off with a fresh slate, AKA a clean complexion. After applying your face makeup—foundation, concealer, blush, and highlighter—as usual, it's time to move on to your brows. As a general rule of thumb, you'll want to apply your brow makeup after you've finished applying your face makeup but before you do your eye makeup.
Step #2: Brush Upwards
Starting with clean brows as your base, use the spoolie end of the L'Oréal Paris Brow Stylist Definer Waterproof Eyebrow Mechanical Pencil to brush through your brows in short, upward strokes. When picking out the right brow pencil for you, be sure to choose the shade that most closely matches your natural brow hairs. Going too light will result in the pencil not showing up, and therefore, it won't have the desired effect. On the other hand, choosing a pencil that's a shade or two too dark will look unnatural. Take an extra few minutes to find a shade that matches!
Step #3: Outline + Fill
Next, use the pencil end to outline the natural shape of your brows. When you're outlining your brows, focus on the arch area, since this will help instantly open up your eyes. Gently glide the pencil along your arches, through the tail, and along the top of the brows. Once you've created an outline, use the L'Oréal Paris Brow Stylist Plumper to fill in your brows for a cohesive finish, making sure to focus the product on any sparse areas. Use the comb to brush the product through your brows and blend everything for a seamless finish. Voila! That's it—it's as easy as that to enhance your brows for an even better beauty look.
Editor's note: Filling in your brows is sometimes not as easy as it looks—we get it. So, it's better to be fully prepared and know what you're getting yourself into, as well as the most common mistakes people make. Click through to learn about 5 Makeup Mistakes That Could Happen When You Fill in Your Eyebrows.
Step #4: Apply the Rest of Your Eye Makeup
Once you've got your brows in place, it's time to move on to applying the rest of your eye makeup look! Eye shadow, eyeliner, mascara—this part is completely customizable and up to you.
5 OTHER EYEBROW MAKEUP TUTORIALS
After you've mastered the basic shape and fill, you might be feeling ready to take your eyebrow makeup game to the next level. Of course, there are plenty of other eyebrow makeup tutorials, tips, and tricks you can incorporate into your beauty repertoire. Here, find five eyebrow makeup tutorials to try when you're ready to branch out.
EYEBROW MAKEUP TUTORIAL #1: CONTOURED BROWS
The contouring trend isn't just for your face (and body). The same concept of highlights and shadows can also be applied to your brows, helping them to become even more defined and dramatic. Simply speaking, this brow makeup look involves using lighter and darker eyebrow makeup shades to sculpt your brows into their ideal shape—perfect for a night out or big occasion. To learn how to properly contour your brows, head to our article, How to Contour Your Eyebrows.
EYEBROW MAKEUP TUTORIAL #2: LIGHTEN UP
Bleached eyebrows are a big makeup trend at the moment, but actually bleaching your natural brow hairs requires serious commitment—not to mention, who knows if you'll even love the final result! For those curious about the bleached brow look, we've got good news: You can lighten up the look of your eyebrows, sans bleach. With the right eye makeup, you'll be able to test-drive a different brow tone without any commitment. For a full tutorial, read our article, Hold the Bleach, Here's How to Lighten Your Brows With Makeup.
EYEBROW MAKEUP TUTORIAL #3: METALLIC BROWS
Our love for metallic makeup hues doesn't solely pertain to eye shadow and highlighter. That's right, metallics also make for a gorgeous eyebrow look—and lucky for all of us, the metallic brow makeup trend is bigger than ever. Here's How to Try the Metallic Eyebrow Trend.
EYEBROW MAKEUP TUTORIAL #4: LONGWEAR
This isn't so much an eyebrow makeup look as it is a feature, but it's definitely worth talking about. Sometimes, you want (re: need) your eyebrow makeup to hold up against all the elements, and for as long as possible—sans any smudging or smearing. Fortunately, we've got an eyebrow gel that lasts and lasts. We're talking about the L'Oréal Paris Unbelievabrow Longwear Waterproof Brow Gel, which fills and thickens brows instantly. This sweat-resistant, waterproof formula won't transfer onto your clothes either, making it the perfect eyebrow makeup choice for those long days and nights when you need your makeup to last. To use it, start by using the doe-foot applicator to fill in sparse areas. Then, use an angled brush to outline and define your brow shape, and finally, comb through with a spoolie.
EYEBROW MAKEUP TUTORIAL #5: COLORFUL EYEBROWS
Not afraid of some color? Neither are we! Colorful eyebrows are one of the latest eyebrow makeup trends, with plenty of models and actresses sporting the look both on and off the red carpet. We're talking about serious color, from shades of red and blue to green and everything in between. The beauty of colorful eyebrows is that there are just so many colors to choose from! After all, why should color be reserved for your eye shadow? Here, learn How to Experiment with Colorful Eyebrows.
Ready for more eyebrow grooming tips? Next, learn How to Find the Perfect Eyebrow Shape for Your Face.
{ "@context": "https://schema.org/", "@type": "WebPage", "speakable": { "@type": "SpeakableSpecification", "cssSelector": ["speakable-content"] }, "url": "https://es.lorealparisusa.com/revista-de-belleza/maquillaje/looks-maquillaje/eyebrow-tutorial-for-beginners" }
Descubrir más trucos y consejos
Ver todos los artículos
Shop Featured Makeup products
Discover More
{ "@context": "http://schema.org", "@type": "BreadcrumbList", "itemListElement": [ { "@type":"ListItem", "position": 1, "item": { "@id": "/", "name": "Home" } } , { "@type":"ListItem", "position": 2, "item": { "@id": "https://es.lorealparisusa.com/revista-de-belleza", "name": "Revista de belleza" } } , { "@type":"ListItem", "position": 3, "item": { "@id": "https://es.lorealparisusa.com/revista-de-belleza/maquillaje", "name": "Consejos de maquillaje para cada look" } } , { "@type":"ListItem", "position": 4, "item": { "@id": "https://es.lorealparisusa.com/revista-de-belleza/maquillaje/looks-maquillaje", "name": "Looks de maquillaje" } } , { "@type":"ListItem", "position": 5, "item": { "@id": "https://es.lorealparisusa.com/revista-de-belleza/maquillaje/looks-maquillaje/eyebrow-tutorial-for-beginners", "name": "eyebrow-tutorial-for-beginners" } } ] }