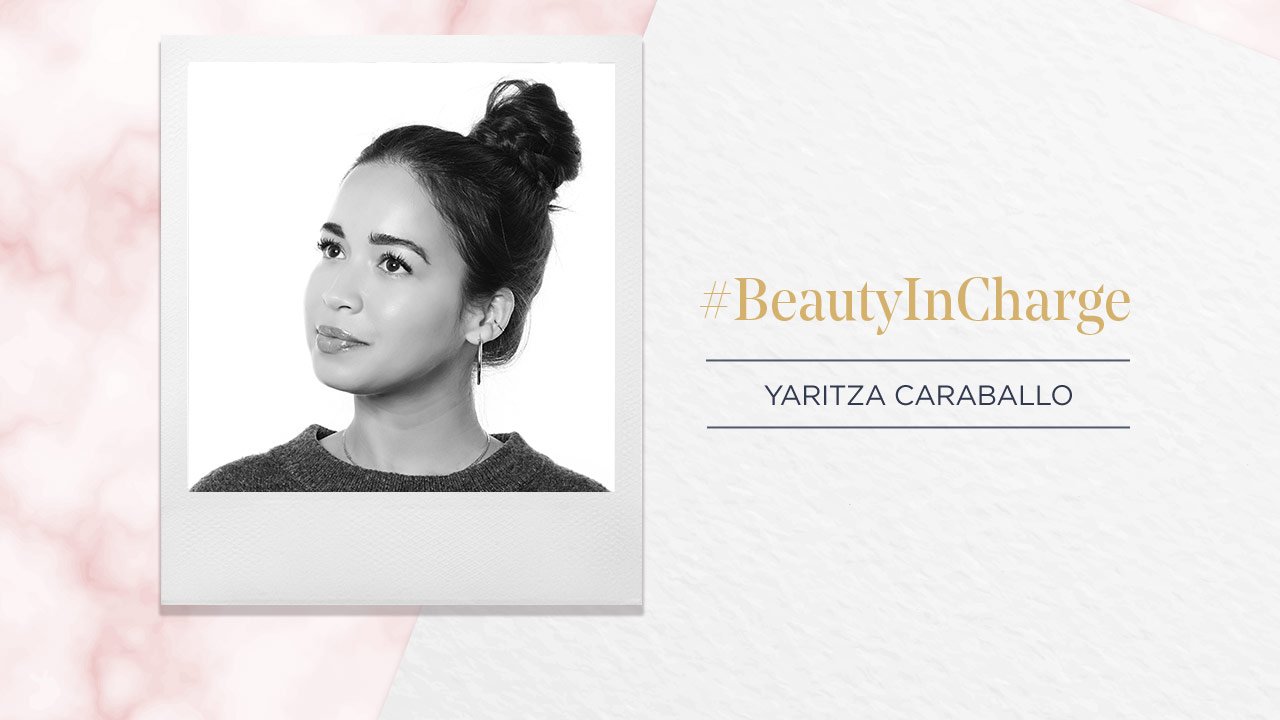 tendencias-belleza
#BeautyInCharge: Meet L'Oréal Paris' Senior Manager of Digital Content and Innovation
Our #BeautyInCharge series takes a look at how people in a wide range of roles are able to take charge and own their positions. In the series, we speak with L'Oréal Paris employees at all levels, from those who've been with the brand for years to those who are just getting their foot in the door, and unsurprisingly, they all have amazing career advice, beauty product faves, and so much more to share.
If you had the opportunity to start fresh, making the leap to an entirely different career, what would you do? Would you go back to school? Would you pursue your childhood dream? Or would you pick a job that allows you to play with makeup and be part of a major beauty brand, maybe even get involved with this very beauty magazine? We know it's a bit specific, but if you answered the latter, you're in luck. No, we can't will you into starting your second life in such a job—but we can help you live vicariously through Yaritza Caraballo. As L'Oréal Paris's Senior Manager of Digital Content and Innovation, Yaritza gets to live that dream, even though it's far from where she herself began. In this installation of our #BeautyInCharge series, get acquainted with Yaritza, learning about all of the essentials: her true start as a boy band lover, her first career as an interventionist on child preventive cases, her work at L'Oréal, and her take on the best places to travel.
ON WORK
What is your current position and what was the path that got you there?
"I am Senior Manager of Digital Content and Innovation for L'Oréal Paris. I grew up in Inwood, which is located at the northernmost point of Manhattan and just 20 minutes away from the heart of the city.
"In NYC, your high school application process was just as much work as your college application process. At 13 you went on H.S. tours, took prep courses for your entrance exams, wrote essays, and filled out applications. I went to The High School of Fashion Industries in Chelsea because at the time, aside from The Backstreet Boys, fashion design was my passion. High school was super intensive because on top of the standard curriculum, we had two to three additional hours a day dedicated to visual and digital design, sewing, draping, and textile classes. All of these classes lead up to an exciting but ominously looming annual school fashion show, displaying all of our years' work.
"By the time senior year came along, I was over fashion design and several liberal arts courses later, I decided to major in Psychology. After graduating from St. Johns University, I began working for a New York City-based charity called The New York Foundling as an interventionist on child preventive cases. I would visit families all over the five boroughs, applying functional family therapy and assisting in the evolution of this new form of therapy. Despite this truly being one of the most fulfilling experiences of my life, I began longing for something more creative.
"Three years later, I reconnected with an old friend who was working in corporate fashion for Stuart Weitzman. She said she had the perfect job for me and I just went for it. That job led me to digital roles at Gucci, Net-A-Porter, Gilt, and now L'Oréal Paris."
Is this what you always envisioned you would be doing?
"For me, it was never a linear narrative. I have envisioned myself as a fashion designer, a social worker, a therapist, a mom, and many other things. However, I do feel that because L'Oréal Paris is more than just a beauty brand (we are an empowerment brand) this role does allow me to fuse my two core passions: creativity and human welfare. I get to work for the leading total beauty care brand whose main goal is providing safe and affordable luxury to all while simultaneously empowering through their iconic phrase 'Because I'm Worth It.'"
Describe a typical workday.
"Every day is different at L'Oréal. I don't really have a day-to-day; it depends on the projects that I'm working on and what the brand priorities are at that time. For example, right now we are launching a lash serum and our new summer makeup collection (Summer Belle), so I've met with marketing and social teams to strategize on content creation based on timing and what is happening in our culture. Simultaneously, we are also working on a site redesign strategy and with our teams in Paris on next steps for our Modiface virtual try-on technology. Last, but certainly not least, I'm working on updates for our Women of Worth charity page because it's almost voting time!"
What is the biggest challenge you've faced in your career?
"I'm Latina and I am a woman. Those factors in general come with a few career challenges but I think what you learn from them and how they contribute to your growth is what's important. I can honestly say that all of my challenges have led to growth and opportunity and have taught me resilience."
What's been your proudest moment to date?
"I'm really proud of running two NYC marathons for charities that I feel very passionate about (UNICEF and Memorial Sloan Kettering). It also solidified any credible claim to ultimate New Yorkness.
"Workwise, I am proud to work with an amazing group of all women. It's always a fun and collaborative effort to put the best work out there that we can all be proud of. I take pride in everything we do today in the space of diversity and inclusion. This is always top of mind for our content creation."
Let's talk #WorkPerks - What are the best ones at L'Oréal Paris?
"My favorite #workperks are our marketing, digital and content courses. L'Oréal does such a great job at cultivating talent and I am beyond grateful for that."
What's something that might surprise someone about working at L'Oréal?
"Before I started working here, I envisioned L'Oréal as a very hardcore corporate company and it is, but there is also an entrepreneurial spirit that truly runs through the veins of everyone here. Creative ideas are nurtured and I don't think anyone here is afraid of failure, which is something that is very liberating and comforting."
Best piece of career advice for someone who wants to make it big in beauty.
"Work hard and don't compare yourself to anyone else. Always be curious and well versed in what's going on in the world and in the beauty industry. Read the news and keep up with culture surrounding you. Working in beauty is not all glamour. You have to be willing to roll up your sleeves and work hard. Finally, be passionate, strive to learn, and network."
Do you think a presence on social media is important in your industry?
"We live in a digital age where most people educate themselves online long before they pick up the phone to call, so it is important to a certain extent. However, I don't think that your number of followers is going to help you have a career. You still have to work hard and be humble."
How do you strike the right work-life balance?
"I think it's important to take breaks, especially with the amount of information we consume on a day-to-day basis and because we are constantly on a screen. This is why I love to travel as much as I can because you get to experience different cultures, meet new people, open your mind, and be creative again."
ON BEAUTY & STYLE
L'Oréal has a killer company store. What are the products you stock up on there?
"I am a skin care and hair care junkie. I love SkinCeuticals—I use their vitamin C serum, the H.A Intensifier, LHA Cleansing Gel, and the Renew Overnight Moisturizer for oily skin. I also love the Kerastase Reflection line; it is specifically made to preserve hair color and although I don't color my hair, I love how luxurious the scent and formula are and find that nothing leaves my hair shinier."
What are your favorite L'Oréal Paris products?
"Lash Paradise mascara and primer are hands down my favorite LOP products of all time. I also use our True Match concealer, our Bright Reveal pads, and I love all of our Lumi products."
Any new launches you're excited for/wish were in the pipeline?
"Yes! So excited for hair care—we are really taking it to the next level with exciting new innovations and I can't wait to try them all. Also, cannot wait for the Summer Belle collection; I love sun-kissed summer makeup year-round."
Favorite beauty trends right now...
"I love glowing bronzed skin, long healthy hair, and boy brows. I'm big on minimalist makeup and enhancing your natural beauty so I'm glad that is a big trend right now. I do love the idea of a bold eye or a bold lip but never together and definitely not every day."
How would you describe your typical beauty routine
"In the morning, I wash my face with SkinCeuticals LHA Cleansing Gel. After that, I like to apply toner. As far as face serums, I'm using the SkinCeuticals vitamin C serum. I then apply the HA Intensifier on days when my skin feels a bit dry—It's very hydrating and easier to wear than moisturizer—if you put makeup on after it doesn't make your skin look greasy.
"My night skin routine is a bit more involved but I'll try to elucidate. I have a sauna in my building so I try to do that every few days before masking to open up the pores. I rotate my masks depending on my skins needs; I love the SkinCeuticals clay mask for days when my skin feels congested. Kiehl's and Vichy also make great hydrating masks for days when my skin is craving moisture. Lastly, I apply the Renew Overnight Moisturizer, eye cream, and a very moisturizing lip balm.
"My makeup routine is super simple: a little concealer (True Match) under the eyes and if I have any blemishes a bit on those too. I fill my eyebrows in just a little with a pencil and brush them up with our clear Brow Stylist gel. I use the Lash Paradise primer and mascara on my lashes. Last, I end with a little bronzer, blush, and tinted lip balm."
What fashion trends do you love right now? Which will you never try?
"I love mini bags and am so happy they are trending. Big bags stress me out, it's always a struggle to find things in there. I will never try super long or acrylic nails."
Which items are worth splurging on and which do you prefer to save on?
"I splurge on bags, shoes, and staple pieces like a classic blazer. I also splurge on skin care products, aside from our company store, Barneys and Net-a-Porter both have a great curation of products and beauty brands. I do not splurge on trendy clothes or work-out clothes."
Do you feel like you have a signature look? How did you cultivate it?
"I try to keep it simple and classic when it comes to makeup but try to be more fun with my clothes because I do enjoy getting ready and dressing up. I guess my style is very eclectic, it changes all the time. I'm a Libra so I vacillate a great deal. In summary, my style is minimal and feminine with a splash of bohemian. I try to balance every outfit, like if I'm wearing sweatpants my hair and makeup will be on point plus maybe a great bag. I always try to look put together and deliberate."
ON EVERYTHING ELSE
What's your favorite karaoke song?
"I am really into disco music right now so probably 'On the Radio' by Donna Summer or 'More, More, More' by Andrea True Connection."
What's your guilty pleasure?
"Besides my love for disco music, I love watching Spanish telenovelas on Netflix. I can't get enough of the drama and the romance."
What's your favorite book?
"The Alchemist by Paolo Coelho, The Seat Of The Soul by Gary Zukav, and Wuthering Heights by Emily Bronte."
Where is your favorite place to travel?
"Italy in its entirety is my favorite. I went to the Amalfi coast last year and cannot wait to go back. I also lived in Rome when I studied abroad so Italy just has my heart. It's so rich in culture, art, architecture, food. It just has it all."
What would your high school superlative have been?
"I was nominated for "Best Dressed" in Junior High School but lost. I don't know what it would have been otherwise."
You're stranded on a desert island—what are the top five things you have with you?
"Sunscreen, a camera, a notebook with a pen, bug spray, and a flashlight because I'm still scared of the dark."
Want to keep up with Yaritza? Here's where you can find her:
Instagram- Yaritza_Caraballo
Next: #BeautyInCharge: Introducing L'Oréal Paris' Assistant Vice President of Cosmetics
{ "@context": "https://schema.org/", "@type": "WebPage", "speakable": { "@type": "SpeakableSpecification", "cssSelector": ["speakable-content"] }, "url": "https://es.lorealparisusa.com/revista-de-belleza/consejos-de-belleza/tendencias-belleza/beauty-career-advice-yaritza-caraballo" }
Descubrir más trucos y consejos
Ver todos los artículos
Shop Featured Makeup products
Discover More
{ "@context": "http://schema.org", "@type": "BreadcrumbList", "itemListElement": [ { "@type":"ListItem", "position": 1, "item": { "@id": "/", "name": "Home" } } , { "@type":"ListItem", "position": 2, "item": { "@id": "https://es.lorealparisusa.com/revista-de-belleza", "name": "Revista de belleza" } } , { "@type":"ListItem", "position": 3, "item": { "@id": "https://es.lorealparisusa.com/revista-de-belleza/consejos-de-belleza", "name": "Ideas profesionales para tu look único" } } , { "@type":"ListItem", "position": 4, "item": { "@id": "https://es.lorealparisusa.com/revista-de-belleza/consejos-de-belleza/tendencias-belleza", "name": "Tendencias de belleza" } } , { "@type":"ListItem", "position": 5, "item": { "@id": "https://es.lorealparisusa.com/revista-de-belleza/consejos-de-belleza/tendencias-belleza/beauty-career-advice-yaritza-caraballo", "name": "beauty-career-advice-yaritza-caraballo" } } ] }