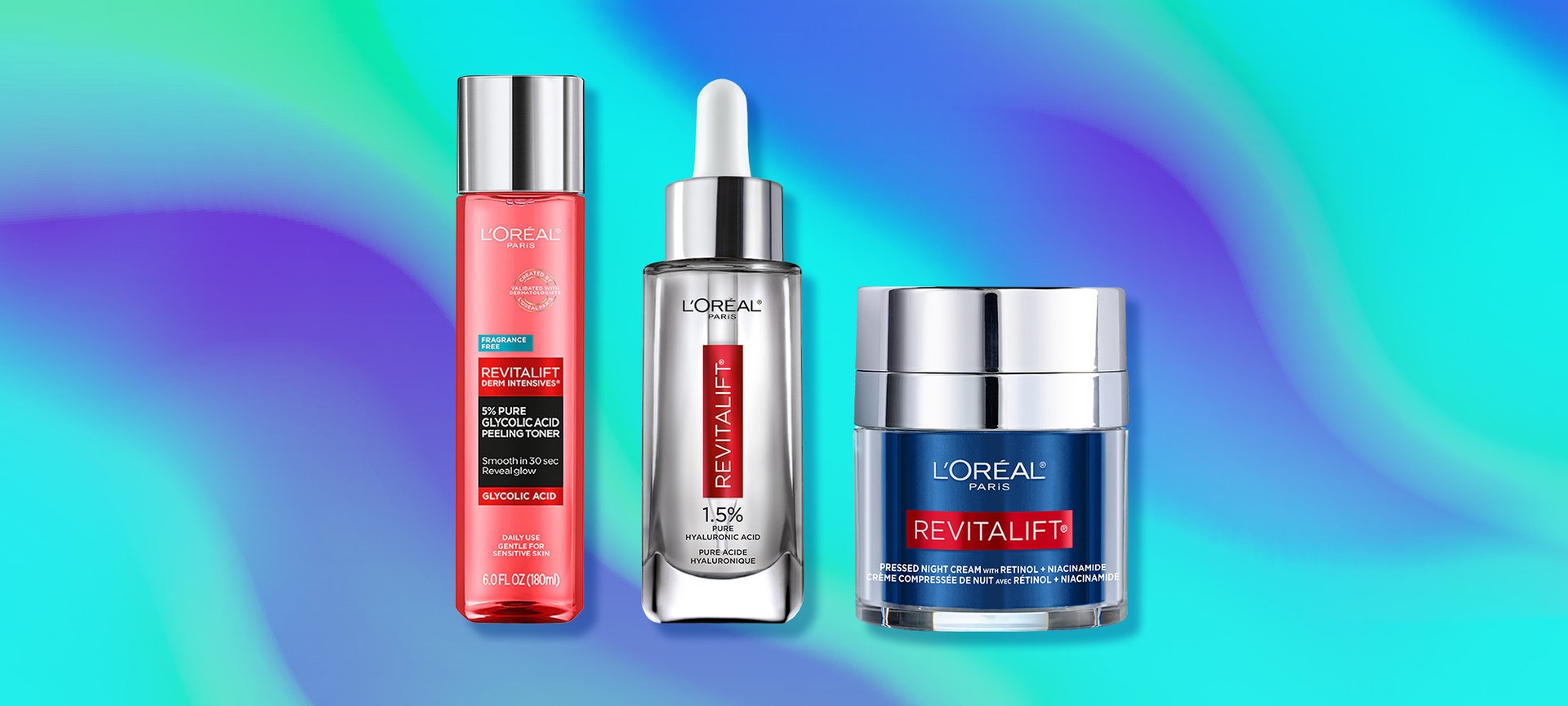 Selecting holiday gifts for your friends and family can be extremely stressful. What do you get the friend who owns the latest, most expensive, at-home microdermabrasion tool 一 aka the friend who has it all? What about that really picky aunt who seems to balk at every gift she's ever gotten in the family Secret Santa? Aside from being challenging, gifting during the holidays can also drain your bank account. If you've decided that this year will be nothing short of successful, keep reading because we're sharing our drugstore skin care holiday gift guide with fifteen products that are bound to be perfect for someone in your life.

1. For The Skin Care Enthusiast
When it comes to buying beauty-related gifts for someone who keeps up with all of the latest products, it can be tough to find something that they don't already have. That's why it's best to step out of the box a bit with a product like the L'Oréal Paris Revitalift Derm Intensives with 1.5% Hyaluronic Acid, 1% Caffeine Eye Serum. Most skin care lovers will have eye creams in their collections, but not everyone has experienced the magic of an eye serum. This one works to target fine lines and wrinkles while providing hydration and reducing puffiness.

2. For The Skin Care Newbie
For someone who's new to skin care and wants to get informed about the best products and ingredients, hyaluronic acid is a great place to start. It's a hydration holy grail, and it's great for sensitive skin. Gift them a bottle of the L'Oréal Paris Revitalift 1.5% Pure Hyaluronic Acid Serum and they're sure to find the magic in the powers of hyaluronic acid.

3. For The Minimalist
For better or worse, not everyone is into having an elaborate beauty routine 一 but a solid multi-tasking that moisturizes the skin and provides natural coverage is essential even for minimalists (now often referred to as skinimalists). The L'Oréal Paris Paradise Water Infused Tinted Moisturizer is great because it moisturizes the skin, evens the complexion and provides SPF protection all in one.

4. For The One On-The-Go
We all know that person who seems to be constantly on-the-go. These people have packed schedules and many sleepless nights, which can result in dark circles and puffiness. The L'Oréal Paris Age Perfect Cell Renewal Anti-Aging Eye Cream Treatment is perfect for them. It's packed with antioxidants and vitamin E, and it works to address darkness, crepey skin, puffiness, and under eye bags.

5. For The Sun Worshiper
Friends don't let friends get sun damage. That's why this holiday season, you should have your BFF's back by stocking them up on much-needed SPF. The L'Oréal Paris Revitalift Triple Power Day Lotion SPF 30 is great because it works as a daily moisturizer and SPF. It's also formulated with ingredients like Pro-Retinol, vitamin C and hyaluronic acid to help address signs of aging.

6. For The One With Mature Skin
If there's someone in your life that's noticing signs of aging that they want to address, give them the L'Oréal Paris Wrinkle Expert 55+ Age Defense Lotion SPF. It's a hydrating, non-greasy daily moisturizer formulated with SPF 30, which is important since visible signs of aging are often a result of sun damage.

7. For The Retinol-Lover
The L'Oréal Paris Revitalift Derm Intensives Night Serum, 0.3% Pure Retinol is the perfect gift for the person who loves incorporating retinol into their routine. It's a highly concentrated formula that has glycerin and hyaluronic acid in the formula which help to address the potentially drying effect of retinol.

8. For The Retinol Newbie
If there's someone in your life that's looking to dive into the world of retinol but isn't sure where to begin, guide them in the right direction by gifting them the L'Oréal Paris Revitalift Pressed Night Moisturizer With Retinol + Niacinamide. In this soft night cream, retinol is combined with 12% soothing ingredients to help counteract the potentially drying effects of retinol. Plus, it includes niacinamide which is great for brightening the complexion.

9. For The One Who Loves To Exfoliate
Many of us probably know someone who can't seem to let go of their harsh exfoliating scrub. While they think it's aiding in smoothing out their skin texture, it's probably doing more harm than good (who really wants to put crushed nutshells against their face?). Introduce them to the L'Oréal Paris Revitalift Derm Intensives 5% Glycolic Acid Peeling Toner. It's a gentle toner formulated with glycolic acid that helps to address uneven skin texture and reveal bright, glowing skin.

10. For The One Looking To Pair Down Their Routine
A ten step skin care routine is not for everyone. The L'Oréal Paris Micellar Cleansing Water Complete Cleanser Waterproof - All Skin Types is perfect for the person who wants to get the job done quickly. It's a waterless, skinless cleanser that rids the skin of makeup and excess dirt and oil without having to be washed off. It makes for mess-free, quick cleansing.
11. For The One Who Needs Some Self-Care Time
The L'Oréal Paris Pure Clay Detox & Brighten Face Mask is the perfect gift for the person in your life who needs some extra "me time." They can indulge in self-care with this face mask that works to clear out the pores and rid the skin of excess dirt and oil. Tell them to lay back, put on the latest binge-worthy show, pour a glass of wine, and let the mask work its magic.

12. For The One Who's Saving Up
Skin care is all about consistent use, so getting someone who's trying to stick to their budget a luxury item that they won't be comfortable repurchasing can be counterproductive. Masks and treatments can be pricey, but at just $12.99 the L'Oréal Paris Pure Sugar Resurface & Energize Kona Coffee Scrub is a great two-in-one product. It can be used on both the face and lips to exfoliate away dead skin cells, and it's gentle enough to be used up to three times per week.

13. For The Anti-Aging Warrior
You can't go wrong by grabbing the L'Oréal Paris Age Perfect Cell Renewal Anti-Aging Midnight Serum for the one who's constantly working to prevent signs of aging.
It's formulated with a patented antioxidant recovery complex and works to boost the skin's cell renewal overnight. It also helps to reinforce the skin's moisture barrier and leave it looking healthy and radiant.

14. For The One Who Hates The Smell Of Everything
Many of us know someone who gets a headache from even the slightest bit of fragrance. Keep them feeling their best this holiday season with the L'Oréal Paris Revitalift Triple Power Anti-Aging Moisturizer Fragrance Free. It's a rich moisturizer formulated with Pro-Retinol, hyaluronic acid and vitamin C to reduce wrinkles and brighten the complexion 一 sans the fragrance.

15. For The One Who Loves A Year Round Tan
If you have a friend who never wants to let go of their summer glow, you can't go wrong by treating them to the L'Oréal Paris Sublime Bronze Self-Tanning Facial Drops, Fragrance-Free. These easy-to-use tanning drops can be mixed in with moisturizer to provide the skin with a natural, bronze tan. Use them a few days in a row to get a deeper, customized glow.
Next: 5 Top Retinol Creams And Serums You Can Get Over The Counter

Written by: Alyssa Kaplan, Photo Credit: Sarah Duvivier
{ "@context": "https://schema.org/", "@type": "WebPage", "speakable": { "@type": "SpeakableSpecification", "cssSelector": ["speakable-content"] }, "url": "https://es.lorealparisusa.com/revista-de-belleza/cuidado-piel/fundamentos-del-cuidado-de-la-piel/holiday-skin-care-product-gift-guide" }
Descubrir más trucos y consejos
Ver todos los artículos
Shop Featured Skin Care products
Discover More
{ "@context": "http://schema.org", "@type": "BreadcrumbList", "itemListElement": [ { "@type":"ListItem", "position": 1, "item": { "@id": "/", "name": "Home" } } , { "@type":"ListItem", "position": 2, "item": { "@id": "https://es.lorealparisusa.com/revista-de-belleza", "name": "Revista de belleza" } } , { "@type":"ListItem", "position": 3, "item": { "@id": "https://es.lorealparisusa.com/revista-de-belleza/cuidado-piel", "name": "Tratamiento de la piel para todas las edades" } } , { "@type":"ListItem", "position": 4, "item": { "@id": "https://es.lorealparisusa.com/revista-de-belleza/cuidado-piel/fundamentos-del-cuidado-de-la-piel", "name": "Esenciales del cuidado de la piel" } } , { "@type":"ListItem", "position": 5, "item": { "@id": "https://es.lorealparisusa.com/revista-de-belleza/cuidado-piel/fundamentos-del-cuidado-de-la-piel/holiday-skin-care-product-gift-guide", "name": "holiday-skin-care-product-gift-guide" } } ] }