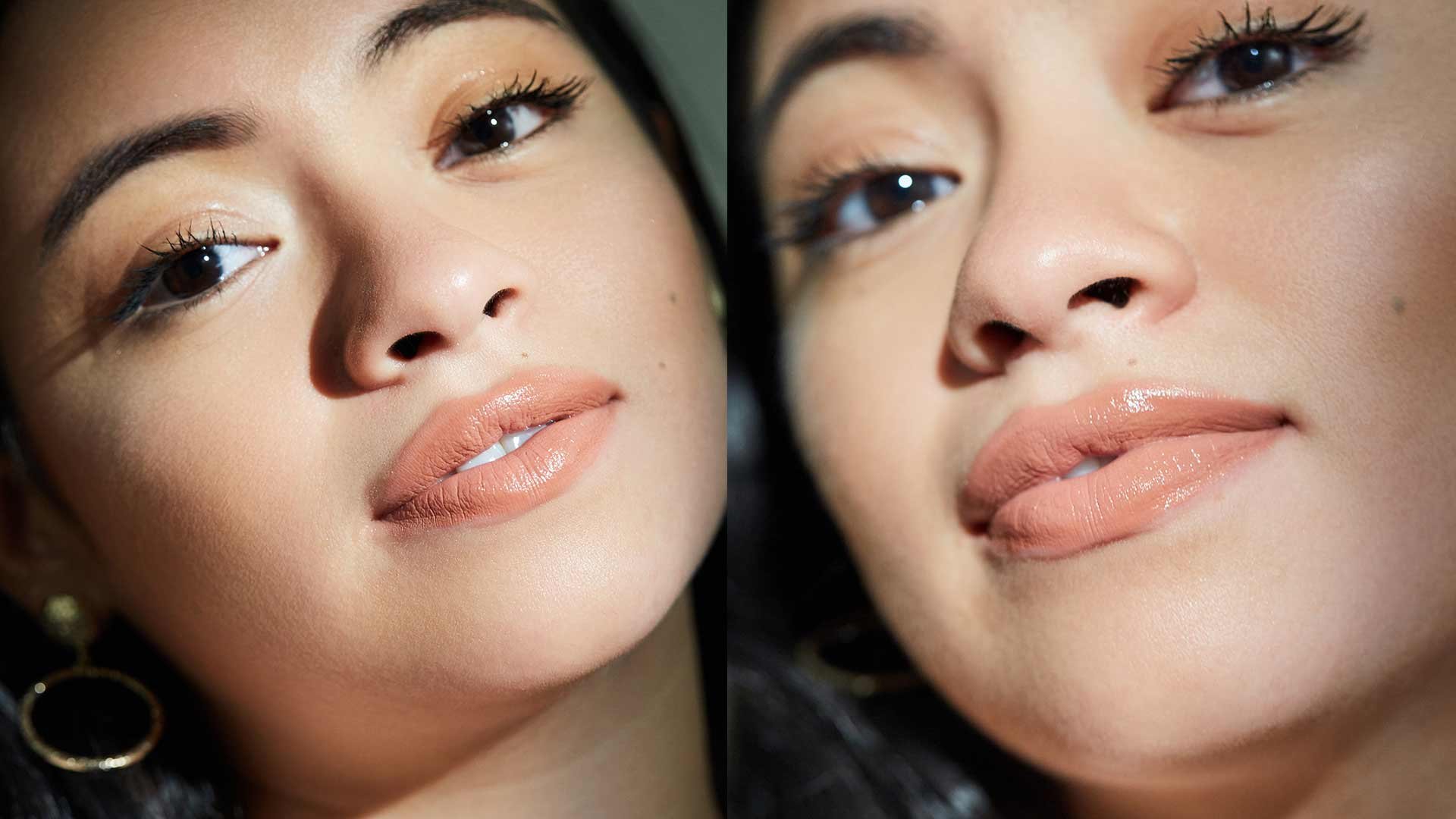 Nude lipsticks are a staple lip product to have in your makeup bag. No matter the occasion, there's a nude lip that can be worn to create a stunning and pretty makeup look. And we're sharing the best nude lipsticks—including various shades and finishes for several occasions you might find yourself getting ready for in the near future. Got a few virtual work meetings you want to look your best for? We've got a nude shade for that. Or maybe you've created a bold stunning eye makeup look for a socially distanced dinner date and want to keep your lips simple —we've got a nude hue for that too. So read on to check out our favorite affordable nude lipsticks and learn how to incorporate them into various looks for different occasions.
Best Nude Lipstick For Virtual Work Meetings
As much as you love wearing bold reds and pretty purples, not every occasion needs a bold lip color. And if you're looking for an easy makeup routine you can use in the morning before signing onto virtual work meetings, include a nude lipstick like the L'Oréal Paris Les Nus By Colour Riche Intense Nude Lipstick In Nu Determine. This flattering peachy nude hue will prevent your makeup look from feeling incomplete and give you the right amount of color that will look beautiful on your lips. It has a non-drying and smudge-proof formula that glides across the lips easily thanks to its creamy and soft texture.
Best Nude Lipstick For (A Socially Distanced) Dinner Date
Once you have the right outfit nailed down, all that's left to decide is how to do your makeup for a big date. Go for a neutral look featuring a glossy nude lip, so you won't have to worry about getting bright lipstick everywhere (like on your wine glass and napkins). Try the L'Oréal Paris Brilliant Signature Shiny Lip Stain Lipstick in Be Determined, a lightweight, high-shine lip stain with a gloss-like feel and the color impact of a liquid lipstick. Its longwear formula will withstand dinner, drinks, and even a goodnight kiss.
Best Nude Lipstick For A Girls' Night Out
After a long work week, nothing beats a night out with your girls. And while the pandemic has changed what that looks like, you can still have fun with your makeup and create a lip look that will have all your friends asking what lipstick you're wearing. Use the L'Oréal Paris Rouge Signature Matte Lip Stain in I Tease for a flattering brownish-nude hue. This matte lip stain has an ultra-lightweight, fresh matte finish that won't leave your lips feeling dry. Make sure to use the unique precision applicator to shape and line your lips to give your pout a more defined look before filling them in with color.
Best Nude Lipstick For A Tropical Vacation
If you're vacationing somewhere warm and plan to spend time in the sun (with SPF of course!), you may need to switch up your go-to nude shade for a darker hue that will flatter your new sun-kissed skin. Try the L'Oréal Paris Infallible 8 Hour Pro Lip Gloss, hydrating finish in Barely Nude, formulated with a shine-fix complex that will help the gloss last for up to eight hours. Its hydrating formula will also help keep your lips feeling soft and moisturized, which will be important on those extra warm days.
Best Nude Lipstick For A Virtual Interview
Makeup is an amazing way to show off your personality, and what better way to do so than during an
interview
. To look pulled-together without going overboard, apply a quick swipe of the
L'Oréal Paris Les Nus By Colour Riche Intense Nude Lipstick In Nu Confident
. Just as the name suggests, this pinky-nude hue is perfectly subtle for the occasion and will help amp up your confidence by giving your pout a defined and soft look. It has a creamy texture that glides onto the lips easily and is formulated with a non-drying formula.
Best Nude Lipstick For Your Wedding Day
You have the dress, you have a venue—and now it's time to finalize your ultimate nude lip color. And since you'll most likely be busy the entire day and won't have time to make constant touch-ups, opting for a low-key nude hue will be your best bet. Reach for the L'Oréal Paris Colour Riche Satin Lipstick in Nature's Blush. Formulated with argan oil, this lipstick will leave your lips feeling moisturized and hydrated throughout your special day. And thanks to its smudge-resistant and bleed-proof formula you can kiss your new hubby all day without worry.
Best Nude Lipstick For Someone Else's Wedding Day
If you're attending a wedding that isn't your own, finding time to fix your lipstick won't be quite as much of an issue. You can keep your clutch by your side and reapply when necessary—no problem. That means if you want to rock a nude lipstick with a shiny finish, you should go for it. Try the L'Oréal Paris Colour Riche Shine Lipstick in Glossy Fawn, formulated with nourishing oils to keep your lips hydrated with a radiant finish.
Best Nude Lipstick For The Holidays
You may often associate holiday makeup with bright red lips, but that isn't the only option. If you need something more subdued while still showing off a bit of your holiday spirit, we know just the thing—a nude lipstick with a bit of shimmer. The L'Oréal Paris Colour Riche Satin Lipstick in Caramel Latte has a satin finish with subtle shimmer—so pretty! Its formula also includes sesame seed oil which will help keep your lips feeling soft and moisturized.
Photo Credit: Chaunte Vaughn
Next: The Best Nude-Pink Lipstick For Every Skin Tone
{ "@context": "https://schema.org/", "@type": "WebPage", "speakable": { "@type": "SpeakableSpecification", "cssSelector": ["speakable-content"] }, "url": "https://es.lorealparisusa.com/revista-de-belleza/maquillaje/maquillaje-labios/right-nude-lipstick-for-every-occasion" }
Descubrir más trucos y consejos
Ver todos los artículos
Shop Featured products
Discover More
{ "@context": "http://schema.org", "@type": "BreadcrumbList", "itemListElement": [ { "@type":"ListItem", "position": 1, "item": { "@id": "/", "name": "Home" } } , { "@type":"ListItem", "position": 2, "item": { "@id": "https://es.lorealparisusa.com/revista-de-belleza", "name": "Revista de belleza" } } , { "@type":"ListItem", "position": 3, "item": { "@id": "https://es.lorealparisusa.com/revista-de-belleza/maquillaje", "name": "Consejos de maquillaje para cada look" } } , { "@type":"ListItem", "position": 4, "item": { "@id": "https://es.lorealparisusa.com/revista-de-belleza/maquillaje/maquillaje-labios", "name": "Maquillaje de labios" } } , { "@type":"ListItem", "position": 5, "item": { "@id": "https://es.lorealparisusa.com/revista-de-belleza/maquillaje/maquillaje-labios/right-nude-lipstick-for-every-occasion", "name": "right-nude-lipstick-for-every-occasion" } } ] }